24th CAHB Women's African Championship: The teams
08 Jun. 2021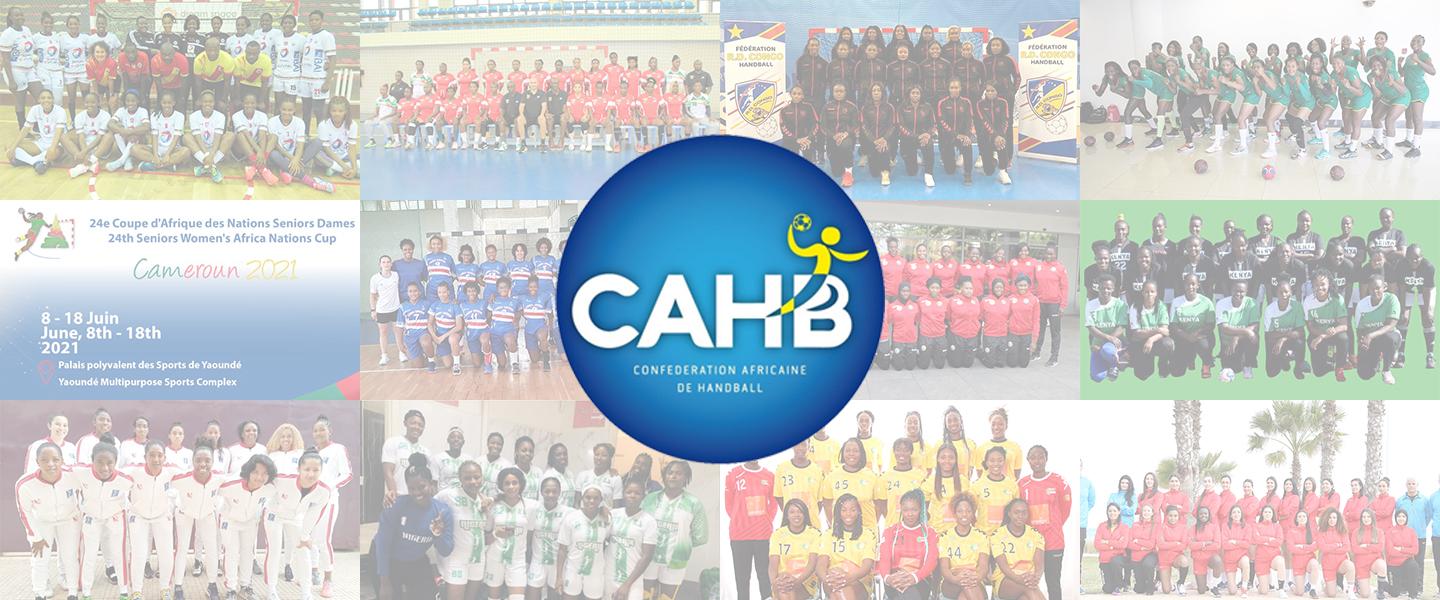 As the 24th CAHB Women's African Championship throws off today in Cameroon, we take a look at the 11 teams competing for the African title as well as the four Spain 2021 places up for grabs.
Angola (ANG)
Two nations represent almost a sure bet of winning their respective women's continental championships – in Asia, it is the Republic of Korea, while in Africa, it is Angola. Title-holders from 2018, Angola are seeking their 14th title. After winning their first championship, they went on to win the title in 12 of the 15 following editions, only missing out on gold in 1991, 1996 and 2014, but still taking either silver or bronze.
The difference in 2021 could be the recent coaching change, with Danish coach Morten Soubak replaced by Filipe Cruz earlier this year. Cruz returned the role he had great success with, winning the 2016 CAHB Women's African Championship and guiding his side to their best-ever Olympic Games performance, reaching the quarter-finals of Rio 2016 (8th), better than the seventh spot at Atlanta 1996, which only featured eight teams.
Cruz has a strong squad with a number of European-based players, which include back-court player Isabel Giualo, who scored 27 goals in the EHF Women's European League for French side Fleury Loiret Handball this season, defensive line specialist Albertina Kassoma, who was in Romania with her side CS Rapid Bucuresti, and goalkeeper Helena de Sousa who plays for Saint-Amand Handball in the French women's top division.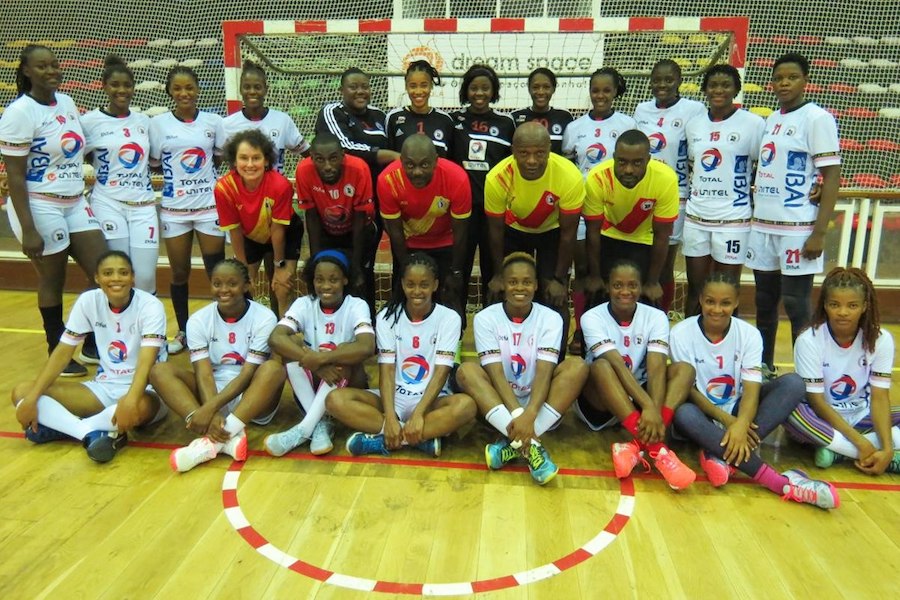 Key player and dominant right back, Azenaide Carlos, scored 43 goals for RK Podravka Vegeta in this season's EHF Women's Champions League, while right wing Carolina Morais saw her Vipers Kristiansand side win the EHF Women's Champions League, but did not feature in the final. Most of the rest of the provisional squad come from the two giants of Angolan handball – Atletico Petroleos de Luanda and newly-crowned CAHB club champions, Clube Desportivo Primeiro de Agosto.
At the time of writing, both Carlos and Morais were in Cameroon, but had some visa complications with the potential to disrupt Cruz's preparations.
Cape Verde (CPV)
One of three debutant nations at the CAHB Women's African Championship, Cape Verde recently appointed coach Ana Seabra to oversee the historic moment. Portuguese Seabra played more than 200 times for her country, 176 for the senior women's team, and has chosen 18 players for Cameroon, three of which are based in Portugal.
"You can get an idea that, really, teams from Africa are intense to play," said Seabra to local media ahead of the championship. "[We want] Cape Verdean players [to] take advantage of the opportunity of international games, so that they can also develop Cape Verde's handball and have more international experience.
"They need to participate and live these international experiences more often, to grow, learn and evolve so that, in the near future, they will be even stronger."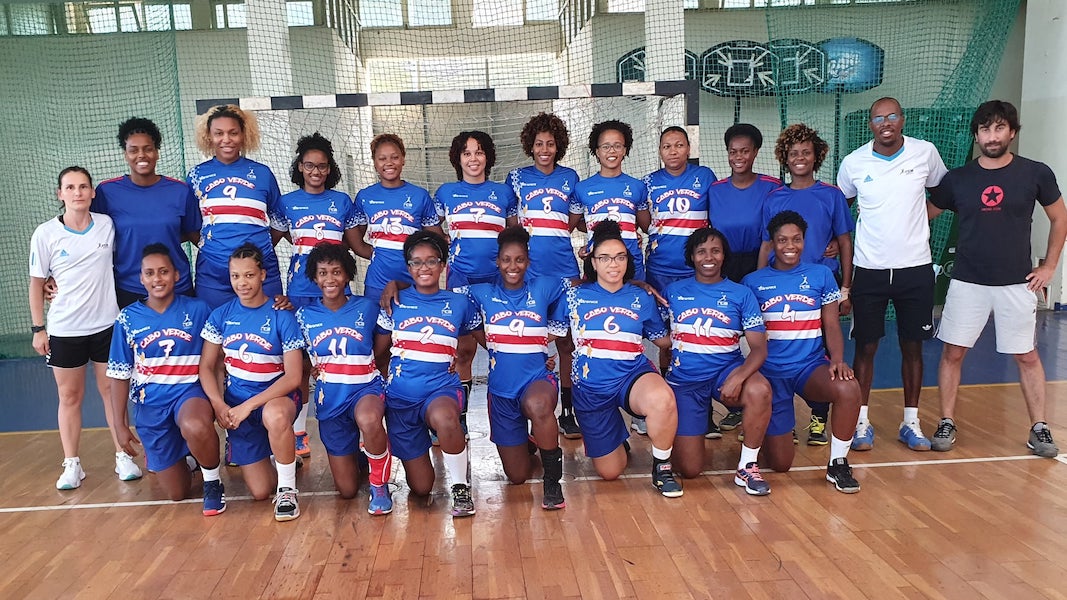 Seabra's side will face Angola in their preliminary group, a squad featuring many players from Primeiro de Agosto, a team which Seabra once played for.
Cameroon (CMR)
As with any host nation, the familiarity of playing at home eases some nervousness and the unknown, but the expectation and pressure of partisan fans can sometimes lead to stress. For Cameroon, led by coach Serge Guebogo, it will be interesting to see how they react in the first-ever continental championship hosted by the nation. His nation have never won the title, finishing with bronze and silver three times each. 
The last two editions have highlighted the potential of the nation, with a top four finish in both the 2016 (3rd) and 2018 (4th) editions, but a chance to test themselves at the highest level was missed when the nation withdrew from the 2019 CAHB Women's African Olympic Qualification Tournament.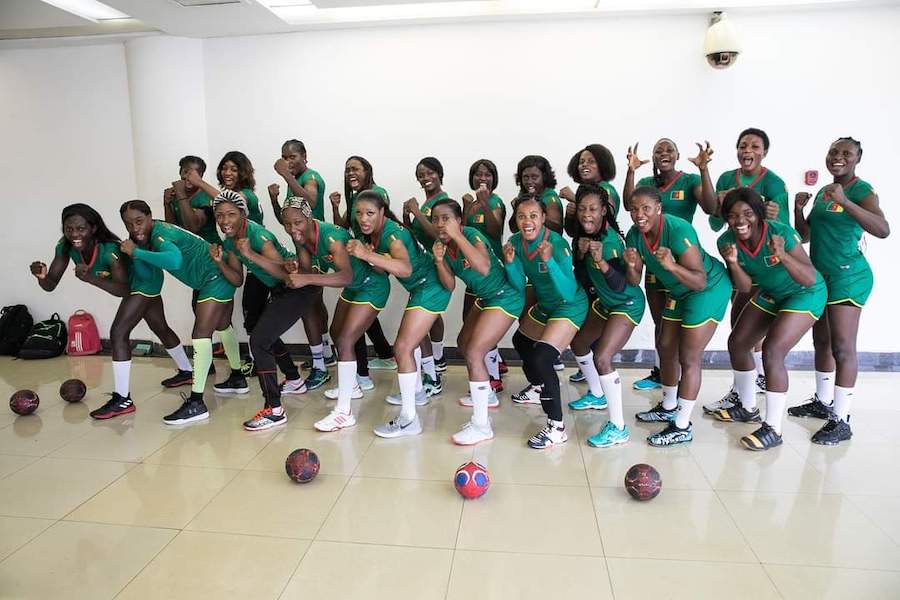 The provisional squad named sees nine of the 34 play their club handball outside of Cameroon, mainly in France, with centre back Albane Vanessa Djiepmou Medibe (52 games/105 goals), left back Pasma Vanessa Nchouapoungningi (34/96) and goalkeepers Berthe Abiabakon Onoukou and Noele Mben Bedian (both 60/0) the most notable. 
Thanks to making her national team debut at just 14, line player Jacqueline Mossy Sole has clocked up 159 strikes in 76 matches for her country. Playing her club handball in Cameroon for Fanz, the 35-year-old will appear at her 10th continental championship, adding to her two IHF Women's World Championship appearances, in 2005 and 2017.
Congo (CGO)
While the CAHB Men's African Championship is dominated by North Africa, with Tunisia, Algeria and Egypt topping the medal hauls over the years, it is different in the women's game with Congo sandwiched in-between Angola and Ivory Coast with their total medal haul over the years.
After making their debut in the second edition, back in 1976, with silver, they went on to win a medal in 11 of their first 13 championships and have appeared in every event since – Cameroon will be their 23rd appearance overall, the most of any African nation.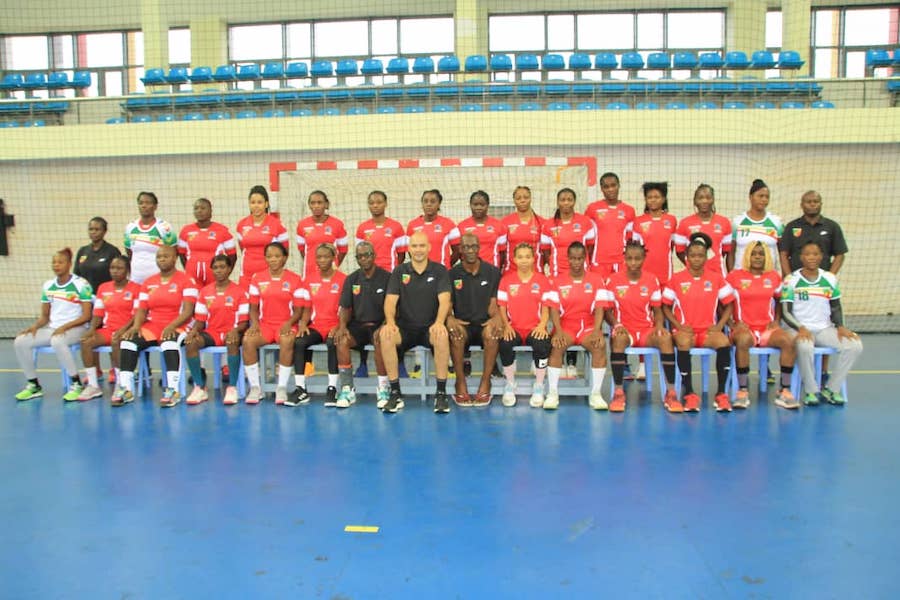 In those 22 previous appearances they have been on the podium 13 times, winning gold and silver four times each and bronze five times, never finishing outside of the top six.
2021 coach Younes Tatby will be hoping that at least continues this time around but will be looking to get on the podium again – for the first time since 2008 – to cement their second spot in the all-time table, above Ivory Coast with 11 medals and below Angola, with 16.
DR Congo (COD)
Along with Senegal, DR Congo pose a potential threat to Angola's continental dominance and will be hoping that their mixture of home-based, foreign-based and naturalised players will give the west African side something to think about in Cameroon.
In September 2019, they lost by just eight (29:21) at the Tokyo 2020 Olympic Games Africa Qualification Tournament, a slight improvement on their nine-goal loss against Angola on their way to a bronze medal at the last continental championship, in 2018. A few months later the squad picked up 20th place at the 2019 IHF Women's World Championship in Japan, defeating PR of China and suffering a narrow two-goal loss against Slovenia being the highlights, although a 23:28 defeat against Senegal underlined their continental position.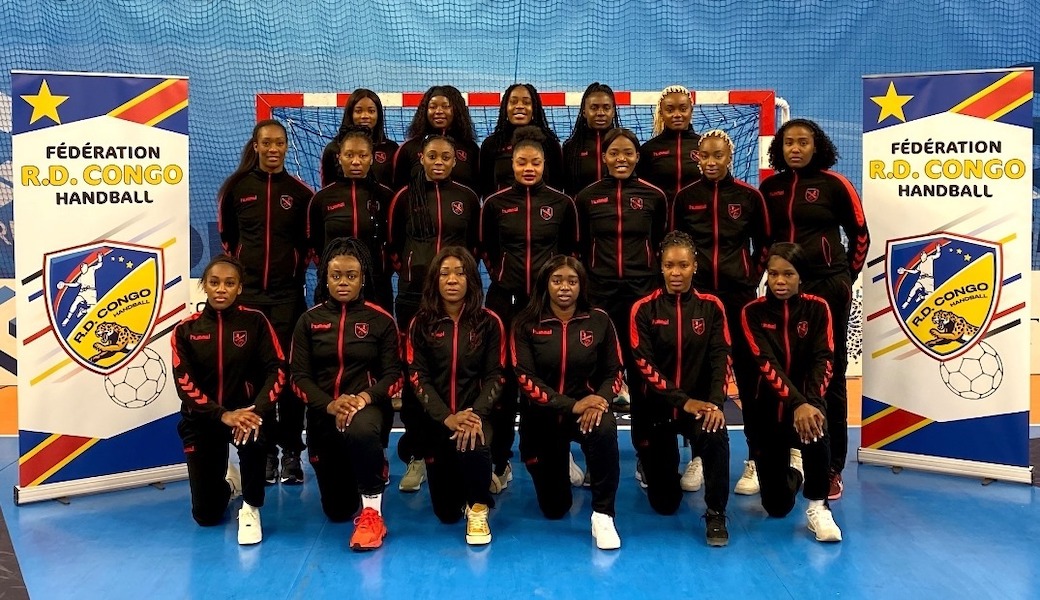 Coach Celestin Mpoua has one clear leader in his team, the Primeiro de Agosto left back Christianne Mwasesa. If the captain is at her best in Yaounde and can bring the younger players up to her level, then another podium place could beckon.
Guinea (GUI)
After finally making their debut in 2014, Guinea have gradually improved their ranking, starting with eighth, and bottom place, before moving up one position, to seventh, in their last two editions. 
Cameroon 2021 will be their fourth appearance in a row at the continental championship with coach Jean Louis Leblond being realistic about the goals for his team – one which includes a number of players from France and other countries who have joined the preparation camp in the past few days.
"We hope to have the support of everyone, the entire Guinean sports community," said Leblond to local media ahead of their departure to Cameroon.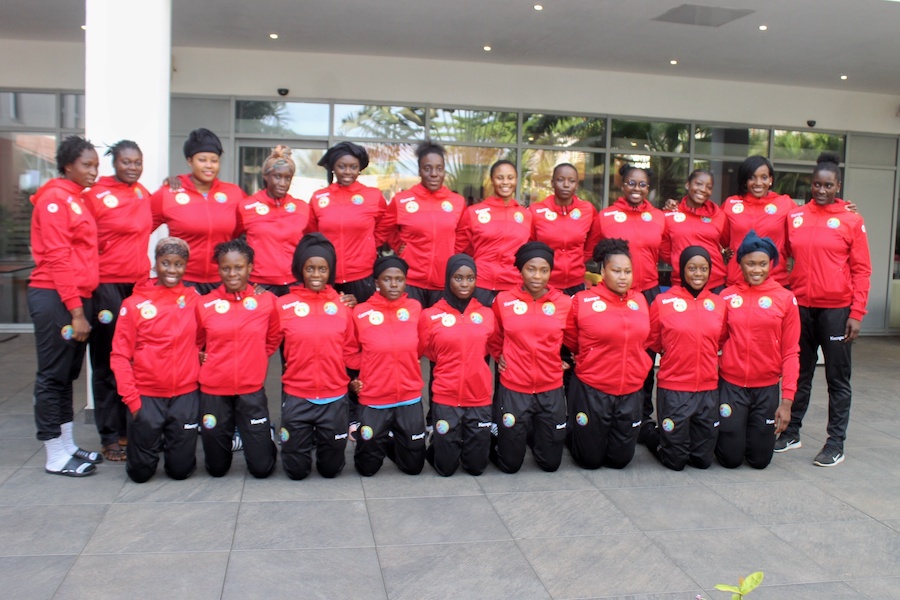 "When we start a competition we don't make any promises, we have goals and for us it's to qualify for the World Championship. That's been our objective since the beginning of the preparation then we will see what will happen."
Kenya (KEN)
Kenya are making their continental debut and their very first game will be against the host nation following the opening ceremony of Cameroon 2021. And everyone connected with the team are under no illusions about the tough task ahead.
"This means a lot to our female players and they are still in high spirits, despite the onset of COVID-19 pandemic," said Caroline Nyadiero, Kenya Handball Federation Executive Board member, to ihf.info. 

"This championship will provide our players with exposure and publicity which will boost their morale and I urge all young players – in both indoor and beach – to follow in their footsteps, come out and let their stars shine. To us, the sky is the limit."
A brief glance at coach Jack Ochieng's squad highlights the lack of experience at the top level, with the 15 games played by Nairobi Water's left back Merina Andala Ayitso the most recorded.
Madagascar (MAD)
Cameroon 2021 will go down in the history books of the Madagascan Handball Federation (MHF), a member of the IHF since 1970, as it is the first time a team from the island nation will appear at a CAHB continental championship in Africa at any level or in either gender and the only time the nation has appeared at a world championship was at the 1977 IHF Men's Junior World Championship in Sweden. Aside from this, the senior men's team did appear at the 1987 African Games, and again in 2011, alongside the women.
Coach Seth Fanantenana Ramiandrisoa has been working with an extended squad for several months and finished his preparation over the past few days at the Complexe Sportif CNAPS in capital city Antananarivo.
His initial squad included a mix of players from across the country plus nine based outside, with four from France and five from the French departments of Reunion and Mayotte, including 23-year-old captain Valerie Ravololonirina. That squad has now been cut for Cameroon and he, and the MHF, will be hoping that the championship can prove to be another vital step in the continued development of handball in the African nation.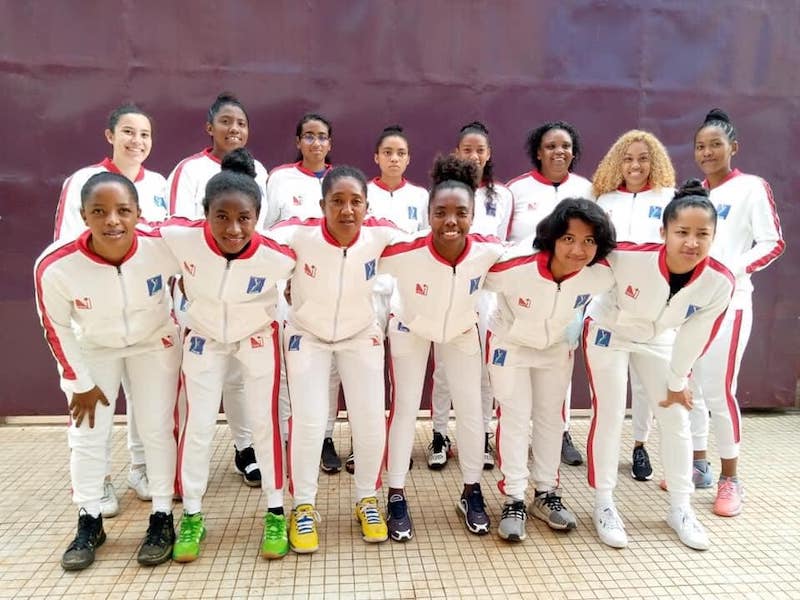 "The task promises to be complicated for the girls," said President of the MHF, Fidele Razafintsalama to local media after the draw in April which saw them drawn into group A alongside Senegal, Tunisia and Guinea.
"They will have to work hard in order to meet the challenge given the profile of their opponents, already regulars of the championship and, of course, this will be our first participation, but we will fight to give a better performance and defend the honour of Madagascar, but also that of Africa Zone 7.
"We will do our best to win matches and, considering our adversaries, we are leaving to learn."
Nigeria (NGR)
Thirty years ago, Nigeria won gold in the continental event, but any chance of that in 2021 in unlikely, considering the might of Angola especially. However, despite their last appearance all the way back in 1994, there is some strong talk coming from the west African nation ahead of the championship.
"With the preparation…I can say I feel like we can qualify out of the group and win the championship," said national team captain and Benue Queens left-back Dorothy Nyagh to local media ahead of their departure to Cameroon.
"To me, it's not all about who has been consistent in the championship, it's about focus, determination and unity. We have all it takes to win the championship, considering the set of coaches we have. We are not just ready; we are determined to break the jinx."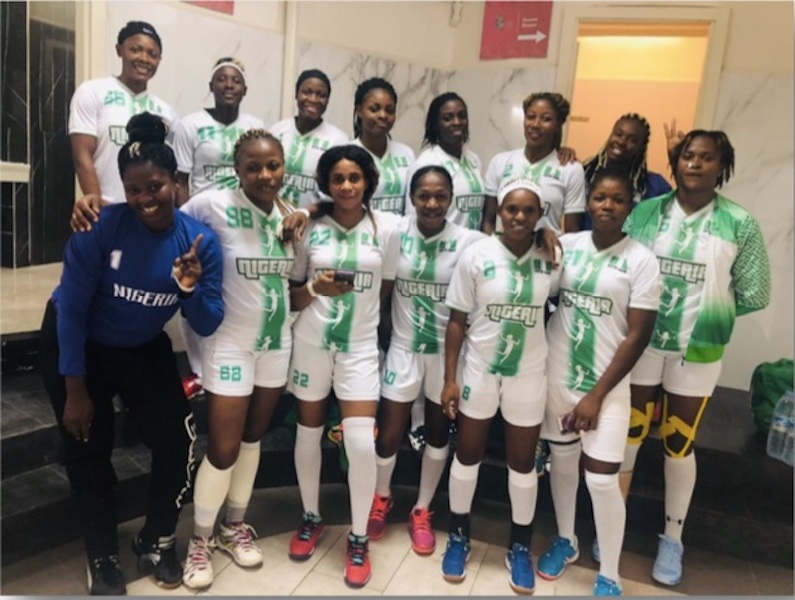 Coach Sulu Rafi'u Salami's squad is nearly entirely based in Nigeria, with half of the provisional team listed born in 2000 or later, an effort by the Handball Federation of Nigeria to look towards the future, and a hint at what their expectations are in Yaounde.    
"For [over] 26 years, we've not been there," said HFN Technical Director Ferdinand Emeana to Tidesports. "For over three years now we've been going to the youth championships, so instead of recycling the same set of players, we recruited young players, the best amongst them, and got coach Salami from France. We are going there to do well and if possible pick up a world championship ticket."
Coach Salami heads up the first team of amateur club Issy Handball Masculin who play in group 4 of the French National League 3 – the fifth tier of French handball and, alongside Yusuf Abdukadir, has been preparing for Cameroon 2021 at the Aguiyi Ironsi Cantonment in Abuja over the past month, playing a number of friendly matches including wins against the FCT U18 Boys, Niger State U21 Men and a loss to Suleja Shooters.
Senegal (SEN)
You cannot call Senegal the 'new kid on the block' – their silver medal in the very first edition of the CAHB Women's African Championship in 1974 and 10 competition appearances are evidence of that – however, you can say that Fred Bougeant's team are the new continental contenders for Angola.
And you only have to look back at the previous edition of the continental championship to show the threat they pose. At half-time in the final in Congo back in 2018, Senegal were easily leading (10:7) and seemingly in control. At one point, they led by eight (9:1, 17th minute). However, the record title-holders can never be discounted, coming back strongly to restrict the Senegalese to just five second half goals, winning 19:14.
"I want to congratulate my players and thank all the staff and leaders involved with Senegal handball – our project is launched, we will learn and come back stronger," said Bougeant after the experience, but Angola adjusted over the next year and beat the Senegalese at home by eight (22:14) to secure their ticket to Tokyo 2020. 
Despite that disappointment of losing twice to Angola in major competitions, Senegal did have something to celebrate in 2019, with qualification for their first-ever World Championship, Japan 2019, where they finished 18th, but introduced the world to their quality.
Unfortunately, due to the social and economic crisis in Senegal last March, the team withdrew from the Tokyo Handball Qualification 2020 Tournament and were unable to have one more shot at the golden ticket to Japan.
However, there is no doubt that since 2016, when Bougeant took over, the team have undergone a massive shake-up, becoming one of the top teams in Africa. Bougeant is a well-respected coach in France, where he led both Fleury Loiret and Nantes Atlantique Handball, as well as moving to Russia to oversee the strong Rostov-Don. 
His standout player for Senegal is undoubtably goalkeeper Hatadou Sako who has become a cornerstone for Metz Handball, both in the DELO EHF Champions League and in the French league. She does the business on one end, while the Fleury pair of Amina Sankhare and Raissa Dapina along with Toulon St-Cyr's line player Hawa N'Diaye, amongst others, do the business out on court.
Tunisia (TUN)
Even before the start of Cameroon 2021, Tunisia coach Moez Ben Amor is down three players, with Amal Hamrouni, Chaima Jouini and Bochra Chemkhi all missing due to COVID-19. His final squad of 18 is mainly Tunisia-based with a handful of players based outside of the country, in France, Egypt and Romania.
Cameroon will be the 20th time that Tunisia have appeared at the continental competition. Claiming medals in 10 of their previous 19 appearances, including gold as recently as 2014, they are one of Africa's traditional powerhouses. However, last time out they finished sixth, just one above their historic worst-ever finish back in 1992 and their worst rank this millennium, ending a run of top-four finishes in every event since 2000.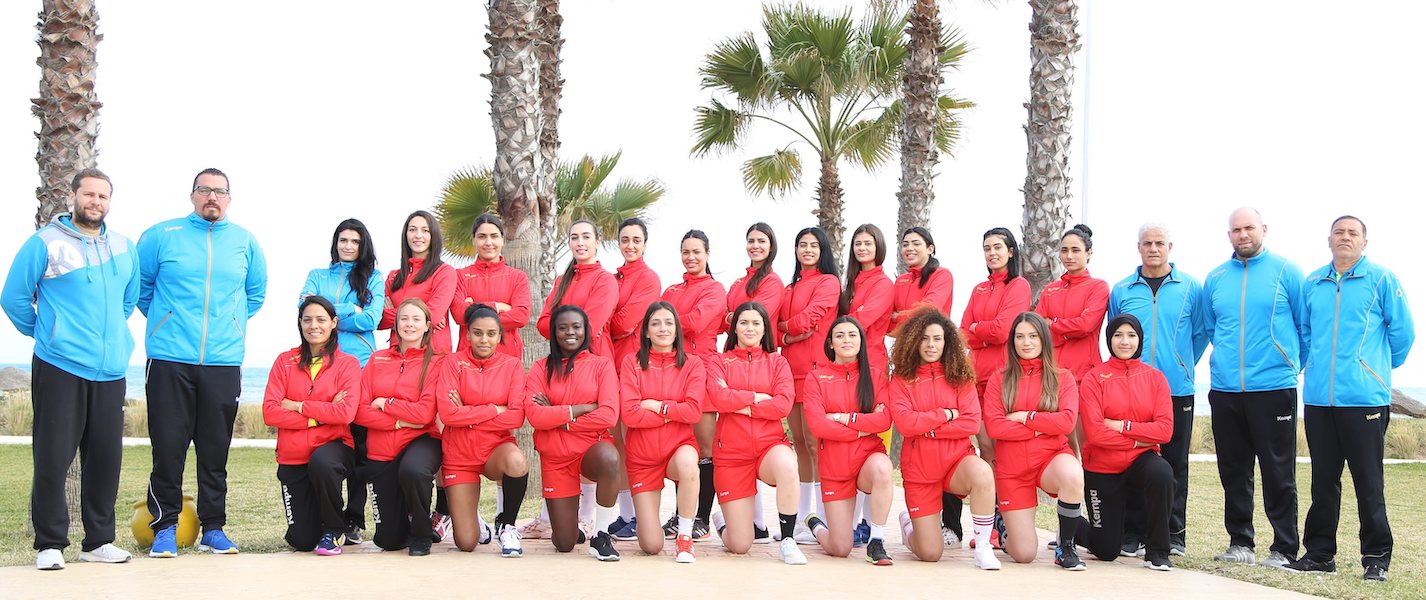 Experienced goalkeeper Fadia Omrani, who now has 74 national team appearances, will lead from the back and it will be interesting to see how Coach Ben Amor integrates the seven players with seven or fewer appearances into the team, although line player Mariem Gmar, at 29-years-old, and 25-year-old goalkeeper Fatma Bouri will need no help as they prepare to make their senior team competitive debuts.
For more information on the competition, click here.
Team photos: African Handball Confederation