12 Dec. 2019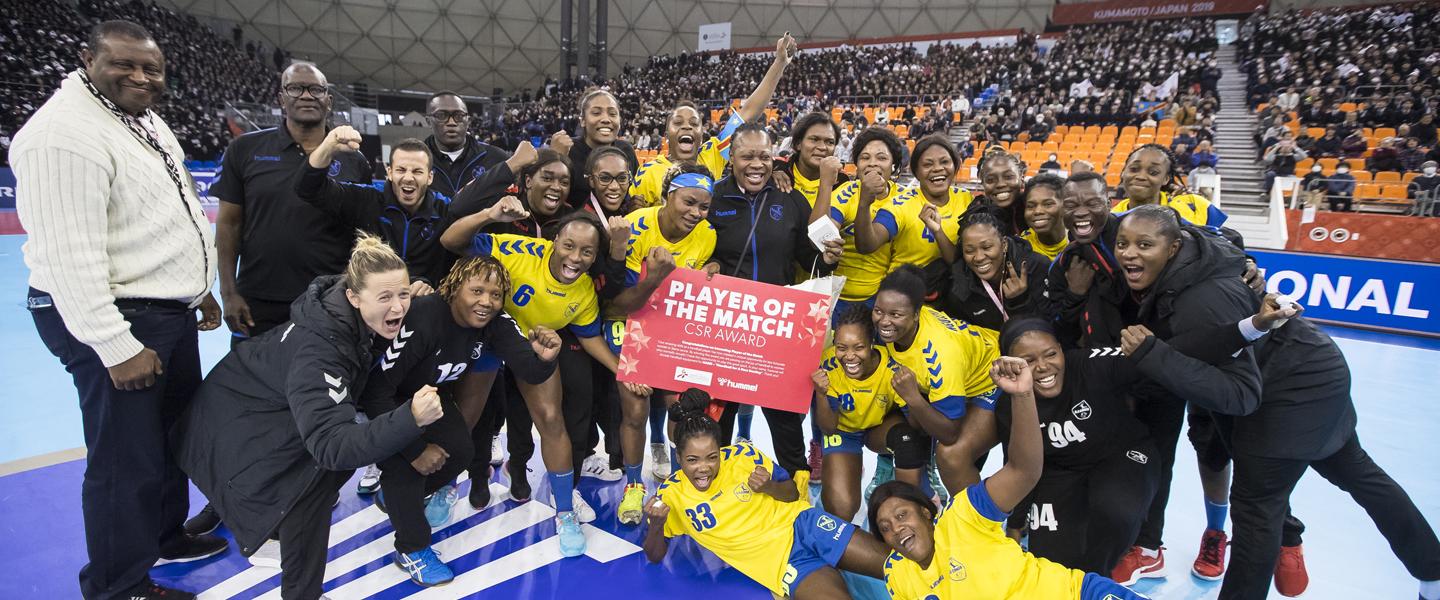 D.R. Congo's 22 -year-old Estel Memana Daniele scored 21 times for her country at the 2019 IHF Women's World Championship in Japan across their seven games and spoke to IHF.info about her experience of Japan 2019 yesterday.
The left wing, who plays for Chambray Touraine in France, gave IHF.info readers a fun assessment of her squad in Kumamoto so handball fans around the world could get to know her team a little bit better.
All info about the squad at Japan 2019 can be found HERE.

D.R. Congo squad - as described by left wing Estel Memana Daniele
#4 Consolate FEZA MWANGE
Centre Back, 34 years old
"Feza is really, really calm and really focussed every time but she is really, really kind."
#5 Laety OMBALA AYUNGA
Left Back, 20
"Laety is every time looking for every girl on the court and she is calm too."
#6 Clemence MATUTU
Left Wing, 27
"Clemence, I play with her and she is really, really kind with me. She is always talking to me and giving me some advice."
#9 Christianne MWASESA
Left Back, 34
"Mwasesa is really, really, really the biggest player in the team. She is really funny – every time she is joking and dancing. On court she is serious but sometimes funny too."
#10 Raissa YALIBI
Centre Back, 27
"Raissa, I think she is shy."
#11 Hillary IKONDO
Left Back, 22
"Hillary is really, really funny. I played with her for a lot of years. She is really funny and doing crazy things."
#13 Lydia MUSONDA KASANGALA
Left Back, 31
"Lydia is also calm."
#17 Cynthia LIANDJA NGOY
Right Back, 24
"Cynthia is young but calm too. She's older than me, but in the team she is young."
#18 Vanessa MOESTA
Right Wing, 26

"Vanessa is funny. She comes from the island of Guadeloupe originally so when she speaks, she has an accent and it's funny. We are always joking with her and saying 'what are you talking about? We don't understand!'"
#25 Carine BABINA NGOMBO
Right Back, 25
"Carine is really competitive."
#39 Prescyllia ENGALA LOKAKO
Centre Back, 27
"Prescyllia is really kind, but she's like a baby."
#42 Isaure MOSABAU MANPASIKA
Line Player, 25
"Isaure is competitive and likes to be like this every time."
#72 Cecilia ERRIN
Goalkeeper, 20
"Cecilia is like Vanessa; she also comes from the island of Guadeloupe and is really funny. They both stick together and dance and sing a lot. But the whole team all dances together though, all styles."
#77 Roseline NGO LEYI
Line Player, 26
"Roseline likes to sing all the time, but she doesn't sing so good (laughs) - just like me!"
#94 Nganmogne AUDREY MURIELLE
Goalkeeper, 25
"Nganmogne is really, really focussed in everything she does."
Head Coach: Celestin MPOUA NKOUA

"Celestin the coach is funny sometimes, when he talks, he talks slowly and then he puts a little joke in there, but we can exchange ideas. When we look at the matches on video or when we play with some girls in France, for example from the Senegal team, we can talk to him to know what we can make on the court.
"Jean-Claude (Alekasango – assistant coach) is calm but really, really funny with Guy Alain (Kanoha Mvuzi – assistant coach) and Michael (Dahan Nessim – Physiotherapist) are also calm too."
…and finally:
#33 Estel MEMANA DANIELE
Left Wing, 22
"As for me, I am focused and sometimes funny. I like joking, but I'm not as funny as the others."