17 Dec. 2021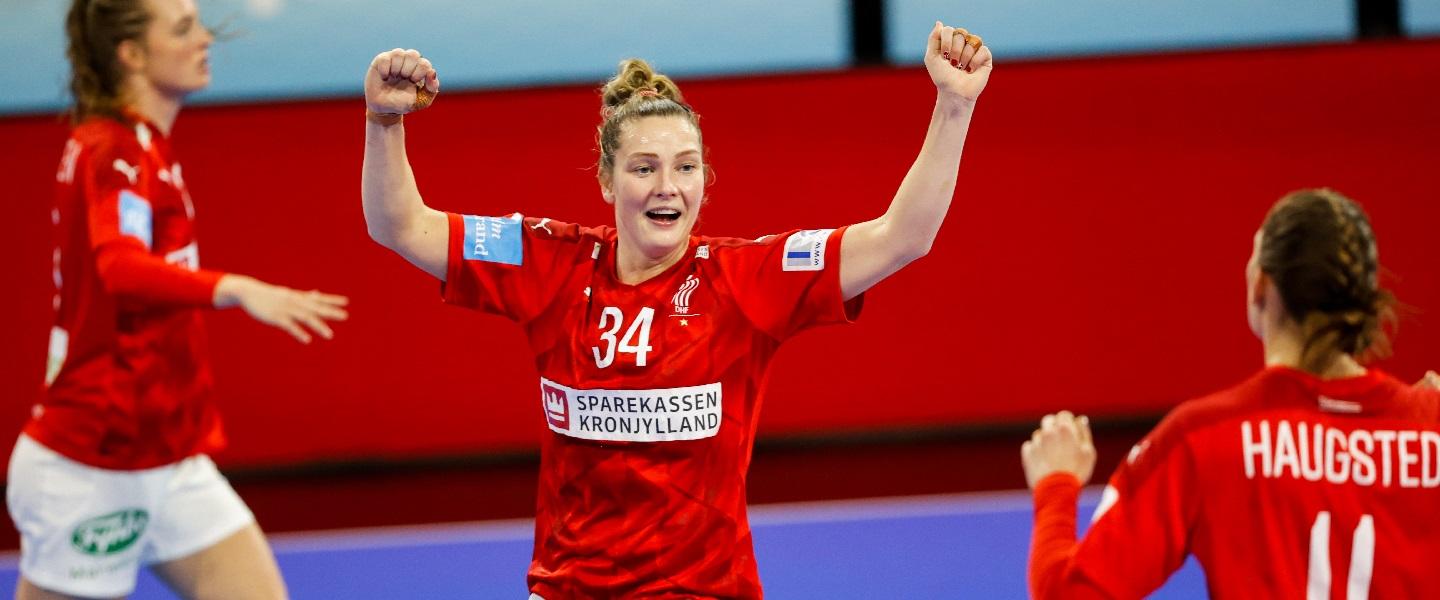 Rikke Iversen is smiling. Smiling in December, in Barcelona and into the glare of the warm Balearic sun as she contemplates her first-ever IHF Women's World Championship semi-final with Denmark, against France on Friday (17 December).
"That sounds like a dream come true, right?," says the 28-year-old to ihf.info when asked to respond to that list of where she finds herself now. "It's the most perfect, idyllic day to be talking about the semi-finals. We're just happy to be here."
That is no understatement. One year ago, Denmark, like all other 15 teams were locked away in a COVID 'red bubble' hotel on home soil in the 2020 European Championship, where they lost the bronze-medal match against Croatia to finish fourth.
"You know, I feel like it's so far behind now because we've been through so much and COVID also makes every day a little bit longer," says the Odense Handbold player. "So much has happened in the clubs at home and on the national team since. We actually said; 'Oh my God, was it just last year?' We were stuck in the hotel and now we have the possibility to go out, have people in the seats (at the arena), cheering. It's a whole new year, but it's only one year.
"After the championship we talked about it and we had a lot of analysis, doing what went wrong [if it was] mental or something. We went through it and hopefully we can do better this year," she said about their home European Championship experience. "The chapter is over and we turned a new page. It's a new year, a new tournament and the opponent is someone else. It's better to look forward."
A 30:25 win over Brazil in their quarter-final on Tuesday (14 December) was their seventh win in seven games at Spain 2021 and afforded the Danes a rare back-to-back non-match day, able to watch the remaining two quarter-finals and their potential semi-final opponents in the match between France and Sweden the following day.
France dispatched the Swedes in their match (31:26) to set-up Denmark's first semi-final in the competition since 2013 and while it was a chance for team bonding, it was also an opportunity to learn a little bit more about the challenge they face.
"We watched it on a big screen in a room at the hotel and everybody was together," said Iversen. "It was nice. We were not cheering at anything specific but cheering at a good game.
"There was no video analysis or anything but we all talked about [them]. I was sitting with Line Haugsted, my defender, and we were talking about, 'okay if we meet the French, then Zaadi will do this', and 'if we meet the Swedish then Carin Stromberg will do this'. So of course we were looking at it but otherwise no, we're just drinking, eating and having some fun – Coca-Cola Zero and Pepsi Max of course."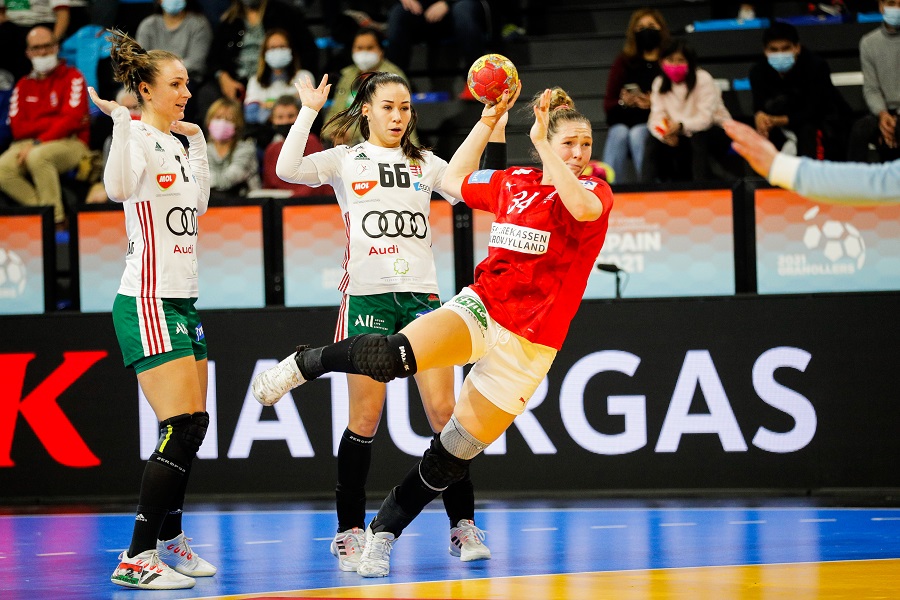 So can Iversen just enjoy watching handball as a fan? "For me, I will say that I always watch handball to see if I can learn something especially the line player or in the defence. If I can see something they do or something, I'll be like, 'Okay, this I need to try or this I can do more of,' so you will always see a game and be like; 'Oh, this is nice', but you always learn something from it."
Iversen's national team coach Jesper Jensen has decided recently to cancel training sessions for the team, preferring them to switch off from being on court with a ball, instead focusing on fitness and wellbeing. With mental health being more openly discussed in 2021 within sport and society in general, Iversen appreciates the break from the routine.
"It's so important, it's one of the big factors we look at now and we have a lot of focus on that," she says about mental health. "We still went to the fitness but just doing something else than throwing a ball. It's giving you some freedom to think about something else and not be the same.
"These days we often have the same schedule to wake up: do this, eat there, be there, do this and then last night it was like 'okay, you can get free and you can go for a walk. We went to a park in Barcelona and it was nice to see something else because otherwise we've been around the block, 100 times."
France, like Denmark, also boast a perfect record and came to Spain 2021 as Olympic Games Tokyo 2020 champions, with Iversen excited about the chance to test herself against the best in the world.
"I'm looking forward so much, we know the French are coming with everything," she said. "We will be scheduling every single (France) player and say: What can she do? What isn't she that good at? What are we allowing in our defence? What are we not? They are good and have a lot of players so we have to see what is okay, and what is too much open."
'Open' is not a word associated with the Danes at Spain 2021 though having conceded just 131 goals in their seven games so far (18.7 per game), the lowest of all four teams remaining.  
And while their goalkeeper pairing of Sandra Toft and Althea Reinhardt are rightly getting plaudits for their match-winning performances, Line Haugsted is making waves in defence too, leading the blocked shots in the championship, with 16 in her seven games and coach Jensen telling ihf.info earlier on in the championship he was "thrilled about her performance," in Spain, calling it "outstanding" and that she is "one of the best defenders in the world."
"We enjoy it," agrees Iversen about Haugsted's performances. "She's so incredibly good at blocking and has the timing perfectly when she jumps with the block. I like it because I'm not the tallest one, so I have to go a little bit further ahead when I'm doing the tackle and then she can go behind and do the block. I think she's become one of the best defenders in the world, she has pushed herself every day to become it and it's so nice [to see]."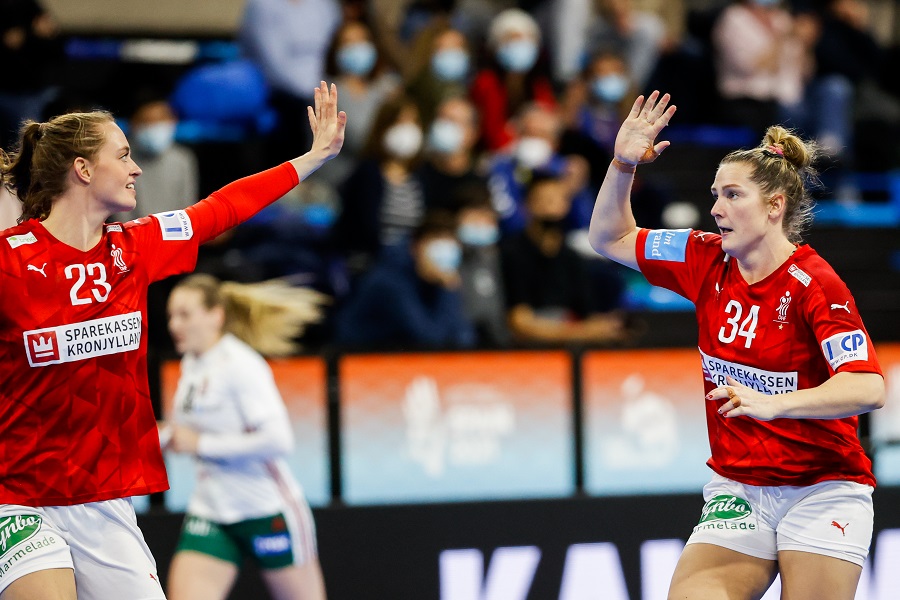 The praise of her teammates is evidence of an infectious team spirit that runs through the Danish squad both on and off court and one which has propelled them to within one game of a medal.
"When we're out of the court we are friends first, but on the court we are a team which wants to win, and we want to win really hard, so when we practice we are also tough against each other and we expect a lot, that's the teammate part," says a thoughtful Iversen.
"We really have a good team and we don't have a hierarchy – that the young players have to do something or the old ones have to do it, that also helps, that everybody's equal somehow. But we also know that everybody has a role and a position on the team; we don't have to mark it out and draw a line and say: 'you have to take the water bottles'."
So Iversen has not tried this yet with late addition to the squad, 21-year-old Michala Moller, giving her the bag of balls to carry to the changing room?
"Not yet. Not yet. Maybe I should do it just to see how she will look at me?," jokes Iversen. "I actually just think she would say 'Okay, I do it', she wouldn't even take it like an order, she will just be 'Okay, then I do that'. 
"We're having so much fun together as a team and also with the coaches and everything. It's just nice to be a part of this. It's difficult sometimes to explain it, but you feel and you know that every time you do something you have 20 people behind you. If you take the last shot and miss, you have 20 people behind you, if you score, you have 20 people behind you. That's confidence in each other. It's just so nice."
But one player is missing – the 21st person, Mia Rej, who suffered an injury in Denmark's opening match against Tunisia and returned home. But that does not stop Iversen and the squad keeping her in their thoughts.
"She's of course here with us, I'm talking to her every day," said Iversen. "She's getting better and better, but there's still a long way. She writes every day saying: 'good luck with the game' and 'good win', or something else."
Iversen and her squad will be hoping to receive two more 'good win' messages this week in Spain.