21 Dec. 2020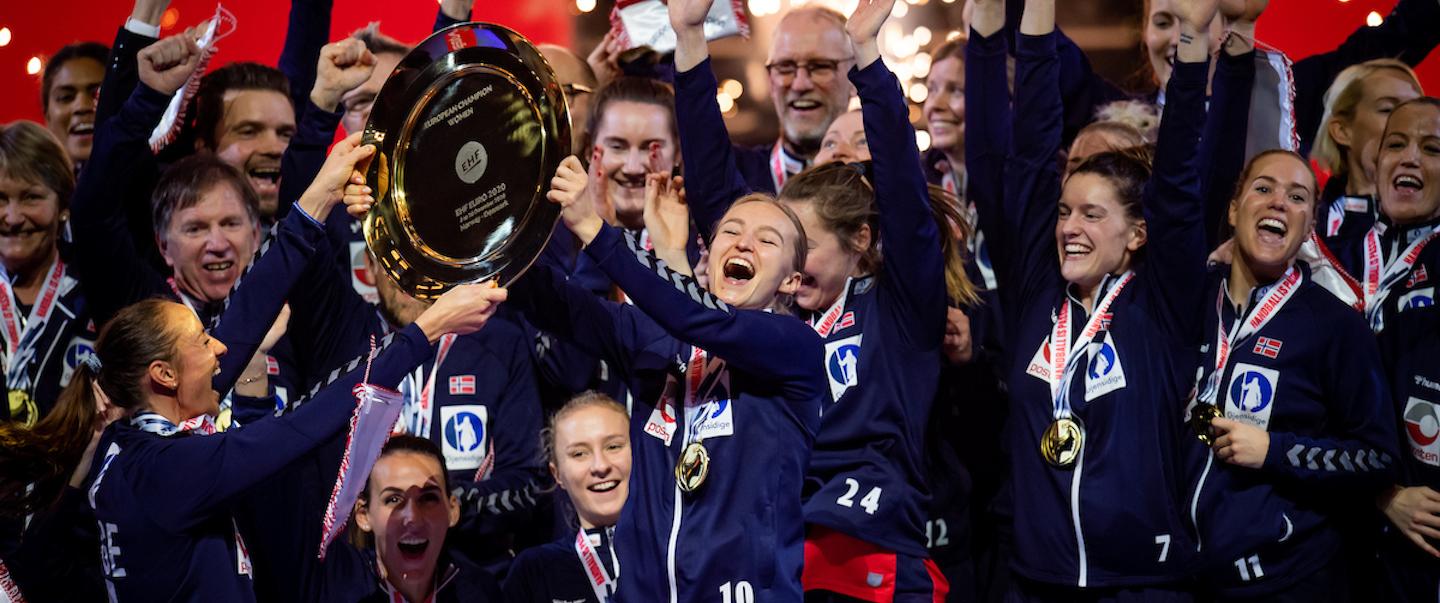 Norway celebrated the coveted European title for the eighth time after defeating France 22:20 in a dazzling final in Herning on Sunday, to finish off the Women's EHF EURO 2020 in style.
The Norwegians had their ups and downs in the semi-final against Denmark and especially in the final against France, yet showed grit and strength to muster two amazing comebacks.
After besting hosts Denmark 27:24 in the semi-final, Norway met fellow unbeaten and 2018 winners France, in a headliner for the ages.
A superb first half from goalkeeper Silje Solberg saw the Norwegians take a 14:10 lead at the break, only for France to close the gap after limiting Norway to only two goals in the next 15 minutes. France led 19:18 with just under seven minutes left in the game.
However, Norway finetuned their defence, and top scorer Nora Mørk scored twice in the last five minutes to hand Thorir Hergeirsson's side their eighth European title – and seventh title in the last nine EHF EUROs.
It was also the first international trophy in four years for Norway, an unprecedented drought for the Nordic powerhouse.
Former title holders France, who were riding a 14-game unbeaten streak at the EHF EURO, boasted the competition's Most Valuable Player, left back Estelle Nze Minko.
Mørk, who scored 52 of Norway's 254 goals in eight games, became the first player to win the top scorer title at two different EHF EUROs, after winning the honour already in 2016.
Goalkeeper Katrine Lunde, line player Marit Malm Frafjord and left wing Camilla Herrem won their fifth EHF EURO title, tying fellow Norwegians Karoline Dyhre Breivang, Linn Kristin Riegelhuth-Koren and Kari Aalvik Grimsbø as the only players to have achieved this feat.
Mørk, Heidi Løke and Stine Oftedal have now won the EHF EURO four times.

Croatia won an EHF EURO medal for the first time, after a surprising 25:19 victory against Denmark in the bronze-medal match.
Denmark was limited to only one goal in the last 20 minutes of the game, as Croatia finished the game with a 7:1 run to seal the win. 
An underdog at the start the competition, Croatia won six of their eight games, despite missing key players due to positive COVID-19 tests. 
Hosts Denmark lost their third bronze-medal match in a row at the EHF EURO, including two on home court, in 2010 and 2020.
Croatia's third place also means they will play at next year's IHF Women's World Championship, in Spain, returning to the global stage after 10 years.
Prior to the semi-final games on Friday, Russia secured fifth place in the competition, with a 32:28 win against reigning world champions, the Netherlands.
Therefore, the Dutch side ended a five-year stint of winning a medal at each of the IHF Women's World Championships or EHF EURO tournaments they took part in.
 
Final ranking
1. Norway (Qualified for 2021 IHF Women's World Championship)
2. France (Qualified for 2021 IHF Women's World Championship)
3. Croatia (Qualified for 2021 IHF Women's World Championship)
4. Denmark (Qualified for 2021 IHF Women's World Championship)
5. Russia
6. Netherlands
7. Germany
8. Montenegro
9. Spain
10. Hungary
11. Sweden
12. Romania
13. Serbia
14. Poland
15. Czech Republic
16. Slovenia
PHOTO: EHF / Sasa Pahic Szabo Kolektiff