14 Dec. 2021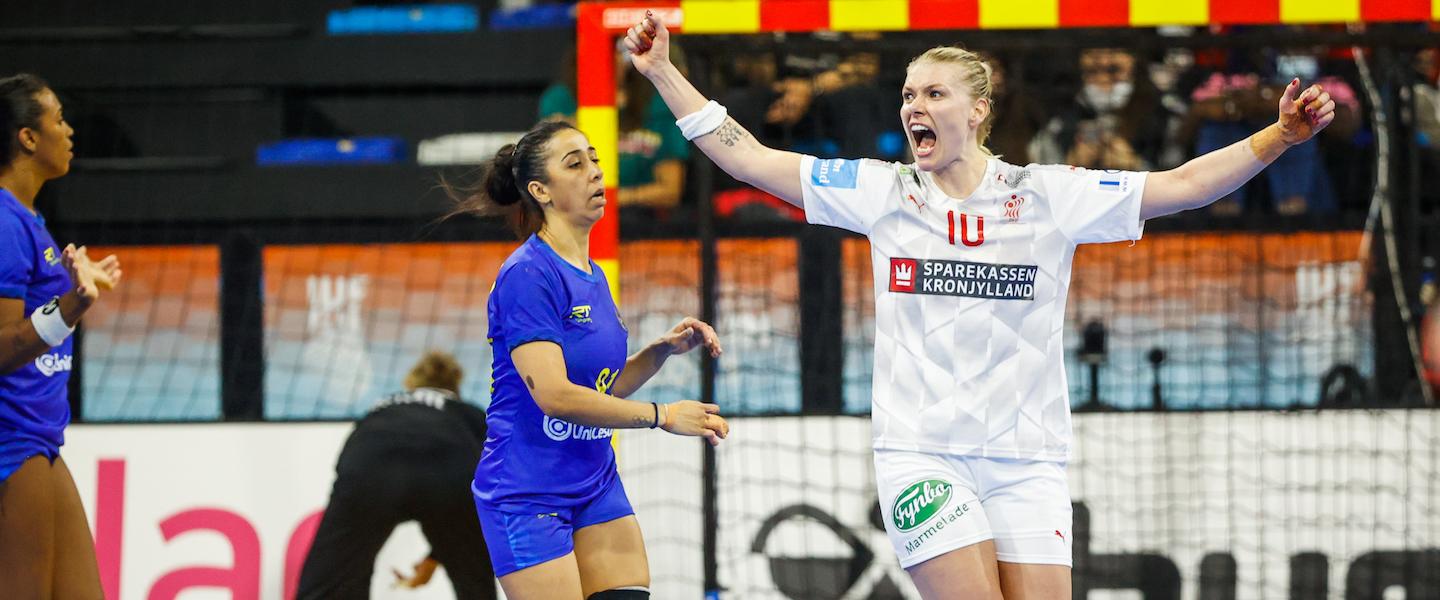 It was not pretty, it was not straightforward, but Denmark sealed their place among the top four teams at the 25th IHF Women's World Championship for the first time since Serbia 2013 with a win against Brazil, 30:25.
The Scandinavian side extended their winning streak at Spain 2021 to seven games, tying their best-ever start in the competition, at Italy 2001 and Brazil 2011. However, Denmark will try to improve on their performance from those two championships, having finished fourth each time.
QUARTER-FINALS
Denmark vs Brazil 30:25 (14:13)
Whenever a goalkeeper puts up impressive numbers like Sandra Toft did for Denmark against Brazil, her team is usually on the winning side. But at least for the first half of the first quarter-final at Spain 2021, Denmark surely thought about the tormenting 21:27 defeat against the South American powerhouse in the semi-final at Serbia 2013.
It was the last time when both Denmark and Brazil reached the semi-finals at the IHF Women's World Championship and, for one side, that vintage tournament will remain as their biggest performance in recent years. Unfortunately for Brazil, Denmark rode their luck and secured a 30:25 win, that propelled them between the top four teams in the world.
The Scandinavian team was entering the game as clear favourites, after sweeping their opponents and securing the best start in the competition since Brazil 2011. But as soon as the game started, their usual free-flowing attack was stopped in its tracks, with costly turnovers helping Brazil stay in the game.
Was it nerves, a superb game in terms of grit and intelligence from Brazil's defence or simply Denmark running out of steam after a flawless start in the competition, something hampered the Scandinavian side enough to make them truly uncomfortable. 
Despite leading throughout the first half, by as many as three goals, 11:8, after 22 minutes, Jesper Jensen's side needed a last-gasp goal from right wing Trine Ostergaard Jensen to extend their perfect half-time record to seven games in a row, 14:13, after Brazil tied the game with some superb defence, which morphed from 6-0 to an aggressive 4-2.
Well, it would not have mattered much were it not for Toft, especially in the first half. The Danish goalkeeper, who entered the game with an outstanding 47% saving efficiency in the first six games, offered another performance for the ages, basically helping Denmark keep the lead every time Brazil came close.
In fact, the South American powerhouse could have even taken the lead early in the second half, at 16:16, but a failed fast break helped Denmark steal the ball and never look back from that moment.
Lifted by Toft, the hummel Player of the Match, who delivered 17 saves for another impressive 42% saving efficiency, Denmark amped up their defence – top in the competition, conceding only 17.5 goals per game in the first six matches – and Brazil had really no answer, with no back ready to score with powerful shots from behind the 9-metre line.
Instead, Brazil used their wings – with Adriana Cardoso scoring 10 times – but faltered in the last 15 minutes, due to the lack of depth and their usually reliable backs, Ana Paula Rodrigues Belo and Bruna de Paula failing to keep up with Denmark's defence.
With only five goals mustered between the 38th and 58th minute for Brazil, it was truly game over, as Denmark celebrated their first semi-finals berth at the IHF Women's World Championship for the first time since Serbia 2013.
Denmark will have time to rest until Friday, when they will face either France or Sweden for a place in the final, which would be Denmark's first since Germany 1997.
On the other hand, Brazil bow out with their heads held high, after winning their first five games, but losing against Spain and Denmark, which sealed their fate. However, finishing between fifth and eighth place, Brazil secured their best standing since winning the title at Serbia 2013.
hummel Player of the Match: Sandra Toft, Denmark