hummel
| | |
| --- | --- |
| Postal Address | hummel International A/S Balticagade 20 |
| phone | +45 87 34 48 00 |
| e-mail | [email protected] |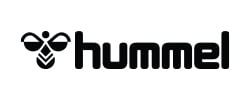 Founded in 1923, hummel is a Danish sportswear brand with deep roots in handball. hummel is one of the oldest, most dedicated team sport brands in the business and our iconic chevrons have always worked as a symbol of how we like to do things a little differently – always with a twist and (a whole lot of) character. Values that apply to the company's numerous sponsorships around the world.
For us, sport is more than a physical activity. It's a universal language with the strength to eliminate differences in politics, culture, religion and beliefs. Throughout the years, we have supported several projects, teams, sports clubs and prominent figures focusing on changing the world through sport; always with the hope to build bridges and help pave the way for a better tomorrow.
hummel designs, produces and markets clothes and equipment for various sports, as well as sneakers and leisure wear for both adults and children. With the product categories team sport, footwear, kids, sport lifestyle and selected premium co-labs, hummel launches new styles several times a year in a consistent mix of retro and contemporary trends. hummel is known as the original handball brand and offers some of the best handball shoes and handball apparel on the market.