Quarter-finals signal the business end of Slovenia 2022
30 Jun. 2022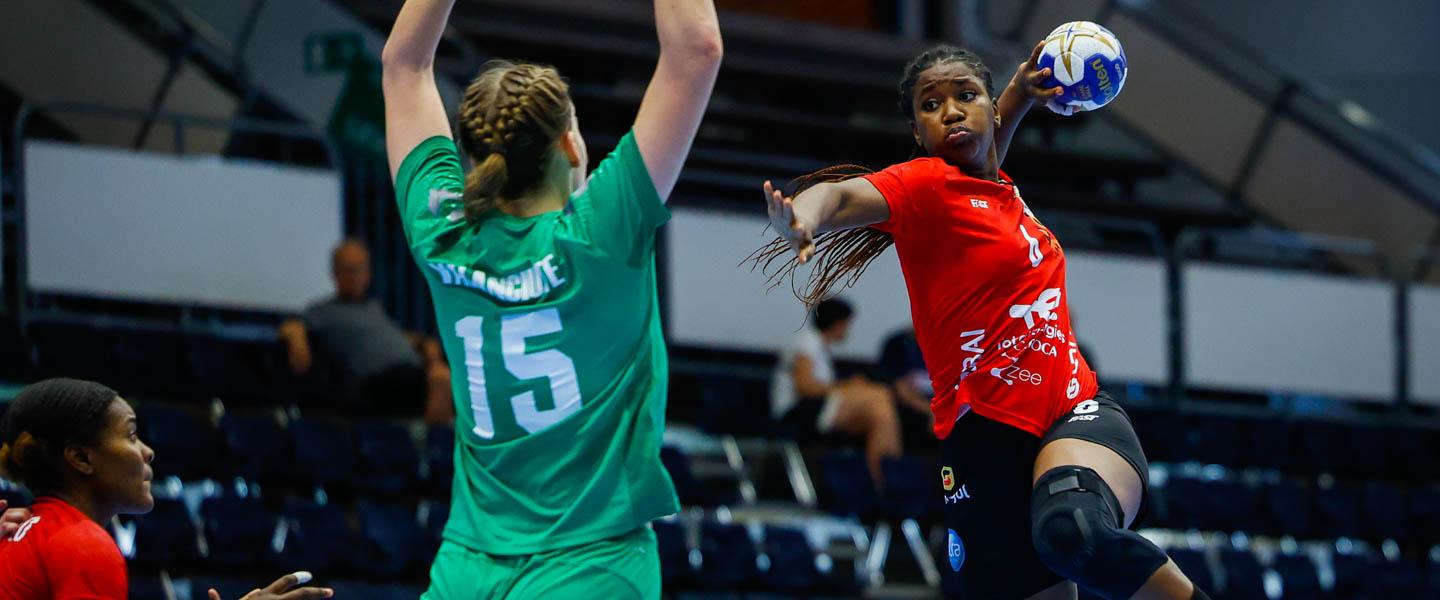 Live blog: This is projecting to be a long, long day at the 2022 IHF Women's Junior World Championship, but it is also going to deliver some interesting games.
In the race for the medals are the still unbeaten Norway, Netherlands and Hungary as well as Sweden. For the four of them, it's all about a place in the final tomorrow. 
Germany, Switzerland, Denmark and Angola, on the other hand, will have to digest their disappointment quickly; for them, it's a matter of places 4-8. 
Japan and Montenegro will fight for the President's Cup tomorrow.
Today's matches:
10:00 CEST Islamic Republic of Iran vs Mexico (42:26)
12:00 CEST Slovakia vs Romania (30:31) / Italy vs United States of America (36:17)
12:30 CEST: Republic of Korea vs Poland (26:28)
14:00 CEST Japan vs Czech Republic (32:20 n.p.) / France vs Egypt (31:21)
14:30 CEST Guinea vs Lithuania (27:41)
16:00 CEST Montenegro vs Croatia (24:23) / Tunisia vs Slovenia (25:28)
16:30 CEST India vs Chile (32:29)
18:15 CEST Netherlands vs Angola (29:21) / Norway vs Switzerland (37:20)
18:30 CEST Argentina vs Kazakhstan (43:20)
20:30 CEST Germany vs Sweden (24:36) / Hungary vs Denmark (30:26)
22:10 CEST Semi-final schedule set
The quarter-finals phase at the 2022 IHF Women's Junior World Championship is now over. Three games were dominated thoroughly by their winners, while the fourth, the most balanced, needed a strong comeback from Hungary in the second half to decide the winner. Therefore, we have the two semi-finals at Slovenia 2022, which will be scheduled as follows:      
Netherlands vs Norway (Friday, 1 July, 18:15 CEST, Zlatorog Arena, Celje)
Sweden vs Hungary (Friday, 1 July, 20:30 CEST, Zlatorog Arena, Celje)
Hungary have made it to the semi-finals of the competition for the seventh time and the second time in a row with their win against Denmark, 31:26, while Norway are also in the penultimate phase for the seventh time, as the final from Hungary 2018 might be re-enacted at Slovenia 2022.
Sweden make their comeback to the semi-finals for the first time since winning the title in 2012, while the Netherlands made it here for the first time in history. Hungary and Netherlands (six wins in six games) and Norway (five wins and a draw) are still undefeated at Slovenia 2022.
21:58 CEST Full-time: Germany vs Schweden 24:36 (11:21)
It must have seemed like deja vu for Germany. A year ago at the EHF Women's Junior European Championship, they had already faced the Swedes in the quarter-finals. They had hoped for a little revenge for the 30:25 defeat at that time. Nothing came of it, on the contrary, today the defeat was even higher. Sweden`s dominance was too clear, the loss of playmaker Lucy Jörgens too heavy. 
On the German side, Anika Hampel was the best scorer with six goals. Clara Petersson Bergsten stood out for the Swedes with nine goals. Germany's second goalkeeper Annabell Marie Krueger also made a good showing with seven saves.
A small consolation for the German team is that they did better than at the last World Cup, where they finished in 13th place. Tomorrow, Denmark awaits the chance to at least find a conciliatory end with the fourth place as in 2014 and 2016.
Sweden, on the other hand, have to play Hungary, who are still undefeated. So the second semi-final is guaranteed to be exciting. 
21:57 CEST Full-time: Hungary vs Denmark 30:26 (11:12)
For the first time at Slovenia 2022, Hungary were down at the break and it was looking increasingly possible that they could lose the crown secured four years ago on home soil. Instead, just like they did in the quarter-finals of the previous edition of the IHF Women's Junior World Championship, against Romania, they mounted a superb comeback, to extend their winning streak to 14 games and clinch a place in the semi-finals, where they are set to face another Scandinavian team, Sweden, after beating Denmark, 31:26, this evening in the Golovec Arena in Celje.The gritty Hungary team not only was able to cancel Denmark's lead early in the second half, but they also showed remarkable maturity in identifying their opponent's weak points in defence and have constantly taken advantage via superb breakthroughs, with backs Johanna Farkas, Blanka Kajdon, Anna Kukely and Petra Koronczai combining for 23 of Hungary's 32 goals in the match. That tweak that came after the break was the pivotal moment of the match and it worked wonders against a defence that looked one of the most solid in the competition.
Denmark did not prove to be world beaters at Slovenia 2022, as they rarely shined. But, truth to be told, this is a side that has constantly shown maturity and proven to be well-coached. Failing to display a lot of creativity and also lacking a true shooter from the back line were two of the most crucial misgivings of Denmark, yet they could still improve from the sixth place they sealed at Hungary 2018.
21:42 CEST Hungary breaking through in Golovec
The goalkeepers have not been shining at all in this game – Hungary's Anna Bukovszky saved only six shots for a 30% efficiency, while Denmark's Anne Christine Bossen has four saves with a 16% efficiency. It is not that the attacks have been outstanding, but rather both failed to make their mark on the game. But bear in mind that these teams are two of the best in the competition – Hungary had a 40% saving efficiency, the second at Slovenia 2022, before the game, while Denmark were ranked sixth, with 35% saving efficiency.
The game is still on a knife's edge, as the two teams have been trading blows throughout the whole 50 minutes of the match. Neither opened a gap higher than three goals, but Hungary looked fresher and more focused in the second part. They are still the reigning champions, they have over 100 fans cheering for them in Celje and this works in their favour, surely. And they have constantly been breaking through Denmark's defence, scoring eight goals in this way, including three in a row for left back Petra Koronczai, as they now hold a four-goal lead for the first time, 24:20, with 12 minutes to go, with Denmark's coach, Heine Eriksen, calling a timeout.
21:31 CEST Hungary get back into the game with tactical tweak 
Four years ago, in the previous edition of the IHF Women's Junior World Championship, Hungary found themselves 17:14 down at the break in the quarter-finals against Romania, only to produce a magnificent comeback in the second half and seal a 31:26 win. Will it happen this time around? It surely looks more difficult, as Denmark looks like a better, more cohesive defensive unit. But they lost Katrine Jacobsen, a key cog in that defence, one of its central pillars, due to an injury in the 36th minute. In that moment, Denmark were leading 16:14 and their prospects were looking really good.
It has been a totally different start of the second half, with the two teams combining for eight goals in the first six minutes, as Hungary found the right path to the goal, forcing via breakthroughs, which Greta Juhasz, Anna Kukely or Blanka Kajdon all converted. It has surely been a choice made by coach Szilard Kiss, after their drought at the end of the first half. One that really worked wonders, as Hungary are back ahead, 18:17, after a 4:1 run, with 20 minutes to go.
21:06 CEST Half-time: Germany vs Sweden 11:21
Even after 30 minutes, Germany still haven't found a way to get anywhere against a dominant Sweden. In the meantime, they have extended their lead to 10 goals and it would take a big miracle for Germany to turn this game around. With Clara Petersson Bergsten (6 goals), Kajsa Lindberg Blohm (4 goals) and Tyra Axnér (4 goals), Sweden have three players who have scored more goals than the entire German team combined. Even if you manage to cover one or even two of them better, you are still left with an accurate scorer and behind her lurks Charité Mumbongo, another player who has already been very goal-threatening in this tournament. 
Germany's Alexandra Humpert fights valiantly to prevent goals, but if the defence doesn't support her too much, it will be difficult for even such an outstanding goalkeeper to keep the goal "clean".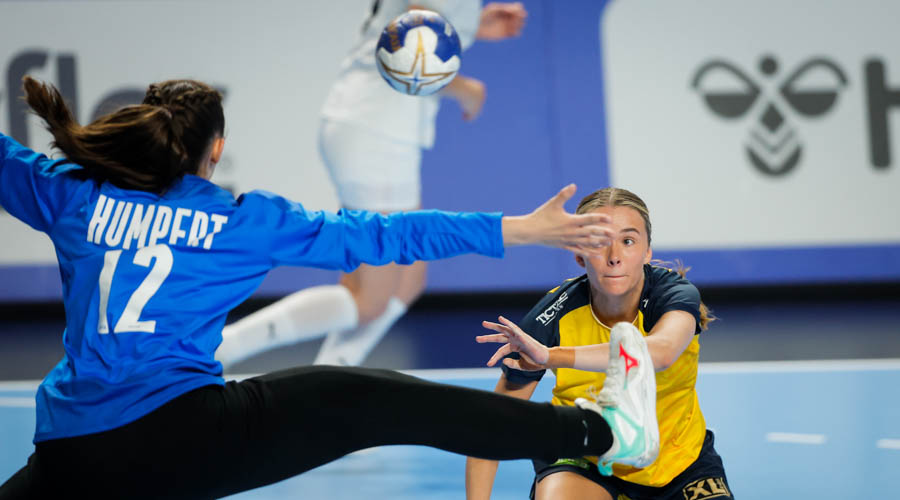 21:04 CEST Half-time: Hungary vs Denmark 11:12
Denmark's goalkeeper, Anna Christine Bossen, who has been one of the key contributors at Slovenia 2022 for her side, failed to make a save until the 15th minute, as Hungary's efficiency was nothing short of superb. This is one of the reasons why the reigning champions looked so efficient and managed to hold the gap floating at three goals. But Hungary have slowly started to get complacent in attack and Denmark have been fired up in defence. Despite not showing off any particular skills, the Scandinavian side cut the gap to a single goal, 10:9, with nine minutes to go in the second half.
And it went from bad to worse for Hungary, who lost their mojo in attack and turned the ball over eight times, enabling Denmark to take the lead for the first time. It looked impossible, but the Scandinavian side built a flawless 5:1 run, as Hungary scored only one goal in over nine minutes, as coach Szilard Kiss changed the lines. Without Kajdon to lead the attack, Hungary suffered, but still prevented Denmark to open a gap larger than one goal, entering the break with a one-goal deficit, 12:11.These are the first moments at Slovenia 2022 when Hungary are really suffering and after an easy path to the quarter-finals, playing against Denmark is their first real test. Whether they pass it or not, it will reveal their true colours. However, this amazing streak built in the past years by Hungary is really put to the test for the first time at Slovenia 2022.
20:45 CEST Swedes hardly give Germany a chance
While Sweden immediately found their way into the game and put on the pressure, Germany had great problems overcoming the Swedish defence. Sweden were 7 goals up before Germany scored for the first time in the 11th minute. Sweden has a goal rate of 60%, while Germany only has 48%. Germany's Alexandra Humpert has already made 6 saves, but the Swedish offence regularly pops up in front of her goal. 
The question is, will the German team still find a solution to crack Sweden's defence and get their defence more stable and is a high defeat looming?
20:44 CEST Hungary stop Denmark in their tracks with magnificent defence 
This has been an intense start of the game and with both sides excelling in defence, it was just about the side who managed to create the best chances in attack. That, of course, has been Hungary, who were boasting the largest number of goals scored in the tournament until the knockout phase, averaging a little over 36 scored goals per game. Like in the previous matches, Denmark could not generate the intensity needed, while also lacking in the department of sharpshooters. Therefore, their breakthroughs were often stopped by a superb collective effort in Hungary's defence, which forced Denmark's coach, Heine Eriksen, to call an early timeout.
On the other side, Hungary might not have towering players, but the way they move in defence and cover for each other is just mightily impressive. Forcing turnovers, putting pressure without being too undisciplined or simply resisting to get Denmark signalled into passive play, Hungary are doing just almost everything right. And there is no surprise that they are leading after 12 minutes, 7:3, with Johanna Farkas Blanka Kajdon and Anna Kukely each scoring two goals.
19:55 CEST Full-time: Argentina vs Kazakhstan 43:20 (21:10)
It was quite an easy win for Argentina, who were dominant throughout the match and ended their four-match losing run. Kazakhstan, who had only managed to beat the USA at the current event, came up short against the more experienced South American team. The difference in shot efficiency speaks for itself: Argentina has 66% compared to Kazakhstan's 43%.
In the Placement Match 25/26, Argentina will face India tomorrow, while Kazakhstan will compete with Chile for the 27th position.
19:41 CEST Full-time: Netherlands vs Angola 29:21 (17:9)
Netherlands make history. For the first time, they have qualified for the semi-finals of an IHF Women's Junior World Championship. Together they counted down the last seconds before everyone ran onto the field in jubilation to celebrate their passage to the next round. 
Since they had ignited the turbo in the first 15 minutes of the game, they played towards victory without any danger. The lead was too big for Angola, who fought bravely, to come close. But the Africans can be proud of their performance, they have played a great tournament so far and have stood up to the European powerhouses more than once. 
Either way, it will be the best result ever for Angola, who will meet Switzerland tomorrow, who lost to Norway in parallel. The Netherlands will thus meet the team that is still unbeaten alongside them and Hungary. It will be a hot duel. 
Netherlands goalkeeper Bianca Schanssema was deservedly named best player, with almost 50% saves. Kim Molenaar remained the top scorer until the end with 9 goals. 
19:37 CEST Full-time: Norway vs Switzerland 37:20 (15:9)
Norway have just qualified for the seventh time in the semi-finals of the IHF Women's Junior World Championship, after a performance that lacked impetus, but did exactly what was needed against a depleted Switzerland side. The win ticked exactly the necessary boxes, while coach Tore Johanessen also rested some key players throughout the game for tomorrow's game against the Netherlands, a feature underlined by the fact that a single outfield player, captain Celina Vatne, failed to score a goal. Eventually, the Scandinavian side also secured their largest win at Slovenia 2022, 37:20, taking advantage of Switzerland's woes.
Back in the competition for the first time since 1997, Switzerland also secured their best-ever finish, is slated to feature now for the 5/8 Placement Matches. They will first play Angola on Friday, but they will surely be happy with how this competition developed and the bright future this team has.
On the other hand, Norway are still going strong, with five wins and a single draw at Slovenia 2022. Once again, they are favoured against the Netherlands in the semi-final, boasting a superb back line, a key goalkeeper and some excellent wings. Basically, if you like Norway's senior side, you will definitely see some resemblance in this team.
19:36 CEST Argentina enjoy big advantage
As Argentina rotate their squad, as many as 11 their players have already scored at least once, with Morena Corvalan leading the team with six goals. A 74% shot efficiency allows the South American team to comfortably lead 32:16 after 45 minutes, so there is no doubt that tomorrow they will face India in the 25/26 Placement Match.
19:20 CEST Norway ready to celebrate semi-final berth
After the gap grew to nine goals, Switzerland's coach, Damian Gwerder, decided to risk it all and use a seven-on-six attack, which is surely exposing his side to open-goal shots and pacy fast breaks from Norway. But up until the 38th minute, they have managed to weather the storm at least, cutting Norway's lead to seven goals, as the Scandinavian side still relied on the players, coach Tore Johanessen did not use so much in the previous matches, with an eye of tomorrow's semi-final against the Netherlands, who are also clearly leading Angola in the other quarter-final.
With 15 minutes to go and no sign of Martine Andersen, Maja Saeteren or Frida Andersen, Norway's starting back line, the Scandinavian side is cruising to the win, 23:15.
19:07 CEST Half-time: Argentina vs Kazakhstan 21:10
In the 25-28 Placement Match, Argentina had a somewhat slow start, but quickly improved and started to tear Kazakhstan's defence apart. The free-flowing attack allowed them to score 21 goals already before the break, and Kazakhstan will need a miracle in the second half to turn things around.
The South Americans have a 70% shot efficiency, compared to Kazakhstan 43%. Besides, Argentina has scored six goals from fast breaks. Kazakhstan's Zhanerke Seitkassym scored five goals in the first half, but her effort did not translate into a team result.
18:49 CEST Half-time: Netherlands vs Angola 17:9
Angola have managed to cut Netherlands' 10-goal lead to 8 goals. Nevertheless, a heavy burden for the African team to take into the second half.
They will definitely have to step up their game and improve their chance conversion rate, which stands at just 41% if they want to have any chance of stopping the unbeaten Netherlands' winning streak. The Netherlands, on the other hand, can rely on their goalkeeper Bianca Schanssema, who has saved almost 50% of the shots on goal. Kim Molenaar continues to impress as the best scorer of the game.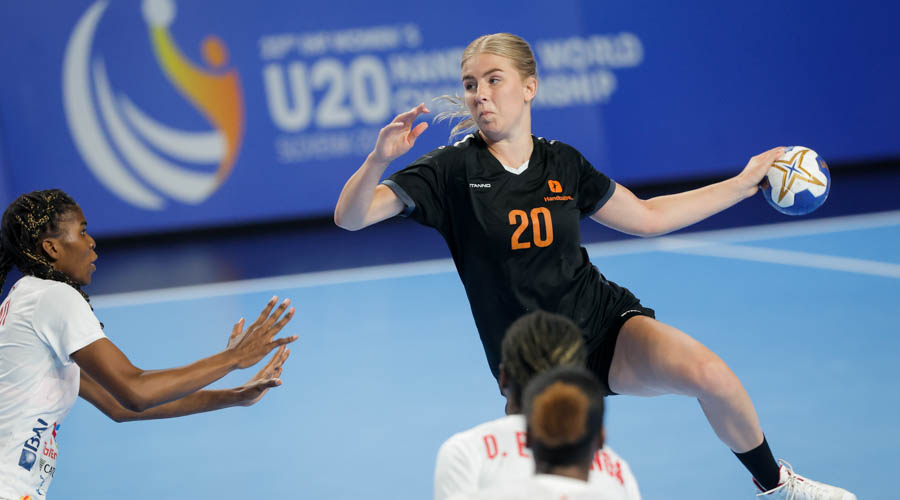 18:48 CEST Half-time: Norway vs Switzerland 15:9
Norway have definitely not been their best in this game, but the difference has already grown to six goals at the break, with the game as good as decided in these conditions. It was the trademark Norway style, of taking balls in defence and creating fast breaks, six of their goals coming in such a fashion in the first half. Switzerland failed to score between the 13th and the 28th minutes, but Norway only had a 4:0 run in that span, improving their lead to five goals, they also failed to score for seven minutes and 24 seconds.
On the other side, Switzerland are doing whatever they can in these conditions, finding it hard sometimes to create chances. And when they do, goalkeeper June Cecilie Krogh, one of the most efficient at Slovenia 2022, really provided relief for her side, saving nine shots, for a 50% saving efficiency. By the looks of it, this game is Norway's to lose, despite the Scandinavian team creating only a six-goal gap at the break. Switzerland were really brave, but their attack faltered considerably, as tired legs saw them failing to create much danger in the last 16 minutes when they scored only one time.
18:32 CEST Netherlands overrun Angola
Both teams are motivated, after all, neither of them has ever reached a semi-final at a World Championship before. At the beginning of the match, Angola were still keeping up well, but after 15 minutes the well-oiled machine of the Netherlands was pulling away like a steam engine. The Netherlands are 67% efficient so far, Angola can't keep up with 40%. Kim Molenaar has scored four times so far and is the most successful. 
18:31 CEST Depleted Switzerland stay close to Norway
This is a fast-paced game and it will be interesting how the depleted Switzerland team can cope with it for a longer period. For the first ten minutes, they did that superbly, however, Norway started slower, but got better and better, especially on fast breaks, with wings Maria Glad and Charlotte Iversen combining for three goals already. Turnovers have already started to mount on Switzerland's side, but Norway are still not that far ahead, 9:8, after 15 minutes.
There will be surely a time to rest key starters for coach Tore Johanessen, as Norway are due to play in the semi-finals on Friday provided they win, but they still need to create a bigger gap to try and steer clear of a potential surprise. Backs Laurentia Wolff and Ana Emmenegger have scored three goals each and Norway's coach is totally unimpressed with his team, calling a timeout to try and instil some urgency.
18:00 CEST Let's get ready for the show
Alright, so the business end of the 2022 IHF Women's Junior World Championship is upon us. The highlight of the day, the four quarter-finals, will be thrown off in just a quarter of an hour. The first scheduled in the Golovec Arena in Celje will oppose Norway and Switzerland, with a clear favourite for the match. The Scandinavian side is one of the three that did not lose a game until this point, displaying some great handball at times, on both sides of the ball. They have some of the best dual-threat backs in the competition – Martine Andersen and Maja Saeteren – with a strong potential also on fast breaks.
On the other hand, Switzerland, who made their comeback to the competition for the first time since 1997, are depleted due to a Covid-19 outbreak in the team. They have only 12 players on the scoresheet, including a single goalkeeper, therefore the margin of error is slim. With Norway heavily favourited for this game, it will be interesting to see exactly what Switzerland can do today.
17:59 CEST Full-time: India vs Chile 32:29 (18:14)
Chile put a lot of pressure on India and won the second half 15:14, but it was not enough to celebrate a victory in the whole match. The Asian team ultimately clinched their second win in the debut tournament. Their leader Bhawana ended the game with eight goals and was elected the Player of the Match.
In the Placement Match 25-26 tomorrow, India will face the winner of the encounter Argentina vs Kazakhstan, which will start tonight at 18:30, also at Tre Lilije Hall in Lasko.
17:38 CEST India still in control
Playing a 5-1 defence, Chile improved after the break and closed the gap to 20:22 10 minutes into the second half. But five minutes later, India restored a four-goal gap at 24:20. Their shot efficiency of 67% is still better than Chile's 47%. And India's best scorer Bhawana Sharna improved after a slow start and now has seven goals under her belt.
17:29 CEST Full-time: Tunisia vs Slovenia 25:28 (16:13)
There were three 3:0 unanswered runs for Slovenia in the end, which really shaped up this game and helped the hosts break a three-game losing skid at the 23rd edition of the IHF Women's Junior World Championship with a 28:25 win against Tunisia. It was a collective effort in defence, but also some brilliance from right back, Tjasa Zener, and left back Erin Novak, who combined for 12 goals, with Novak also adding three assists in another good outing for her.
Tunisia kept their ground for most of the game, but when their depth woes really kicked in, it was game over. As centre back Salma Ben Hassine and left back Anwar Ouertani grew more tired – they only scored two goals between them in the second half – the African side did not have the proper answers for what their opponents threw at them. All in all, Slovenia deserved the win, albeit after another weak start, but will now play for the 13th place in the final standings, against France. That could tie their best-ever ranking, clinched at Cote d'Ivoire 1997.
Tunisia face Egypt in an African derby for the 15th place at Slovenia 2022, which marks their comeback in the top 20 of the competition for the first time since Korea 2010, after finishing 23rd, 22nd and 21st in the last three editions of the IHF Women's Junior World Championship.
17:28 CEST Full-time: Montenegro vs Croatia 24:23 (10:13)
Montenegro managed the turnaround. They equalised in minute 51 and then took the lead and even extended it into a lead by the 53rd minute. Croatia's coach Adrijana Prosenjak reacted with a timeout to get her team back on track. It took a little while but they managed to equalise in the 27th minute. Montenegro, however, counterattacked and immediately took the lead again. The tension in the hall was palpable. The game went back and forth, Croatia equalised and Montenegro went up again. 30 seconds before the end, Croatia had the ball taken away from them in their attack. The game became even tougher. With 5 seconds left, Montenegro made one last attack, but it was blocked. But they could not care less, because the victory was theirs. 
Kroatien liess in ihrer Effizienz zu sehr nach und traf nur noch bei jedem zweiten Versuch ins Tor. Das war zu wenig gegen die stark spielenden Montenegro. Beste Torschützin war Kroatiens Bruna Zrnić mit 10 Treffern. 
With this defeat, Croatia cannot repeat their result from the last World Championship. Montenegro, who will face Japan tomorrow, will achieve their third-best result.  
17:08 CEST Half-time: India vs Chile 18:14
India had an advantage for most of the first half, and their lead reached five goals at 14:9, but Chile did not give up and closed the gap to 16:14. However, the Asians scored two unanswered goals to take a four-goal lead at half-time.
India are better in terms of shot efficiency, 68% against 48%, yet Chile should not be written off, as they will try to make a strong comeback in the second half.
17:05 CEST Slovenia use two 3:0 runs to take back the lead
A more focused defence inspired Slovenia's 3:0 run early in the second half, as two of those goals came after Ema Marija Marković stole two balls from Tunisia's attack. It prompted Tunisia to take an early timeout, as their three-goal lead vanished in the space of only two minutes and 13 seconds, as Slovenia started to play better in the second half, on par with their evolution throughout the tournament. The plan worked, as Tunisia went back to the drawing board and come out swinging, taking back the lead.
It also had to do with Marwa Mejri still making key saves, improving her tally to 11 saves and a 36% saving efficiency. However, Slovenia are still conceding too many easy goals, with their two goalkeepers, Dijana Djalic and Karin Kuralt only combining for six saves. But Slovenia deployed another 3:0 unanswered run, their second of the half, to take the lead, 21:20, in the 41st minute.
16:47 CEST India in front against Chile
Four minutes into this 25-28 Placement Match, the score was still 0:0, but then the rivals improved their attack. After 15 minutes, India lead 8:5, and they boast a much better attack efficiency, 67% against Chile's 38%. Yet Bhawana Sharna, who is India's top scorer in the tournament, has so far scored just one goal from three attempts.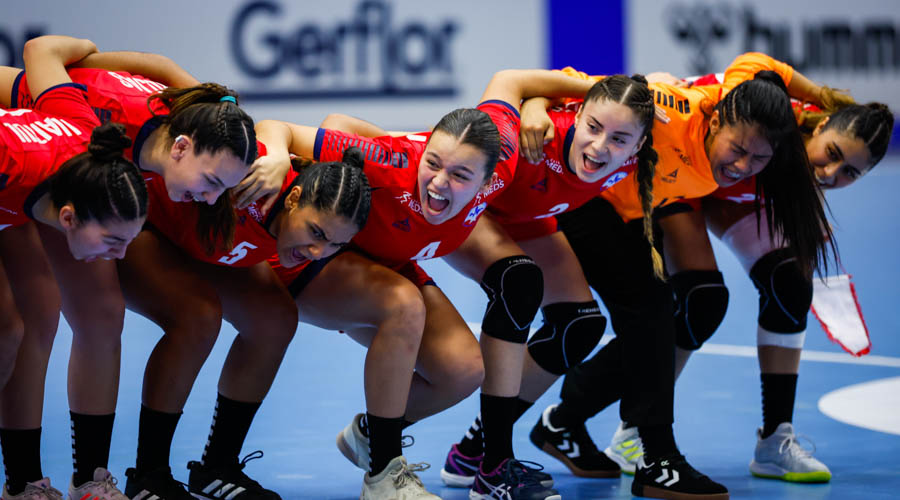 16:37 CEST Half-time: Montenegro vs Croatia 10:13
Croatia have now built up a three-goal lead. Nevertheless, it is still a game that is determined by the defence. And on the Croatian side, their outstanding goalkeeper Iva Brkljačić. So far, she has managed to defuse 50% of the balls thrown at her goal. In terms of goal-scoring efficiency, Croatia is ahead with 52%. Montenegro only put the ball in the net 48% of the time. Bruna Zrnić has been the most accurate goal scorer so far. Croatia has scored six times so far. 
16:36 CEST Half-time Tunisia vs Slovenia 16:13
Tunisia have only 12 players on the scoresheet and that might prove important come the second half. But in the first, they did play well, frustrating Slovenia at times, especially with their attack, as Anwar Ouertani scored seven goals from eight shots, being unstoppable at times. On the other hand, Slovenia suffered another blow with an injury, when Tamara Cokelc was carted off after falling to the ground after stopping an opponent.
There is still one half when Slovenia can bounce back, but they will need more from their star back Erin Novak, who scored a single goal in the match. A 4:1 run for Tunisia opened a three-goal gap for the African side, as the hosts looked unmotivated at times. Eventually, Tunisia entered the break with a 16:13 lead, with a last-gasp goal from Salma Ben Hassine, as Slovenia really need to up their tempo in the second part.
16:16 CEST Hosts record yet another slow start
Despite being the only available goalkeeper for Tunisia, due to a series of positive Covid-19 cases, Marwa Mejri had a superb game until now, with five saves for a 50% saving efficiency. Tunisia are leading Slovenia, 7:6, after 15 minutes, with another slow start for the hosts.
16:15 CEST Who can cheer at the end Montenegro or Croatia?
Having already caused frustration with France, Montenegro are doing it again with Croatia. Both teams give everything again and deliver a hard fight and you can see that in the close result. The score is 5:6 after the first 15 minutes. They are also only one percent apart in terms of goal-scoring efficiency. So another exciting game can be expected.
15:57 CEST Full-time: Guinea vs Lithuania 27:41 (12:20)
Lithuania were superior throughout the game and ultimately cruised to their third straight win in the tournament. Boasting a 77% shot efficiency, they scored 13 goals from fast breaks and managed to hit the 40-goal mark. Gabija Pilikauskaite and Player of the Match Silvija Mackonyte played a crucial role in their squad, ending the match with 10 and eight goals respectively. Tomorrow Lithuania will meet Brazil in the 21/22 Placement Match, while for Guinea, the tournament is already over. The Africans finished in the 23rd position, which is not bad for a rookie team. Their potential rivals in the 23/24 Placement Match, Austria, have withdrawn from the competition.
15:38 CEST Full-time: Japan vs Czech Republic 32:20 n.p. (17:15)
This game also ended with a nail-biting final. After 59:03 minutes of play, Czech Republic tied the game at 28:28. Japan lost the ball in their last attack and a final timeout followed on the part of Czech Republic. After their attack failed, it came to a penalty shoot-out for the first time at this World Championship. 
Czech Republic started. Japan's goalkeeper Rino Nakamura held Michaela Daňková's penalty. Czech Republic's Aleksandra Hypka was on the end of Sora Ishikawa's shot, but it was not enough. Czech Republic's Denisa Holeňáková and Natálie Kuxová and Japan's Akari Mizutani and Sumire Fukui both converted their attempts. But then Nakamura made the next save and after Sanju Yoshino also converted her penalty, the victory for Japan was secure. 
They will then play for ninth place tomorrow and could achieve their second best result at the World Championships if they finish ninth or equal their second best result with 10th place. 
15:37 CEST Lithuania hold advantage
Lithuania has already scored nine goals from fast breaks, and thanks to an 81% shot efficiency, they lead 30:20 with 14 minutes to go. Guinea should be credited for not giving up, yet it does not seem like they have a realistic chance for a strong comeback in the remaining time.
15:23 CEST Full-time: France vs Egypt 31:21 (15:8)
After two draws and one loss that basically paved the way for France's exit from the battle for a medal, Eric Baradat's side finally got their first win at Slovenia 2022 in nearly a week, dominating Egypt, 31:21. It was not their best game in attack, nor it was in defence, but it proved easy, especially as the gap was mainly built on converting fast breaks. France's top player in the tournament, centre back Lena Grandveau, did not score a goal today, but dished five assists, underlining her versatility throughout the match.
Egypt started brightly but failed to get going throughout the second part of the match and it was a testament to their lack of experience. They will now play for the 15/16 Placement Match with the team that concedes a loss from either host Slovenia or fellow African side Tunisia. France will either finish 13th or 14th, but this will surely be a disappointing tournament, where both the staff and the players will ask themselves if more could have been done to achieve a better place in the final standings.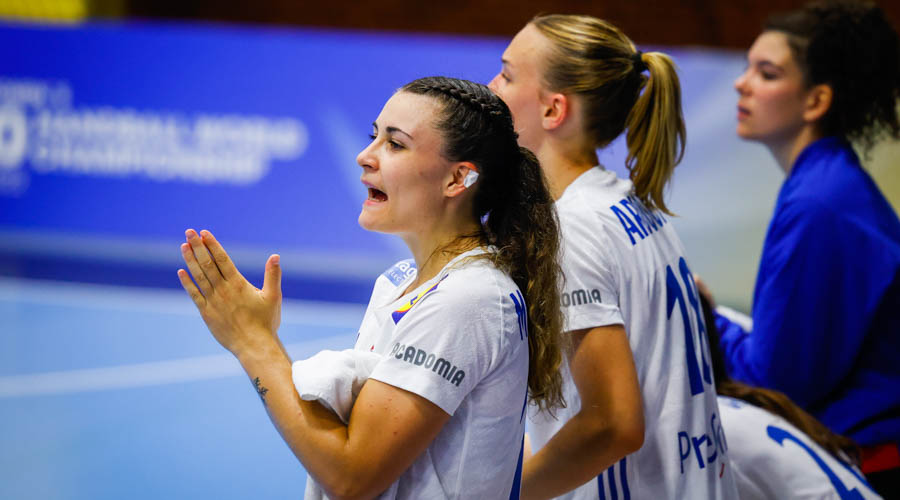 15:04 CEST Half-time: Guinea vs Lithuania 12:20 
After a slow start, Guinea improved and cut the deficit to 9:12 by the 23rd minute. However, Lithuania held their nerve, and a 4:0 run in the last three minutes before the break secured them a commanding eight-goal lead.
The difference in goal efficiency is still big, as Lithuania has 77%, and Guinea 46%. Guinea's M'mah Kourouma has scored six goals, one more than Lithuania's top scorer Silvija Mackonyte, yet the Europeans performed better as a team and will head into the second half with confidence.
15:02 CEST France still control the game
Things are more or less the same in this match, as France are controlling the gap without much strain, while Egypt are trying to get closer and closer, but fail. After a 4:0 unanswered run, the European side is now boasting a nine-goal gap, 22:13, with 17 minutes to go. It definitely has not been a strong tournament for France's goalkeeper, Melanie Halter, one of the most experienced players in their squad, as she now saved only two shots in this game. While she boasted a 34% saving efficiency in the tournament – enough for the 24th place in the standings – her teammate Jemima Kabeya obviously fared better, with a 41% efficiency in the first five games.
14:36 CEST Half-time: Japan vs Czech Republic 17:15
Czech Republic scored the first goal of the match, but then they were overrun by Japan. After 15 minutes, they led 9:4, and it was not until the 20th minute that the Czech Republic managed to catch up and gradually close the gap. Japan just managed to save a 2-goal lead into the break. 
Especially in terms of efficiency, Czech Republic improved to 65%, surpassing Japan (61%) in the meantime. The top scorer so far is Charlotte Cholevová with six goals. 
14:35 CEST Half-time: France vs Egypt 15:8
What was truly expected, France going on a run to try and silence Egypt has happened, as Eric Baradat's side used a 4:1 partial spurred by wing Zaliata Mlamali to take control of the game and force Egypt to call a timeout in the 25th minute. By that time, France were already four goals up and firmly in control of the game. Yet by their standards, this is still not a vintage performance from the European side, who is still trying to deal with their elimination from a medal challenge, as they ended the first half with a 8:2 run.
Egypt, who have already sealed their best performance ever in the competition, after a defining win against Poland, 27:25, in the preliminary round, will probably lose their third game in a row. But the promise of this side, which has lost by seven goals against Croatia and only by three goals against Switzerland, is big. Their top scorer at Slovenia 2022, Mariam Ibrahim, is also their best scorer in this game, with three goals. However, with a 15:8 lead at the break, France look likely to be headed for the 13/14 Placement Match tomorrow.
14:17 CEST Egypt surprise France as score is still tied after 15 minutes 
France are obviously disappointed to have missed the quarter-finals, but they only have themselves to blame, after drawing against Norway, 34:34, and Denmark, 19:19, in their past matches. The game against Denmark was especially impossible to understand from coach's Eric Baradat point of view, as he did not call a timeout during the final attack to try and organise his team. Now, France have to play against Egypt in the 13/16 Placement Matches and their start has been far from ideal, missing five shots in the first 15 minutes, with the African side still holding close.
Sure, France are still big favourites, with goalkeeper Jemima Kabeya Tshisola boasting a 40% saving efficiency, as Egypt have failed to really put pressure on France. But the score is somewhat tied, 4:4, with France having a disappointing start to the game.
14:00 CEST Full-time: Republic of Korea vs Poland 26:28 (16:13)
Good defence and multiple saves by Aleksandra Hypka helped Poland to turn things around after the break. When the European team led 26:21 with eight minutes to go, the game looked almost settled. However, Korea hit back and closed the gap to 26:27. They needed one more goal to draw level, but lost the ball in their last attack before Michalina Pastiszka sealed the final score. 
In the President's Cup final, Poland will face Romania tomorrow, while Korea will meet Slovakia in the Placement Match 19/20.
13:37 CEST Poland hit back after the break
An improved defence and Julia Niewiadomska's impact in attack helped Poland to turn things around early in the second half. Niewiadomska has already scored nine goals in the match, and her team is in front, 21:19 after 45 minutes. However, there is no doubt that Korea will fight until the final whistle, so another turnaround is still possible.
13:30 CEST Full-time: Slovakia vs Romania 30:31 (15:17)
Nerve-racking until the end. Both teams were absolutely on par throughout the entire match. At times it looked as if the game would go into overtime. In the 57th minute, Romania had equalised again. After that, neither team managed to put the ball in the opponent's goal. Until 40 seconds before the end, Romania's Sarah Aida Darie let her teammates cheer. After Romania's timeout, Slovakia had another chance to equalise, but Nataliia Dmytrenko hit the post and Romania could celebrate the victory. 
Slovakia's top scorer was Alexandra Gabriela Dumitrascu, who sank six of her seven attempts. Romania's Malina Ioana Bichir scored once more. In terms of efficiency, both teams were as close as the score suggests: Slovakia 68%, Romania 69%.
 
13:23 CEST Full-time: Italy vs United States of America 36:17 (15:8)
This 36:17 win was Italy's largest-ever in the competition and their first in 41 years at the IHF Women's Junior World Championship. The European side definitely wanted a better placement at the end of Slovenia 2022, but this is still a good stepping stone for many of the players, after delivering good performances against Denmark and Montenegro, despite losing those matches. Italy should be buoyed by this win and will be heavily favoured against the Islamic Republic of Iran tomorrow when they play in the 29/30 Placement Match.
On the other hand, the USA managed to stay afloat for the first 15 minutes, but it was game over from that point on, as the lack of experience really hampered their game. As Italy got better and better, misses piled on for Edina Borsos' team, with Italy's goalkeeper Magdalena Cabrini finishing with a 71% saving efficiency. USA's goal will be to win their first game in the competition and avoid the last place when they face Mexico on Friday, in the 31/32 Placement Match. It looks to be a balanced game, but Mexico still looked better overall in the competition. Yet the experience of being here for a team who is averaging 17.6 years old will prove invaluable for the USA.
13:09 CEST Another turnaround between Slovakia and Romania
Slovakia equalised 10 minutes into the second half and took the lead a minute later. Since then, Romania are again in the chasing position and try to close the gap. It is a copy of the first half. The only difference is that Slovakia can now put 72% of their shots on goal. 
13:08 CEST Half-time: Republic of Korea vs Poland 16:13
Poland fought hard, but the Republic of Korea were dominant for most of the first half, so their lead looks quite logical. They enjoy a better shot efficiency, 64% against 57%. A three-goal gap does not look insurmountable, but Poland need to improve their game to make a comeback.
Korea's top scorer in the tournament, Yeonsong Lee, have scored just three goals from nine attempts so far. However, her teammate Eunhye Ji did better, netting seven times, one more than the Polish leading scorer Julia Niewiadomska.
13:01 CEST Italy on their way to secure their first win in 41 years 
The gap has ballooned to 11 goals, 25:14, as Italy are still trying to give meaningful time on the court to all players. The game is as good as over now, with Italy on their way to securing the first win in the competition since 1981. They will now play in the 29/30 Placement Match against the Islamic Republic of Iran, while the USA are set to feature against Mexico to try and avoid the last place in the competition.
12:47 CEST Republic of Korea and Poland fighting hard
Both the Republic of Korea and Poland can be named among the disappointing teams at Slovenia 2020, yet their current goal is to sweeten the pill and win the President's Cup. But to get to its final, they need to earn a victory today – and both sides are fighting hard.
Again led by Eunhye Ji, who has already scored three goals, Korea pulled clear at 7:5. However, a time-out taken by Poland helped them to draw level at 8:8 after 15 minutes, so it is basically a very close match.
12:38 CEST Half-time: Slovakia vs Romania 15:17
In the meantime, Romania could take the lead again, which they had to give away in the 7th minute. Since then it had been a constant advance by Slovakia and equalisation by Romania. Now it was the other way round from minute 21 until Romania pulled away to 3 goals six minutes later. Now it was up to Slovakia to close the gap again. 
In terms of scoring chances, Romania had a narrow lead with 68% compared to 65%. Romania's goalkeeper Sara Rus has saved 5 of 16 shots so far. Slovakia's Kristína Kusyová had more to do. 23 shots were fired at her goal, 6 times she was able to block the attack. The top scorer so far is Malina Ioana Bichir. The Romanian scored 5 goals.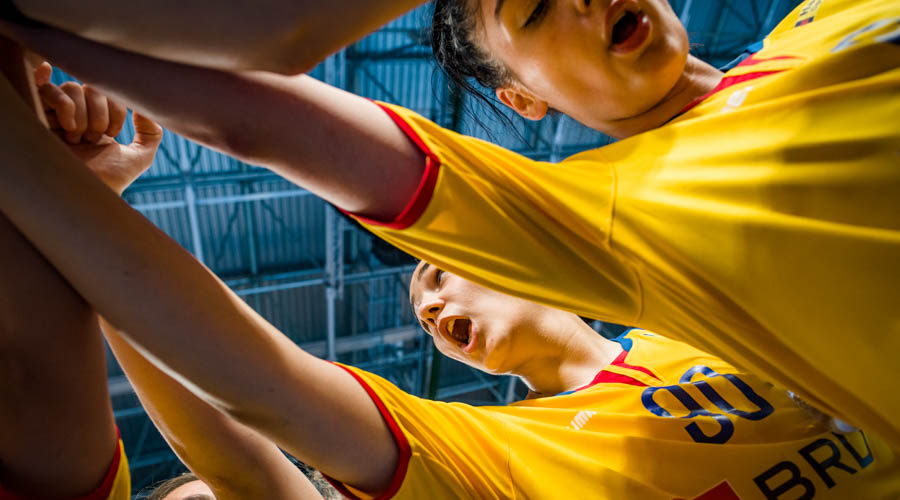 12:34 CEST Half-time: Italy vs United States of America 15:8
Taking care of the ball must be a big priority for the USA going forward from this tournament, as their amount of technical faults has been staggering. It might be down to the lack of experience or their youth – as they still are the youngest team in the competition – but coach Edina Borsos must help the players prevent such mistakes. They have turned the ball over 15 times in the first half, most of the time with hard consequences.
Italy duly took advantage of USA's mistakes, especially after goalkeeper Magdalena Cabrini entered the fray, substituting Sara Margherita di Giugno. Cabrini saved six shots for an outstanding 75% saving efficiency, leaving the USA basically empty-handed in the second part of the first half. In fact, USA scored only two times in the last 15 minutes, as their attacking efficiency plummeted. However, Italy did not open such a huge gap, with the score line standing at 15:8 at the break.
Giorgia Meneghini is Italy's top scorer, with four goals, a feature that should be improved in the second half, when the USA did not look good in the previous matches, scoring only 27 of their 66 goals at Slovenia 2022.
12:16 CEST USA stay close to Italy in a good start
The USA side has been at the opposing end of some painful defeats, especially against Hungary and Austria, failing to score a goal in the second half against the latter. But they are going surprisingly well in this match, at least in its first 15 minutes. Goalkeeper Lani Gronwald, who is playing in Germany, has already saved four shots for a 33% saving efficiency, trying to preserve the gap. Italy have started quite good, but their defence has been seriously lacking in the start of the match, as they have conceded just too many goals.
Up until this point, their top scorer in the tournament, centre back Giulia Fabbo, failed to score a goal, instead, it was back-turned-line player Bevelyn Osarosemwen Eghianruwa, who dominated the USA team. Edina Borsos' side made the same mistakes in the first part of the game - already five turnovers - but the gap is still manageable 8:5.
12:15 CEST Balanced match so far between Slovakia and Romania
The goal of both teams is to win the President`s Cup, and for that, they need a victory today. But so far, both teams are on an equal footing and neither team can pull away. After 15 minutes, the score is 8:8 between the two Eastern European countries. Slovakia's goalkeeper Viktoria Voržáčková has recorded 4 saves so far, while both sides' offence is about equally efficient.
11:26 CEST Full-time: Islamic Republic of Iran vs Mexico 42:26 (18:11)
It's over and it's also official, the Islamic Republic of Iran are the latest team in the history of the IHF Women's Junior World Championship to secure a win. After a slow start, an 11:2 run helped Iran to establish a big lead against Mexico, from which the opponents never bounced back. It was a superb attacking performance from the Asian side, which scored five goals in the first 10 minutes of the game, but topped them up with another 41 in the other 50 minutes, as Mexico literally had no answer in defence, conceding the largest amount of goals in a single game in their history, topping the previous record, 42 goals, set against Germany a week ago.
Haniyeh Karimi was the MVP of the match after scoring 14 goals, the second-best individual performance for a player at Slovenia 2022, after Slovakia's Viktoria Gyoriova scored 16 goals against India in the preliminary round. Iran's goalkeepers Elnaz Yarmohammadtouski and Marziyeh Gharakhani Dehsorkhi were also in fine form and combined for 16 saves, constantly frustrating Mexico's attack. It was really a great performance from Iran, who will now head to feature in the 29/30 Placement Match against the winner of the next clash in the Golovec Arena, Italy vs USA. Mexico will try to avoid finishing in the last place in tomorrow's 31/32 Placement match against the team which concedes a loss in the next match.
11:04 CEST Islamic Republic of Iran on the verge of history
The Islamic Republic of Iran are on the verge of writing history, as this would be their first-ever win at the IHF Women's Junior World Championship. They have started the game having some issues, especially in attack, but their connection on the right side of the court, with back Negar Zendehboudi and Haniyeh Karimi worked out beautifully until this point, as the two players combined for 15 goals, with Karimi herself putting six goals past Mexico in the second half, four between the 40th and the 45th minutes. Indeed, Mexico look unable to bounce back, as the gap still hovers at 13 goals, 29:16, with 15 minutes to go.
Iran, who are making their debut in the competition, had already taken a draw against Guinea, 19:19, in their first match at Slovenia 2022. And now they are heading to their first win. While they probably are slated to feature in the 29/30 Placement Match tomorrow, they should be proud of what they achieved in this tournament.
10:33 CEST Half-time: Islamic Republic of Iran vs Mexico 18:11
A 4:0 unanswered run from the Islamic Republic of Iran prompted a timeout from Mexico's coach, Adriana Garcia Castillo, who tried to instil some confidence in her team, after failing to score for more than seven minutes. However, there was little Mexico could do when Iran really started to get going. That 4:0 run turned into a 13:2 run, as the Asian side basically ran riot against Mexico, opening what looks to be an unassailable gap. It is difficult to understand what really happened with Mexico, after a strong start, scoring only four goals in the last 18 minutes of the half. But Adriana Garcia Castillo's side really looked to have their energy levels down, after playing five games in the last nine days.
From the looks of it, Mexico, who are down 18:11 at the break, will likely play in the 31/32 Placement Match, against the team that concedes a loss between Italy and the USA. That may turn out to be a true derby between teams from the North American and Caribbean Handball Confederation, as the European side will be heavily favoured in that match.
10:15 CEST Long day throws off in Golovec arena
Despite boasting only 12 players on their roster for this game, as they also had trouble throughout the tournament, Mexico have started the game against the Islamic Republic of Iran rather brightly. Their players, who still have speed, despite not being the tallest, with an average height of 1.66m, dazzled the Asian defence, which failed to stop Mexico in the first ten minutes.
12 years ago, Mexico have won two games and finished on the 18th place at Korea 2010, but have failed to make their comeback until Slovenia 2022. Until this moment, Mexico lost their first five games, but are ready to bounce back against Iran. Will they make it? They are still relying on left wing turned left back Jenifer Verdugo Vejar, who was on the eighth place in the top goal scorer standings before this match, boasting a 32-goal tally, or an average of 6.4 goals per game. After 15 minutes, Mexico took a 6:5 lead, but Iran are staying close.
9:55 CEST Ready to go!
Ok, so here we go. After Austria withdrew from Slovenia 2022, due to several positive Covid-19 cases, we have only 15 games on the card today and they throw off with a Placement Match for the 29/32 places, featuring the Islamic Republic of Iran and Mexico. While Mexico lost their first five games, the Asian side clinched a draw in their opening match against Guinea before losing four matches in a row. Remember, the quarter-finals start at 18:15, with Netherlands vs Angola and Norway vs Switzerland.
9:50 CEST How to watch
Want to follow the action live in the halls in Celje and Lasko? Then you can do so via livestream or partly also on TV. 
Viaplay, for example, today broadcasts several matches like those of Poland, Sweden, or Netherlands. AMC / Sport 1 will cover the matches of Hungary and Czech Republic.
9:45 CEST Helping hands join for USA 
USA have returned to the IHF Women's Junior World Championship for the first time since 1981. That has been a long time coming, but they are still without a win. However, improvement does not come overnight, therefore there is still a lot of work to be done for the American side.
But help is on the way, especially from European powerhouses. In their first training camp, held in France, the young players met Olivier Krumbholz, the legendary French coach, who became world champion twice, in 2003 and 2017, European champion in 2018 and also secured the gold medal with the France women's national team at the Olympic Games Tokyo 2020. Then, the USA flew to Hungary, where they held another training camp at the Hungarian National Handball Academy (NEKA), where the last winners of the IHF Women's Junior World Championship and the IHF Women's Youth World Championship were created.
Learn more about USA's story here. 
9:30 CEST Who's on top?
Austria withdrew from the 23rd edition of the IHF Women's Junior World Championship, due to several positive Covid-19 cases, so the top spot of the top scorer standings is now once again open. The leader, Kristina Dramac, will not play anymore due to Austria's retirement, but still holds a nine-goal advantage ahead of India's Bhawana and Czech Republic's Charlotte Cholevova, who have scored 40 goals. Dutch back Kim Molenaar is fourth, with 38 goals, while Korea's Yeonsong Lee is fifth, with 37 goals.
In the goalkeeping department, Czech Republic's Adela Srpova leads the way with 50% saving efficiency, followed by Germany's Alexandra Humpert, with 44.1% saving efficiency and Hungary's Anna Bukovszky, posting a 42.6% efficiency. The largest number of saves was made by Lithuania's Skirmante Gecaite (61), followed by Slovakia's Viktoria Voržáčková (60) and India's Chetna Devi (57).

9:15 CEST Let's talk Slovenia 2022
The main round and the President's Cup group phase are now over, with 80 of the 108 matches elapsed at the 23rd IHF Women's Junior World Championship. We have analysed what has happened up until this point in the competition, to deliver five talking points about Slovenia 2022, just as the race for the gold medal is about to hot up.
9:00 CEST Crucial day to determine semi-finalists at Slovenia 2022
Welcome to today's live blog for the 2022 IHF Women's Junior World Championship, the place you will find everything you need for the competition that hosts the best junior players in women's handball.
As usual, you are just one click away from every meaningful piece of information on our website and on the competition mini-site, including the schedule, the results and the freshest stats to see who's hot and who's not at Slovenia 2022.