Tokyo 2020 Olympic Games throw off with crunch games for favourites
24 Jul. 2021
Running updates of Tokyo 2020 men's group A – follow the action of the Olympic handball tournament live and stay always up-to-date. After Norway's win against Brazil, France took a commanding win against Argentina and in a dramatic match, Spain claimed a one-goal win against Germany. 

Group A of the men's tournament at the Tokyo 2020 Olympic Games throws off, with three games scheduled on the first day of the competition. 
Today's matches:
09:00 JST: Norway vs Brazil (27:24)
11:00 JST: France vs Argentina (33:27)
16:15 JST: Germany vs Spain (27:28)
19:05 JST First day in group A is done and dusted
Well, we expected much from this first day and it duly delivered. All three favourites won in Group A, but there were still raw emotions and some rust in some of the teams.
Who looked the best? Probably France. Guillaume Gille stayed true to his roots in the win against Argentina, 33:27, and gave all his players a go, with 11 out of the 12 outfield players scoring at least one goal. Depth-wise, France look like the best team in the group, but there are still tests against Norway, Spain and Germany waiting.
Norway? Where to start. First of all, they looked a bit unsettled after losing Goran Johanessen to an injury. But after deciphering Brazil's defence, they made it look easy. Four months ago, they took a 12-goal win against the South American opponents, but today they only managed a 27:24 win. However, they rely heavily on Sander Sagosen, who will need to up his game a bit, despite scoring eight times.
What about Spain? Well, the reigning European champions won the match against Germany 28:27 through sheer experience. Their back line did not function so well, but when it did, Spain really looked like a force to be reckoned with. Their energy levels are important to manage, bearing in mind that they have the most experienced squad in the competition.
Time for a short break for these teams, as they return on Monday, with Brazil taking on France, Germany facing Argentina and Spain relishing the clash against Norway, in the only match featuring two teams that won their first game.
 
17:50 JST FINAL WHISTLE Germany vs Spain 27:28

What a roller-coaster this game has been! It featured no less than six lead changes, including five in the second half. But, eventually, Spain sealed the win after a nail-biting finish (27:28). Alex Dujshebaev scored the winning goal, with 56 seconds left in the game, prompting Alfred Gislason to take a time-out to deploy a seven-on-six superiority in the final attack. However, Germany's game finished with two turnovers, as Marcel Schiller and Steffen Weinhold were responsible for attacking fouls.
But the game was not over yet. Eduardo Gurbindo turned the ball over himself, yet Philipp Weber could not score with the final shot, a nine-metre throw which he converted in a friendly game against Egypt in the three-nation tournament, which took place in the first week of July in Nuremberg.
Ultimately, Alex Dujshebaev was the right man in the right place, scoring Spain's last two goals, despite only converting four of his seven shots. As Germany's defence was weakened, though, their goalkeepers only saved two shots in the second half, resulting in their first loss at the Tokyo 2020 Olympic Games.
The game was nearly tied in all statistical categories, with Spain (65% shooting efficiency) being better in attack than Germany (61%), with Spain's goalkeepers saving 29% of the shots they faced, as opposed to Germany's 28%.
As for Spain, their win has not been pretty, their attack looks a step slower than at Egypt 2021, but a win is a win, especially before their showdown against Norway on Monday. Germany play against Argentina in the next round.
With all three games finished in Group A, France are the leaders with a +6 goal difference, followed by Norway (+3) and Spain (+1), all with two points. Germany, Brazil and Argentina are in the last three places.
 
17:20 JST A repeat of their game at the IHF Men's World Championship?

While Spain scored 12 goals in the first 30 minutes of the game, their attack went on a spree in the first 10 minutes of the second half, as they scored seven times.
It is, basically, a repeat of the 2021 IHF Men's World Championship game between the two sides, when Spain were unstoppable in the second half to take a 32:28 win.
Of course, Germany are better this time around, but Spain are now leading 19:18, having missed only two shots in the second half. However, Julius Kühn has been bright in this second part, scoring once and assisting one more goal. Will Germany be able to turn the tide around?
 
16:55 JST HALF-TIME Germany vs Spain 13:12

Suspensions to Kai Häfner and Johannes Golla meant that Germany had to play the last 10 seconds of the first half with only four outfield players. But they defended well and prevented a Spanish goal that would have tied the score. It is, basically, a summary of the first half, where Spain have always been close, but not quite there. Their attack looked predictable at times, but it was also thanks to goalkeeper Johannes Bitter (nine saves – 43% saving efficiency), who had some fine saves throughout the half.
Therefore, Germany's 13:12 lead is based on their efficiency in defence and their distribution in attack. Spain's main issue looks to be the nine-metre line. Their backs have converted only five of the 14 shots they tried, a percentage which will not win games against teams like Germany.
With France and Norway having already won their games in the first round of group A, this is a game that should be won by a gold-medal candidate. However, Spain also drew their first game at the IHF Men's World Championship 2021 against Brazil (29:29) but still won the bronze medal. This is anyone's game.
 
16:40 JST Bitter? More like fine wine

When you have an in-form goalkeeper, it is always easier. And Germany – they have Johannes Bitter. At his second Olympic Games participation, 13 years after from Beijing 2008, the 38-year-old goalkeeper is having a superb outing, saving seven shots for a 50% saving efficiency. On the back of his saves, Germany took the lead, thanks to a 3:0 run, and opened a three-goal gap (10:7), with 10 minutes to go in the first half.
Germany's defence, albeit aggressive, is magnificent, while the attack is well-balanced, with line player Johannes Golla, right wing Timo Kastening, right back Steffen Weinhold and line player Hendrik Pekeler each scoring two goals. On the other side, Spain are not failing, rather than lacking focus in attack. Jordi Ribera called a time-out and hopes to resolve that issue.
 
16:30 JST Goalkeeper battle shaping up
 
Yes, this game does not disappoint. It is exactly what we expected, a battle between two European powerhouses, whose attacks are superb.
However, even when two strong attacks collide, goalkeepers are crucial. And this is also the case today, as Johannes Bitter (four saves and 57% saving efficiency) and Gonzalo Perez de Vargas (three saves and 50% saving efficiency) are in a battle of their own.
There is still a long time before the end of the game, but after 10 minutes, Spain are up 5:4 and it is not their backs or fast wings who are making the difference, rather an unexpected line player: Adrian Figueras scored three of Spain's first four goals, surprising the German defence each time by creating his own space.
 
16:05 JST The day's headliner is coming up
 
Hungry for more handball? The action continues with Group A's headliner, Germany versus Spain. Reigning European champions Spain have travelled to Tokyo 2020 with an aging squad, the most experienced in the competition, with an average age of 33.18 years. Starts are crucial in such a competition and Spain will eye their first win in the match against Germany, a team they dominated historically, taking 18 wins in 26 games.
However, Germany are stronger than at the IHF Men's World Championship in January, where they finished 12th, their worst finish in history. And coach Alfred Gislason is eager to showcase the German talent, spearheaded by experienced players like Uwe Gensheimer and Andreas Wolff.
 
13:10 JST Quotes after France's win

Nikola Karabatic, France centre back
On the key to the win: "We played very well. Attacked very well. Defence was good. Our keeper Vincent Gerard had a great start and they scored only 10 goals. We started well in the first half and we led, then they came back. We didn't score many goals – just 12 in the first half.
"Then in the second we had to keep up with the tempo and start new with a lot of energy and we made the difference early in the second and so after that we could manage our efforts and try some tactics, tried to play some seven against six and everything. It was a very good game – very good start to the Olympics."  
On preparation for Argentina knowing their ability to fight hard: "Of course, we were prepared. We know the Argentinian fighting spirit and we were prepared that they were going to put everything on the line for this game and that we had to be well prepared to play against an aggressive team who will try to make some fouls on us so we prepared very well in offence and defence. I think it was a good start, a very good start."
On what it means for him to be at Tokyo 2020 after injury and the delayed Games: "It's been a long wait to be here. Normally we should have played last year and everything should have gone fine for me, but then I injured myself and I had a time clock for this Olympics in 2021. I had to beat the injury, so it was a big challenge for me. I'm really proud to be here, to be standing and to be able to play with my team."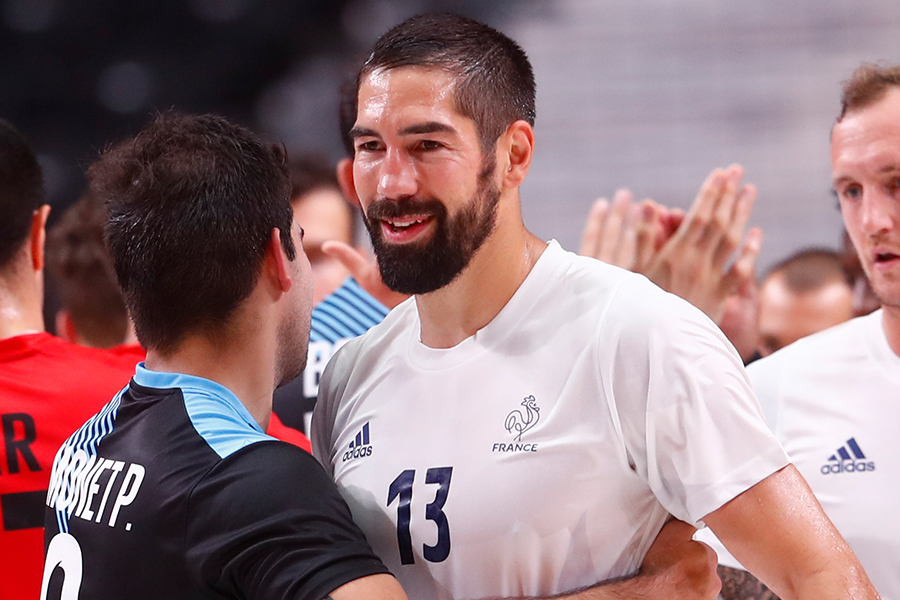 12:50 JST Sagosen and Simonet lead the top scorer standings

There have already been some outstanding individual performances in the first two games at Tokyo 2020, with select players delivering when it mattered the most. Up until this point, Norway's left back Sander Sagosen and Argentina's centre back Diego Simonet are leading the top scorer standings, with eight goals each. Simonet has been superb for Argentina, converting eight of his nine shots, all from open play, while Sagosen had three goals from penalties.
However, France's right back Melvyn Richardson really stole the show. He scored seven times, but played only in the second half, converting all of his shots in the game.
We will take a short break until 14:15 JST, when the third game of today's card throws off, with the silver medallists of the 2021 IHF Men's World Championship, Sweden, facing Asian champions Bahrain.
 
12:30 JST FINAL WHISTLE France vs Argentina 33:27

The two sides have also met in the group phase at the Olympic Games London 2012 and Rio 2016. In 2012, France won by a landslide, 32:20, while five years ago, the French side enjoyed a clear 31:24 win. The story repeated itself at Tokyo 2020. 
France only had a mishap in the final eight minutes of the second half when Guillaume Gille's side did not score a goal and a 4:0 run by Argentina gave the sense that the South American team could muster a surprise. However, there was no room for surprises, as France's superior depth and experience were clearly on display in the second half. As Gille rotated his players and ushered in Nikola Karabatic, back on the court for the first time in an official game for France after many months, rehabilitated from a knee injury, the French side looked sharp in both attack and defence, securing an easy  33:27 win.
Despite playing only in the second half, right back Melvyn Richardson was flawless for France, scoring seven goals from seven shots, with Gille's side having 11 of their 12 players score at least one goal, the odd one out being centre back Kentin Mahe.
On the other side, Argentina did improve their efficiency in attack, but the turnovers really did take a toll on their game, with the South American side conceding their third loss in as many matches at the Olympic Games against France. It also did not help that their goalkeepers – Leonel Maciel and Juan Manuel Bar – only saved five shots combined.
'Les Experts' now lead the group, while both South American sides, Argentina and Brazil, are tied at the bottom after conceding losses on the first day of the Olympic handball tournament.
On Monday, France face Brazil, aiming to make it two out of two against their South American opponents, while Argentina have a tough fight ahead against Germany, with their future in the tournament in balance.
Argentina set record for goals conceded at the Olympic Games
This was Argentina's 11th game in history at the Olympic Games, with their record standing now at two wins and nine losses. However, they had never conceded more than 32 goals in Olympic history, with their worst defensive outing being recorded at London 2012, when France handed them a 32:20 loss.
It was also France who left Argentina reeling in their opening game at Tokyo 2020, as the South American side's record for goals conceded now stands at 33. In fact, they conceded the largest number of goals at the Olympic Games in matches against France, with 33 at Tokyo 2020, 32 at Rio 2016 and 31 at London 2012.
 
12:00 JST France show off their superb depth

Nikola Karabatic is back! The French superstar was introduced at half-time by his former team-mate Guillaume Gille, who is now France's coach, and in the first attack he has already made the difference, receiving a penalty.
Wings Hugo Descat and Valentin Porte are also on the court now and France will try and create another gap, like they did in the first half, when they went up by six against the Argentinian side.
France also show off their depth, with two different sides of similar creativity and power, which is surely a huge advantage in such a difficult tournament as Tokyo 2020 is. However, Argentina are still clinging on, with Diego Simonet taking centre stage, with five goals and two assists under his belt after 40 minutes. However, a 5:1 run from France, powered by Melvyn Richardson, Porte and Descat, sees Gille's side open a 19:13 gap after 37 minutes. 
 
11:50 JST Quotes after Norway's win 

Harald Reinkind, Norway right back
On how it felt to be on the Olympic court: "It's a dream come true. Since I was a child I always watched the Olympics on TV and we never had a men's team since 49 years ago, so it's really good to be here."
On the lack of spectators: "Of course, it's not as cool as it could be, but still to live in the village and to feel the excitement from all the athletes is really cool."
On the upcoming match against Spain: "For sure it's a tough game and it's a key game – if we win that, it looks really good for us. So now we go home and rest, try to focus on the next task and try to do our best the next match."
 

Christian Berge, Norway head coach
On the game: "It was a very nervous start. In the second half we did better but still we didn't play as ourselves, but maybe in the next game."
On whether the 9am start affected their game: "It was our first game in the Olympics and our first game that was played so early, so I think we were a bit nervous. It's normal at the start of the Olympic Games. We're going to be better."

11:40 JST HALF-TIME France vs Argentina 12:10

While they might have looked in control of the game, taking a 12:6 lead, France failed to score a goal in the last seven minutes and 39 seconds of the first half, as Argentina used the European side's issues to embark on a 4:0 run to cut the gap to only two goals at the break (12:10).
Teams might expect games to flow seamlessly, but they rarely do and this was also the case for France now. They probably have relaxed too quickly after seeing the gap balloon, including missing a penalty through Valentin Porte and Dika Mem, now with a cheeky white headband included, conceding two penalties. Therefore, Argentina are down by two goals, but not dusted.
Yet, the South American side have to improve in attack and play a bit more in defence like they did in the last 10 minutes of the first half. The question is if they do have the physical resources to achieve this goal. Taking a look at the first game of the day, when Brazil collapsed entirely in the second half against Norway, it might be a tough ask.
 
11:25 JST France in total control

France are simply overpowering Argentina in attack, scoring at free will. It has been a superb start from France's two right backs, Dika Mem and Nedim Remili, who scored three goals each in the first 20 minutes to open a 12:6 gap that looks pretty much unassailable at the moment.
French coach Guillaume Gille will use the same tactic deployed at the IHF Men's World Championship last January, replacing wings Luc Abalo and Michael Guigou with Valentin Porte and Hugo Descat in the second half, letting his wing players to play one half each.
As for Argentina… well, it is not their best performance in this Olympic opening game. The nerves have been there, some rust was also shaken, but they rely too much on Simonet, who scored four of his team's six goals in the first 20 minutes. And bear in mind, Nikola Karabatic has not played a minute yet.
 
11:15 JST Lively start from Argentina

Argentina's centre back, Diego Simonet, has been playing at club level in France since 2011, therefore he knows the French opponents inside out. Still, he could not do a lot in the first minutes of the game, with the French defence clearly dominating opponents. In fact, Argentina needed nearly eight minutes to score their first goal of the game, as French goalkeeper Vincent Gerard had two saves in the first 10 minutes, for an outstanding 67% efficiency.
Despite France missing four shots, they are still leading after the first 10 minutes (4:3), controlling the game. But any misstep will be surely punished by a plucky Argentinian side, who was close to proceed to the quarter-finals of the IHF Men's World Championship in January. In fact, they kept close especially thanks to Simonet, who scored twice.
 
10:55 JST Karabatic is back, as France eye opening game win against Argentina

Argentina are back at the Olympic Games for the third time in a row. In the past two editions, they won one game each time, but the ask will be high at Tokyo 2020, with four European opponents plus Brazil waiting for the South American side in group A.
First up? Former Olympic champions France. We will have a glimpse of Nikola Karabatic, the influential back who is once again on the court after a serious knee injury.
Can Argentina emulate Brazil's antics of the first game earlier and put France to the test?
 
10:45 JST Fastest goal clocked at 105 km/h 
 
For the stats aficionados, there have been only five shots in this game who broke the 100 km/h barrier.
Brazil's Leonardo Dutra scored the fastest goal of the game, hitting a shot past goalkeeper Torbjorn Bergerud with 105 km/h, while Haniel Langaro converted a 100 km/h shot into a goal. Norway's record was shared by backs Sander Sagosen (twice) and Harald Reinkind, who both scored goals with 102 km/h shots.
 
10:30 JST FINAL WHISTLE! Norway vs Brazil 27:24

Norway shook off the rust from the first half, improved massively on defence and had some tweaks in attack, which really helped them seal the first win at the Tokyo 2020 Olympic Games.
Despite taking the lead for the first time after 35 minutes (15:14), Norway's coach Christian Berge deployed an aggressive seven-on-six tactic on attack, by substituting goalkeeper Torbjorn Bergerud for an outfield player to create superiority and surprise Brazil's aggressive defence – and it really paid dividends, with Norway's backs usually finding the line player or the wings, putting them into one-on-one situations with the Brazilian goalkeeper. As Norway converted 61% of their shots, it was a calculated risk that worked out, helping the European side to a 27:24 win.
Berge might have hoped to rest star Sagosen more, but he was crucial once again for Norway, as THW Kiel's back was the top scorer of the match with eight goals, three of which came from penalty shots. It might have not been the walk in the park they expected, but Norway did well against Brazil and, apart from their shaky start, where they only scored three times in the first 15 minutes, they dominated the game despite some key absences in the squad, like back Goran Johanessen, who was so important in the last tournaments.
As for Brazil, it really was a superb game, but they simply lacked the firepower to contend for 60 minutes against Norway and had no answer when the Scandinavian side changed their approach to the game.
The European side only won their fourth game in history at the Olympic Games and are now topping the table in Group A, before their showdown against reigning European champions Spain on Monday, 26 July. Brazil will face another European favourite in the next game, France.
We will take a little break and will be back with the second game from group A, which sees France take on Argentina.
 
10:10 JST The tables have turned

And the answer seems to be no. After turning the ball over only twice throughout the entire first half, Brazil made three more in the first eight minutes of the second part to help Norway get on a superb 5:1 run to take the lead for the first time after 35 minutes (15:14), thanks to the superb Sander Sagosen.
The European side finally unlocked the plucky Brazilian defence, while the South American attack has been slowly dipping in efficiency. And with Sagosen turning up when it really mattered – he scored six times up until the 45th minute – Norway have true star power, a thing that their opponents simply could not produce.
However, there are still 15 minutes to go and Brazil could really use some saves from their goalkeepers, who produced only four stops between the 9th and the 45th minute. The difference could have been higher than the 20:17 score line, yet Norway made too many mistakes in attack.
 
09:55 JST Brazil dreaming high

We are back with the second half, with Brazil still defending with a modern and aggressive 5+1, which is morphing into a 3+3 at times. But can they do it all the way? Only 30 minutes separate us from the final of the first game at the Tokyo 2020 Olympic Games. Brazil still lead after the first half, 13:12.
 
09:40 JST HALF-TIME! Norway vs Brazil 12:13

This was clearly not what Norway expected in the first game at the Olympic Games Tokyo 2020. A slow start, with only three goals scored in the first 15 minutes really set the Norwegian side back, but a strong comeback saw them cutting the deficit to only one goal (12:13), at the break.
The main take after the first 30 minutes is definitely Brazil's ability to frustrate the strong Norwegian back line. While Sander Sagosen and Harald Reinkind combined for seven goals and Norway's efficiency soared to 60% after a fine end of the half, there were too many turnovers and misplaced passes for the European side to take back the lead.
However, the questions are still flying. Can Brazil maintain the same defence in the second half, with their physical level under question? Will Norway make the same mistakes in the last 30 minutes of the game? And especially, can Brazil clean up their act in defence, where they conceded four two-minutes suspensions, helping Norway improve their attack?

 

09:28 JST First-ever Brazilian win against Norway?

Back in March, Brazil looked in disarray and had little answer to Norway's attacking prowess in the Olympic Qualification Tournament held in Montenegro, as the European side clinched a superb 32:20 win. However, Brazil look like they have learned their lessons perfectly, playing more aggressive in defence in the Tokyo 2020 opening game, limiting Norway to only three goals scored in the first 15 minutes.
However, the Norwegian side are starting to bounce back, with back-to-back goals from the nine-metre line from Sander Sagosen and Harald Reinkind. It's now 9:6, after 20 minutes, and we could still witness history here in Tokyo as Norway have won all five games against Brazil at the IHF Men's World Championship and in the Olympic Qualification Tournaments. There is still the question of discipline, though, as Brazil have already conceded three two-minute suspensions, ushering Norway back into the game, with backs Sagosen and Reinkind scoring two goals each.
09:15 JST Is a surprise shaping up?

Well, well… We really did not expect such a balanced game in its first part. It took five minutes for the two teams to break the deadlock and it was Brazil's line player, Vinicius Teixeira, who broke it after a superb assist from Joao Pedro Silva.
The Brazilian aggressive 5+1 defence is really doing its job in these first moments of the game, efficiently stopping Norway's star, Sander Sagosen. But there's more. Norway's costly misses have been taken advantage of, as Brazil jumped to a 5:1 lead after 10 minutes, with goalkeeper Leonardo Vial Tercariol boasting a 75% save efficiency, with three saves from four shots faced. Norway's line player Bjarte Myrhol faces a spell on the sidelines after suffering an injury. This could be a long morning in Tokyo for the European powerhouse.
 
09:00 JST We are officially on!

Brazil had the first throw off of the game, as Czech referees Jiri Novotny and Vaclav Horacek blew the whistle to start off the Tokyo 2020 Olympic Games. And we already have the first penalty save, with Norwegian goalkeeper Torbjorn Bergerud saving Brazil's Felipe Borges shot.
 
08:45 JST Ready to take off?

Top of the morning to everyone! The moment we have been all waiting for is finally here. The Tokyo 2020 Olympic Games are throwing off and the honour goes to to Rio 2016 hosts, Brazil, who will be facing Norway, a team that is back in the competition for the first time since 1972.
We have Norway's superb back Sander Sagosen on the court, but the Scandinavian side will be missing fellow back Goran Johanessen, who could not shake off an injury and will miss the competition. Clock is ticking, there are still 15 minutes until the throw off!
Find out more about Group A at the Tokyo 2020 Olympic Games
If you want to know more about Group A, you can find everything you need on our website.
Who's who at the Tokyo 2020 Olympic Games?
All the rosters are available here.
How did teams fare in Japan
The teams have travelled to Japan, with players and staff acclimating to the conditions in Tokyo, while also playing several friendly games over the last couple of weeks.