Argentina's Youth Olympic Games gold medallist Turnes: 'It makes me happy to see how much beach handball is growing'
14 Apr. 2020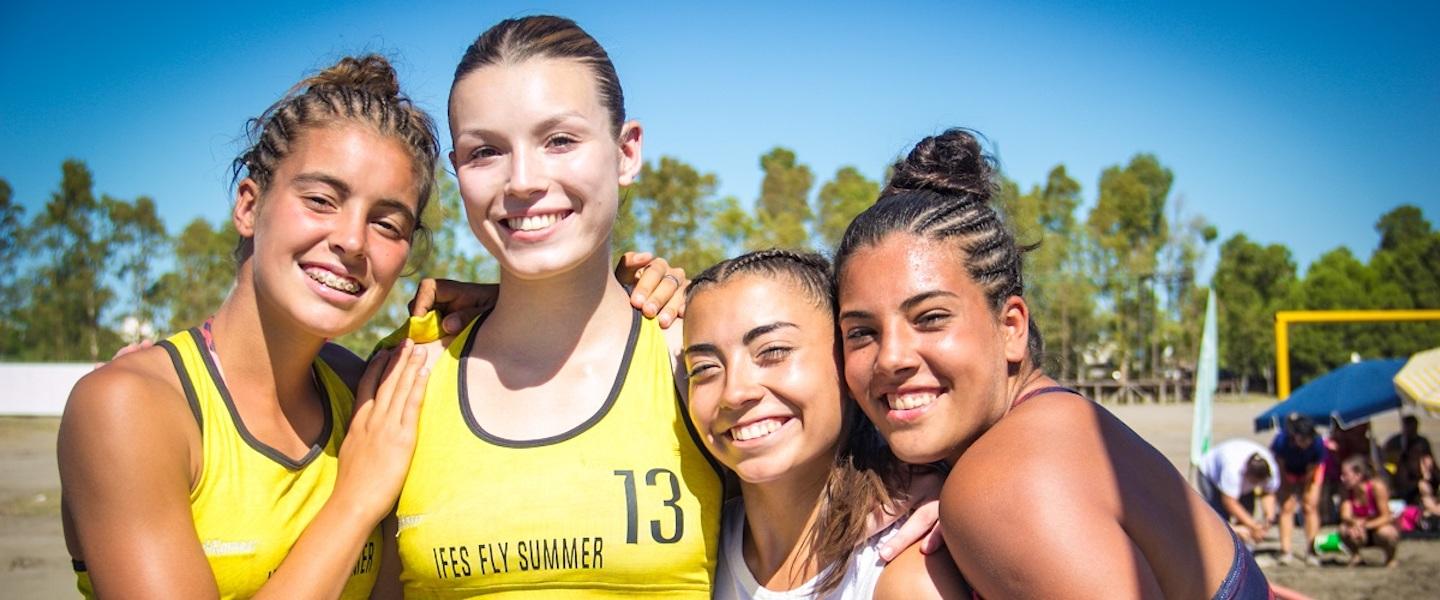 Reflecting on the completion of the first-ever 'Copa Argentina' – the culmination of the debut 'Circuito de Argentino Beach Handball' (Argentina Beach Handball Circuit), Zoe Turnes, gold medallist of the Argentina women's team at the Buenos Aires 2018 Youth Olympic Games was full of excitement about what the future of the sport holds in Argentina.
"I am very happy to see how beach handball is growing," said the IFES Fly Summer player. "You think about what beach handball was like before, so seeing a tournament of such magnitude makes me very happy as well as everyone else involved.
"As time goes by, more teams will be added and those who are already playing will play better and better – with these tournaments beach handball will grow much more."
Her IFES Fly Summer team also featured 2018 Youth Olympic Gold medallists Gisella Bonomi and Lucila Balsas and they won the title after beating local side Goliat in the final, held in Viedma, the capital of Rio Negro province in south-central Argentina, 1000 kilometres southwest of Buenos Aires.
"We knew that the final was going to be tough because they were a local side and had all their fans supporting them," said Turnes, who has now moved up to the senior team, according to the Argentina Handball Confederation website. "They are a good team with players who went through the Argentina national team selection process. 
"At times our heads went a little, but we knew how to keep our minds cold and play our game, and we won. IFES Fly Summer are one of the teams that are doing a lot to advance beach handball and they deserved to win this, which now provides the chance to play in international competitions – competing against teams from other countries would add a lot."
Bonomi also recognised the continued progression of the sport in the country. "It really was very nice that a tournament of this magnitude was played in my city," she said after the qualification tournament in Neuquén. "It is something very positive for Neuquén and its surroundings and with the passage of time, summer tournaments here have become increasingly busy and more competitive."
"Giving Neuquén and the other host cities this opportunity opens big doors for us, and we will keep them wide open for all those who want to join in with beach handball. There are already many more people who consider it for what it is: a show sport and not just an option to indoor handball in the summer. 
"I think that at some point we will be able to form something even bigger and that can last throughout the year without having to pause because the indoor season has started," she added. "It is a very attractive, familiar, healthy and fun sporting environment. I think we have already recruited a lot of people and hopefully it will continue to grow."
In attendance at the Copa Argentina was Sebastián Ferraro, coach of the Argentina men's national beach handball team, who used the opportunity to think about his next selection.
"It was good to watch the national team players and new talents," he said. "We have the best players in the country gathered in the same place and it allows me to meet players I did not know, such as those from San Juan or Chubut, so I took advantage of this opportunity – the truth is that I'm happy."
Beach handball gained national attention in Argentina after the women's youth team won gold at the 2018 Youth Olympic Games and the men won bronze, followed by the senior women taking gold too at the 2019 South American Beach Games, also held in Argentina, in Rosario.
For the latest news on handball in Argentina, visit the official website and social media channels of the Argentina Handball Confederation:
Website 
Facebook
Twitter 
Instagram 
YouTube 
PHOTO: Argentina Handball Federation