18 Mar. 2020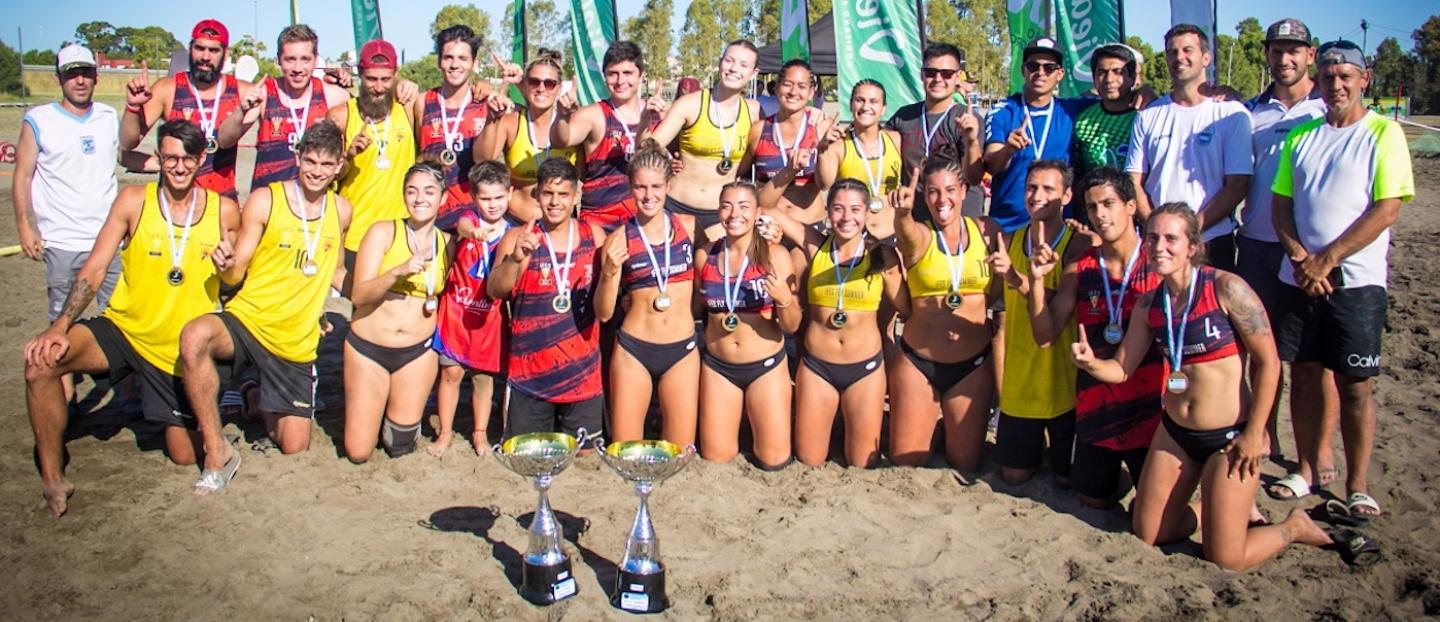 After the Argentina Handball Confederation (Confederación Argentina de Handball – CAH), launched their first-ever 'Argentina Beach Handball Circuit' ('Circuito de Argentino Beach Handball') a few weeks ago, IHF.info reports on the successful national championship which concluded earlier this month with a double win for the men's and women's IFES teams from Neuquén.
The competition featured six regional tournaments, known as 'ARENA 1000' events, in which the champions and runners-up of each – 12 in total – qualified through to the 'Argentina Cup' ('Copa Argentina') finals weekend. Alongside the ARENA 1000 competitions, ARENA 500 events, which did not feature qualification through to the Copa Argentina, and events for younger players were also held.
Circuito de Argentino Beach Handball – 2020 Results
Neuquén: 30 January-2 February
The first stop on the circuit was the south-western town of Neuquén in Patagonia. The competition saw local players – 2018 Youth Olympic Gold medallists and national sporting heroes Gisella Bonomi, Lucila Balsas and Zoe Turnes – appearing for local Neuquén club side IFES Fly Summer, along with other Neuquén locals, Agustina Mamet (South American Games 2019 gold medallist) and men's Youth Olympic Games bronze medallist Nicolas Millet.
IFES Fly Summer and Neuquén's ABC won the women's and men's competitions respectively, with IFES beating Goliat (Goliath) from Viedma in the final, while ABC beat Millet's Neuquén team in a shoot-out. 
San Nicolás: 7-9 February
Buenos Aires side SAG Lomas dominated the entire competition in San Nicolás, a city in the northern most point of Buenos Aires province, close to the city of Rosario.
Their men's and women's teams won all their matches without losing any sets, defeating Santa Fly de Santa Fe in the men's final, and AsBalNor in the women's final. A number of SAG Lomas players have represented the senior Argentina national teams over previous years. 
Rada Tilly: 7-9 February
It was party time at Rada Tilly, in the Chubut Province of southern Argentina, as live DJs and an open, public, shoot-out tournament created a fantastic atmosphere for all. Goliat men's and women's teams did the double in their finals with the men beating Nueva Generación (New Generation) 2-0 and the women defeating Arena Madryn 2-1.
With Goliat already confirming their place in the Copa Argentina, third-placed Hans Sachs took the qualification spot in the women's competition. Buenos Aires 2018 bronze medallist Tomás Páez was voted as best player in the men's competition, while Tamara Quiroga – from Arena Madryn – won the women's award.
Tunuyán: 15-16 February
Municipalidad de Maipú (Mendoza) took the men's honours in Tunuyán, close to the Chilean border, which lies in the province of Mendoza in the central-west part of Argentina. They beat Landini A in the final 2-0. 
Maipú's women made it a double for the club, beating Club Peñaflor de San Juan in the final 2-0, despite losing to them in the preliminary group stages. All games were livestreamed to a global audience witnessing the very best Argentinian beach handball on offer.
Uruguay's women's senior and junior national teams also featured in their respective competitions, which drew the crowds from around the region it sits in, 'Valle de Uco', and which is known for its wine industry. 
Parque Sarmiento: 22 February
The park with rich Argentinian beach handball history continued its legacy towards the sport, hosting the penultimate qualification tournament for the Copa Argentina. 
At the site of the 2018 Youth Olympic Games beach handball tournament, Vélez defeated CEDEM 2-0 to win the women's competition while Miter beat UnPaz to grab the men's title.
Viedma: 22-23 February
Videma was the very last battleground for teams from across the South American country to book their tickets to the Copa Argentina, with the national tournament returning to the venue for the climax to the beach circuit the following week.
Goliat again lived up to their name, winning both the men's and women's competitions in the capital of Rio Negro province in south-central Argentina, 1000km south-west of Buenos Aires. Sol de Mayo de Viedma and Azur de Neuquén finished as runners-up in the men's and women's finals respectively.
Copa Argentina, Viedma: 28 February - 1 March
18 teams (10 men's, eight women's) played for the inaugural Copa Argentina, held at the El Parque Jorge Ferreira in Viedma, Rio Negro.
The men's competition featured 27 games, starting with a preliminary round divided into two groups of five teams each with local side Sol de Mayo winning all four of their games to finish top of group B, ahead of ABC, while fellow Rio Negro team Goliat finished second on points difference to Neuquén's IFES in group A after both teams finished with three wins and one loss each.
The top two teams in each group then went straight through to the semi-final stage with IFES defeating ABC 2-0 and Sol de Mayo defeating Goliat by the same score. ABC grabbed bronze with a 2-0 win over Goliat, but the final was a classic with IFES silencing the home crowd to beat Sol de Mayo 2-1. 
The first period saw Sol de Mayo win 20:18, but IFES came back strong in the second, to win 22:18. The shoot-out saw Sol de Mayo miss their sixth shot, with Lautaro Duran scoring the single point for IFES to etch their name on the first-ever trophy.
The women's competition, across 20 games, followed the same format with local side Goliat taking group A with three wins out of three and IFES doing the same in group B. They were joined by Azur and Madryn in the semi-finals, but the group winners would meet in the final with IFES beating Azur 2-0 and Goliat struggling to overcome Madryn 2-1. 
In the final, IFES looked like continuing their unbeaten record, winning the first period easily, 14:8, but Goliat had other ideas, coming back to hand IFES their first lost period, winning 11:10. It went to a shoot-out, and, unlike the men's competition, it saw great defence and poor shooting with just three goals scored. 
Both teams opened up with a two-pointer but then proceeded to miss seven out of the next eight shots as Agustina Mamet's two-point strike ensured her side would join the men in making further beach handball history in the South American country.
Final Ranking (Qualification through to Copa Argentina)
Men's Competition
1 - IFES de Neuquén (2nd - Neuquén)
2 - Sol de Mayo de Viedma (2nd - Viedma)
3 - ABC de Neuquén (1st - Neuquén)
4 - Goliat (1st - Rada Tilly, Viedma)
5 - Landini A/Club Púgil Landini de San Juan (2nd - Tunuyán)
6 - Esc. Municipal de Viedma (4th - Viedma)
7 - SAG Lomas de Buenos Aires (1st - San Nicolás 
8 - Handball Pico Truncado de Santa Cruz (3rd - Viedma)
9 - Santa Fly de Santa Fe/As. Santafesina (2nd - San Nicolás)
10 - Colegio Padre Muzio de Trelew (3rd - Rada Tilly)
Women's Competition
1 - IFES Fly Summer (1st - Neuquén)
2 - Goliat (1st in Rada Tilly and Viedma, 2nd in Neuquén)
3 - Arena Madryn/Municipalidad de Puerto Madryn (2nd - Rada Tilly)
4 - Azur de Neuquén (2nd - Viedma)
5 - Central Córdoba de Rosario (1st - San Nicolás)
6 - Sol de Mayo de Viedma (3rd - Viedma)
7 - Defensores de Viedma (4th - Viedma)
8 - Hans Sachs de Chubut (3rd - Rada Tilly)
For the latest news on handball in Argentina, visit the official CAH website and social media channels: 

Facebook 
Twitter 
Instagram
YouTube
Photo: CAH