11 Jan. 2022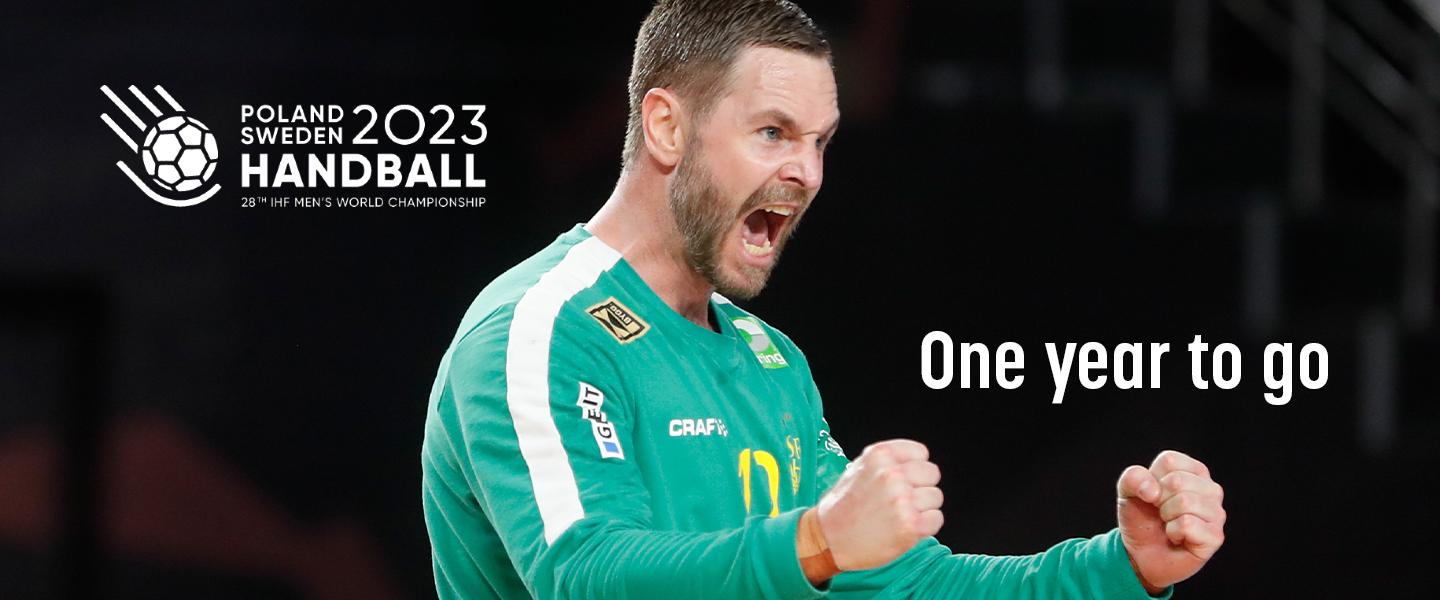 Today (Tuesday 11 January 2022) marks exactly 365 days until the 2023 IHF Men's World Championship in Poland and Sweden throws off.
Nine host cities and venues
The 28th edition of the global, elite competition will take place from 11 to 29 January 2023 across the two countries in nine cities, pending a final IHF inspection to confirm the venues. 
The host cities include Katowice, Krakow, Plock and Gdansk in Poland, with Stockholm, Gothenburg, Malmo, Jonkoping and Kristianstad the cities in Sweden.
Match schedule and draw date confirmed
Poland/Sweden 2023 will be the second IHF Men's World Championship to feature 32 teams after the introduction of the expanded event at Egypt 2021.
The final draw will take place on Saturday 2 July 2022 in Katowice, Poland and with the match schedule now confirmed, ihf.info can reveal details of its beginning and end.
Katowice will host both the opening ceremony and opening game (20:30 local time) on Wednesday 11 January, while nine games of the final week – two quarter-finals, one semi-final, 5-8 placement matches, bronze-medal match and final – plus the closing ceremony, will be held in Stockholm, Sweden.
The semi-finals will take place on Friday 27 January 2023 at 18:00 (Gdansk, Poland) and 20:30 (Stockholm), with the bronze-medal match and final two days later, on Sunday 29 January 2023 at 18:00 and 20:30, respectively.
Co-hosts Sweden will be based in Gothenburg for both the preliminary and main rounds.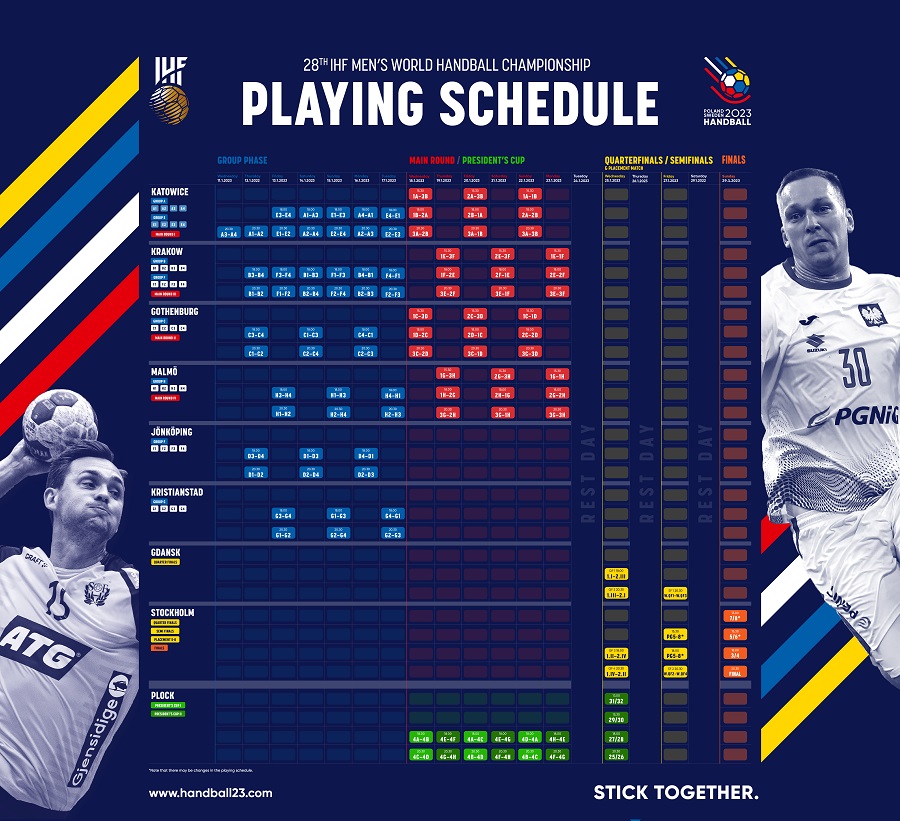 "When Sweden and Poland won the bid in 2015, we felt that it was so long until the championship should start but now, it is only one year left before everything starts with the opening match in Poland," said Krister Bergström, CEO of the Sweden Organising Committee.
"We hope that we will be able to deliver a championship with full stands filled with handball fans from all over the world."
"The 28th IHF Men's World Championship will be the biggest event in the history of handball in Poland," added Grzegorz Gutkowski, Tournament Director of the Poland Organising Committee.
"We want to stick together with fans from all around the globe and are looking forward to experiencing a great sport spectacle with full stands. We believe that 2023 will be a great promotion for handball and all host nations, host cities and host regions in Poland and Sweden. Feel invited for the top handball event." 
Tickets on sale 
Tickets for Poland/Sweden 2023 can be purchased at the official championship website at handball23.com, with those for matches in Sweden having gone on sale on 1 December 2021. Two days after going on sale, an incredible 22% of total ticket capacity had already been sold – almost 50,000 tickets. 13% of all tickets for the final week had also been sold just 48 hours after going on sale.
"These are absolutely fantastic figures for us," said Bergström. "We know that our national handball team is extremely popular, so we had our hopes but it is still a little more than we dared to hope for. Anyone who wants to be sure of watching the World Championship live must hurry up to book."
Tickets for venues in Poland will go on sale from March.
'Stick Together'
A championship needs a sustainable and scalable communication concept in order to ensure successful marketing. 
The tagline 'Stick Together' primarily refers to the resin used in handball, but the words have a much greater meaning. In a world that's becoming more fragmented, segregated and filled with disagreement, sports can unite and we see it in the World Championship to come. 
New friendships are made through sports. People with different backgrounds compete on the same terms and create memories together, eliminating boundaries and coming together through our differences.
The main goal of 'Stick together' is to evoke positive emotions in our communication. Not just relating to the championship itself, but also in relation to people, other sports and the world.
'A comet lighting up the sky'
The logotype for the Poland/Sweden in 2023 was launched last August, with the symbol (graphic mark) synthetically presenting a flying ball, inspired by a comet lighting up the sky. 
The symbol conveys dynamism and expression. The trails form a hand which, in combination with a ball in the foreground, create a characteristic and friendly graphic form. The symbol colours refer to national colours of Poland and Sweden and is designed to be used on a dark blue background but can also stand alone.
It carries a clear message about the sports discipline of handball. A skilful and well-balanced colour split alludes to the cooperation of the event hosts and sticking together for the success of the championship.
Get involved and volunteer
The Organising Committees of both Poland and Sweden will offer voluntary work in several areas, including accreditations, team care, VIP, match operations, transport, hotels.
Anyone aged 16 years old or older who wants to spend time in an interesting way, meet interesting people, gain international experience and live through an exciting adventure will be encouraged to apply. 
More information will be revealed soon on handball23.com/volunteers. 
About Poland/Sweden 2023
The 28th IHF Men's World Championship, featuring 32 teams, will be staged in Poland and Sweden from 11 to 23 January 2023. The event will be hosted by Katowice, Krakow, Plock, Gdansk, Stockholm, Gothenburg, Malmo, Jonkoping and Kristianstad and feature 108 games.
Visit the official website at handball23.com.