17 Feb. 2020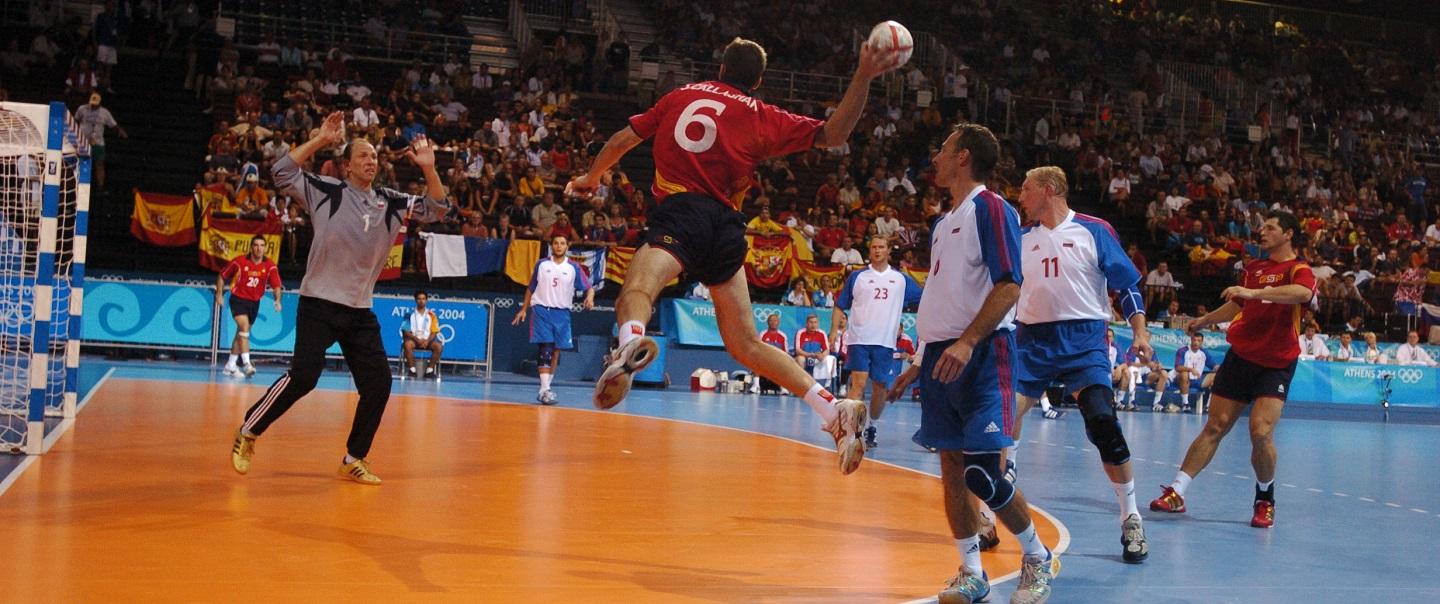 As IHF.info reported earlier this month, it has been a busy 2020 already for USA Team Handball (USATH), but handball in America has captured the national – and certainly European, if not, global – sporting spotlight over a frenetic last two weeks on social media thanks to former American Football quarterback Jay Cutler.
'Pardon My Take' is currently the number one, highest-rated sports podcast in the USA and the week before the biggest one-off sporting event in the North American country, the NFL's Super Bowl, they invited the former NFL player Cutler onto the show and amongst a number of items discussed, handball came up.
"I do want to get a team together…it's basically a little ball you throw into a goal," said Cutler, who never appeared in a Super Bowl in his 12-year (2006-2017) career which saw him win just one play-off game. 
"There is a US team, but I want to go and do that, throwing missiles," he added. "I would guarantee we would win (Olympic gold) if we put a team together. Just some really big guys as a goalkeeper back there. I've studied it…usually all these teams have an old guy as a goalkeeper and he just guesses and puts his hands up."
Of course, the handball community were not happy. The IHF was quick to invite them to Egypt 2021, before USATH quickly followed by inviting Jay and all the guests to their national team try outs later this year.
Some of the biggest names in the handball world also joined in, offering the chance to experience the beautiful game. First from Nikola Karabatić, who offered Jay his London 2012 Olympic Games gold medal if their team beat his, then 2019 IHF World Champion Lasse Svan offered his help along with the European Handball Federation offering theirs.
Even USA men's team national coach Robert Hedin offered to give the proposed team one of the world's best handball coaches, train them and that if they scored more than 10 goals against them, he would invite them to his wife's family house in the Norwegian countryside. 
Men's EHF Champions League side SG Flensburg-Handewitt even invited the proposed team or Jay Cutler himself to go and train with them alongside USA men's national team player who is at the club, Ty Reed.
There was support outside of the handball community too with Slovenian NBA basketball player Luka Dončić, lending his support alongside fellow NBA star, the Bosnia and Herzegovina and Portland Trail Blazers Jusuf Nurkić. Amongst a variety of other supporters, even the USA Olympic Committee showed their love and support for the game.
The ever-popular 'Highly Questionable' daily TV show on the nationwide ESPN network also discussed the issue with co-host and also former NFL player, Domonique Foxworth, who also never won a Super Bowl and, who won just two play-off games in a seven-year career (2005-2011), offering their opinions.
While the debate continued, some of the guests backed down, admitting they were not well-informed, but the offers kept coming and in their most recent podcast, Pardon My Take featured Spain's 2000 Olympic Games bronze medallist Xavier O'Callaghan as their top-billed guest on Friday 14 February.
O'Callaghan lives in the USA, working as the Managing Director of the New York office of FC Barcelona. O'Callaghan played 15 seasons for FC Barcelona Handball, winning 54 titles, including seven European Cups, and appeared in two Olympic Games.
He is also on the advisory board of the IHF New Markets' Project in the USA which has already seen success between the USATH and IHF in the continued development of the sport in America.
Speaking Friday, O'Callaghan was asked about the recent Jay Cutler discussion relating to professional athletes in other fields of sport transitioning to handball and took time to break down the sport of handball in an American context and what he thought of the future of the sport in the country.
"Handball is a very American sport, you will love it," he said. "It's fast-paced, physical, and you score a lot of goals, the perfect American sport but you don't know it. Handball players are a combination of things; the taller the better, but you can be less than six foot and still a player, on the wing, but being tall and strong are very important. Handball is quite physical, and contact is common; it's rough and tough - the handball community were very angry [when we heard Jay Cutler's quotes]."
O'Callaghan then explained that he started playing when he was six in Spain, with basketball the most-popular sport, followed by handball, which is played in Spanish schools. He talked about his relationship with the twice-NBA champion, six-time NBA All-Star and multi award-winning, both in America and Europe, basketball player Pau Gasol, who he knew from an early age at FC Barcelona, before addressing directly Cutler's thoughts that he could win an Olympic Gold medal in handball within months of training.
"What he is saying is insane," said O'Callaghan. "He cannot win an Olympic medal after training for just two or three months. It's like if you want to cook something you need the ingredients. You need food, and the Americans have the perfect food for competing at the high, high level. But when you want to cook that food you need the technique, how to cook it at the right temperature, how to mix it, you need to know things, this is something that Jay Cutler or any other player doesn't have right now. 
"America has the potential to be amazing athletes in the sport and to be on a high, high level but it takes time to be able to be a very good, professional handball player. In the short term, it's impossible, insane. In the long term, it takes years, for sure."
The discussion then changed to whether if Cutler had grown up in Spain playing handball could he be a top handball player, which O'Callaghan agreed with "if he was educated and coached from a young age," before adding that handball has "a lot of different techniques to shoot, you can throw fast balls, curve balls. You can shoot straight, curving, throw below the legs, in a hip level not everybody knows how to use them, it's complicated."
On Karabatić offering his gold medal, O'Callaghan was more emphatic.
"Do you know how difficult it is to win an Olympic Gold medal in handball?" he asked the guests. "It's very difficult. Karabatić is one of the best-ever players in handball. He has already offered Jay Cutler a game against his team and they won, he would give him his gold medal. Jay doesn't even need to go to an Olympics to win it now – just one game. He has also been invited by Flensburg to train with them, one of the best teams in Europe. It's amazing and it's been trending on social media in Europe."
A further discussion about the intricacies of the different skills needed in handball and American Football followed, before O'Callaghan rounded it off talking about coaching and how the game has changed since he finished playing.
"The way of playing handball is very important to American Football, which, for me, is a coaching game," said O'Callaghan. "In the NFL coaching is very important, in basketball it's not so important, and in handball it's somewhere in-between, in the middle.
"In handball you have a lot of players who can make actions alone, so you don't need a big, big action to score a goal, but in general, to be successful you need a good coach and a good way of playing. 
"Compared to when I was playing, handball is more physical and faster since I played 15 years ago – like how the NBA has changed," he said. "If we try to imagine my team, 20 years ago at our best playing the players who are the best now. I think we would probably lose because the physical condition guys are in now is better than we were and they are much stronger, but it's something that will never happen so nobody knows.
"I would like to invite Pardon My Take to watch a game in Europe and you will change your mind."