30 Jan. 2021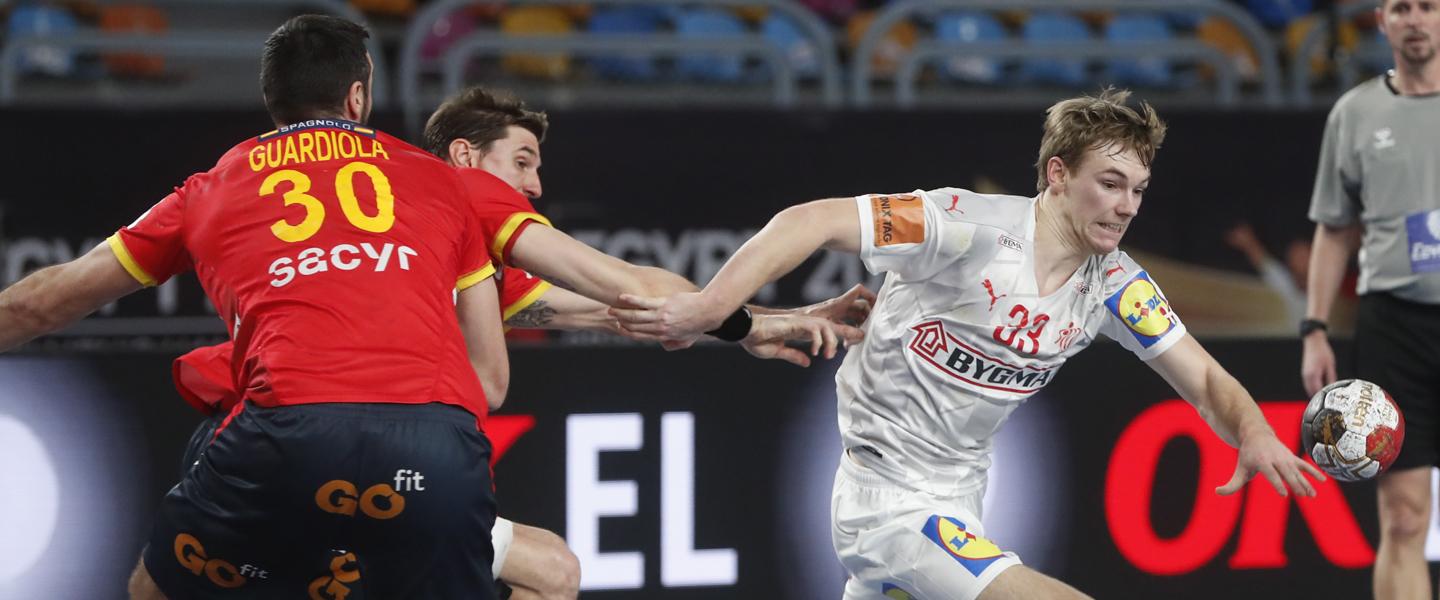 When Denmark submitted their extended squad list for Egypt 2021 one month before the championship start, the name 'Mathias Gidsel' was there, complete with 'International Matches: 3, Goals 8'. A look further down the list showed the name Mikkel Hansen (212/1051) and Lasse Svan (218/510).
Since then, eight world championship matches have seen Gidsel reach over double figures in senior appearances, complete with three 'hummel Player of the Match Karma Awards' and 38 goals to his name in Egypt. 
People are now familiar with the 21-year-old Danish sensation who will step onto court in the final against Sweden on Sunday (31 January).
"It's a weird thing that I am here first of all, I haven't expected that half a year ago," says a relaxed Gidsel to ihf.info at the team hotel in Cairo on a sunny Saturday morning. 
"It's a big experience for me, it's something I never dreamed of and I don't think it is part of my history path that I would be here as a 21-year-old. I am so proud of myself but proud of my team who have made me a great player at this tournament."
While Mikkel Hansen is not a surprising name at the top of the Denmark individual scoring charts (42), Gidsel is second, 10th overall, highlighting the incredible goalscoring statistics Nikolaj Jakobsen's side have to back up their right to be in the gold medal match in Egypt on Sunday. https://www.ihf.info/media-center/news/record-breaking-event-denmark-pushes-defending-champions
No other team in history has reached the final by scoring at least 31 goals in every single game on their path the ultimate match, in fact, with 282 goals so far, they have scored 35.25 on average in every game of their eight-match unbeaten run.
Their semi-final victory over Spain on Friday was impressive with one player who gets to see the Danish attack close up, goalkeeper Kevin Moller, having nothing but praise for the offensive prowess and the living handball legend, Hansen.
"We played an incredible game in attack," said Moller to ihf.info about their 35:33 victory over the Spanish. "One might say he's disgusting," he added about the skills Hansen has shown at times on court. "The things he can do with the ball is pure magic and sometimes you can just sit back and enjoy – even as an opponent. I have tried a lot of times against Paris when the things he does is just unbelievable. In training it's the same."
Moller also praised Gidsel in the same breath with the FC Barcelona shot-stopper keeping the young player on his toes. "Kevin is teasing me a little bit when I'm scoring because he is always thinking that I need to get over the six-metre line before I shoot," says Gidsel, smiling. "Maybe he has a point, but that's just my type of playing, it's full speed and heads down. Sometimes you close your eyes and jump into holes which are sometimes not a hole."
As the youngest and newest member of the Denmark squad, and for some, a surprise inclusion, Gidsel, with his quick integration, has been deadly for their opponents who did not have a dossier of information on the youngster.
"I don't think so many countries have prepared for me and I don't think they know who I am, maybe they do now, but I have that advantage and I can use it," he explained.
"I am a young guy but at the same time I feel like one of the guys in the squad. They have been so good, especially the older guys, especially Svan, Landin and Mikkel. They have helped me and put me in systems on court that I am very good at it, and which you can say I am trusted in.
"I'm only doing what I can, and not trying to do anything that I've never done. I just feel like one of the guys and they make me feel like one of the guys too."
Gidsel admits that he looks up to those in the team as his inspiration but also for one particular player outside of handball.  
"Some of the guys who have inspired me are in this team, but I won't mention them because they'll get too happy about it," jokes Gidsel. "But I like the NBA and I watch LeBron James a lot. He's a great player. What I like with him is that he is so great at the sport and his physical level – he has played so many years and it's a great inspiration to see how he acts on the court and also outside the court.
"He has such a great impact on American sport and international sport. I follow different teams, but I am just a LeBron James fan. The way he has done it and his history as a guy who just works so hard, it's a true inspiration for young guys like me."
The sheer happiness emitted by Gidsel is infectious and his joy of simply playing the game he loves is clear, helped by two influential people when he was a kid at school in Odense, Funen, Denmark.
"Handball makes me feel so happy and I think it's the best sport in the world, so I think all should play handball," he said with a big smile. "It has so much speed, so much creativity and that's what I like and that's what I do.
"I owe a lot of people my deepest respect, especially the people at my boarding school in Odense, Denmark who helped me to be the person that I am but also the handball player I am. 
"I would like to give a big thank you to Carsten and Mattias – they know who they are. A lot of people have a big achievement in what I am doing right now and a big thank to them, and a big thanks to my family who have also supported me."
At his first world championship, Gidsel is complimentary of the newly-expand event and is relishing the chance to get to business against his neighbours.
"This world championship with 32 teams has showed it's a great way to expand what I think is the best sport in the world," he said about his debut championship experience.
"The amazing thing with the Swedish team is their collective is so good; they have so many good players, they know their own roles and they don't do anything they can't do, they are a good collective, strong team, physical team.
"They have their fast-break led by Hampus Wanne and an amazing goalkeeper in Palicka," he added.
"It will be two teams who know each other so good that we can't surprise [each other] and it's just all about who has the best day."
As he prepares to face Sweden, even waking up on the morning after their semi-final victory he was still not convinced he was not dreaming.
"I don't think I have realised it yet," he said. "Maybe when I stand and we sing our national anthem maybe I will realise that I am in a world championship final, maybe for the first time then or even maybe when we hopefully get the title and are standing as world champions and I know I have been part of history."