30 Jan. 2021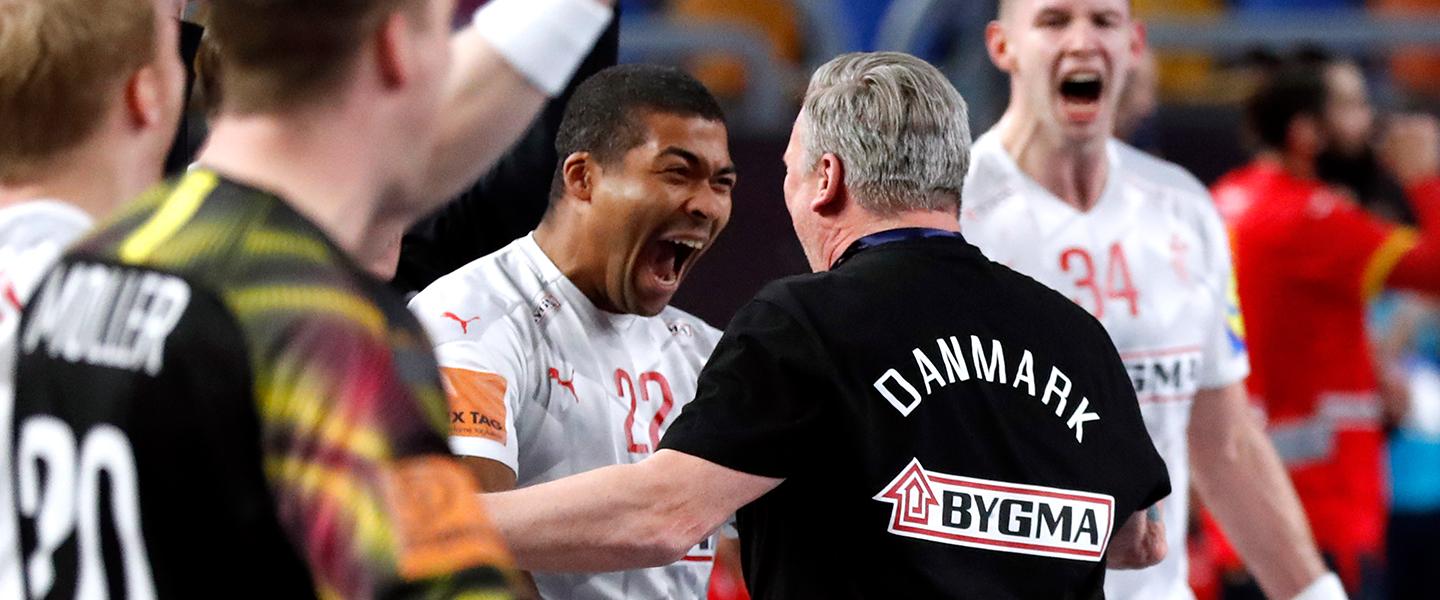 The disappointment of the Men's EHF EURO 2020 was still lingering over their heads, as world champions Denmark were eliminated just after three games in the tournament which they co-hosted with Sweden.
Denmark's ambitions were high then, but complacency and a lack of focus meant that their tournament was over shortly after it had started.
For some teams, that would mean things need to change, with a hectic replacement on the bench and a full roster make-over. Instead, Denmark took the calculated approach, put their faith into coach Nikolaj Jacobsen and relied once again on their experienced core, completing the roster with young, hungry players.
The recipe worked like a charm at Egypt 2021, where the Danish side are now one step away of defending the title won at Germany/Denmark two years ago. And the similarities are striking: Denmark still score a lot of goals, have the second-best scoring efficiency in the competition, do not concede a lot and, basically, play good handball. 
In fact, Denmark's scoring average at Egypt 2021 is one of the best-ever in the history of the competition for a team that reached the final. Only Spain's winning campaign at Tunisia 2005, where 'Los Hispanos' scored 35.5 goals per game is better than Denmark's 35.25 goals scored per game in this World Championship. No other team in history reached the final by scoring at least 31 goals in each game on their way to the gold-medal match.
However, all of these statistics are not important if they are not put in context – and Denmark's context throughout the past ten years at the IHF Men's World Handball is superb.
No other team have lost less games than the Danish side in the past five tournaments. In fact, Denmark have conceded only four losses in the past ten years at the men's flagship event: one less than France, five less than Spain and six less than their opponents in the final, Sweden.
"We can write history, there are not many teams that can do this thing at the IHF Men's World Championship, this is our goal, trying to win games," said Denmark's coach, Nikolaj Jacobsen, after the 35:33 win against Spain in the semi-finals on Friday.
In fact, with a win on Sunday, Denmark can pull off the biggest-ever winning streak in history at the IHF Men's World Championship, with 19 wins in a row, passing France, who won 18 straight matches between the main round at Qatar 2015 and the preliminary round at Germany/Denmark 2019.
Denmark's feat is even more remarkable, as there are only 11 2019 world champions who are still featured in the roster at Egypt 2021. In comparison, Spain only changed two players between the two competitions.
"There was also some luck involved, against Egypt [in the quarter-finals], but also against Spain, with them missing their last shot, could have gone in, but for us, now, is go home, prepare for Sweden and play exactly the same good handball that we had," added Jacobsen.
It is the sheer strength and key experience shown by goalkeeper Niklas Landin, left back Mikkel Hansen or defender Henrik Møllgaard which lifted Denmark in the position to fight in the final for another world title. Wings Magnus Landin or Lasse Svan Hansen have also been key, while centre back Morten Olsen's input always managed to dazzle any defence that came in Denmark's way.
Indeed, Hansen played an extraordinary semi-final against Spain, tying his 12-goal tally from two years ago, when he scored the same amount against France. PSG's left back might have scored 31 goals less at this championship than two years ago, but he looked once again like his best self.
 
​
For Denmark, winning against Sweden will not only mean their second IHF Men's World Championship title, but also becoming only the second team after France in the last 47 years to defend their title in the next edition of the event. For now, the statistics back it up: they score an average of four goals per game more than two years ago and their scoring efficiency is up from 68 per cent to 72 per cent.
"I did not know about this piece of statistics, but being able to defend our world title, it surely is a motivation. I do not think there is a bigger motivation than to do this, this is our goal, to take back the trophy to us in the airplane back to Denmark and I think until now have been playing some fantastic handball in this tournament," concluded Denmark's coach.