09 Mar. 2023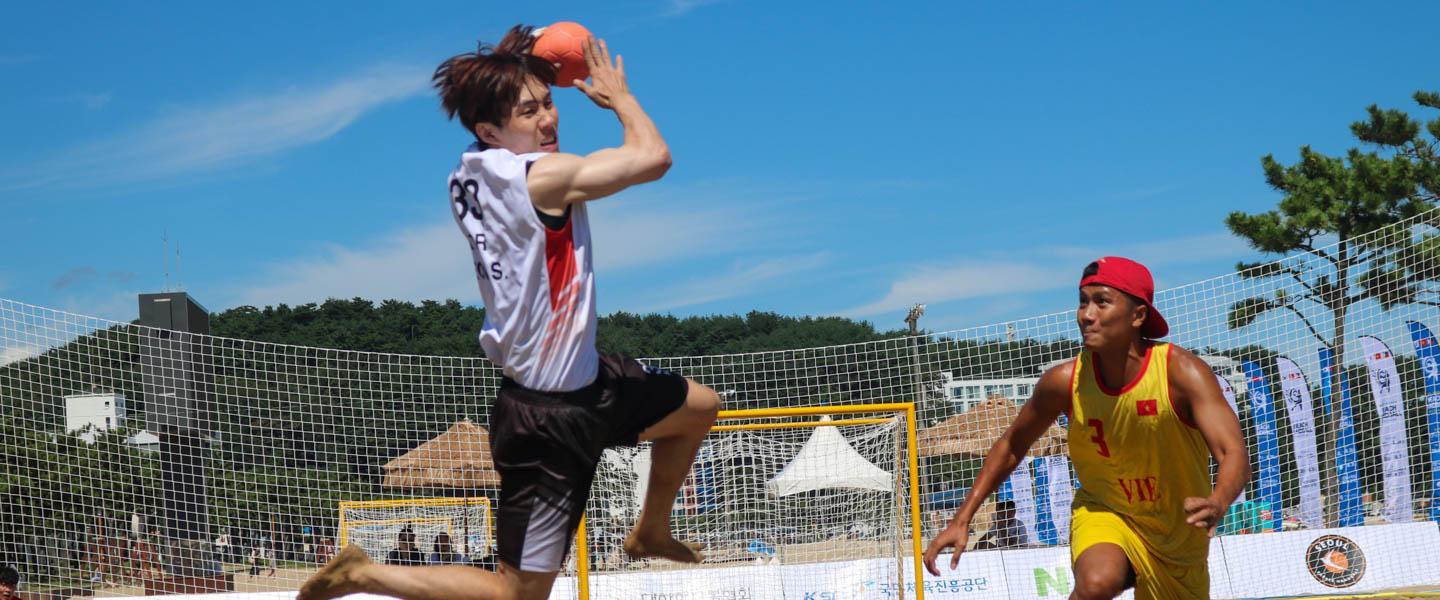 When the 2023 edition of the AHF Men's Asian Beach Handball Championships throws off tomorrow (Friday 10 March) in Bali, Indonesia, handball history will be made for the most successful indoor handball nation outside of Europe – Republic of Korea.
At 15:00 (local time), their national men's beach handball team will face the competition's record winners, Qatar, in their opening preliminary group match.
In doing so, Korea's men will become the first team from the Asian nation to take to the sand in an official competition.
The country has never had a beach handball team at any global event (IHF Men's and Women's Beach Handball World Championships, The World Games, ANOC World Beach Games, Youth Olympic Games) or any continental event (AHF Men's and Women's Asian Beach Handball Championships, Asian Beach Games).
Korea vs Qatar will mark the end of a long journey for the Korean Handball Federation (KHF) to deliver a national team on the international sandy stage.
A long journey, now with an end in sight
"There were many attempts across the country to set up beach handball dating back to the 1990s, but there was a lack of players and a lack of information about the sport," said Ahn Jeonghyun, National Teams and Competition Department, International Affairs, KHF and the person responsible for beach handball at the KHF, to ihf.info back in 2020. 
"This, along with a lack of exclusive equipment needed to play, like balls and goals, combined with a lack of awareness meant there wasn't a strong desire, so it never got off the ground."
That is likely to change now with the appearance at Bali 2023, the most significant development for the sport in Korea.
And with nearly 2,500 kilometres of coastline and existing indoor handball hotbeds in coastal cities such as Samcheok and Incheon providing potential players and coaches who understand the game, Korea certainly has a strong foundation to build on.
It has been a development years in the making.
A start in China, delayed by COVID-19
Back in 2019, a KHF delegation went on a fact-finding mission to the AHF Men's and Women's Asian Beach Handball Championships in Weihai, China.
When the delegation returned home, the wheels of the KHF beach handball project were put into motion. 
Talent identification across the country, training, open trials, demonstration events and national team camps followed. 
Locations varied, with Gwangalli Beach in the south-eastern city of Busan and Pyoseon Beach on Jeju Island – 80km off of the mainland – being two of the venues used to find Korean talent, which eventually saw the first men's team formed in 2020.
So far so good.
It was all going so well. But then COVID-19 decimated the global sporting calendar and paused any progress. 
Planned appearances for Korea at the 6th Asian Beach Games due to take place in 2020 and the 2nd AHF Men's Asian Youth Beach Handball Championship in 2022 were not possible, nor was the possibility of international friendly tournaments, visits and information exchange in Korea due to lockdown restrictions.
The world opens up, knowledge is gathered, and history is made
The global pandemic did not deter those in Korea from working towards realising their dream. They just had to wait a little longer.
The world started opening up again and in May 2022, a KHF delegation travelled to the South East Asian (SEA) Games, held in Vietnam, on another fact-finding mission.
In Vietnam, the KHF delegation discussed and observed several elements of the sport and learnt what is needed to organise beach handball championships, how to prepare the court, player fitness, health and much more. A beach handball rules and training seminar was also held. 
A few months later, in August 2022, the first international beach handball tournament was organised in Korea, and it featured the men's national team competing for the first time.
The '2022 Korea Beach Handball Festival' was a historic moment for the handball community in Korea.
Held from 27-30 August at the Yangyang Naksan beach, 150km north-east of the capital Seoul, Korea fielded two teams consisting of 20 indoor handball players from university teams, initially identified back in 2020.
The Vietnam and Philippines men's national teams joined them and the three-nation tournament was a success. 
"It was a good learning experience for everyone and we were all excited about Korea starting their beach handball programme," said Jana Franquelli, Head Coach and National Programme Director of beach handball for the Philippine Handball Federation, to ihf.info, who was in Yangyang.
The tournament provided an ideal opportunity to learn from each other and exchange knowledge, with all three nations joining together to help develop Korean beach handball.
"I was invited to lecture on the last day," added Franquelli from her training base in Manila, where she was preparing her men's and women's national teams for Bali.
"My lecture was on basic training methods, strategies and tactics for beach handball. We discussed the game compared to indoor handball, phases of the game, defence, offence and even statistics.
"Although Korea are just starting their beach handball programme, we know they have a good foundation in indoor handball, so they can build on that and will have a strong national team soon."
A new sport, learning from a strong past
That foundation in indoor handball in Korea is well known, with the nation once being one of the strongest in the world.
Korea women have won six Olympic medals in 10 appearances, plus two IHF Women's World Championship medals – including the 1995 title – while the men have an Olympic silver to their name. Between them, the two teams can boast four former IHF World Handball Player of the Year winners. 
Now, Korea hope to start the ball rolling on the sand.
"Korea being in Bali means all our hard work since 2019 has come to fruition," explained Ahn to ihf.info on the eve of the continental championship.
"Since our visit to Weihai in 2019, the KHF has developed beach handball and all of us at the KHF have tried our best to create a national team and participate in this championship, through which I hope our players get more experience, become more inspired themselves and inspire others."
"I'm pleased that the Korean men's national team is able to participate in this championship for the first time, and for the team and me, it means the beginning," adds Kim Dongyo, Head Coach of the Korean men's team.
A tough challenge
It does not get any tougher in Asian men's beach handball than facing Qatar and then the Islamic Republic of Iran in your first two matches, but that is what will face Korea in Bali over two match days.
Iran and Qatar have won the last six titles, with Iran sensationally upsetting Qatar on home sand last year to be crowned Kings of Asia.  
After that strong pair of matches, the Philippines and then Saudi Arabia follow to complete the preliminary group stage, and then Korea can assess where they are.
"When looked at objectively, all of the teams in our group are better than us," says coach Kim.
"Qatar and Iran are especially strong, and we saw the Philippines players in Yangyang. They were all flexible. We don't have much information about Saudi Arabia, but we will analyse them when we arrive in Bali.
"I'm going to observe and analyse the teams in Bali thoroughly, and through this, we can be at the same level as the beach handball powerhouses across the world."
Leading Kim's team on the sand will be captain Choi Gun, one of a trio of players in the squad of 10 for Bali from the Korean National Sports University.
And the 22-year-old is well aware of the significance of leading his team out into history.
"It's my honour to play for the Korean beach handball national team for the first time at a championship. For me, this is a lot, but I'm going to play 110%," he told ihf.info. 
"Although this is the first time for us, of course our goal is to be champions, but I expect every match will not be easy. I hope our team is able to show we are not the weakest in our group and to come back to Korea with some good results."
Assistant coach Cha Jaewoo, while not discounting title dreams, understands the opportunity presented to them.
"Although it makes us work harder, and we have the aspiration to win the championship, our team is going to learn and experience all about beach handball," he explained. "This is most significant for us as it is the first step for Korean beach handball."
The future is sandy​​​​​​​
With Bali on the mind more immediately, the long-term future of Korean beach handball looks full of potential, with the KHF preparing to develop women's, youth and junior teams in the future.
And that plan is just one of many on the table as Korea looks to grow the sport, on the court and off the court, through players, officials, fans and media interest.
"While we do not have a beach handball league in Korea, the festival last year helped us grow," explains Ahn.
"We also have a couple of referees qualified as Asian Handball Federation (AHF) referees last year – this is very inspiring. Now we have both players and referees. We are ready for being the mecca of beach handball.
"We hope that Bali can work as a trigger for us to develop beach handball more explosively in Korea."
Photos: Korean Handball Federation