23 Apr. 2020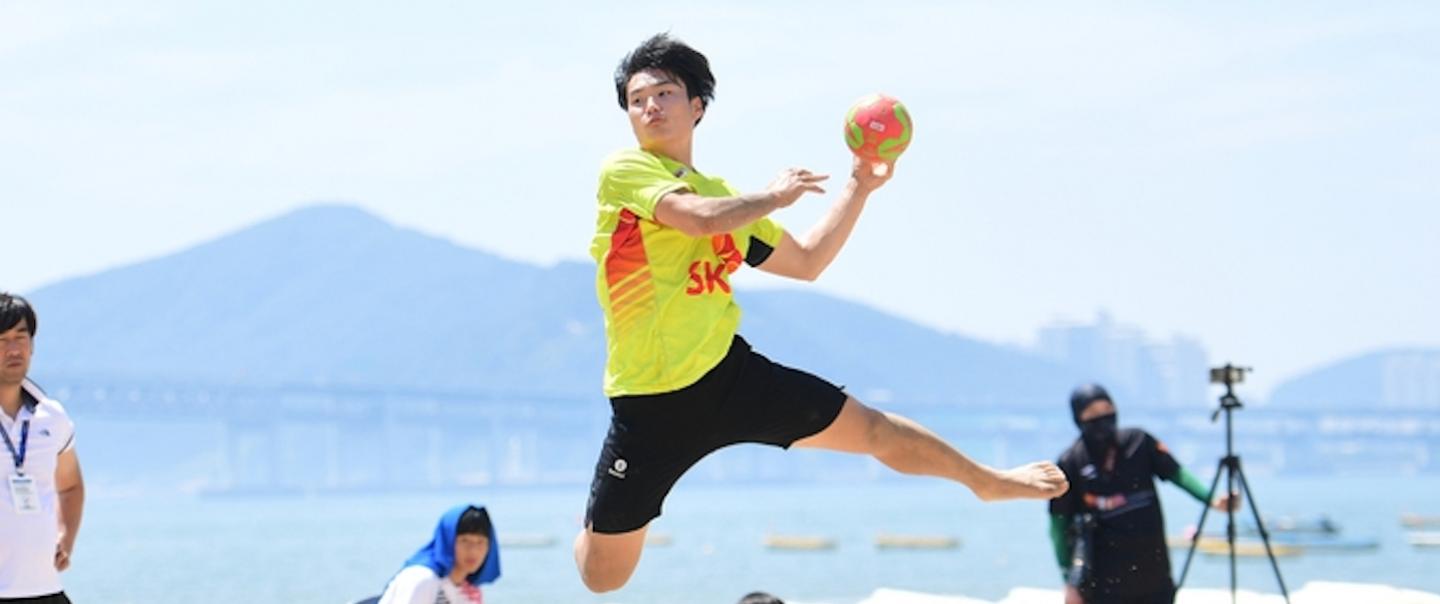 Despite the global shutdown of sport which has dominated most of the year so far, the Korea Handball Federation (KHF) is looking to 2020 and the following years of the new decade to add another string to their bow – beach handball.
Having been dominant in Asia for numerous years on court inside, outside in the sand, Republic of Korea have been non-existent, with Qatar's and Bahrain's men teams and the women's teams of Thailand, Vietnam and PR of China leading the charge continentally – while representing Asia globally at The World Games, ANOC World Beach Games, Youth Olympic Games and IHF Beach Handball World Championships.
In fact, Korea have never fielded a team in any of the seven men's or five women's editions of the AHF Asian Beach Handball Championships since they started in 2004, the Asian Beach Games since it started in 2008, or, indeed any other global or continental beach championship.
However, that will change over the next few years as the KHF are putting together teams at all levels, starting with a men's youth side getting ready to participate in the 2nd AHF Asian Youth Beach Handball Championship in Thailand, now rescheduled to September, after originally being planned for April.
The youngsters will then be closely followed by a men's senior team that will appear at the 2020 Asian Beach Games in Sanya at the end of the year.
To select players, open trials and demonstration events have been held with athletes coming through national team selections, including one at Gwangalli Beach in Busan last August. All players were rated on a combination of their basic physical skills, skills related to handball and understanding of beach handball rules and regulations. 
This led to the first-ever Korean men's youth beach handball team training camp with 10 athletes training under the supervision of former men's national youth team coach Jang In-ik on Pyoseon Beach situated on Jeju Island, off the south coast of the country from 3-14 February.
So why did the KHF decide to set up a beach programme, now, in 2020?
"Firstly, as a handball powerhouse in Asia, we need to ensure that we go along and follow international handball trends," said An Jeong-Hyeon, from the Department of National Teams and International Affairs at the Korean Handball Federation. "Beach handball has really caught on in recent years with the trend rising not only in Asia, but especially in Europe. 
"Further to this, the KHF purpose, interest and passion is to spread a base interest in handball as a whole across our domestic structure and further afield and beach handball – which is another kind of handball – is clearly part of this."
With nearly 2,500 kilometres of coastline, Korea is well-placed geographically for sand, while existing indoor handball hotbeds in coastal cities such as Samcheok and Incheon, provide potential players and coaches who understand the game.
However, at the moment, just the national teams exist with few, if any, clubs existing in the country, according to the KHF, despite efforts in the past.
"There were many attempts across the country to set up beach handball in Korea dating back to the 1990s," explained Jeong-Hyeon, "but there was a lack of players and a lack of information about the sport this, along with a lack of exclusive equipment needed to play like balls and goals, combined with a lack of awareness, meant there wasn't a strong desire, so it never got off the ground.
"However, because beach handball has all the characteristics of a beach festival, this can make it maybe more convenient and attractive to ordinary people who want to experience it than the existing indoor handball and we are putting all our efforts into creating and growing something."
So, with the national teams competing at the continental level, what are the hopes for the KHF this year?
"We hope to qualify through from Thailand for the 2021 IHF Men's Youth Beach Handball World Championships in Portugal at least," said Jeong-Hyeon. 
"In the future the KHF are planning a national beach handball championship which has all the characteristics of a big festival which will attract everyone – not just handball fans. This means whether they like handball, beach handball or not, they can participate and enjoy the competition.
"We hope that all of our beach handball events can work as a detonator to help the explosion and development of the sport in Korea and Korean handball overall."
PHOTO: Korea Handball Federation