14 May. 2022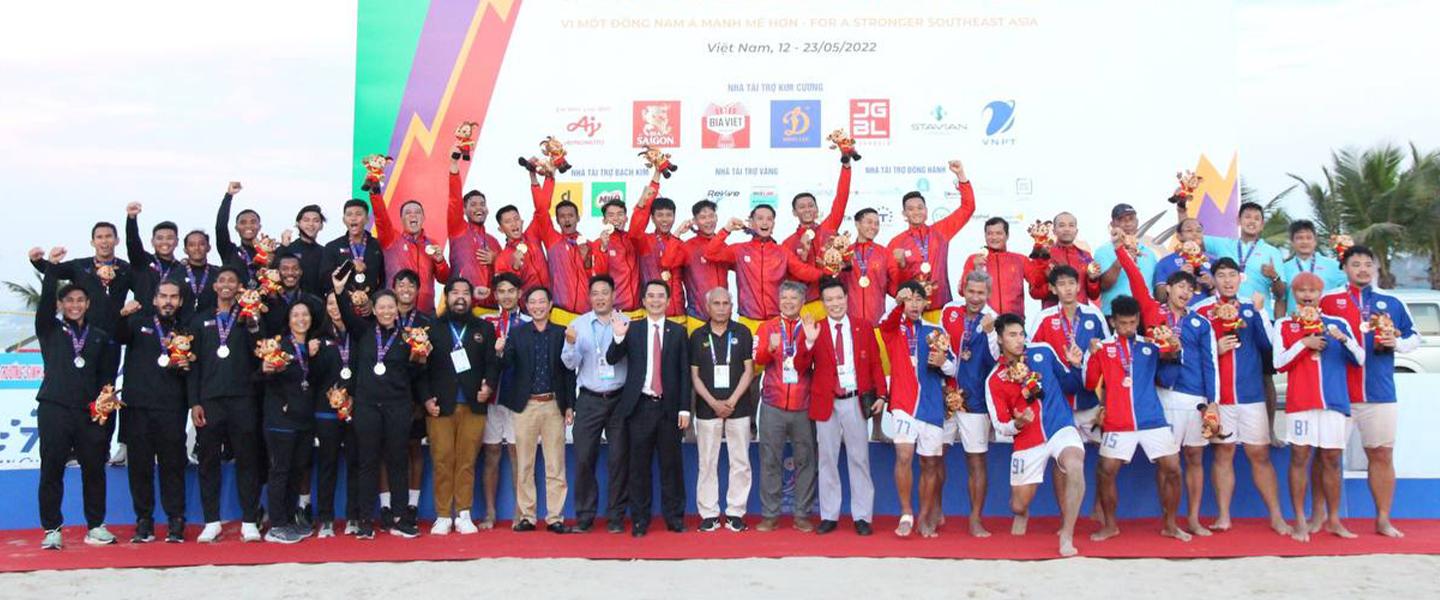 Vietnam's men's beach handball team have been crowned champions of the 2022 South East Asian (SEA) Games, the regional multisport event which is taking place in Vietnam's capital city, Hanoi and 11 neighbouring provinces and cities.
2022 marks the 31st edition of the SEA Games which features 40 sports with 526 events under the theme 'For a Stronger South East Asia'. It had been due to be held in late 2021, but was delayed due to the COVID-19 pandemic.
Ahead of the official opening ceremony on Thursday 12 May, beach handball took place on Tuần Châu beach in the northern province of Quang Ninh from 6 to 11 May.
The competition was initially due to feature both men's and women's events, but after Indonesia did not fulfil their entries in both competitions, the women's event was cancelled with just two teams remaining – Vietnam and Thailand – and regulations stipulating at least three were needed. It also meant that the men's event featured a reduced number of teams, with hosts Vietnam competing along with Singapore, Philippines and Thailand. 
The four teams played each other twice in a round-robin competition which saw Vietnam crowned champions after winning all six of their games, scoring 261 points in the process and conceding just 193. They confirmed their gold medal in their fifth game with a 10:8 shoot-out win against Philippines after they came from one set down to eventually take a 2-1 victory (14:18, 21:12, SO 10:8), with La Van Lon top-scoring on 16 points for the home side.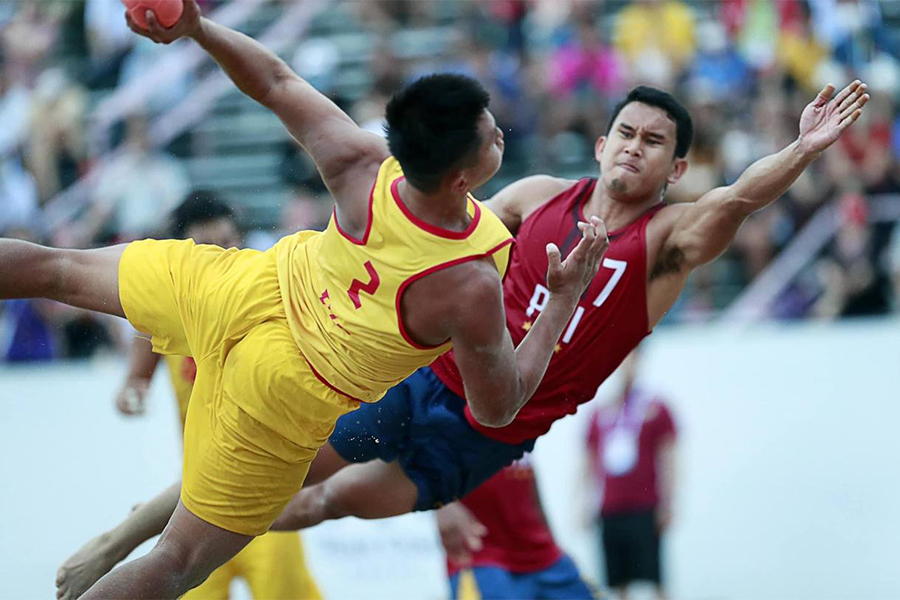 Their final game also went to a shoot-out, which saw them take 9:6 victory against Thailand, after the Thai side had missed their third and fifth shot and Hoang Van Tien ensured victory with the solitary point. Tien had also scored the single, winning point in a 17:16 mammoth shoot-out win against the Thai side in their first meeting.
Philippines confirmed at least a runners-up spot and silver medal with a 7:6 shoot-out win against the unlucky Thailand side, winning 2-1 (26:21, 22:27, SO 7:6). In the end, Philippines – hosts of the last SEA Games in 2019 – won four of their six games to finish ahead of Thailand with two wins. Singapore ended bottom, having lost all six.
This is the second time that the beach handball event has been featured at the South East Asian Games with Vietnam also winning gold in the previous edition, which was held in the Philippines in 2019. 
The result for the Philippines in 2022 represented a rapid progression in just over two years for the side, who reversed their 2019 third place with Thailand. 
It was extra special for Head Team Coach for the Philippine Handball Federation Jana Franquelli who had campaigned to get the sport included at the 2019 edition and who had told ihf.info at the time they were on course to keep improving.
"I am really proud of what the team has accomplished in two years that we were not able to train together because of the restrictions due to COVID, but we're happy with the result," said Franquelli to local media after the Philippines confirmed their 2022 second place.
"We exceeded expectations and no one expected us to get this silver. They were expecting Vietnam and Thailand to slug it out for the gold, but it turned out that we're the one who fought for the gold and it was a close one."
Final Ranking
1. Vietnam
2. Philippines 
3. Thailand 
4. Singapore
For further information on beach handball at the 2022 SEA Games and all results and match reports, visit asianhandball.org.
Photos: Asian Handball Federation