15 Jun. 2022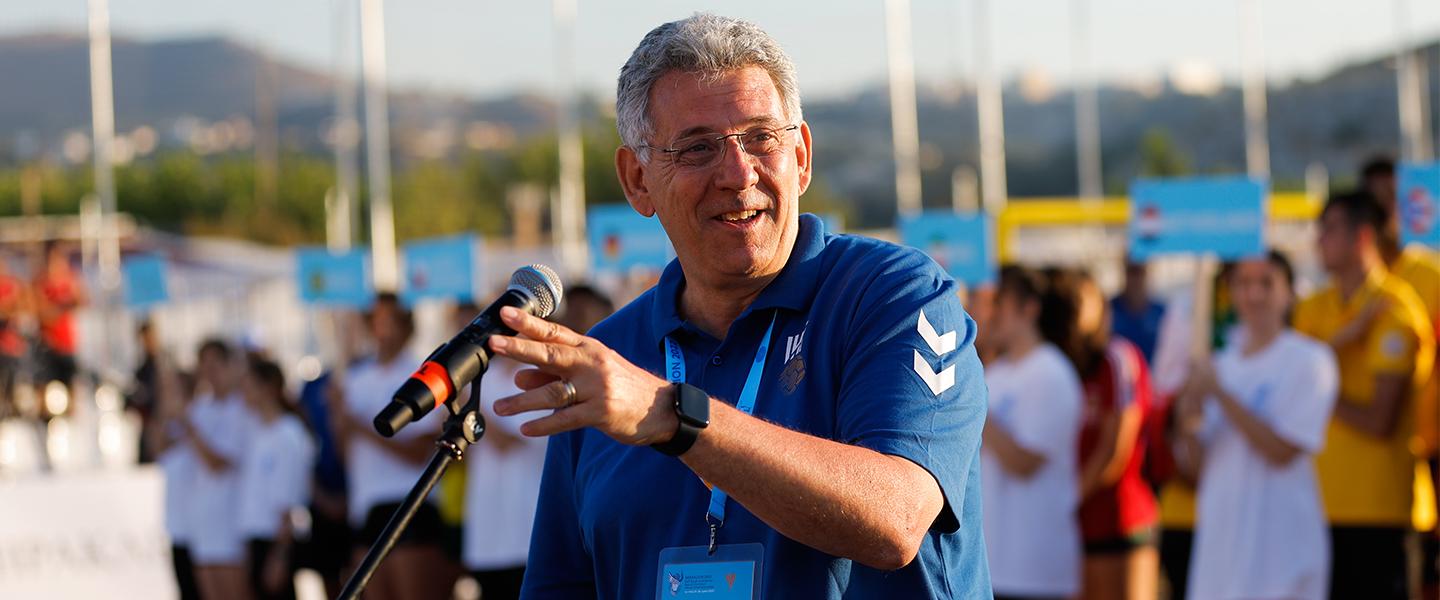 Ahead of the start of four 2022 IHF Beach Handball World Championships – the men's and women's senior and youth editions – across two weeks on the sand in Heraklion, Greece, ihf.info caught up with Chairman of the IHF Beach Handball Working Group, Giampiero Masi.
In a special four-part series, Masi casts his eyes over all four championships and updates a little about behind-the-scenes activities.
Part 1: Introduction, Greece 2022 organisation and 2022 IHF Men's and Women's Youth (U18) Beach Handball World Championships 
Part 2: 2022 IHF Women's Beach Handball World Championship
Part 3: 2022 IHF Men's Beach Handball World Championship
Part 4: Continental qualification tournaments and behind-the-scenes
Introduction
ihf.info: Hello Giampiero, thanks for taking the time…
Giampiero Masi: It's my pleasure. But before starting this interview series it's important for me to emphasise that the content of my answers reflects not only my personal point of view, but also that of my colleagues within the IHF Beach Handball Working Group.
Sport offers us the opportunity to have a proactive attitude in facing challenges and difficulties, the COVID pandemic has led us to have a new approach, but now we are returning to that everyday life that had vanished in a moment.
In beach handball we have kept relationships alive during the pandemic and this now gives us the chance to come out as winners, starting again with these great IHF events.
It will be a great challenge to organise a total of four World Championships, two consecutively one after the other and it has been a real challenge to reconcile the needs of our six continents during this period too.
ihf.info: How has the relationship been working with the organisers of Greece 2022 in the final months up to the championships starting?
Giampiero Masi: Friendship, collaboration and great motivation. These are the feelings I have experienced during this entire time and now.
The support of the Greek Government, the local Crete Authorities and the Hellenic (Greek) Handball Federation (HHF) has been decisive both for financial support and to guarantee daily operations.
The pandemic forced us to cancel the 2020 IHF World Championships in Italy. For me, as an Italian, it was of further importance. Suddenly, all our expectations were changed, the common good, the fear for the health of our loved ones were our priorities and sport began to be less important.
The Pescara World Championship is part of our history and we were certain we could present ourselves as unforgettable event to the International Olympic Committee (IOC), but, unfortunately, fate did not help us.
So, the assignment went to Greece at the end of 2021. Imagine the hard work behind organising these World Championships and the tight deadlines to present to the world an event, or rather four, of such magnitude?
The awarding at the end of 2021 conditioned the choice of hotel accommodation as the tourist facilities had already received reservations from the various tour operators – as everyone knows, Crete is a globally-recognised worldwide destination that lives a very intense tourist season from May to October.
This is why I say about the great operation of the HHF and the people who collaborate with them on the island. The local organising committee and my colleagues from the working group are working together in order to deliver the best possible event.
The 'Karteros Beach Sports Center' is a newly-constructed venue and will open for this championship (the interview with Masi took place before the inauguration ceremony on Monday 13 June). It will be a great place to enjoy beach handball and see the first World Championship played after four years featuring a total of 64 teams representing countries that can account for one third of all humanity.
2022 IHF Men's and Women's Youth (U18) Beach Handball World Championships
The preliminary round is finished – so, let us see what Giampiero Masi thought ahead of the throw-off of the event. How much were the countries he talked about able to impress in the end, so far? 
ihf.info: Ukraine have qualified both their youth teams and have arrived in Heraklion. In light of the ongoing situation in the country, can you tell us anything about their appearance here at Greece 2022.
Giampiero Masi: The IHF has been in close contact with the Ukrainian Handball Federation and we all had a great satisfaction when they confirmed their participation.
It will be an honour not only for the IHF, but for the entire sports world present in Crete to see Ukrainian athletes on court. 
They will play not only for the tournament but for the people of their own country. The results they get won't be the most important thing, it will be important to think that life can always start again. 
This participation cannot make us forget what is happening, we will be there, ready to help them, hoping for an end to this situation.
ihf.info: How good is it to see both French youth teams at a Beach Handball World Championship?
Giampiero Masi: France women finished sixth and the men finished seventh in the European championships last year and will now try to reach a better position in Heraklion. They have been working properly on the development of beach handball in their country and this generation of players will be the replacement of the current senior team in the future.
This shows that year after year, it is increasingly difficult to qualify now that all the big handball countries with indoor tradition are also involved in beach handball.
We'll see if the work done will give the desired results when they go to confront the strongest teams on the world scene, but a good result in both genders would be very important for the growth of the movement and with an eye on the Olympic Games Paris 2024.
ihf.info: Romania's women's youth team will become the first-ever from the historic and key handball country to ever appear in a Beach Handball World Championships in either gender at any age. What does this mean for the sport in general and in Romania?
Giampiero Masi: For Romania, the same concept applies to Germany, France or Norway. The best indoor countries are welcome, there is room for everyone.
The goal is to see more and more practicing countries and with our sport present in about 150 countries, it's essential to continue in this development. 
This year, as never before, we have the presence of historically, legendary and highly-successful countries mixed perfectly with the new entries that appear for the first time in competitions of this level.
ihf.info: How important is it to see Asia represented with three relatively new nations – Jordan (men), Hong Kong (women) and India (women) –in a World Championship? 
Giampiero Masi: We are not surprised. Beach handball has the space for the non-traditional indoor teams. Our Rules of the Game are created to give everyone a chance and this is something that has made our sport so interesting and attractive for everyone: it reduces that insurmountable distance that can be present in indoor competitions.
Jordan's presence will give impetus to a geographical part of Asia that needed a spark and if they focus on beach handball in the future, they can have important results.
The sport needs more Asian women's nations at the top level with Vietnam, China, Thailand and Chinese Taipei the top teams until now. With India and Hong Kong on the scene, future Asian championships will be more contested which can only be positive for the growth of the sport.
However, somehow it is something really special to have the presence of India. We are really proud and happy to have such a large country of about 1.3 billion inhabitants with us here.
ihf.info: With Argentina in mind, but other nations too, how happy does it make you to see the young players who performed so well at the 2018 Youth Olympic Games in Buenos Aires now competing at the senior level, ready to take the stage for their first-ever senior World Championship?
Giampiero Masi: It's a good question because it allows me to underline the importance of new generations. A few years before Buenos Aires we were already aware of the importance of Generation 'Z' and I'm not just talking about sociological aspects.
I'm talking about the fact that most of these players started playing beach handball before even practising indoors or any other sport, so sometimes we say they were born on the sand.
Already Mauritius 2017 showed us that a bright future was coming. Of course, with a lot of respect for all the people within our community, we know these young people are our beach handball jewels.