29 Sep. 2020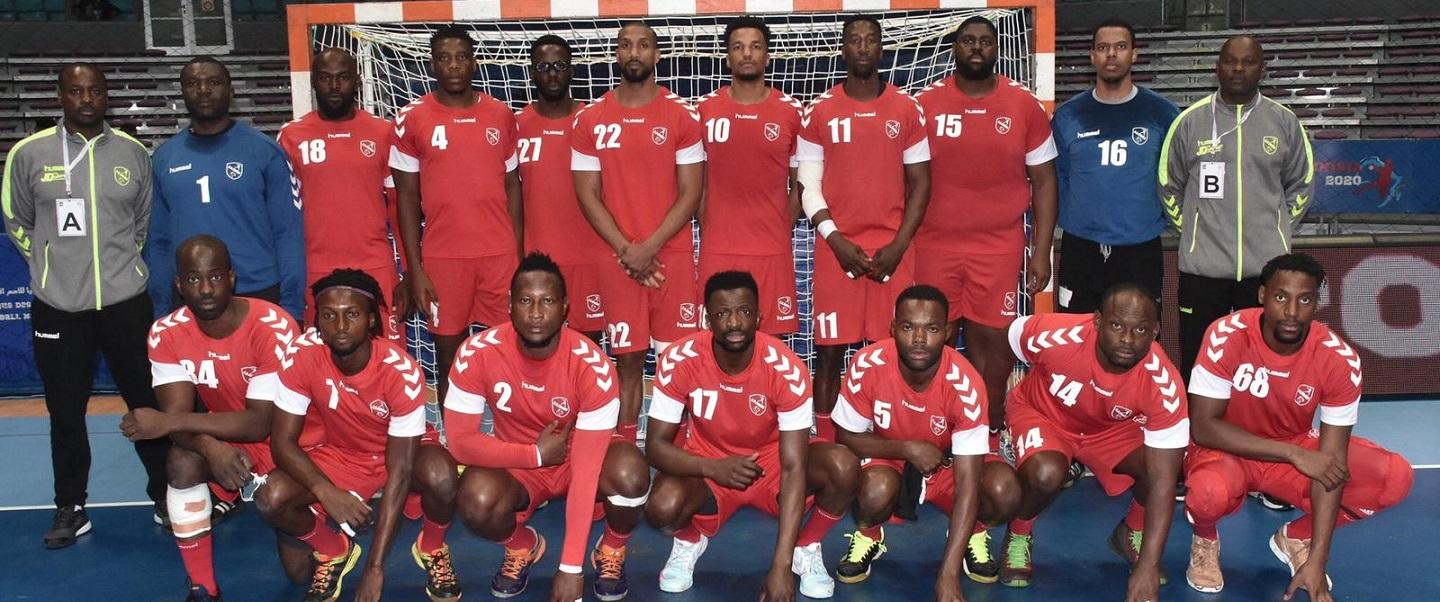 The Debutants series looks at some national teams who are set to appear in their first-ever IHF World Championship. Click on the link to read about the Lebanon women's junior team. Click on the link to read about the Cape Verde men's team. Click on the link to read about the Guinea women's junior team.
A member of the IHF since 1970, the Fédération de Handball du Congo (Democratic Republic of the Congo, or DR Congo) qualified for their first-ever IHF Men's World Championship – Egypt 2021 – after finishing seventh at the 2020 CAHB Men's African Championship held in Tunisia in January.
Men starting to catch up with the women
The newly-expanded 32-team world championship, combined with an African nation as hosts, saw DR Congo seize the increased continental chance to grab a ticket and make their first step on the global senior men's stage.
That world platform has seen the women's teams appear regularly on it in recent years with the youth team appearing at the 2010, 2012, 2014 and 2016 IHF Women's Youth World Championships, the juniors at the 2010 and 2014 IHF Women's Junior World Championships and the senior side appearing at the 2013, 2015 and 2019 IHF Women's World Championships.
But no DR Congo men's team in any of the three age groups has qualified for an IHF Men's World Championship until now, with Egypt 2021 representing a significant milestone in the continued evolution of handball in the central African country.
Let's talk about Tunisia
The coach who guided DR Congo to Egypt is Francis Tuzolana, who started playing handball when he was 11, playing in France as a left back, representing Plaisir HB, Le Chesnay Yvelines, Saint-Gratien Sannois and SM Vernon.
At just 17-years-old he started coaching ("taking care of the little ones, I got a taste for the role, and I evolved") and has now been coaching for more than 20 years in a career which has seen him take charge of a variety of younger age teams as well as the French second division club Dreux AC for eight years. 
His DR Congo side, featuring his brother, Audray Tuzolana, grabbed the final African place for Egypt 2021 by defeating Gabon in the 7/8 placement match, which was effectively a play-off for the world championship.
"It was an important game for us as the day before we missed the opportunity to qualify, against Cape Verde," explained Tuzolana to ihf.info about their extra time defeat in the first match of the 5-8 placement round. 
"It was a big disappointment and we had to re-mobilise the players for that last ticket, but we were not nervous, no. I was focused on the goal as were the players. 
"At this time in the competition, with the accumulated fatigue of having played so many games, the watchword was the mind – to win this type of match you need mental strength."
At half-time Tuzolana's side, known as 'Les Léopards', were ahead 15:11 and eventually won 30:26 to comfortably take the qualification spot.
"I felt calm at the break as the players were involved and applied what we had practised; things were going well," explained the coach. "The victory was the culmination of hard work – we are a small federation working on development, so for us it was a great reward and a beautiful experience that we can now look forward to.
"When we returned home, we had a lot of messages of congratulations and thanks from our supporters. We are very happy to have qualified for our first world championship, but, of course, the COVID-19 health crisis has disrupted our preparation and planning, however, we will continue working on the programming of the training camps for our players."
Co-captain of the team is Aurélien Tchitombi, who now plays for French Proligue (Second Division) side Grand Nancy Métropole Handball after appearing for Chartres Metropole in the Lidl Starligue last season, and he is also full of emotion when recalling the events from earlier this year.
"When we qualified for Egypt, I didn't realise directly, I was just really happy because we won the game and took seventh place in Africa," said Tchitombi.
"The DR Congo federation had told us before the Gabon game that we could take the last ticket to the world championship, but it had been such a long competition, and the match was played really early on a Sunday morning, so I didn't realise straight away. I was a little bit sad actually, because I thought that we should have taken a better place (after narrowly losing that Cape Verde match) and I thought we hadn't shown our full potential. 
"However, two minutes after the final whistle everybody was jumping, really happy and crying," he added. "I had actually gone up to one of the referees just before and asked them 'Is it really over? Is it sure we won? Are we really taking this place at Egypt 2021?'. He told me 'Yes, it's true. Congratulations to you – see you soon in Egypt'. I then realised we did something special – it was the first time we booked a ticket for the world championship and it was a crazy feeling.
"We then went back to the locker room and checked our phones. We had so many messages from our families and people who were really proud for us and proud for us to represent our country at a world championship amongst the best teams in the world – never could we imagine that we would be part of that."
A mix of country experience, uniting under the flag
Tchitombi is one of around half of the DR Congo squad who play their club handball outside of the country either in Europe – in Sweden, France and Spain – or Africa, in Morocco or Egypt with around 12-14 playing at home, for Congolese clubs.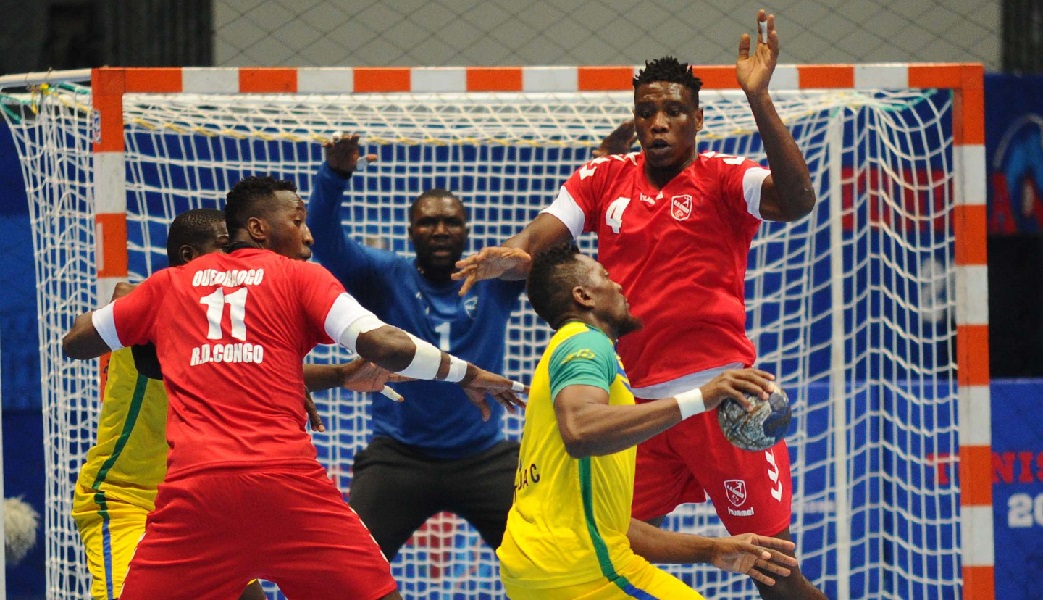 But despite the diasporic nature of their day-to-day handball lives, they act as one together when they put on the DR Congo shirt.
"Some of us live in Congo, I live in France, others live in Spain and in Sweden, but, for me. we are all like brothers," said the 27-year-old.
"We don't all have the same level [of play], but when we are on the court, we all fight 100% for the flag on our chests. It's a special emotion when you play with these guys because you know how difficult it is for them to represent our country. 
"It's really hard to describe what we feel when we line up and hear our national anthem," continued Tchitombi, whose father Tchitombi Ferdinand, also played for the national team as well as Inter Congo Club in Brazzaville. 
"Every day we work hard in our clubs but when we wear the jersey and hear the anthem you know that you play for nearly 100 million people and you are representing all the country; it's a big responsibility. 
"You see it in the eyes of your teammates and you play every game like it is the last one; you must give your heart and you must give your body for this team, for because you don't know what is going to happen – in an African competition everything can happen.
"Every detail is important so you must be 110% every time in your head, in your body, in your mind, in your feelings, it's an unbelievable opportunity to represent your people, but it's also an opportunity to work together, to show our values, our skills, our potential and how we play handball in each country."
Handball is played throughout the DR Congo, with capital city Kinshasa the strongest hotbed for the sport, with one, semi-professional division of "around 14 teams, depending on the economic situation," explained playmaker Tchitombi. The season is between March and May, with the top two then qualifying for the African Champions League.
Using Egypt 2021 to inspire a generation
Developing players of the future – especially those for the men's teams – is close to Tchitombi's heart and is one of the key factors inspiring him to play at his very best in Egypt.
"We have many really good handball players in DR Congo, but they don't believe in their dreams because the men's senior team hasn't shown that they can be one of the best teams in the world," he explained.
"Usually in big sports in DR Congo, like football or basketball, you have some good results; we won the FIBA AfroCAN last year and now you see many young people in Kinshasa playing basketball because they saw that you can achieve your goal and be Kings of Africa. 
"So Egypt 2021 is a good opportunity for us to show how handball is growing in DR Congo, and the continent. We must use this opportunity to produce more players and help young people believe in their dreams and to start playing handball.
"I started playing at school because my teacher told me I had good skills," he added. "It's a game where everybody helps each other; everybody defends, and everybody attacks. It's a sport you must play with your head more than your body so if you feel the gameplay you feel the game."
Tchitombi was keen to stress to ihf.info that Egypt 2021 is also the first step of their objectives as a men's side, but what was more important for him was to stay at the top level for a sustained time.
"We must continue to work hard in our clubs during the international competitions to continue to grow as a team and to also take experiences so we can always strive to be better," he said.
And with Secretary General of the DR Congo Handball Federation, Freddy Ntanga revealing to ihf.info they are working hard to create a training centre for young players, the future for DR Congo handball continues to look bright.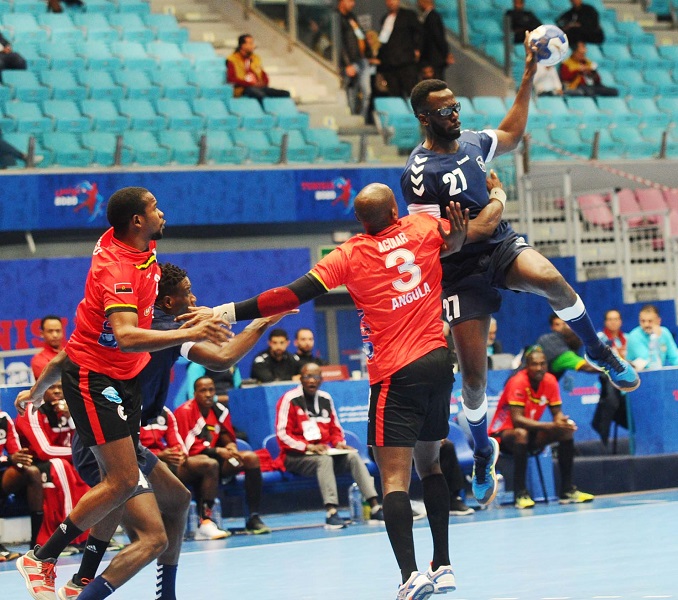 A message from the women
One DR Congo player who knows what it's like to experience a world championship is women's player Estel Memana who told ihf.info the men's players should enjoy the Egypt 2021 experience.
"My message to them is quite simple, you can now say that you made history for our country. You can be proud. We are proud of you and know every game will benefit you all. So be strong and enjoy the journey."
Hopes for Egypt 2021
Earlier this month, DR Congo were drawn into Egypt 2021 Preliminary Group D where they will face current world champions Denmark, Asian champions Bahrain and South and Central America runners-up Argentina.
But for Tchitombi, it is not about the results – although a win would be celebrated wildly.
"For us, Egypt 2021 is not like a competition because it's our first time," he said. "It's more like a new experience to learn how to be precise in our game play in our attitude and in our behaviour because it's a new world and we are like a child in this competition,
"We must learn more than thinking about our goal and our objective, of course, if we can win games it will be crazy and an amazing experience for us. Why not win one game in our group and take a ticket for the main round?
"But if we don't achieve this goal, and we win only one game during the whole competition, it will still be a good result for us. Our objective is to show how Congolese handball has grown in the last decade and how it continues to progress."
For more information on handball in DR Congo, you can follow the federation on Facebook.
PHOTOS: Confédération Africaine de Handball / Fédération de Handball du Congo