24 Feb. 2021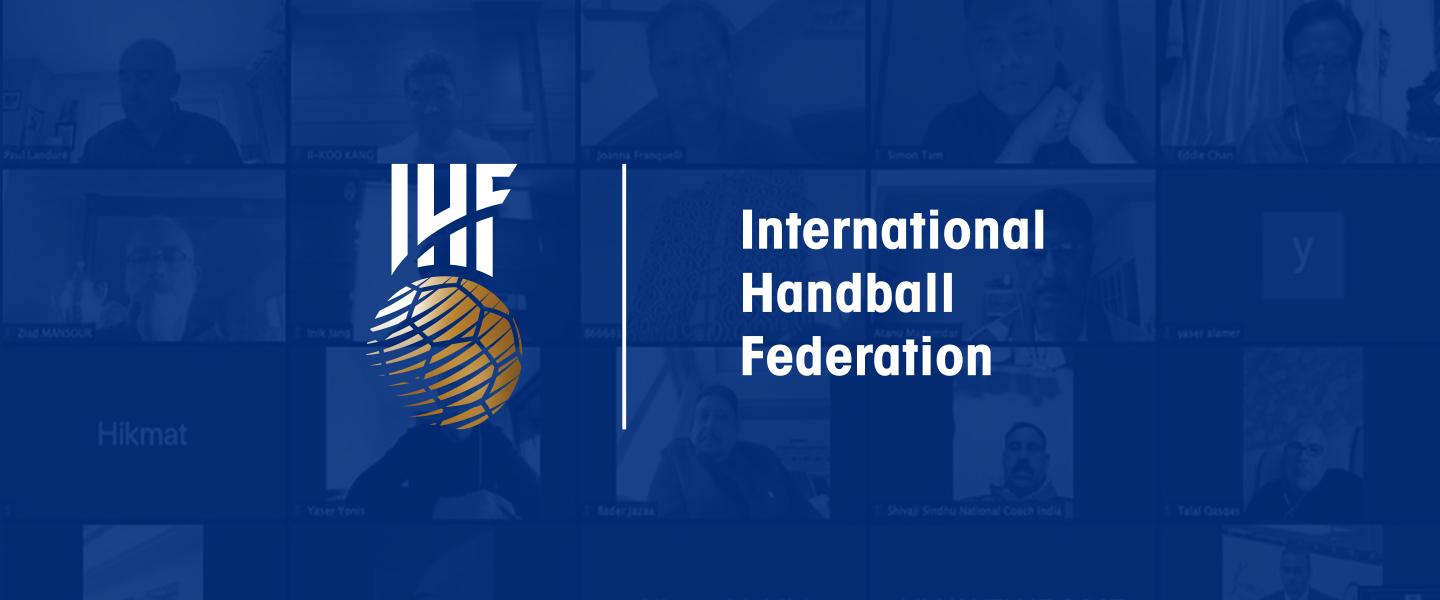 At the end of 2020, the Asian Handball Federation (AHF) and IHF partnered together to deliver the '2020 IHF Virtual Coaches Course Asia'.
The course took place with daily two-hour sessions from 1 to 15 December and was opened by AHF President Sheikh Ahmed Al Fahad Al Sabah.
All those in attendance were also warmly welcomed by Bader Al Theyab (AHF Treasurer, Council Member, IHF Council Member and Asia Vice President) who acknowledged the unique situation everyone found themselves in. 
"COVID-19 has taken so much from us but has given us something special – the opportunity to come together as one team; to work together, to learn together and to grow together," he said. "Organising online courses can be very important for mental and physical health, and this is a good chance for our coaches to learn, to promote handball and develop handball in Asia."
A total of 33 coaches from 14 Asian nations were in attendance with strict entrance requirements including: experience as a player, 10 or more years' experience as a coach, experience as a coach with national youth or junior men's or women's teams and with clubs in AHF competitions. 
Furthermore, the ability to write, read and speak English was also required as was a handball-specific education and nomination by the National Federation of the coach involved. Finally, the AHF and IHF experts committee had to approve the individual.
Over 30 hours of delivery and discussion was delivered with a 'Team Preparation Project' final exam. The course covered numerous topics, including how the coach prepares and manages their team, short and long-term preparation planning, evaluation of the management of their team, playing philosophy, analysis of player profiles and much more.
ihf.info caught up with Dietrich Späte, IHF Commission of Coaching and Methods (CCM) Chairman, who led the course together with IHF CCM Member Paul Landuré, for an in-depth look at how the course was developed, its success and the legacy it will leave in Asia.
ihf.info: Why did the IHF organise this course with the AHF?
Dietrich Späte: The IHF mainly focuses on the development of coach education in the continents outside of Europe, and the Asian Handball Federation is one of them. 
IHF President Dr Hassan Moustafa, Bader Al Theyab and I made plans for this at the AHF Men's Asian Qualification Tournament for Tokyo 2020, held in Qatar in late 2019.
Dr Moustafa had said previously that we need a new perspective of coaching in Asia, a new coaching generation: younger, more modern-educated coaches, so that was our clear target.
Asian nations' performances in the overall ranking when compared with other continents is not so good, with only really Qatar, Bahrain and Korea – plus there is a difference between the men and women too, so we need new ideas to develop handball in this region, in co-operation. 
ihf.info: Where did you decide to start with this development?
Dietrich Späte: Our first target is coach education with more modern profiles and not just 'traditional' or 'old-fashioned' coaching or coaches. One way of doing this is through a coach licensing system where you licence experienced coaches who have been successful for many years – there is no point saying everyone has to start on our most basic licence, the 'D Licence'.
Many, many years ago this was also the problem in Europe, but not after they introduced their coach licensing system, so this is what we are now doing in Asia with the entry requirements (see above).
Our second target, and maybe the most important now as we now have 32 teams in our Youth and Junior World Championships as well, is to develop the talent systems in the region. 
This was very clear and is our focus.
ihf.info: How did this work in practice?
Dietrich Späte: Our first contact was with Dr Nabeel Taha, the AHF person responsible for coach education across Asia and who is also an IHF Expert and Lecturer. He, of course, has various networks across all regions of Asia and is the head of the AHF Experts Committee with members from all regions in Asia so was able to identify the coaches who fitted the course criteria.
At the same time, we established a structure with the AHF where we can work together in a perfect way with clear lines of communication.
Then, we needed the actual course – we don't give away B Licences as a gift. We looked at all aspects of the course and the homework needed for it. I was very satisfied with all of the lectures, we really have a good team now and it's a great, positive step forward. It has been a really excellent co-operation with the AHF.
ihf.info: Can people view the lectures?
Dietrich Späte: All the material, lectures and presentations will eventually be available online, via the IHF Education Centre.
ihf.info: We heard of the entry criteria, but what content does the 'B Licence' entail?
Dietrich Späte: To gain a 'B Licence', the coach must be able to plan the whole process for a team, which we see in the homework. This is the ideal picture of a profile of a 'B Licence' coach: I must be able to analyse my players at first; individual, athletic, technic, tactical behaviour. What is good? What is not good? What are the targets and the tasks for the future in each position? 
As a 'B Licence' coach I have to be able to plan the whole team. What is my game philosophy? What is the whole game concept? How do I plan the preparation? How do I plan the training in the season after the season? These are the tools for a 'B Licence' coach.
I have to emphasise that everyone has to be able to speak and be able to listen and understand English. A coach who is not able to read new information, new methodical things is not able to develop their own performance. 
ihf.info: What does the 'B Licence' allow coaches to do?
Dietrich Späte: Firstly, continents decide their own regulations with regards to this. For example, in Europe, it allows you train all teams at youth level and also 'middle' clubs. Maybe in other continents, you can coach a little bit higher.
ihf.info: Now this course has been completed, what's next for the participants?
Dietrich Späte: This is important – the next step. In the first part of this year, we want to organise a so-called 'Multiplier Course'. This is where we will select from this just-completed course some 'talents' who will be responsible for coach education in the future in Asia. This will start with 'D' and 'C' licensing at first, before moving on to 'B' licensing in the future.
ihf.info: Why are 'Multiplier Courses' needed?
Dietrich Späte: We want to educate coaching talent to become multipliers and then we create a structure.
We cannot send all of our CCM lecturers to all the countries in Asia and around the world. That is simply not possible. You have to educate coaches to become multipliers, that's the central target. 
Currently, we are doing this in Asia in a good way and we will look towards working with Africa in 2021 next.
ihf.info: Can you tell us about any of these 'talents'?
Dietrich Späte: Four coaches have been selected as 'talents' from this course. Kang Il-koo, who is the coach for the Republic of Korea men's team and his colleague, Jang In-ik, coach of the men's youth team. In addition, Madhi Rahbari, coach of the U17 Iran men's team and Johanna Franquelli, who has various coaching roles at the Philippine Handball Federation, including that as head coach of the men's team.
For me, Johanna is one of the biggest talents in this area. I received a presentation from her and will now ask her to write an article for us in the CCM about how she created her project 'Handball in the Philippines'. 
They started back in 2013 with a pilot 'Handball at School' project and then, step-by-step have developed. It's unbelievable work. She has such competence, not only providing the best presentation on this course in perfect English, but also the whole concept around how she prepared here homework. She is a big talent, I'm so happy. You know, I am always looking for talent.
ihf.info: Are you actively working towards having gender equality in your coaching courses?
Dietrich Späte: In general, we have a problem with a lack of women's coaches in handball. It's a big task, but if we can find talents, we will promote them.
In addition to Johanna, another example of a female coaching talent from Asia is the famous former Korean player Oh Seong-ok who became part of our analyst team at the 2018 IHF Women's Junior World Championship in Hungary.
I saw her team playing at the 2016 IHF Women's Youth World Championship in Slovakia where they won bronze and I remember saying to myself at the time, "I have never seen a team performance in this age group like this."  I then discussed with her to see what they were doing behind the scenes. 
There is no doubt she is also one of the most talented coaches in the whole of Asia and, after Hungary, this was one of the reasons why I wanted her to be part of our analyst team at the 2019 IHF Women's World Championship in Japan and, alongside Johanna, we now have two potential role models for the whole of Asia in the future.
I'm very, very happy – we have really good examples, and we are going forward with this idea.
ihf.info: What are the next steps for the IHF and the AHF with regard to coaching?
Dietrich Späte: We are planning to deliver an 'A Licence' course in Asia this year or in 2022. You need about two or three years and then the AHF could say, for example, for all national championships all coaches need an 'A Licence', but we need time to plan it, deliver it and for coaches to gain the qualification. 
From the IHF side, in two or three years it is possible we could say that for coaches to participate in a men's or women's IHF Youth or Junior World Championship with 32 teams the coaches need an IHF Licence, but not now. It's possible only when this system is working – that's the future.