25 Sep. 2019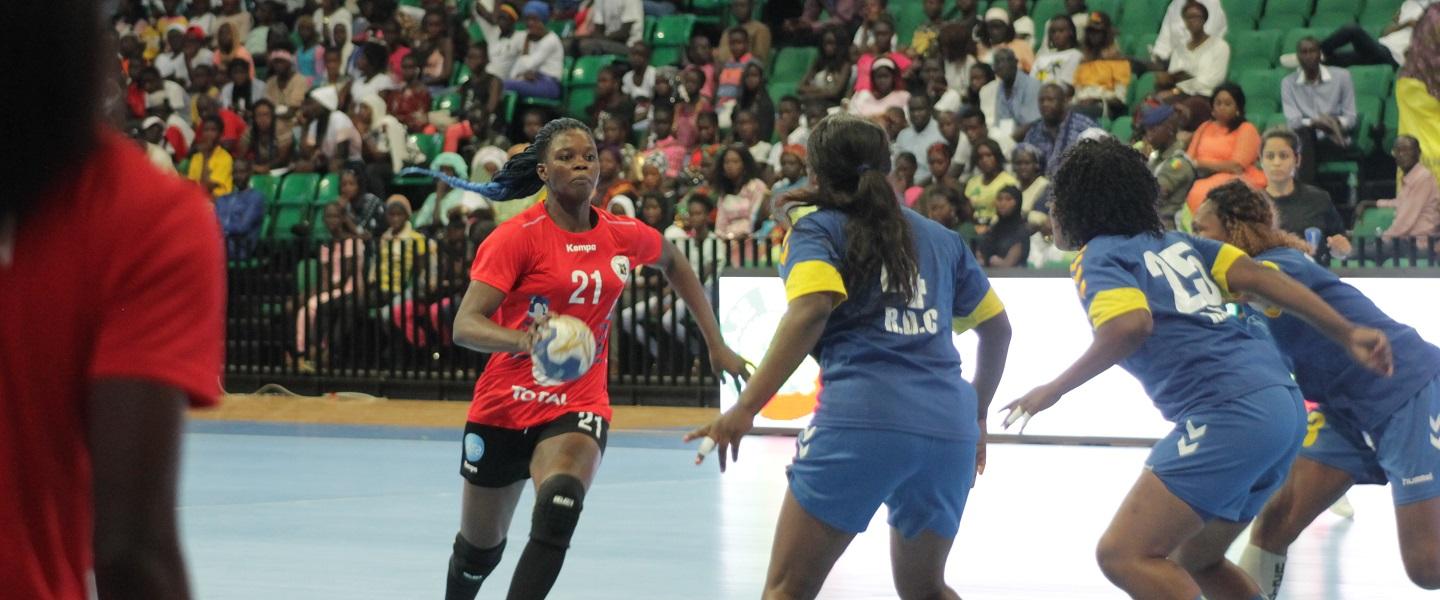 After the 2019 AHF Women's Asian Olympic Qualification Tournament threw-off earlier this week, it is now the turn of the African continent as the 2019 CAHB Women's African Olympic Qualification Tournament for the 2020 Olympic Games in Tokyo starts tomorrow (Thursday 26 September).
Four teams – Angola (ANG), DR Congo (COD), Cameroon (CMR) and host nation Senegal (SEN) will play each other once with the team finishing top of the group booking their ticket to Japan and the second-placed team automatically qualifying through to the IHF Women's Olympic Qualification Tournaments to be held next year. Up to two teams could be at the qualification tournaments depending on the rankings at the 2019 IHF Women's World Championship later this year.
Six games will be played in total across three match days at the 15,500-seat Dakar Arena 30km from Senegal's capital, Dakar – a venue which will be used for the 2022 CAHB Women's African Championship, also known as the 'Africa Cup of Nations', or CAN.
"Senegal has never hosted a big competition so we wanted to organise the Olympic Qualification Tournament to help us prepare for the CAN in 2022," said Seydou Diouf, President of the Senegal Handball Federation, to local media ahead of the event.
"Our country now has an infrastructure allowing us to organise an international event like the world championships, but we are not organising this Olympic Qualification Tournament just for preparation – the coach and the players are fighting for the first African qualifying spot through to the Olympic Games."
The host nation's clear rival is Angola, who have been the sole women's representative from Africa at the past six Olympic Games – 1996, 2000, 2004, 2008, 2012 and 2016. 
However, last December in Congo saw the Senegalese side run the Angolans close to continental gold at the 2018 CAHB African Women's Championship.
The Senegal side, coached by former Fluery Loiret, Nantes and Rostov Don coach Fred Bougeant, were ahead by eight goals (9:1) in the 17th minute and led 10:7 at the half-time break, stunning the Angolans, who had won 12 of the previous 15 championships. But Angola, coached by the Portuguese-speaking former Brazil women's coach Morten Soubak, came back eventually to win and take gold after that early shock deficit, which Bougeant had described as a "dream".
Bougeant later said following the final that the "Senegal handball project is launched, we will learn and come back stronger," and his federation President will be hoping that proves to be true this week as they play in front of a passionate home support with transport to the arena, and entry, free.
"The Angolan women are champions of Africa, but we have the means to beat them," added Diouf. "Our players were a match for them in the final last year."
Angola are clear favourites, having beaten all their rivals last year in Congo. They beat Senegal 19:14 in the final while DR Congo beat Cameroon 33:22 in the bronze medal match. Senegal beat DR Congo 22:21 and Angola beat Cameroon 25:16 in the semi-finals, while Senegal defeated Cameroon 23:18 and Angola dispatched DR Congo 33:24 in the group matches.
Senegal, Cameroon and DR Congo women's teams have never appeared in an Olympic Games, and along with Angola, they are all competing in Senegal this week after they filled the top four spots at that 2018 CAHB African Women's Championship.
All matches are set to be streamed live on the 'Handfrica' Facebook page. 
MATCH SCHEDULE
All times local, organising committee reserve the right to change times and days of matches
Thursday 26 September
16:00    ANG vs COD
18:00    SEN vs CMR
Friday 27 September
16:00    ANG vs CMR
18:00    COD vs SEN
Saturday 28 September
Rest Day
Sunday 29 September
16:00    CMR vs COD
18:00    SEN vs ANG
 
UPDATE: Cameroon have withdrawn their participation. More information, including the revised match schedule, can be found HERE.