A road well-travelled – in Uganda
12 May. 2017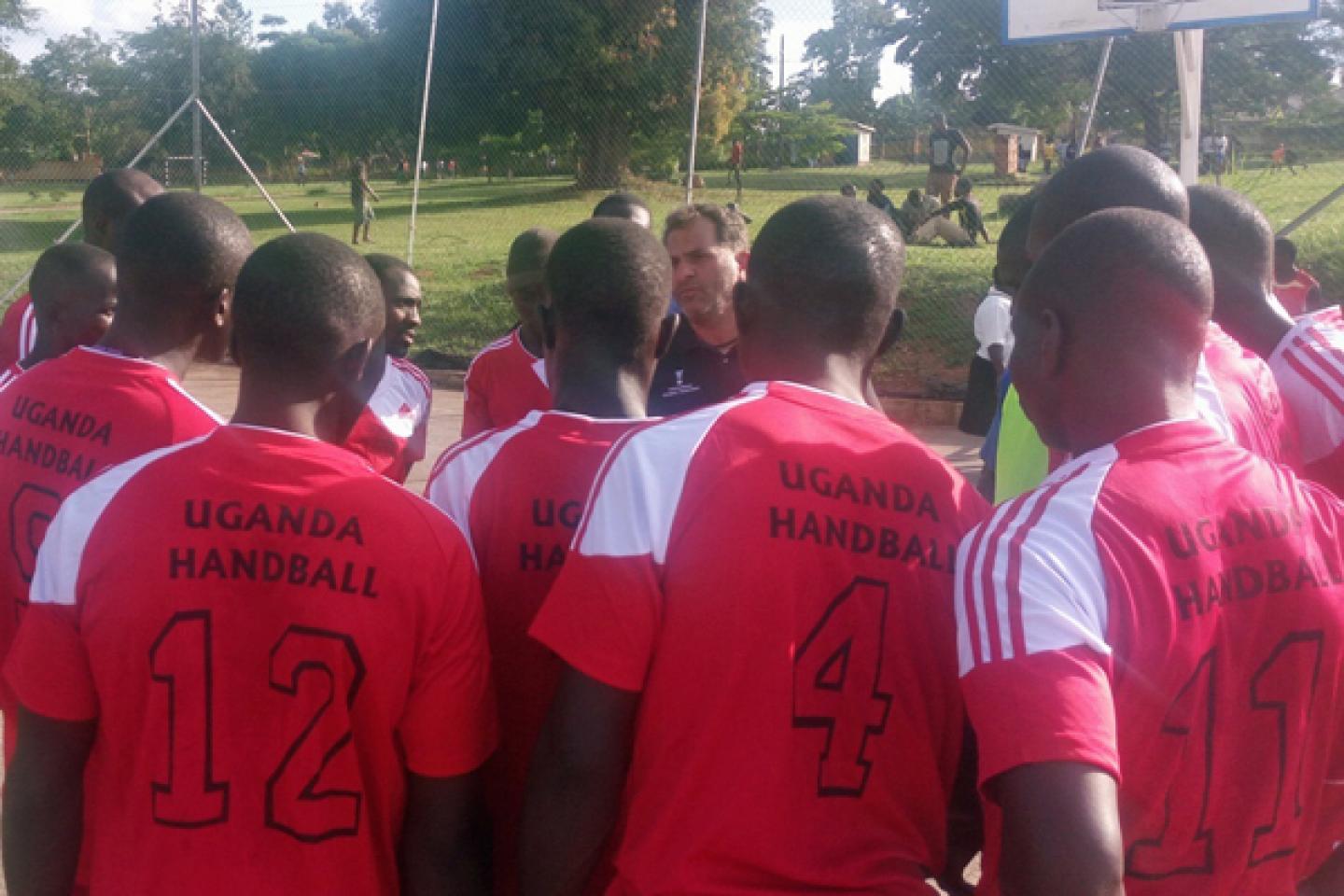 The Uganda Handball Federation recently received an expert coaching visit as part of the 'IHF Traveller Coach' project – the long-term IHF plan to help expand the knowledge base of handball federations around the world.
The aim of the IHF Traveller Coach project is to provide long-term support to developing handball federations globally to improve their work with national teams and to deliver courses at a local, bespoke level for coaches and teachers, reflecting the diverse needs of each country in which it is delivered.
Firstly, a national federation is chosen for support and then allocated a coach, or coaches, who have previous coaching experience as a senior national team coach and/or experience with a top senior club. Over a period of the following two years the 'Traveller Coach' will then visit that federation two-to-three times for 1-4 weeks on each visit, but for a maximum of two months in total.
The IHF Traveller Coach will then work with the national federation national team coaches, local coaches, players and teachers to explain modern handball methods and techniques with the aim of helping them to improve their own personal coaching philosophy and, ultimately, no longer requiring the direct help in the future.
The Uganda Handball Federation received Egyptian coach Assem Elsaadany from 20-30th March in Kampala, the capital of Uganda at the Mandela National Stadium as part of the second phase of the project in the African country.
Four national coaches and 32 national players – including 20 men and 12 women – from a variety of Ugandan handball clubs attended the coaching sessions where they could soak up the knowledge from Coach Elsaadany to help them achieve their goal of qualifying for major IHF competitions in the future.
After working on the first phase of the project in Uganda previously, Coach Elsaadany already had the background knowledge and experience arriving in Kampala this time around and was able to further progress the participants on the project.
Over 11 days, training sessions for both the national men's and women's teams were carried out all day (9am-5pm) every day, with practical sessions taking place on all-weather courts alongside theoretical sessions all aimed at providing the knowledge base to deliver the very best opportunity for optimal mental and physical preparation.
Stressing the importance of game planning and time management as the key to winning games, Coach Elsaadany also explained his support remotely too – providing online support where and when needed.
The programme was concluded with a friendly match between a team featuring a combination of players from the best two clubs in the country – Ndejje University and Uganda Defence Forces –playing the national team players from the same University, with the national team (men and women) winning.
"On behalf of the Uganda Handball Federation I would like to thank the IHF for assigning Coach Elsaadany to Uganda," said their secretary general Sauda Babirye. "We appreciated his style of training and coaching and we shall implement his recommendations to improve our national teams."