Newly-crowned world champions Croatia open Beach Handball Global Tour
01 Jul. 2022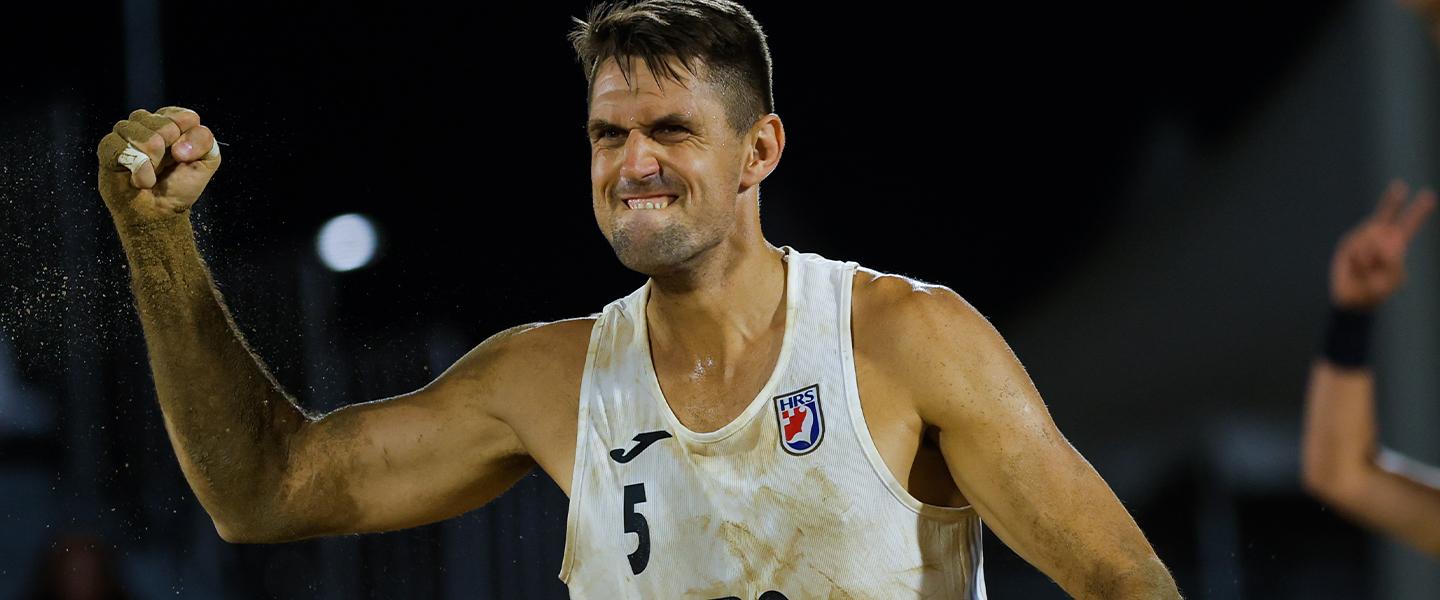 After being postponed for two years, the 2022 edition of the Beach Handball Global Tour throws-off today in Gdansk, Poland.
The northern coastal city will welcome newly-crowned world champions Croatia alongside Germany, Spain and hosts Poland.
Croatia, who took gold at the 2022 IHF Men's Beach Handball World Championship in Greece last Sunday, will be using this first tour stage to prepare for The World Games in the USA later this month and will be favourites in Gdansk.
In Heraklion, at Greece 2022, they defeated Spain in the preliminary round via shoot-out (19:18 26:27, SO 9:8), before going on to a final where they saw off European champions Denmark.
All four teams in Gdansk know each other well from the continental championships, with nearly all of them playing each other at the Men's EHF Beach Handball EURO 2021 in Bulgaria. Only Germany did not make it to the quarter-finals.
Croatia saw off Poland 2-0 (29:20, 24:20) in the preliminary round and then Germany by the same (26:20, 19:12) in the main round. They then beat Spain 2-0 (25:24, 28:20) in the semi-final. Spain had defeated Poland 2-1 (24:22, 18:23, SO 12:10) in the quarter-finals after Poland beat Germany via a shoot-out, 2-1 (14:21, 22:16, SO 10:8) in the main round in Varna.
The final ranking saw Croatia finish as runners-up, Spain in fourth, followed by Poland (7th) and Germany (12th).
Croatia's World Championship-winning coach Mladen Paradžik makes three changes from his Greece 2022 squad with Tomislav Lauš, Sebastian Lucic and Josip Topic coming in for Filip Gorcianec, Josip Leko and Greece 2022 MVP, top scorer and All-star Team left wing, Lucian Bora, all missing.
"With our World Championship gold we can go unburdened to the other two competitions (Poland and USA)," said Croatia player Ivan Dumenčić to Beach Handball Croatia. 
"Now we will have Poland and the Beach Handball Global Tour where we will additionally prepare for The World Games which is the culmination of the season."
Spain have announced a squad of nine with Carlos Donderis Vegas and Angel Montoro Cabello from their Greece 2022 squad replaced by Pol Gavañach and Jesús Cristian González.
For Germany and Poland it will mark their first championship action since Bulgaria and they cannot wait to get involved. Their match in Gdansk will be a forerunner of their clash on 9 July at the Beach Handball EURO 2023 qualification tournament in Prague, Czech Republic. 
German coach Marten Franke is in his first competitive competition with his new team as he looks to prepare in the best possible way for Prague.
"For us, it's a kind of cold start after the last course over Easter," he said to DHB.de. 
"That's why we don't want to look at the opponents too much, but rather work on what we need for qualification and gain a lot of practice. We still have to build up these automatisms so that we can then travel to the Czech Republic with a good feeling."
Games from Gdansk can be watched on the IHF-Competitions YouTube channel and can be followed on the IHF social media channels, using the hashtag #beachhandball or by visiting the mini-sites for the men's and women's tournaments on ihf.info.
To find out about the Beach Handball Global Tour competition format and a lot more, click here.  
Following the conclusion of this first stage, the second stage of the IHF Beach Handball Global Tour will take place in Orihuela, Spain from Friday 29 to Sunday 31 July. In total, 2022 will see four stages played on the tour debut.