Angola are Queens of Africa – again
19 Jun. 2021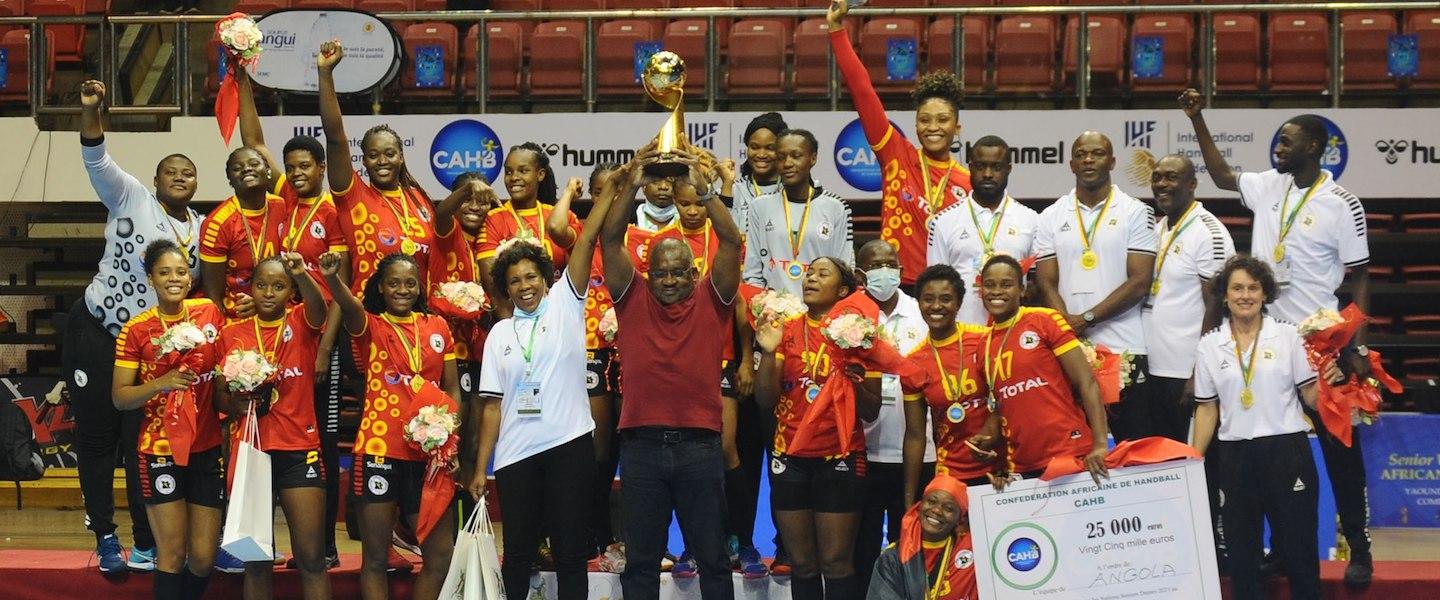 After a delay of six months due to COVID-19, Angola have won the 24th edition of the African Handball Confederation (CAHB) Women's African Championship held in Yaounde, Cameroon.
As widely expected, Angola claimed the Edith Lucie Bongo Ondimba Trophy again, this time defeating host nation Cameroon easily in the final, 25:15.
The title is the third in a row for the west African side (2016, 2018, 2021) and 14th out of the last 17th editions of the continental championship since they won the championship for the first time back in 1989.
Final ranking confirmed, departures for Senegal
Going into the final two days of action in the championship which started back on 8 June, 10 out of the 11 teams were in action, after debutants Madagascar had confirmed their 11th place rank on Tuesday when they lost their play-off against fellow debutants Cape Verde.
And it would be the third and final debutants, Kenya, who the Cape Verdeans would face in the President's Cup final, with Cape Verde registering a five-goal victory (27:22). Guinea and Nigeria played off for 7/8 placement, with Guinea running out 25:21 winners.
Senegal saw another championship end in disappointment, but left with a win, defeating fellow 2019 IHF Women's World Championship side DR Congo 24:14 in their 5/6 placement match.
Their coach, Fred Bougeant, confirmed his departure from the side following the end of the championship while player Awa Diop confirmed her pre-championship announcement of her retirement, saying she was "honoured and grateful to have been able to wear the national jersey for almost seven years."
Bougeant himself was full of emotion in his announcement.
 "After five years it was my last competition with the players. We would have liked to do more at the championship but that is sport. It's been such a difficult year for the athletes.
"It was a human, professional experience of unparalleled richness," he added. "Everything that has a beginning has an end, but every end is the beginning of a new beginning. I wish [everyone] to continue the development of Senegalese handball and I will be your biggest supporter forever."
All-Star Team
Following Angola's 25:15 victory over Cameroon, the All-Star Team from the championship was revealed.
 
Goalkeeper: Fadia Omrani (TUN)
Left Wing: Helena Gilda Simao Paulo (ANG)
Left Back: Isabel Guialo (ANG)
Right Wing: Raissa Dapina (SEN)
Centre Back: Sondes Hachana Ep Kerkeni (TUN)
Right Back: Karichma Kaltoume Ekoh (CMR)
Line Player: Albertina Kassoma (ANG)
 
Most Valuable Player: Isabel Guialo (ANG)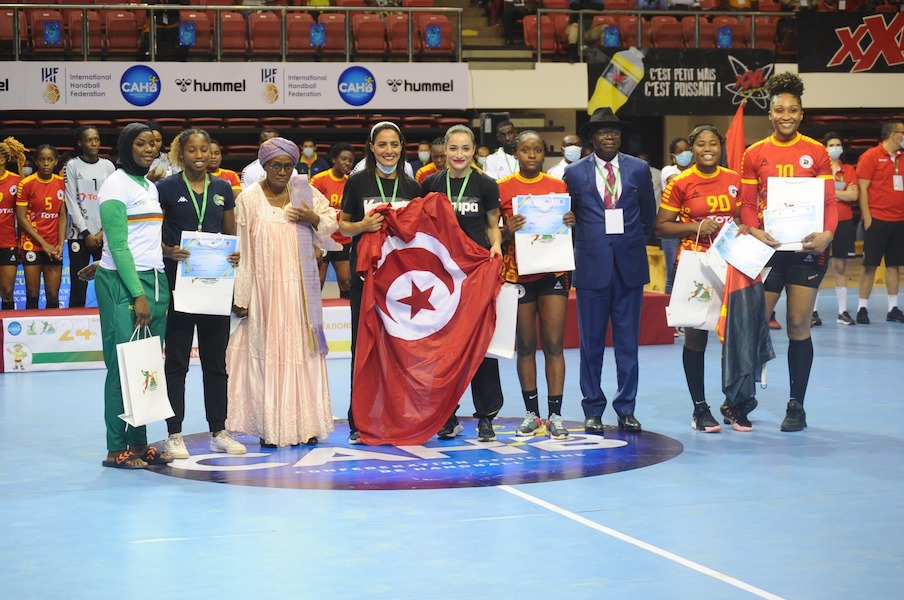 Spain 2021 awaits, but Congo go home from Cameroon empty-handed
All four teams involved in the medal matches on the final day (Friday 18 June) already had something to celebrate – with their top four ranking confirmed, they had booked their places at the 2021 IHF Women's World Championship, scheduled to take place in December in Spain.
However, it would be Congo the more disappointed as they lost their bronze match to Tunisia 17:22, with the North Africans still reeling from their additional time loss to Angola in their semi-final – a match fit for a final.
However, with the luck of the draw, host nation Cameroon managed to avoid the strong pre-tournament favourites Angola and Tunisia, beating the inexperienced Nigerians easily in their quarter-final and then giving their all in an emotional 22:21 semi-final win over Congo to set up a final against the Tokyo 2020-bound Angolans.
The final itself was one-sided, not only due to the difference in experience and quality, but maybe due to Cameroon being emotionally and physically drained after that impressive semi-final victory. 
Led by the impressive Albertina Kassoma, Angola ran out easy 25:15 winners against the host nation at the Yaounde Multipurpose Sports Complex, after already being seven goals up at the half-time break (14:7).
Following the conclusion of the final, watched by Nigerian Minister of State, Secretary General of the Presidency of the Republic, Ferdinand Ngoh Ngoh who represented President Paul Biya, the CAHB Cameroon 2021 All-star Team was announced.
Respecting the founders
On the fringes of the event in Yaounde, CAHB President Dr Mansourou Aremou, accompanied by CAHB 1st Vice President and a delegation of CAHB Executives, made a number of visits to the home of Joseph Tchachoua, one of the founders of the CAHB, to reiterate in person, recognition of the good and loyal services rendered to African Handball by the trailblazer, who is now 90 years old.
Results
Thursday 17 June
5/6 Placement match: COD vs SEN 14:24
7/8 Placement match: GUI vs NGR 25:21
9/10 Placement match – President's Cup final: CPV vs KEN 27:22
Friday 18 June
Bronze-medal match: TUN vs CGO 22:17 (12:7)
Gold-medal match: ANG vs CMR 25:15 (14:7)
FINAL RANKING
1. Angola (ANG)
2. Cameroon (CMR)
3. Tunisia (TUN)
4. Congo (CGO)
5. Senegal (SEN)
6. DR Congo (COD)
7. Guinea (GUI)
8. Nigeria (NGR)
9. Cape Verde (CPV)
10. Kenya (KEN)
11. Madagascar (MAD)
For a review of the Preliminary Round and results, visit here.
For a review of the quarter-finals and results from days 8, 9 and 10, visit here.
Further information can be found on the official CAHB Facebook page.
Photos: African Handball Confederation