15 Jun. 2021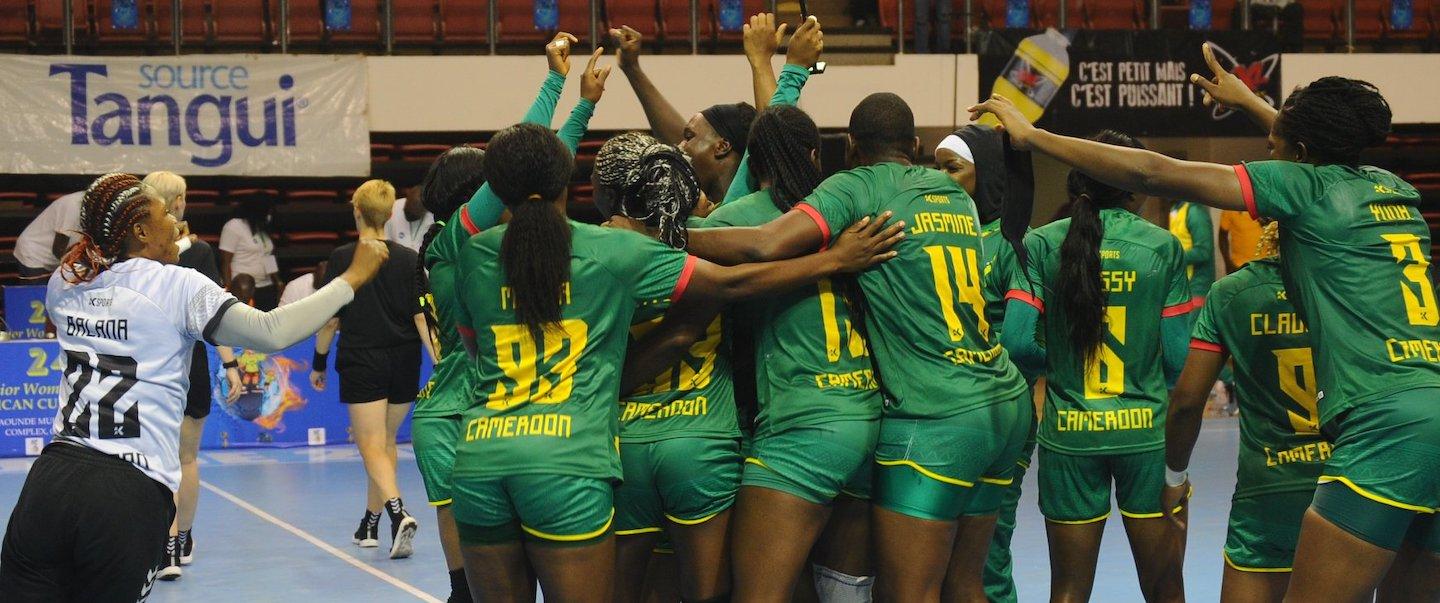 Today marks the start of the business end of the 24th edition of the African Handball Confederation (CAHB) Women's African Championship as the quarter-finals get underway at 12:00 midday (local time) in Yaounde, Cameroon.
Eight teams are now in contention for the Edith Lucie Bongo Ondimba Trophy. However, before the final trophy, all nations will be hoping to qualify for the semi-finals and with it, secure not only a place in the last four of Cameroon 2021 but also confirming their place at the 2021 IHF Women's World Championship, scheduled to take place in Spain in December. 
Following the initial, preliminary stage of competition, Senegal, Tunisia, Guinea, DR Congo, Cameroon, Nigeria, Angola and Congo have all made it through to the final eight, with all three debutants – Cape Verde, Kenya and Madagascar playing in the President's Cup for places 9-11.
Preliminary round review
Group A saw Tunisia finish top with three wins from three including an impressive and unexpectedly large 30:13 win over Senegal, who finished second. Right back Nada Zelfani was named the player of the match with 11 strikes for the player who also captains the Tunisian junior side. 
Guinea finished in third – narrowly losing to Tunisia in a nervy affair for the North Africans in their opener – but went through to the quarter-finals as the best-placed third-ranked team. Their heavy loss (20:32) against Senegal was notable for Guinea playing the majority of the second half without a goalkeeper due to injury. Debutants Madagascar finished bottom with three losses out of three.
Host nation Cameroon finished in the best possible position in Group B, top, with three wins from three thanks to an upset against DR Congo where they won 26:20 against the team who was at the 2019 IHF Women's World Championship – the home side conceded just four times in a 20-minute first half period. Nigeria finished third in the group behind the Congolese, defeating debutants Kenya in their final group match clash, to send their opponents into the President's Cup with three straight losses. 
"Nigeria was beatable but we let our guards down and we were punished," said Kenya team manager Caroline Kusa to local media after their clash with Nigeria. "We intend to carry the same energy as we head into to the placement matches. As much as we would have liked to play in the quarter-finals, our efforts were not good enough but we hope to perform well in the rankings."
As expected, title-holders Angola won both of their matches in Group C, finishing top, although a five-goal win against Congo (29:24) was not as dominant as pre-tournament expectations might have been. Congo, with their victory over Cape Verde, secured second place with the Cape Verdeans finishing bottom, without points and moving into the President's Cup, along with Kenya and Madagascar.
Follow Cameroon 2021
All games are being played at the 5,263-capacity Yaounde Multipurpose Sports Complex and are being broadcast on Cameroon's National Channel, CRTV, with live streaming also available on the official CAHB Facebook page. 
Playing schedule (all times local, GMT+1)
Tuesday 15 June
Quarter-finals
12:00    ANG vs COD
14:00    TUN vs GUI
16:00    CGO vs SEN
18:00    CMR vs NGR
President's Cup
20:00    CPV vs MAD
Wednesday 16 June
10:00    5-8 Placement round
12:00    5-8 Placement round
15:30    Semi-final 1
18:00    Semi-final 2
Thursday 17 June
14:00    7/8 Placement match
16:00    5/6 Placement match
18:00    9/10 Placement match – President's Cup final
Friday 18 June
15:00    Bronze-medal match
18:00    Gold-medal match
Results 
Preliminary round
Day 1 – Tuesday 8 June
NGR vs COD 16:35 (3:18)
CMR vs KEN 40:16 (21:8)
Day 2 – Wednesday 9 June
SEN vs MAD 42:16 (20:9)
ANG vs CPV 39:14 (16:5)
TUN vs GUI 30:27 (15:12)
 
Day 3 – Thursday 10 June
COD vs KEN 42:16
CMR vs NGR 31:19
Day 4 – Friday 11 June
MAD vs TUN 16:44 (10:21)
CPV vs CGO 23:34 (13:21)
GUI vs SEN 20:32 (11:16)
Day 5 – Saturday 12 June
NGR vs KEN 26:21 (12:11)
COD vs CMR 21:26 (10:10)
Day 6 – Sunday 13 June
GUI vs MAD 35:16 (19:10)
SEN vs TUN 13:30 (7:16)
ANG vs CGO 29:24 (16:11)
President's Cup 
Day 7 – Monday 14 June
MAD vs KEN 30:33 (15:17)
Photo: African Handball Confederation