Morocco and Sweden to play for President's Cup
10 Aug. 2023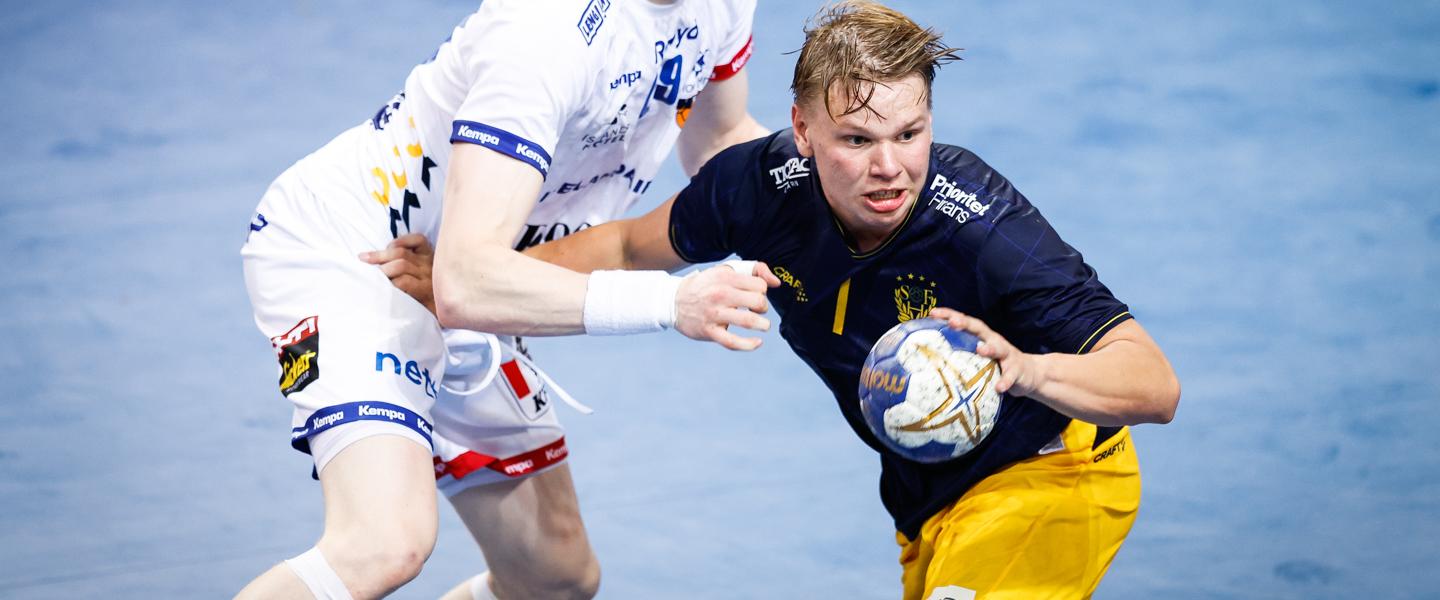 Only two national teams stay in the fight for the consolation trophy, and in the President's Cup final on Friday, Morocco will face Sweden, as both sides are determined to end the 2023 IHF Men's Youth Championship on a high.
The other teams fighting for places from the 19th to the 30th also hope to do well in their last matches at Croatia 2023, and some close games are expected, as teams of more or less the same level will face off in many encounters. 
Placement Match 17/18
20:00 CEST Morocco vs Sweden 
Morocco beat Montenegro in an extremely tight game in a post-match shootout. So the Africans will continue their run for the President's Cup on Friday when they will face Sweden in the final match of the consolation tournament.
Morocco have already avoided taking their lowest position ever at the IHF Men's Youth World Championship, the 20th place at Tunisia 2009. It was actually the last edition of the competition featuring Morocco before the current one, so after a 14-year break, the team has shown some decent performance.
While the Africans are on a two-game winning run, their next rivals have won all three matches at the President's Cup and are now just a step away from the trophy. Although even the 17th place will mark their worst-ever performance at the World Championship, winning a consolation title could definitely sweeten the bitter pill.
Like Morocco, the Swedes spent a lot of energy on Thursday, beating Iceland in a high-scoring duel (41:36). So now they are determined to recharge their batteries as soon as possible and end the tournament on a high. 
Placement Match 19/20
17:30 CEST Montenegro vs Iceland
On Thursday, Montenegro were trailing for most of the game against Morocco, but a late surge nearly saw them making a comeback. However, the game went into a 7m shootout, and the Africans were the luckier side, so the Balkan team will be fighting for the 19th position at their debut World Championship.
In the match against Iceland, Montenegro will be looking for their fourth win at the tournament, but the Icelanders also hope to leave Croatia with their heads held high. After taking the maximum points at the President's Cup group stage, they fought hard against Sweden but ultimately were defeated.
Except their opening game against Czechia, Iceland hit the 30-goal mark in each match of the current World Championship, scoring 33.3 goals on average. In turn, Montenegro's goalkeeper Lazar Sredanovic has shown some decent performance at the tournament, and his saves may help the Balkan side to have the upper hand on Friday. 
Placement Match 21/22
15:00 CEST Algeria vs Japan
In two their most recent IHF Men's Youth World Championships before Croatia 2023, in 2015 and 2017, Algeria finished 23rd, but the Africans are already certain to take a slightly higher position. In their last match at the current tournament, they will fight for the 21st place.
On Thursday, Algeria struggled in the first half against Chile but made a strong comeback later, conceding just 10 goals after the break and taking a 28:24 win. Good goalkeeping played a big role for the African side, as Sid Ali Achiche ended the game with 18 saves.
Japan's comeback in the match against Argentina was even more impressive. With seven minutes left, the Asians were down 23:28, and the game looked almost decided. However, the Japanese boasted a 6:0 run in the remaining time, which secured them a hard-fought victory.
So both sides have enough character and fighting spirit, and their clash promises to be entertaining, as both Algeria and Japan hope to bow out in style. But unlike their rivals, Japan will have their lowest-ever ranking in any case, with the 20th position at Russia 2015 being the previous one. 
Placement Match 23/24
12:30 CEST Chile vs Argentina
Last year, these teams faced off at the 2022 South and Central American Men's Youth Championship in Argentina, where they were drawn into the same group. Argentina comfortably won 31:21 and won the competition, while their rivals earned bronze.
Now the continental rivals will be fighting for the 23rd position on the global scale, and while Argentina are seen as the favourite, Chile will not give up without fighting. After all, this team has already taken two wins at the current competition against Mexico and Georgia.
After that, they fought hard against Montenegro and Algeria but came up short both times, which sent them into the Placement Match 23/24. In the past, Chile finished 24th twice, in 2013 and 2015 – the last position at the time – but now they hope to do better.
Argentina had never finished below the 21st position, so they are set to have their lowest-ever placement. A defeat against Japan was quite frustrating for the South Americans, who squandered their five-goal advantage in the closing minutes, yet they hope to redeem themselves before returning home. 
Placement Match 25/26
17:30 CEST Georgia vs Republic of Korea
In the recent games, Georgia finally started showing their potential, as they claimed two straight wins against Mexico and Rwanda. Notably, the team scored 41 goals in each of these encounters, proving that they boast real firepower, at least against rivals of a certain calibre.
In both winning games, the duo consisting of Sandro Darsania and Vakhtang Khelisupali made a crucial impact on the attack. In the match with Rwanda, both netted 12 times, and goalkeeper Gigi Rukhadze became yet another Georgian hero, making as many as 20 saves.
Georgia, as have the Republic of Korea, have boosted their morale and confidence. In fact, the 2022 Asian champions have the same record at the tournament as their next rivals: after four straight defeats, they won twice against Japan and the United States of America.
Against the USA on Thursday, the Korean goalkeeping duo combined for 15 saves, and Mingi Son scored eight goals from nine attempts. If these players play like that against Georgia, the Asians can leave Croatia 2023 on a high. 
Placement Match 27/28
15:00 CEST Rwanda vs United States of America
Rwanda have some players with good individual quality, such as Yves Kajiyama and Samuel Mbesutunguwe, who combined for 24 goals against Georgia. However, this duo did not help the Africans to avoid a defeat, and at their debut IHF Men's Youth World Championship, they will fight for the 27th position.
Yet this team has already written history, claiming two wins against Morocco and New Zealand. In the game against the USA, the African side will be expected to take another victory – and they certainly have a chance for it.
The US team, who also play their maiden tournament at this level, still need to find the right solutions in attack. They only managed it against Burundi, scoring 33 goals on Tuesday, but two days later, against Korea, the North Americans netted just 19 times, so beating Rwanda will be quite a challenging task for this side. 
Placement Match 29/30
After five consecutive defeats, Mexico finally had a reason to celebrate, as they proved too strong for New Zealand on Thursday, winning 52:22. In fact, it was a historic victory for the Central American side, who had never won at this level before.
In their only previous World Championship, at Georgia 2017, Mexico finished 24h, but the competition featured 24 teams back then. Now they will rank lower, but not in the last position, and the team can be proud of having fought hard in several matches, even when they lost.
While the Mexicans have boosted their morale by recording a long-awaited victory, Bahrain should have fresher legs, as they did not play on Monday.
Before that, they only claimed one victory at the event, in their opening match against the Republic of Korea. Bahrain will only climb as high as the 29th position, but in any case, they want to leave Croatia 2023 on a high. 
Croatia 2023/Kolektiff images