Vietnam and Qatar dominant on the Asian beach
21 Mar. 2023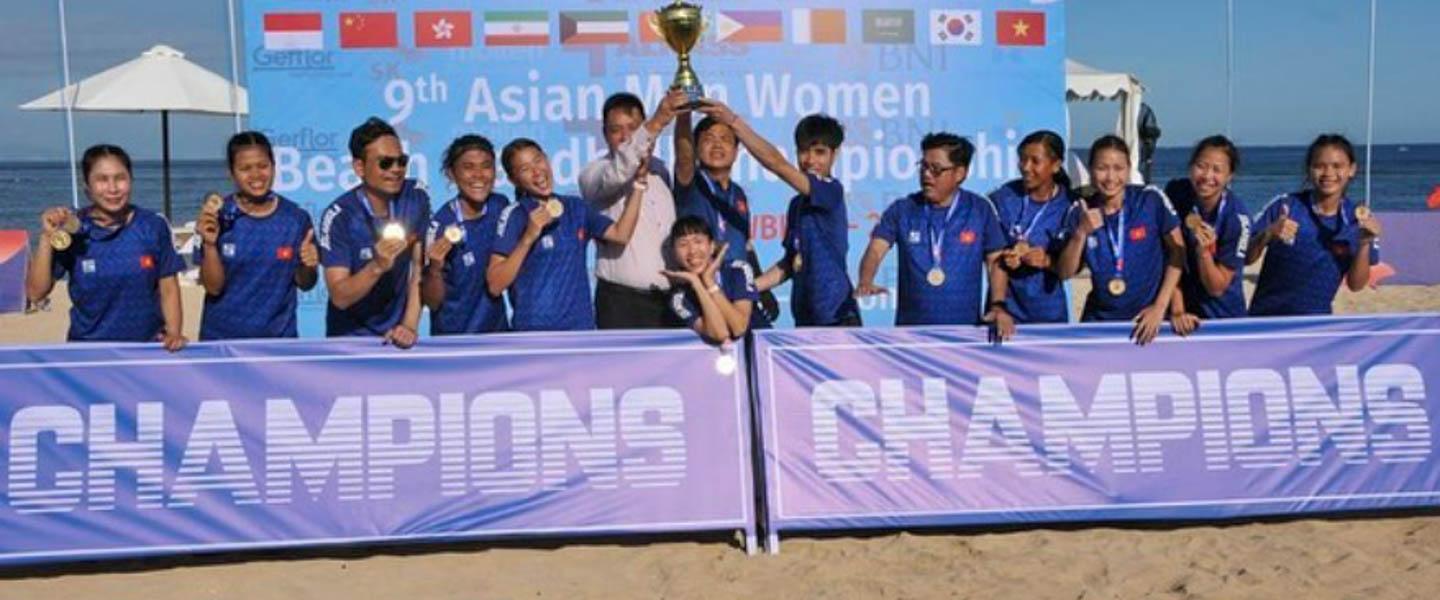 After a combined total of 46 matches, the 2023 AHF Men's and Women's Asian Beach Handball Championship winners are known, with Vietnam's women and Qatar's men taking the honours on Nusa Dua Beach, South Kuta, Bali, Indonesia.
The ninth edition of the event took place from 10 to 19 March in the same host city as the upcoming 2023 ANOC World Beach Games, which will take place later this year.
11 men's teams (Islamic Republic of Iran, Qatar, Vietnam, Oman, the Philippines, Kuwait, Hong Kong, Saudi Arabia, Republic of Korea, People's Republic of China, Indonesia) and four women's teams (Vietnam, Hong Kong, the Philippines, Indonesia) competed for the title, with places at the 2023 ANOC World Beach Games and 2024 IHF Beach Handball World Championships up for grabs too.
Women's competition
12 matches were played in a round-robin format in the women's competition, with reigning champions Vietnam winning their second, successive continental title.
They won all six of their matches 2-0, not dropping a set and wrapping up their title with an unassailable lead in the group two days before the end of the competition.
Vietnam took down the Philippines (22:9, 18:8) before Hong Kong (16:10, 12:6) and Indonesia (16:10, 12:6) in their first round of matches. They then repeated the trio of wins in the same order – against the Philippines (15:8, 20:10), Hong Kong (23:15, 33:6) and Indonesia (22:10, 28:20).
Both the host nation Indonesia as well as Philippines were making their debut in the championships, and they played out the only shoot-out in the women's competition, with the Philippines taking a 9:4 (2-1) win. Indonesia ended with two wins, both against Hong Kong, who lost all six of their matches 2-0.
With their title win, Vietnam qualify for both the 2023 ANOC World Beach Games and 2024 IHF Women's Beach Handball Championship. The Philippines, as runners-up, also book their tickets to the world championship next year in what will be their debut appearance.
Vietnam's Trinh and Hanh looking forward to Bali return
Can anyone beat Vietnam in Asia? After runners-up spots at the 2017 and 2019 editions, Vietnam have now won back-to-back titles in their continent and are almost unplayable in Asian. So what is the secret to their success?
"We prepared thoroughly both technically and professionally before the championship," said Vietnam winger Ngọc Trinh to ihf.info. "The difficulty for us was the weather as it was very hot. All the teams tried their best and we were just lucky not to lose a set."
The title for Vietnam also meant direct qualification to their second, successive ANOC World Beach Games after they were handed a spot at the 2019 edition in place of Qatar.
"This is the second time we have the honour to participate in the ANOC World Beach Games," added Trinh. "We hope and will try to be at the top as one of the strongest teams. We were fourth in 2019 and are very proud of that."
"I hope we will do well and advance to the main round like we did in 2019," added Trinh's teammate Ha Hanh. "As a national player I always give my best for the colours of the flag and when I try my best, the result is always worth it."
Men's Competition
With 11 teams in the competition, the men's preliminary round consisted of 25 matches split across one group with five teams and one with six.
Eventual champions Qatar found themselves in the smaller group A, starting and ending with two very different matches. Their opener was against the Republic of Korea, who were appearing in their first-ever beach handball competition in either gender at any level, and their final group match was a repeat of the 2022 final against title-holders Iran.
In the end, Qatar won both 2-0, defeating the first-timers 23:17, 25:9 and the reigning champions 23:18, 23:20. In between these two were wins against the Philippines (17:14, 28:14) and Saudi Arabia (26:17, 24:10). The results saw Qatar finish top with four wins from four (4/0), followed by Iran (3/1), the Philippines (2/2), Saudi Arabia (1/3) and Korea (0/4).
Oman took the honours in the larger group B, defeating Hong Kong 2-0 (26:8, 19:12), Vietnam 2-1 (12:14, 19:13, SO 7:6), Kuwait 2-0 (13:12, 16:15), Indonesia 2-0 (22:16, 23:14) and China 2-0 (28:10, 24:11). 
The Omanis, who won the debut continental championship back in 2004, finished top of their group (5/5), followed by Vietnam (4/1), Kuwait (3/2), Indonesia (3/2), China (1/4) and Hong Kong (0/5).
China's men were making their debut in the championship like Korea and they impressed in their first match, taking a set off of the hosts before losing. Their second match saw them beat neighbours Hong Kong to make history before taking Kuwait to a shoot-out, which they lost as well.
A tough 2-0 (19:18, 19:18) semi-final victory for Qatar against Vietnam was made possible by first set winning points from Hani Kakhi and in the second from Ali Mohamed, while Oman ended the title defence of Iran, defeating them 2-0 (23:11, 22:20), with Said Al Hasani scoring the winning second set points.
Hosts Indonesia sealed seventh place thanks to Derril scoring his 17th and winning point against Kuwait to ensure a 2-0 (16:6, 23:22) victory. Philippines defeated Saudi Arabia 2-0 to claim fifth place, while Ali Heidarian scored 18 points to help the outgoing champions Iran defeat Vietnam for bronze 2-0 (17:9, 17:10). Iran were playing with a youthful side, the majority of whom had won bronze at the 2022 IHF Men's Youth Beach Handball World Championship.
In the final, Qatar saw off Oman in a repeat of the 2011, 2013, 2015, 2017 and 2019 finals to hand them yet another silver medal. Leading the way in the gold medal match was Amir Denguir who put in a man of the match performance, scoring a whopping 24 points, joined by Hani Khaki with 10 points – the only other scorer in the match as they won 2-0 (18:14, 16:12) to grab the title back.
The results meant that both Qatar and Oman qualified for the 2024 IHF Men's Beach Handball World Championship. With Qatar already qualified for the 2023 ANOC World Beach Games, thanks to their 5/6 Placement Match win over Uruguay at the 2022 IHF Men's Beach Handball World Championships, the qualification spot moves down to the next team, with Oman the lucky recipients.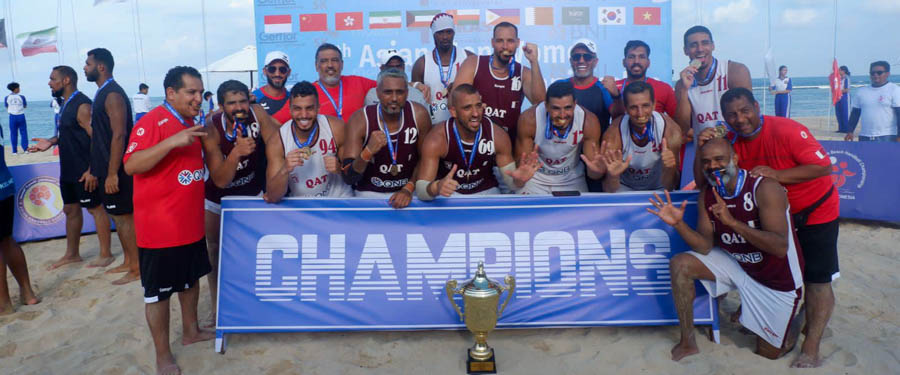 Qatar's Zaky: "We want to make our own history"
It is back to business as usual in Asian men's beach handball as Qatar return to the top spot in the continent. After their shock loss to Iran in 2022 which ended a run of five successive titles, they were back to their best in Bali.
"I am feeling exceptional, beyond happy and pleased to have had such a good road in beach handball," explained Qatar's Mohamed Zaky to ihf.info.
"The tournament was hard and easy in both ways though; it was hard in the sense that we trained for just four days and played two friendly matches – against Indonesia and Oman – before the championships due to the schedule of the players in our team who play indoor handball, but it was easy in that all 10 of our squad were experienced.
"Even the youngest player had experience of at least one world championship and a World Games," he added. "So you can imagine how experienced our older players were. This meant that the coach could switch between players to ensure none became fatigued.
"As a team, we continue making history with seven consecutive finals resulting in six golds and one silver. We want to make our own history and give the younger generations a hard record to break – if you win once, twice it's OK, but to be a continental champion six times and a two-time consecutive Asian Games champion is hard work and not easy at all.
"But the teams alongside us are growing – it is not only about Oman anymore. Vietnam are always in the big four, and now the Philippines are doing great, going on the right path to get into that big four in Asia.
"Iran, they took our title last time and have the future of the game," he continued. "They had all young players and performed very well, fighting. Sometimes it is not all about being young as you need footsteps to be followed. It will take some time, but they are going to dominate one day."
Philippines make history and look to future
Bali 2023 represented a small piece of history for the Philippines, with their women's team appearing in their debut continental championship and subsequently qualifying for their debut world championship.
"We congratulate Vietnam and Qatar for winning the championship; they were the best teams in the championship," said Jana Franquelli, Head Coach and National Programme Director of beach handball, to ihf.info.
"In terms of our women's side, we are extremely happy to qualify to the world championship for the first time. We know it will be a lot of hard work in the next months and that there are more experienced teams, but we're really excited for this chance, and we'll make the most of this opportunity to get better."
"It was a really tough group," added Franquelli about the performance of the Philippines' men's team in Bali. "We maintained our fifth-place ranking from last time and made a few improvements."
"On a personal note, I met with (IHF Beach Handball Working Group Chair) Giampiero Masi and got to discuss a few things for the development of Philippine beach handball. I'm really looking forward and hopeful for the future."
Final Ranking
Women
Final Ranking
1. Vietnam* **
2. Philippines*
3. Indonesia ***
4. Hong Kong
* Qualified for the 2024 IHF Men's and Women's Beach Handball World Championship
** Qualified for the 2023 ANOC World Beach Games
*** Already qualified for the 2023 ANOC World Beach Games as hosts
Men
1. Qatar * ****
2. Oman * **
3. Islamic Republic of Iran
4. Vietnam, 5. Philippines, 6. Saudi Arabia, 7. Indonesia ***, 8. Kuwait, 9. Republic of Korea, 10. People's Republic of China, 11. Hong Kong
* Qualified for the 2024 IHF Men's and Women's Beach Handball World Championship
** Qualified for the 2023 ANOC World Beach Games
*** Already qualified for the 2023 ANOC World Beach Games as hosts
Photos: Asian Handball Federation