Czech Republic, North Macedonia and Austria win M18 EHF Championships 2022
15 Aug. 2022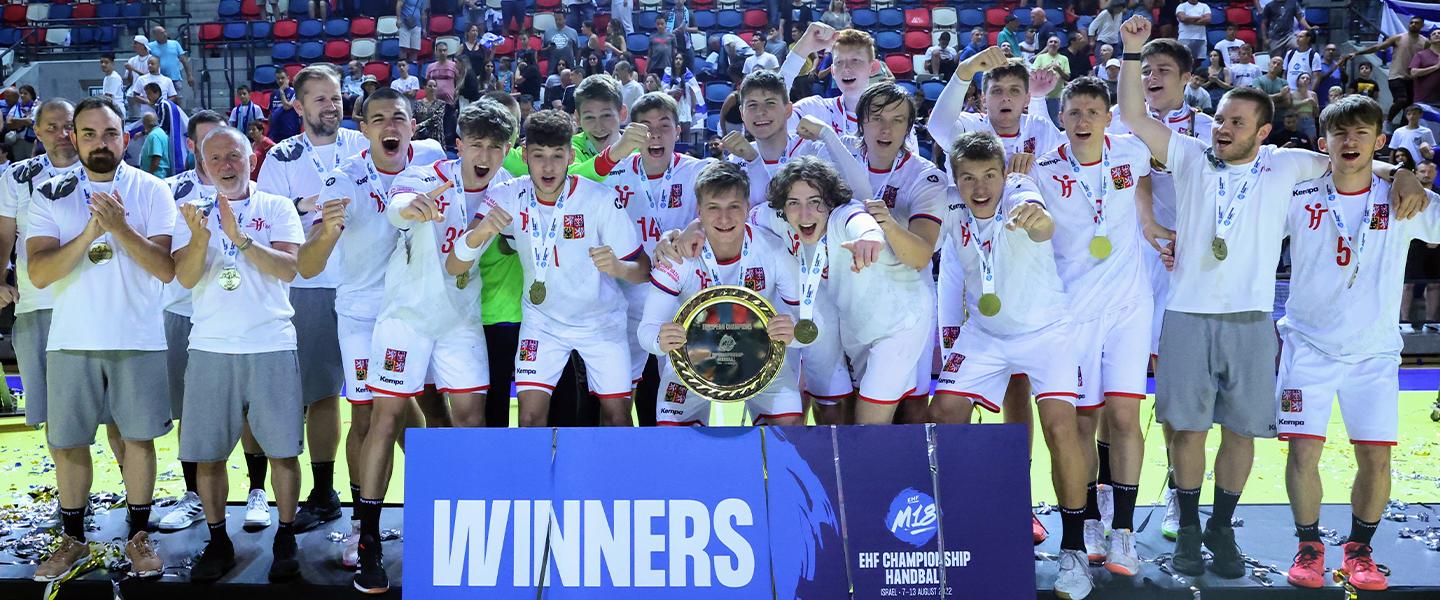 While the 16 best-ranked European men's under-18 national teams appeared at the M18 EHF EURO 2022 in Montenegro, another 22 sides took part in the three M18 EHF Championships 2022, which were held in Israel, Romania and Latvia.
Seven teams participated in the M18 EHF Championship 1 2022 in Israel, and Czech Republic ultimately won gold, celebrating a narrow 25:24 win against home team Israel in the final. Jonas Josef made a crucial impact in that encounter, netting 10 times for the Czech Republic. The bronze-medal match was also very close, but Sokratis Kalyvas' last-gasp goal handed Greece a 34:33 victory against Lithuania. 
Seven more participants competed in the M18 EHF Championship 2 2022 in Latvia, where North Macedonia claimed the title after beating Switzerland in a hard-fought match 24:22. Notably, the Switzerland team were in front 22:20 with seven minutes remaining, but a late 4:0 run helped the Balkan side win the trophy. Luxembourg defeated home side Latvia in the third-place game 33:24, as their player Luke Kaysen scored as many as 18 goals in that match. 
Last but not least, the M18 EHF Championship 3 2022 in Romania featured eight teams and Austria eventually finished as winners, defeating Ukraine in the final 30:23. The two teams had also met in the preliminary round and it was Ukraine who then won 29:26. Home side Romania earned bronze after recording a 36:33 win against Finland in the third-place encounter.
Final rankings
M18 EHF Championship 1 2022 (Israel)
1. Czech Republic
2. Israel
3. Greece
4. Lithuania, 5. Netherlands, 6. Georgia, 7. Bulgaria
M18 EHF Championship 2 2022 (Latvia)
1. North Macedonia
2. Switzerland
3. Luxembourg
4. Latvia, 5. Türkiye, 6. Belgium, 7. Kosovo
M18 EHF Championship 3 2022 (Romania)
1. Austria
2. Ukraine
3. Romania
4. Finland, 5. Slovakia, 6. Estonia, 7. Moldova, 8. Great Britain


For more information, visit eurohandball.com.
Photos: European Handball Federation