Czech Republic and Switzerland raise U17 EHF Championship trophies
15 Aug. 2019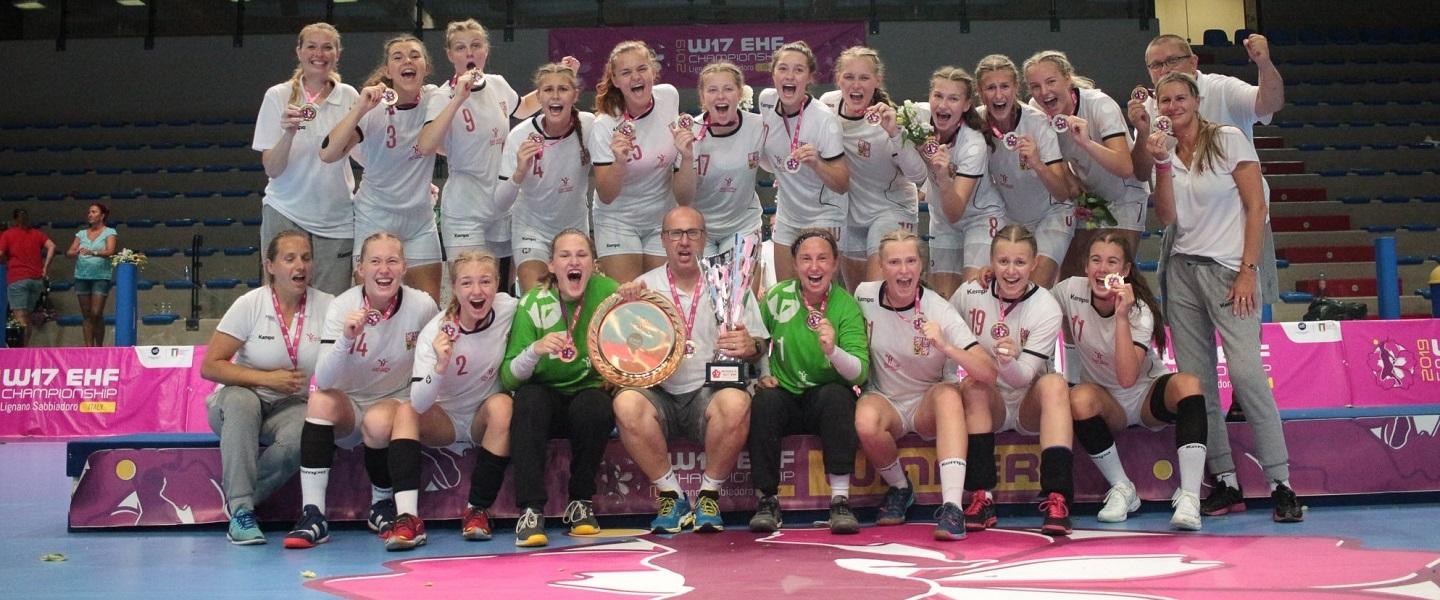 While Hungary were collecting their second European title of the summer in Celje, another 20 women's U17 teams from within the continent were vying for the trophies at the second-tier EHF Championship. At the two separate tournaments, it was Czech Republic and Switzerland that claimed the titles. 
Iceland unbeaten until final in Italy
Czech Republic defeated Iceland in the final at the tournament in Lignano, Italy, after losing to the same opponent in the preliminary round. After a level score of 28:28 at the end of regular playing time, Czech Republic won 32:31 with a penalty shoot-out. The bronze medal went to Poland, who took a decisive 28:16 victory over Italy in the 3/4 play-off. 
In the semi-finals, Czech Republic beat Italy 27:24, while Iceland reached the final by way of a 25:23 win versus Poland. 
Runners-up Iceland were the only team unbeaten in the preliminary matches, with four victories, against Czech Republic, Israel, Turkey and Kosovo. Czech Republic defeated the three remaining teams in Group A to place second. 
In Group B, semi-finalists Italy and Poland both recorded three wins and one loss. While Poland's defeat was to Italy in round one, the hosts stumbled against Belarus, who eventually placed fourth in the group. Both teams won their games versus North Macedonia and Azerbaijan, who ranked third and fifth, respectively. 
Switzerland perfect from start to finish
In Georgia, Switzerland enjoyed the same ride to the final that Iceland did, winning all their games and topping Group B – but they did not falter in the trophy match. In the group phase, Switzerland beat Lithuania, Georgia, Finland and Latvia to place first on the table. 
In Group A, Serbia recorded the same perfect run of four wins, defeating Ukraine, Faroe Islands, Greece and Bulgaria. Ukraine were victorious against Greece and Bulgaria, before their loss to Serbia and a draw with Faroe Islands earned them second place on the table. 
In the semi-finals, Serbia won 32:26 against Lithuania, while Switzerland took a nail-biting 22:21 victory over Ukraine. Switzerland then dominated the final, with a 35:27 win against Serbia, while Ukraine collected bronze thanks to a 30:22 victory over Lithuania. 
More information on the EHF Championships can be found on the official website of the EHF: tournament in Italy; tournament in Georgia. 
Photos: W17 EHF Championships 2019 Italy/Georgia