13 Aug. 2019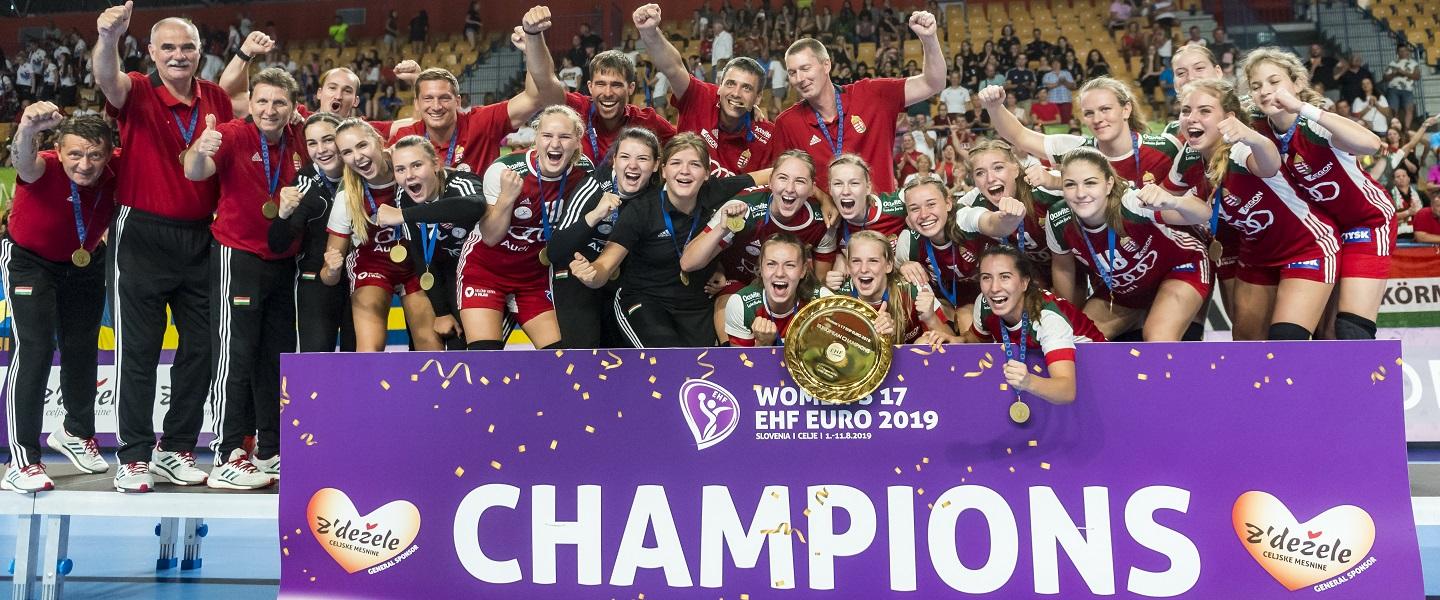 There is no doubt that the world of women's handball needs to watch out for Hungary. After taking their first U21 world title on home ground in 2018, then raising their first U19 European championship trophy earlier this summer, Hungary added the U17 EHF EURO title to their list of achievements on Sunday night. 
All three were trophies Hungary won for the first time, and now the only title that eludes the nation is the Youth World Championship gold – though they claimed the silver medal at that event last summer. 
At the Women's U17 EHF EURO 2019 in Celje, Slovenia, Hungary defeated Sweden 28:24 to claim the title. Hungary recorded a clean sweep of only victories on their path to the trophy, and had a comfortable ride in the final with a 13:9 advantage at half-time. 
In the semi-final, Hungary defeated Denmark 25:21, while the team that would claim the silver medal, Sweden, took a 20:19 victory over France. France recovered to clinch the bronze medal with a 28:21 win versus Denmark. 
In the preliminary round, Hungary defeated Slovakia, Austria and Romania to place first in Group B with the maximum six points. In the main round, they added wins over Sweden and Norway that secured them the top spot in Group I. 
Sweden competed in the same main round group as Hungary, after beating Norway, Spain and Croatia in the preliminary round to clinch first in Group A. In the main round, Sweden defeated Austria with a clear final result, before a four-goal loss to Hungary foreshadowed what was to come in the final. 
The top scorer of the U17 EURO came from Austria, with Katarina Pandza scoring 66 goals. Hungary's Blanka Kajdon was the MVP of the EURO. 
Nine teams confirmed for 2020 IHF Women's Youth World Championship
The top nine teams at the EURO qualified for the 2020 Women's Youth World Championship. In order of their final ranking, alongside the semi-finalists Hungary, Sweden, France and Denmark, the five remaining places went to: Russia, Norway, Germany, Austria and Montenegro. 
More information on the Women's U17 EHF EURO can be found on the official site of the EHF. 
FINAL RANKING
1. Hungary
2. Sweden
3. France
4. Denmark
5. Russia
6. Norway
7. Germany
8. Austria
9. Montenegro
10. Slovenia
11. Romania
12. Slovakia
13. Portugal
14. Croatia
15. Netherlands
16. Spain
Photo: W17 EHF EURO 2019/Jurij Kodrun