Quarter-final berths ready to be sealed in Group B
30 Jul. 2021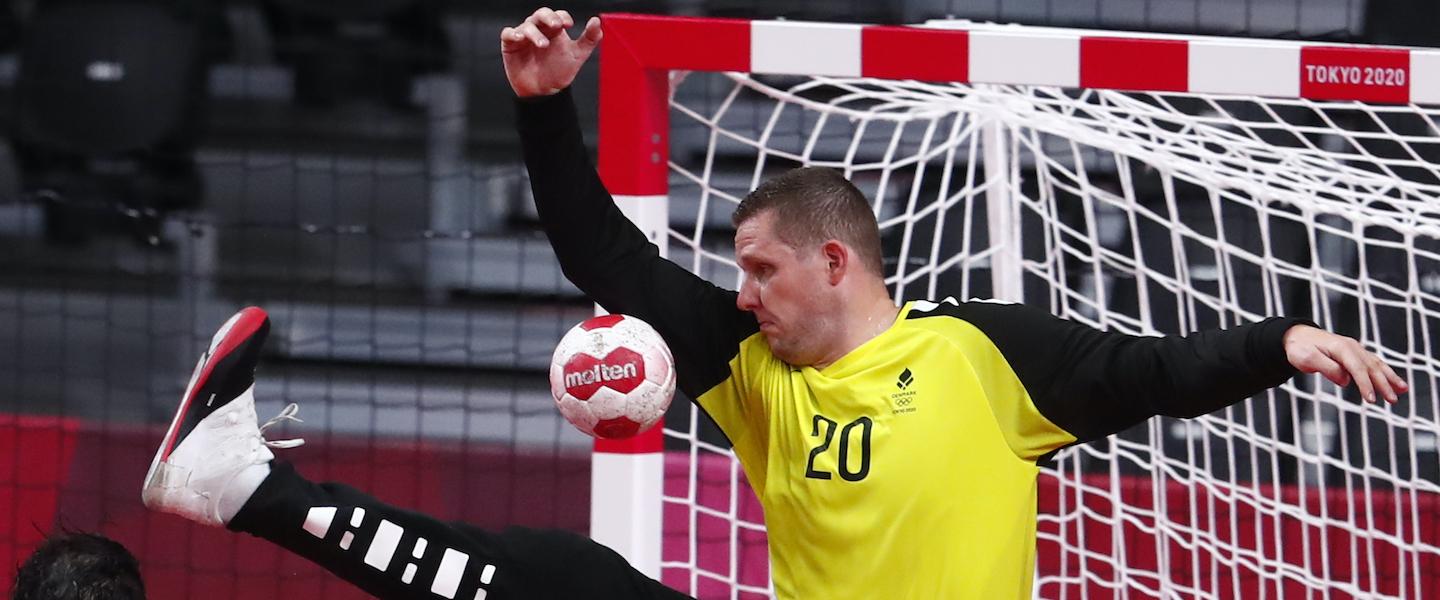 Running updates of Tokyo 2020 men's Group B – follow the action of the Olympic handball tournament live and stay always up-to-date. An Asian clash opened round 4 as Bahrain took a close win against Japan, while Egypt beat Sweden, clinching their quarter-final spot. The reigning Olympic champions defeated Portugal.

Men's Group B has entered round 4 at the Olympic handball tournament, with three exciting matches scheduled, which will be crucial for teams. 
Today's matches:
11:00 JST: Bahrain vs Japan (32:30)
16:15 JST: Sweden vs Egypt (22:27)
19:30 JST: Portugal vs Denmark (28:34)

23:30 JST That's all for today

Egypt got their third win at Tokyo 2020, a huge one against the 2021 World Championship finalists Sweden (27:22). This means they clinch a quarter-final berth for the first time since Sydney 2000.
Denmark's record in the group phase is still pristine. The defending gold medallists held the upper hand versus Portugal 34:28. Eight points for them in Group B.
Bahrain still dream of a ticket to the knock-out phase after they came out successful from a tough battle against Japan 32:20. The hosts are at the bottom with zero points but still have a slight possibility to proceed to the next stage. But first, they have to defeat Portugal on Sunday.

21:00 JST FINAL WHISTLE Portugal vs Denmark 28:34

Denmark take their fourth win and their run at these Games is just perfect. Their handball is convincing. It's impressive. The team is reliable. Fresh energy flows through it.
Rio 2016 doesn't seem that far away in time, but we get a different perspective if we think Mathias Gidsel was only a 17-year-old teenager watching them receive their gold medals at Arena Future and now he's in Tokyo, shining as if he has been playing at a high level for a decade. Seven goals from seven attempts for him tonight, plus six assists. Only Mikkel Hansen could complete a better report — he finished with nine goals and seven assists.
Denmark. What a team.

20:45 JST Hansen and Gidsel help Denmark create a five-goal lead

It's one of those Mikkel Hansen nights. The Danish star is showing all his talent with eight goals and seven assists. 22-year-old back Mathias Gidsel follows him with four goals and six assists. Portugal can't stop them even when Humberto Gomes is doing a good job in the goal with 10 saves.
There's 10 minutes left on the clock and the Danes are surely on their way to claiming their fourth straight victory at Tokyo 2020.

20:15 JST HALF-TIME Portugal vs Denmark 19:20

The last two and a half minutes of the first period were great for Portugal. Right back Joao Ferraz scored two long-range shots and they defended well to reduce Denmark's edge to only one goal.
Humberto Gomes stepped up and made five stops at a 33% rate to diminish Denmark's initial effectivity.
Will Portugal be able to spoil Denmark's perfect record at these Olympics?

19:50 JST Denmark's effectivity explains their lead

The defending Olympic champions are up 16:13 versus Portugal as we reach the 16th minute of the clash. Most goals from the Danish side are coming from 6-metres, with an overall effectivity of 81%.
Portugal keeper Hugo Capdeville, one of best at Tokyo 2020 so far, hasn't made any stops out of ten throws from the Danes. Now it's Humberto Gomes' turn in the goal as Portugal try to cut the deficit before half-time.

19:20 JST Portugal play Olympic title holders Denmark 

Denmark have a perfect record in Group B with three wins in three games — against Egypt, Bahrain and Japan. As for Portugal, they beat Bahrain but were defeated by Egypt and Sweden.
There are no recent encounters between these two teams, but there's enough class in both sides and we anticipate a captivating match with a high score!
 
18:20 JST Quotes after Egypt's win

Yehia Elderaa, Egypt back
On Egypt's first qualification for the quarter-finals since 2000: "It's a great, great feeling for this generation, for this team. We started six months ago in the World Championship – we've been doing big games, great performances and we reached the quarter-finals now. We're trying to keep our performance; keep the people that talked about us and talked about our team that we're still in that position. We're still one of the top teams and we can compete. This is our dream. We gave it all we had. Before going to the quarter-finals we had to win one of the high-level games just to have confidence and just to see our mistakes. Of course today we won, but we had a lot of mistakes so we have to learn from it. We have to prepare. We still have one last game in the group stage and we have to finish it first, and then focus on the quarter-finals and see who we're going to play against. But we're happy. We're happy now. We did everything. Finally we played as a team – the last games we were playing good but some individual skills or something like that…but right now there is teamwork; there is spirit; there is motivation; there is hunger, craving for the win. All the team are helping each other. They're supporting each other. Nobody is thinking about themselves. That's the good thing for having a group stage – you have to keep learning step by step from each game, and we took it step by step. We won two or three games right now. We lost one. We have to look forward. We have to learn from our mistakes in this game. It was a really strong game against a strong team. Thankfully we won but this is not the end – this is just the beginning for a good, great team."
On the key to beating Sweden after several narrow losses in recent years: "It's the preparation. We started well; we started ourselves well. We saw our mistakes in the last game, whether they were decisions or how to play – the tactics. How to conserve your energy. In the World Championship, we put our 200% in the first half then in the second half, without rotation, without anything, in the last 10 minutes we couldn't breathe. Right now we kept rotating, everybody played, everybody supported each other and the key players weren't one or two – I think if you looked at the score sheet you're going to find all seven or eight players who played scored, participated and has assists and these things. So it was a good game and we're happy about our performance. Hopefully we can do much better in the upcoming games."
On what they have been working on as a team: "When you reach the Olympics you're on a different planet. You're alone. You're thinking as an athlete. You're seeing all the athletes – how they live, how they work, even though with the Corona situation we don't gather all around. But you have to forget anything that you have outside of this village; outside of this court. I'm here. I have a dream. I have a target I want to reach. You have to keep learning. Don't say 'I'm bored.' Don't lose your focus even by 1%. So that's what we're learning. We're building our connection as a team. We're building good connections with other teams. We're gaining respect from everyone and of course we have respect for all the teams, and that's why we keep in all games playing our 100% – we just have to focus on that. That's the most important thing about our team."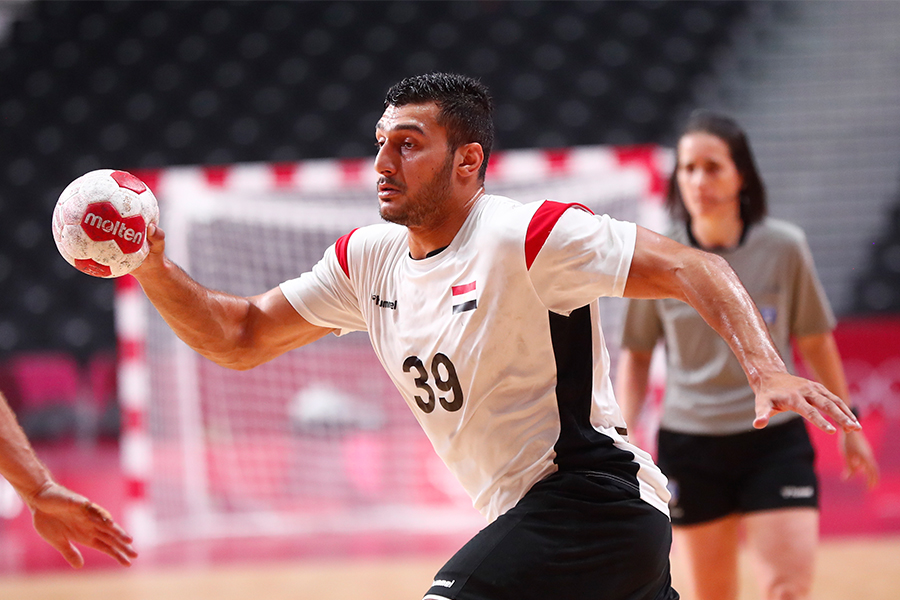 17:39 JST FINAL WHISTLE Sweden vs Egypt 22:27

It's over now! Egypt won the game against Sweden 27:22 and are through to the quarter-finals, the third team in Group B to secure their tickets and the fifth in the men's tournament to be sure to extend their stay in Tokyo. A magnificent performance for the Pharaohs, who just secured their biggest-ever win against Sweden, with a 26:25 win at Rio 2016 being topped now in superb fashion.
While Sweden might have had a bad game, this truly is Egypt's win, not Sweden's loss. Goalkeeper Karim Hendawy put a performance for the ages with his 17 saves and 45% saving efficiency, while Mohamed Sanad (six goals), Omar Yahia (five goals) and Yehia Elderaa (three goals) were clinical in front of the goal exactly when they needed to.
There are a lot of questions to be answered by Sweden, mainly on their attacking efficiency. It grew in the last minutes, because the Scandinavian side deployed a seven-on-six attack, but take away Lucas Pellas' perfect game (seven goals from seven shots), their efficiency would have been 35%. They will expect more from Jim Gottfridsson in the next games, but this loss could prove very costly and throw out a tougher opponent in the quarter-finals.
In the last game of the group phase, Egypt will take on Bahrain, with an eye on one of the first two places, while Sweden face reigning Olympic champions Denmark in a rematch of the final of the IHF Men's World Championship 2021.
After this loss, Sweden are virtually out of contention for the first place, as they would need to beat Denmark, Bahrain would need to beat Egypt and Denmark would need to lose against Portugal, too many 'ifs and buts' for such a tournament.
We are now taking a break, but we will be back with the last match of this group, Denmark versus Portugal, set to start at 19:30 JST.
 
17:25 JST Eldaraa's rocket breaks record at Tokyo 2020

When Egypt showed their first signs of struggle in attack, a superb shot from Yehia Eldaraa leaves Andreas Palicka without reaction. It was the fastest goal at Tokyo 2020, clocked at 117 km/h, eight km/h faster than the previous record, set by Brazilian back Joao Pedro Silva. Sweden could have cut the gap to only three goals, but another save from Hendawy, doubled by a goal from right back Yahia Omar puts Egypt back at five goals ahead, 20:15.
There is a touch of luck for Egypt, with another Elderaa shot clinging the post and entering the goal, but this was all too deserved for the Pharaohs. They had a good plan, they executed it well and they were far superior in all aspects to the Swedish side. With 10 minutes to go, Egypt are up 22:17 and coach Glenn Solberg will surely have two busy days of dissecting this game ahead of their final showdown in Group B against Denmark.
 
17:13 JST Welcome to the Hendawy show

It's the Hendawy show and nobody can say anything else! The Egyptian goalkeeper provided two more saves in the start of this second half and, what's key, the African powerhouse navigated through two suspensions without having their difference chipped, instead taking it to five goals, 17:12. Their attacking proficiency dropped, but Sweden cannot steady the ship, providing easy to steal balls to Egypt and missing one-on-one chances against Hendawy.
This might be Egypt's best game at the Olympic Games Tokyo 2020. They are a force to be reckoned with, a superb mix of young talent and experienced players, led by a renowned coach in Roberto Garcia Parrondo. A goal by Mohamed Shebib makes it 18:12 and it's hard to find a way in which Sweden will save something from this game in the last 20 minutes. At least they have Jim Gottfridsson back on the court now, who has already dished an assist for Lucas Pellas.
 
16:53 HALF-TIME Sweden vs Egypt 9:13

To cap off his superb first half, Egyptian goalkeeper Karim Hendawy saves two shots in two seconds against Lukas Sandell and Frederic Pettersson. Hendawy was Egypt's hero, an inspiration in the first half, saving 11 shots for a superb 55% saving efficiency. But it is the way Egypt managed the game that really impressed in this first half. They are leading 13:9, but have never let Sweden cut the gap to more than three goals, which is extremely mature for a team that has been renowned for the free roller-coaster rides given to the fans.
On the other part, Sweden are looking like a team that has no clue what they are trying to do on the court. Glenn Solberg sensed that Jim Gottfridsson was out of sorts and took him off in the last 10 minutes, with the All-star centre back at Egypt 2021 and the MVP of the Bundesliga this season failing to make an impact and missing the two shots he tried, while also turning the ball over twice.
Sweden only have a 36% shooting efficiency and missed 16 shots, five of which were clear-cut chances, one-on-one with Hendawy. The Swedish side had scored less than nine goals in the first half only three times in 57 matches at the Olympic Games – seven against the Soviet Union at Seoul 1988 and eight against France at London 2012 and against Czechoslovakia at Barcelona 1992.
This group will get even more complicated if Egypt win. Can Sweden weather the storm?
 
16:36 JST Egypt hold Sweden at bay

Three turnovers, 10 missed shots and some bit of pressure. That's how Sweden's first 20 minutes of the game against Egypt can be summed up. The favourite status could have hurt the Swedish side, who is looking totally out of sorts, failing to score at all. And it is also because of Karim Hendawy, the Egyptian goalkeeper, who is boasting six saves and an outstanding 60% saving efficiency. It's a lot and if he can keep it up, Egypt are big favourites to take the win.
At the other goal, Mohamed Sanad and Mohamed Ali have been flawless, each scoring three goals from three shots. Egypt's progress in the last year has been remarkable, earmarked by amazing performances at the IHF Men's World Championship in January and here, at Tokyo 2020. Yet, there is still one lingering question: can Egypt keep up at this pace for the whole game? They faltered in the second half against Denmark and were beaten by five goals after a superb first half. After 19 minutes, though, they are taking no prisoners, leading Sweden by a superb 9:5 scoreline.
 
16:26 JST Ali clocks the second-fastest shot at Tokyo 2020

A team that pride themselves on efficiency, Sweden have seen theirs dip in this game at an alarming rate in the first 10 minutes. Three one-on-one chances with Egyptian goalkeeper Karim Hendawy have been squandered by Niclas Ekberg, Max Darj and Jonathan Carlsbogard, as Egypt jumped to an early 5:2 lead, after Mohamed Ali scored three goals.
His second, clocked at 106 km/h, was the second fastest in this Olympic tournament, only 3 km/h slower than the one scored today against Argentina by Brazilian back Joao Pedro Silva. But the main take is that Sweden are creating the chances, but not converting them. It's no cause for a full-blown alarm yet, but Egypt are no pushovers. They have been amazing in attack, with so many options to score.
 
16:15 JST Can Egypt strike against Sweden?

Sweden enjoyed a great start to the Olympic Games, taking three wins against Bahrain, Japan and Portugal, but their goal difference is only +4, suggesting that the Scandinavian side might be susceptible to a loss. Their hardest games are the last two, facing Egypt and Denmark, two teams which they played against recently, in January 2021, at the IHF Men's World Championship.
The Swedish side won narrowly against the Pharaohs, 24:23, and Egypt will try to secure a win here at Tokyo in a pivotal game for Group B. If Egypt win, then they will be through and have a shot at finishing on the second place.
 
12:38 JST Bahrain boast the second-best goal scorer at Tokyo 2020

We'll take a short break after this maiden Bahraini win in the Olympic Games. Since we had two intracontinental derbies, Brazil vs Argentina for South America and Bahrain vs Japan for Asia, it will be time for Europe to show off at 14:15 JST, when France face Spain in the battle of the unbeaten sides in Group A, two of the four teams who can boast that status.
Until then, Bahrain's Ahmed Mohamed has just jumped to the second place in the top scorer standings after his seven-goal outburst today, with a total of 22 goals, four less than Sweden's left wing Hampus Wanne, but one more than Norway's back, Sander Sagosen. Both Scandinavian players will take the court later on today for their fourth game.
 
12:31 JST FINAL WHISTLE Bahrain vs Japan 32:30

It is over and Bahrain won their first-ever game at the Olympic Games! What a moment for Bahraini handball and it has been a welcomed reward for a team that had lost by only one goal against Sweden as well as Portugal in the first two rounds. It was another fast, high-octane half, with plenty of lead changes, but, eventually, Bahrain's firepower was too much for Japan.
Mostly forgotten between the 10th and the 50th minute, Bahrain's goalkeeper, Mohamed Ali, made three key saves in the last five minutes, helping his side get more attacking time. And Bahrain did not disappoint with backs Mohamed Ahmed and Husain Alsayyad each scoring seven goals to lift Bahrain to a superb 32:30 win.
Credit where it's due for Japan's fighting power, for trying and make a comeback each time Bahrain took the lead, but, eventually, it was too little and the Japanese side conceded their fourth loss in a row, despite scoring 30 goals, tying their highest-ever tally at the Olympic Games, achieved in the first game of the group phase, against Denmark.
Bahrain must now wait to see what their future holds. They will likely hope that either Egypt lose against Sweden or Portugal concede a loss against Denmark. In any case, their last match against the Pharaohs on Sunday is crucial. Anything else but a win will eliminate Bahrain from contention for a quarter-finals berth.
Unfortunately for the hosts, they are the second team to be out of contention after Argentina. Japan could pass only Portugal, if the European side lose today against Denmark and the Asian side wins the mutual game on Sunday.

 
12:12 JST Japan's spirit stays alive

Japan have started to get really shaky in attack – is it the pressure or can they just not compete physically with Bahrain? This has been a tense, close game, but Bahrain really looked like they had the upper hand, not panicking when they conceded goals and starting to get better and sharper in attack. Of course, it is a matter of pride for the hosts, who will finish the group phase against Portugal, a team who will probably be in a must-win scenario.
But when Japan needed it most, their top scorer at Tokyo 2020, Hiroki Motoki, stepped up. With his five goals in this game, Motoki hits his average set in the first three games, and helps Japan to stay alive. With two goals in a row from Adamyuki Baig, Japan take the lead back, 26:25, after Bahrain's left wing, Mahdi Habib, missed two one-on-one shots with the Japanese keeper. What an exciting game this has been. 12 more minutes and we will have the winner. Or will the game end in a stalemate, which would not help any of the teams?
 
12:04 JST Bahrain's turnaround puts them closer to first Olympic win

A turnaround again! Despite two players being down with suspensions, Bahrain focused admirably on defence and found the spaces they needed in attack to take a 23:21 lead after 39 minutes. Mohamed Ali and Husain Alsayyad have been bright in the start of the second half, as Japan did not really improve their defence that much.
There is still a very long way to go, 20 minutes, but Bahrain could be heading to their first win ever at the Olympic Games. It would be a huge achievement for the Asian side, who won their first ever game at the IHF Men's World Championship in 2019 and progressed to the main round at Egypt 2021 just a few months ago.
 
11:40 JST HALF-TIME Bahrain vs Japan 16:17

This has been an action-packed game, with 33 goals so far, five lead changes and plenty of mistakes for both sides. Japan are ahead by the slightest of margins, 17:16, with an outstanding outing from back Tatsuki Yoshino, who scored six goals in the first half, after putting only 10 on the board in the first three games. Yoshino missed his first two shots, but converted the next six, singlehandedly helping Japan in the most difficult moments of the game.
Sure, it was a team effort and Bahrain could have done more, but they were frustrated at time with their mistakes. Still, Bahrain had a 67% shooting efficiency, scoring 16 of their 24 shots. But their goalkeeper, Mohamed Ali, did not save a shot in the last 21 minutes, after starting the first five minutes with four saves. On the other hand, Japan's goalkeeping unit has a 11% saving efficiency, which could hamper their efforts to win the game.
Everything is wide open, with everything at stake for both sides. Prepare for a thrilling second half, in a game where the loser will see its chances to progress to the quarter-finals rendered virtually to zero.
 
11:24 JST Yoshino steps up to the challenge

A 4:0 run from Japan, influenced by Tatsuki Yoshino, who scored three goals, prompts Aron Kristjansson to take a time-out, in which he points out the mistakes made by his team in attack, but especially in defence. Bahrain have been leaking goals after a good start, with Japan getting open looks. But Yoshino, a left back who missed his first two shots, continues to dominate, adding another goal, to keep Japan in front (9:7) after 16 minutes.
Yet Kristjansson's time-out had a lasting effect, with Bahrain bouncing back and embarking on their own 3:0 run to take back the lead. The main difference between the two sides is the goalkeeper's efficiency, with Japan having only a 10% saving efficiency, way too little for such a game. It's Yoshino vs Bahrain at this point, with the left back scoring five times in 10 minutes, as the game is tied at 12:12 after 20 minutes.
 
11:12 JST Mohamed Ali frustrates Japan's attack

And we are underway. There is plenty of emotion on display, especially for hosts Japan, as they are trying to extend their stay at the Olympic Games Tokyo 2020. But it has been a superb start of the game for Bahrain's goalkeeper, Mohamed Ali, who has been superb, saving four shots in the first five minutes, for a 57% saving efficiency. Ali has already been one of the top goalkeepers in this tournament, saving 26 shots, with only Norwegian shot stopper Torbjorn Bergerud racking up more saves in the first three games.
Bahrain's attack does its part in the first minutes and lifts the Asian side to a 5:4 lead after nine minutes. Their backs, in particular, continue to score from afar, with powerful shots. Merza Ali Ali and Hasan Alsamahiji have clocked the fastest shots of the tournament, 105 km/h, in the first three rounds, alongside the likes of Dika Mem and Haniel Langaro and continue to surprise opposing goalkeepers. But this is anybody's game. Let's see how this will pan out.

10:55 JST An Icelandic duel in Asia

Bahrain are making their debut at the Olympic Games, while Japan have not been here since Seoul 1988. So it is clear that the stakes will be high here, especially with the winner still having the chance to progress to the quarter-finals, after both sides conceded losses in their first three games.
It has been painful for Bahrain, who lost their first two games, against Sweden and Portugal, but no other team in the group or, indeed, in the tournament, scored less goals than Aron Kristjansson's side, 77. Japan's problem has been the defence, conceding 108 goals.
However, this is also a special duel between two former teammates in Iceland's men national team. Bahrain's coach, Aron Kristjansson, played 85 games and scored 128 goals for Iceland between 1993 and 2003, while Dagur Sigurdsson, Japan's coach, scored 399 goals in 215 games between 1992 and 2005. They surely would not have thought their careers would take them this way, but here they are!
 
10:45 JST Round 4 in Group B begins 

Denmark and Sweden are already through to the quarter-final phase, but the winners of the group will probably be known only on Sunday, when the Scandinavian powerhouses will clash in the Yoyogi National Stadium in Tokyo.
Meanwhile, Denmark are facing Portugal, who are fighting for their lives in the competition, as the reigning Olympic champions will be looking to extend their winning streak. Denmark have the best attack in the competition, having scored 110 goals in the first three games.
Sweden meet Egypt, as the African powerhouse could seal safe passage to the quarter-finals for the first time since Sydney 2000 even with a loss.
Bahrain are still looking for their first win at the Olympic Games and have earmarked their game against fellow Asian side Japan as the perfect way to start their tally. The hosts could be out of contention for a quarter-final berth if they lose today.
After three rounds, Denmark (+32) and Sweden (+4) lead the group with six points, followed by Egypt (+5) with four points, Portugal (-6) with two points, while Bahrain (-12) and Japan (-23) close the group with zero points.
All the relevant statistics, the standings and the schedule for the men's Tokyo 2020 Olympic Games tournament can be found here.