Two Scandinavian teams eye quarter-finals berth
28 Jul. 2021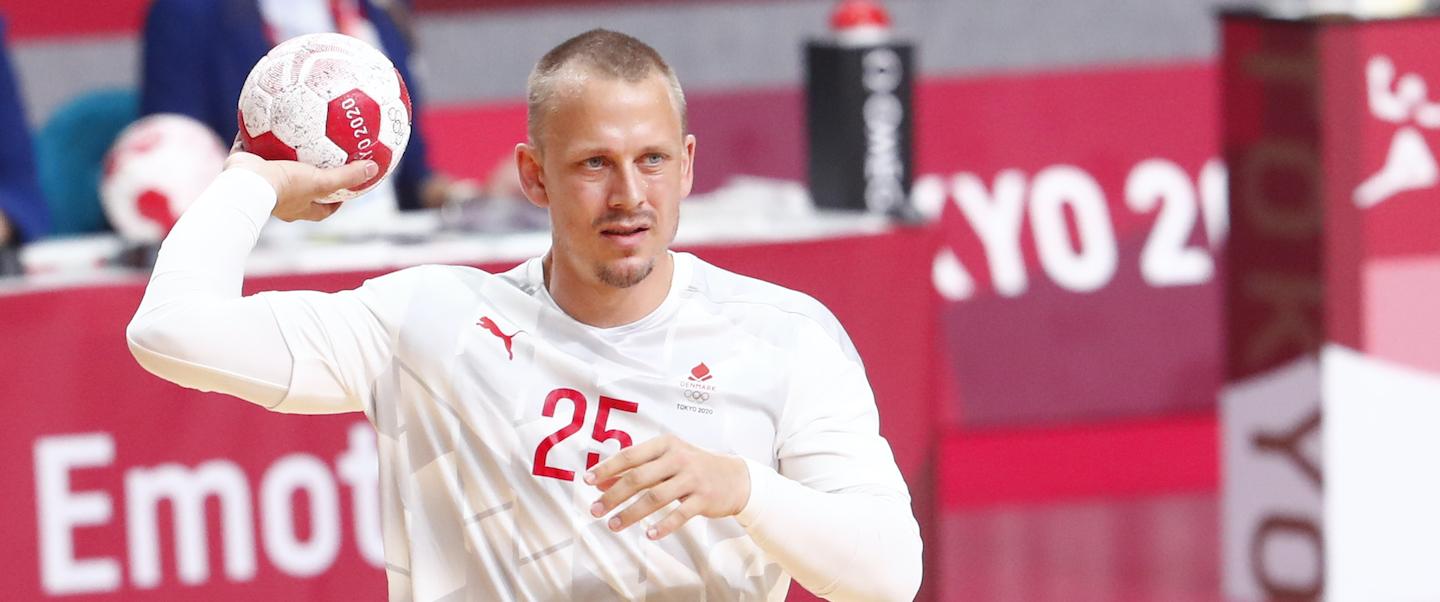 Running updates of Tokyo 2020 men's Group B – follow the action of the Olympic handball tournament live and stay always up-to-date. Denmark and Sweden both claimed their third victory in three matches and Egypt followed with a win against hosts Japan.

Three exciting matches are ahead of us in round 3 of Group B at the Olympic Games Tokyo 2020 men's handball tournament.
Today's matches:
09:00 JST: Denmark vs Bahrain (31:21)
11:00 JST: Sweden vs Portugal (29:28)
14:15 JST: Japan vs Egypt (29:33)

16:35 JST Denmark and Sweden top the group, with Egypt third

That's it from Group B! We have the first two qualified teams for the quarter-finals, Denmark and Sweden, while Bahrain and Japan will be looking to save their respective Olympic campaigns in the last two rounds, after conceding losses in their first three games.
Denmark top the standings with six points and a goal difference of +32, followed by Sweden, with the same number of points, but a goal difference of +4. Egypt (5) are third, with four points, Portugal (-6) fourth with two points, while Bahrain (-12) and Japan (-23) are on the last two places, not scoring a point.
Round 3 of Group B is over now but we still have three interesting clashes in Group A!
 
16:25 JST Quotes after Egypt's win

Yahia Omar, Egypt right back
On the match against Japan: "This was the game that first of all we came for. We had to win this game to qualify. Now we have had a good start. We have won against two good teams in the group. We hope to continue on the same level until the end."
On the rotation throughout the game with all but one player used: "We have a lot of good players. All of the players are on a really high level so all of them have a role to do in the team and in this game the role just got bigger."
On the team journey since January: "After January we haven't been together a lot except the players who play in Egypt, but they had an early start to gather each other and focus to have a good physical level till all the players are there. This time we had four or five games in the past one and a half months and they were really good for the team because we had a lot of time to play together. The chemistry is back so we are in a higher form than we were in the last championship."
On the next game, versus Sweden: "This is a really tough game. I think we were really close in the World Championship, to win. We had a really good game. For just one or two mistakes we lost. We always play good against Sweden and I hope it's a good game. I hope this time the result is for us."
On what to improve for the next game:
"We always start the championship and have to learn from the mistakes. Every match is different. This game was against Japan, the hosts, so already it was a little bit of pressure that we had to win the game. The next game the pressure will be a little bit down, but the motivation will be higher."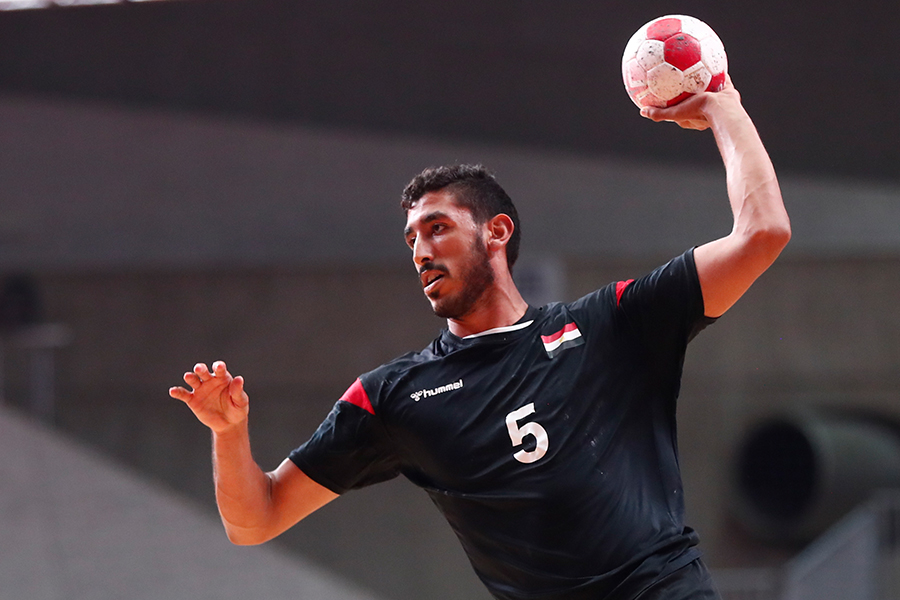 15:50 JST FINAL WHISTLE Japan vs Egypt 29:33

Egypt beat Japan and, as a consequence, Denmark and Sweden are through to the quarter-finals, the first teams to seal their berths to the knockout phase of the Tokyo 2020 men's handball tournament. They both have six points, while the teams placed fifth and six, Japan and Bahrain, did not score a point, with only two rounds left. The two Asian sides can only win a maximum of four points now.
On the other hand, Egypt looked good for the third match in a row. The Pharaohs might have lost against Denmark, but they still gave the group leaders a good scare and they played also well today. Their 33:29 win against Japan was the 11th in 39 games at the Olympic Games and this is their best start in the competition since Sydney 2000.
Veteran Ahmed Elahmar was Egypt's best scorer, with eight goals, in Egypt's second win in the tournament, a win that places them third in the group, with four points in three games, just behind leaders Denmark and Sweden. On the other hand, Japan are still last, with zero points and a goal difference of -23.
Japan will face Bahrain on Friday in their chance to win the first game at Tokyo 2020, while Egypt are facing Sweden in a battle for a better place in the group standings. This will be a cracker of a match, no doubt!
 
15:27 JST 10 minutes to go and Egypt are cruising

Wait, is this really possible? Japan reduced the gap to four goals (24:20), after nine consecutive shots were converted and Egypt turned the ball over three times. The Asian side are on a roll now, but a two-minute suspension for right wing Hiroki Motoki is their undoing. Motoki was careless there and Egypt duly take advantage by scoring at will, including in the open goal, to take the score right back to 28:21.
Dagur Sigurdsson calls another time-out, but this time it really looks over for Japan. With 10 minutes to go, Egypt are leading 29:22, with their backs, Ahmed Elahmar and Yahia Omar having scored six and five goals, respectively.
 
15:17 JST No signs of slowing down

Even when Egypt miss a shot or turn the ball over, Japan fail to take advantage. They are really trying, credit to them, yet Egypt are too strong, at least in this game. Both sides scored five goals each in the second half, therefore the seven-goal gap is still there, without any indicator that it might be coming down.
Omar Yahia and Ahmed Mohamed are shooting at ease from the back line, as Egypt's efficiency is soaring to 71%. It's a very good number for the Egyptian side, who are cruising to their second win at Tokyo 2020.
 
14:50 JST HALF-TIME Japan vs Egypt 11:18

Japan drastically improved their shooting efficiency, from a meagre 27% in the 15th minute to a much better 60% in the 25th minute, but it was never going to be enough. Egypt built their advantage early and never let Japan come even close to tying the match, dominating at time in defence. With Sigurdsson deploying a seven-on-six attack by substituting the goalkeeper with an outfield player, every turnover was going to be costly and Egypt scored four empty goal shots to steer clear just before the end of the half.
Those easy goals really played a trick on Japan mentally, as the Asian side packed it in at the end of the first half. It's hard to see how the hosts will bounce back from this deficit at the break, chiefly because they simply cannot score at ease with only six players in attack and every mistake is amply punished by Egypt. The Pharaohs look like big favourites to snatch their second win in this tournament. A feature that they could not manage since Sydney 2000.
 
14:40 JST Japan struggle, but stay close

"Keep it simple, go to the goal and shoot." Dagur Sigurdsson's instructions are simple, but the game is anything but for the Japanese side. The Icelandic coach deployed an  aggressive 5+1 defence for Japan, that meant trouble at times for the Egyptian attack, but the Pharaohs are really looking in control, firing from all cylinders.
Ahmed Elahmar, a star for the Egyptian team once again, is leading the pack, scoring four goals from five shots, but rising star Ahmed Mohamed and experienced wing Mohamed Sanad have also contributed brilliantly. A two-minute suspension for Egypt helps bring back Japan to a two-goal deficit, 8:6, as the Asian side scored three unanswered goals. But Mohamed Mamdouh Shebib replies with a superb goal with his back at the goal to bring back Egypt in the game. After 20 minutes, Egypt still did not create a huge advantage, leading 10:8. Can Japan bounce back?
 
14:28 JST Egypt mean business at Tokyo 2020

We are underway and Egypt look to have the upper hand, confirming their status as favourites for this game. Japan's goalkeeper Yuta Iwashita saved only one shot so far, while the African side boast a 63% shooting efficiency, as they powered their way to a 5:2 lead after 10 minutes. They have defended brilliantly against the fast Japanese side, whose coach, Dagur Sigurdsson, was just shown the yellow card for protesting.
It is one of Japan's only chances to salvage this tournament, so their motivation is there, but the execution is lacking. What can they do against an Egyptian side that is full of talent and looking for their best-ever result at the Olympic Games?
 
13:50 JST Can Japan spring a surprise against Egypt?

They are not out yet, but what a crucial game this will be for Japan. The hosts had the toughest start in Group B, playing against Denmark and Sweden, but the game against Egypt will also be a big challenge. The Pharaohs have superb talent at their disposal, underlined by their performance at the IHF Men's World Championship they hosted in January, where they lost against Denmark in the quarter-finals after penalty shoot-out.
Egypt started brightly, with a 37:31 win against Portugal, but faltered in the second half against Denmark, conceding a 27:32 loss, after giving the world champions a run for their money in the first 40 minutes. Egypt won their 10th game at the Olympic Games against Portugal in 40 tries and could be eyeing their best ranking ever, after finishing sixth at Atlanta 1996.
In the only mutual encounter, Egypt beat Japan, 34:28 at the 2011 IHF Men's World Championship. Are they ready for the second win? Let's find out.
 
13:00 JST Wanne and Hansen lead the top scorer standings

After scoring 21 goals in the first two games, Swedish left wing Hampus Wanne recorded another five goals today against Portugal, and is currently still leading the top scorer standings with 26 goals. His advantage was slashed to only six goals ahead of Denmark's Mikkel Hansen, with another Danish back, Mathias Gidsel, completing the podium, with 18 goals.
Spain's line player, Adrian Figueras, is first among those players who only had two games at Tokyo 2020 in the standings, with 15 goals, followed by Japan's Hiroki Motoki (14 goals) and Norway's Sander Sagosen (14 goals).
In the fastest shot standings, nine players are leading with goals scored with 105 km/h, with Brazil's Haniel Langaro hitting this speed twice. France's Dika Mem, Portugal's Miguel Martins or Brazil's Leonardo Dutra are some of those who also scored via shots travelling at 105 km/h.
 
12:45 JST Handball resumes in 90 minutes

Everybody needs a break after that amazing game, which saw Sweden enjoy their best start in the men's handball tournament at the Olympic Games since Sydney 2000. Portugal were left in tears after this loss, but handball can be cruel. They felt like they deserved at least a draw after a sublime effort. But Sweden scored one goal more and they are the winners.
The next game, which features hosts Japan against Egypt, could be crucial for the standings in this group. If Japan do not win, then Denmark and Sweden will be the first teams that progress to the quarter-finals, having six points, while Japan and Bahrain would be at zero points, with only two games to go.
Tune in for Japan vs Egypt at 14:15 JST.
 
12:32 JST FINAL WHISTLE Sweden vs Portugal 29:28

What. A. Game. It seemed to be over when Sweden boasted a 29:25 lead with six minutes to go, but it was far from that.
A huge talent, Andre Gomes needs a bit more polishing at places, but he has helped Portugal exit some difficult situations, with two 91 km/h shots that were impossible to stop. But his efforts were thwarted by a more experienced Swedish side. In such a tournament, depth and experience are key and this was also on display in the final 20 minutes of the game, when Sweden sowed the seeds they planted in the first half, with a few open goal shots, that helped the team get much needed rest.
Two Palicka saves were key in the last 10 minutes, but it was also a testament to Ekberg's amazing game, as the right wing turned back the clock to nine years ago, when he was the London 2012 Olympic Games' top scorer with 50 goals. THW Kiel's wing scored nine times, while fellow wing Hampus Wanne added five goals, including four in the second half, to lift Sweden past Portugal, 29:28.
Mentally, Portugal seemed broken when their opponents opened a four-goal gap (29:25) with six minutes to go. But the game was far from over and the ever-present fighting spirit helped them attempt a comeback. Joao Ferraz, in his 100th game for the Portuguese side, scored a crucial goal to bring his side to a deficit of only one goal, 28:29, with 80 seconds to go. Sweden missed their next attack, but they defended brilliantly in a seven-on-six situation, blocking Diogo Branquinho and Miguel Martins to seal the win.
Sweden are now second in the group, with six points, as many as leaders Denmark, but with a worse goal difference, +4, opposed to Denmark's +22. They won all their three games, two by the slightest of margins, and the other one by two goals, but a win is a win!
Portugal are still fourth, with two points and are eagerly expecting the last game in the group, which pits Egypt against Japan. Any result other than a Japan win would see Denmark and Sweden through to the quarter-finals.
 
12:13 JST Sweden are heading to the best start in 21 years at the Olympic Games

Stay strong in defence, block shots or steal balls and pounce on the fast breaks. Sweden's recipe was created decades ago, but it still is applied nowadays and can tilt the scales into their favour. At least this is what they are doing now, when they used the tactic to create a 4:0 run that helped them lead 22:20. Portugal are trying to stay alert and reduce the gap, but when Andreas Palicka saved Pedro Portela's penalty… Let's say that this is the summary of the last six-seven minutes of the game.
Palicka (nine saves) and Ekberg (eight goals) have been the best players for Sweden, who are heading for the third win in a row. It would be their best start in the competition since Sydney 2000, when they won the first six matches, only to concede a loss in the final against Russia and secure the silver medal. Remember, Sweden, who won four IHF Men's World Championship and four EHF EURO gold medals, have never won the Olympic Games.
 
Right now, Sweden are leading 25:24, with 10 minutes to go. And Portugal just got a two-minute suspension for Daymaro Salina, a key member of their defence.
 
12:03 JST Portugal pounce on with seven-on-six attacks

Portugal's tactic to risk it all in attack may seem counterproductive at first, but when it works, it really wreaks havoc in Sweden's defence. It might not look like that, but when the ball is passed fast, Sweden have got no time to really close all the spaces. This is how Portugal jumped to a 18:16 lead, but two consecutive goals from left wing Hampus Wanne brought Sweden back. It was about time for Wanne to make a serious contribution in this match, after scoring only one single goal in the first half, adding three already in the second part of the game.
It's nip and tuck and will probably stay so until the end, as the teams look evenly matched and can always find that extra something when needed. It's 20:20 after 40 minutes and it really is anybody's game.
 
11:38 JST HALF-TIME Sweden vs Portugal 14:14

Wow, wow, wow! Portugal can really bring any team into trouble, can't they? After Sweden looked totally in control, the Portuguese side created a 4:0 run out of nothing, taking advantage of Sweden's woes in attack. More impressively is how they alternated the tactics in the attack, with 10 of their 12 outfield player scoring at least one goal and neither boasting more than two. This truly is a team, not a collection of players and this was also there to be seen in March, when they fought back in the Olympic Qualification Tournament in France to beat the host nation and earn their tickets to Tokyo.
Despite not boasting more than three saves, goalkeeper Gustavo Capdeville has been outstanding in several situations, blocking two one-on-one shots from left wing Lucas Pellas. Yet, Portugal have been thoroughly punished by their penchant for going all-in, which resulted in four open goal shots converted by Sweden, two of which came from Niclas Ekberg. The effect that these easy goals have is vastly underrated, as Sweden did not have to work a lot, handing a bit of rest to their attacking players, which could prove crucial in the late stages of such a balanced game like this. After 30 minutes, the deadlock is still not broken, 14:14.
The teams have not been vastly efficient, combining for 22 missed shots, 11 each for Sweden and Portugal, but the game has been oddly entertaining, with Portugal giving it their all to enhance their chances of progression to the quarter-finals. With a win here, the Portuguese could really dream of even a top-three finish at the end of the group phase.
 
11:25 JST Portugal go all-in from the early stages

Portugal's often-used seven-on-six attacks, with Paulo Pereira substituting the goalkeeper for an outfield player, are back for this game, but they can still backfire. And this is exactly what happens when Albin Lagergren steals a ball and converts the open goal shot. Portugal are always glad to risk, moulded in the figure of Pereira, but is it always worth it?
With 20 minutes gone in the game, Sweden are up 10:9, but Portugal are still clinging on. There are some beautiful moments, like behind the back assists from Rui Silva, and, most of all, Portugal cannot be written off. This is their biggest achievement here, a rookie at the Olympic Games, keeping up with the big guns. Sweden are going for win number 38 in history in the competition and a big part of it is played by Niclas Ekberg and Albin Lagergren, with the two combining for eight of Sweden's 10 goals.
 
11:12 JST Sweden shake off slow start

Portugal enjoyed a dream start, building a 3:0 run, as Sweden could not find the path to the goal, missing their first three shots. But the tables have turned very quickly, with Sweden's experience paying off instantly. Two goals from Niclas Ekberg, his fifth and six in the competition, headlined the comeback, as the Swedish side had their own 4:0 run to take the lead for the first time.
The top scorer at Tokyo 2020 so far, Hampus Wanne, also added a goal, but he also missed a shot, missing by a few metres. With Portugal scoring their next goal after six minutes, a signature strong shot from left back Andre Gomes, the game is tied after nine minutes, 4:4, but it feels like Sweden are more shrewd. And in matches like this, it can be crucial.
 
10:45 JST Portugal's dream continues in Tokyo

19 months ago, Portugal were handing Sweden their worst-ever loss on home court in a final tournament. The 'Heroes of the Sea' enjoyed a 35:25 win, prompting their start of the challenge for a place at the Olympic Games, which they duly completed, after a superb win against France. Now, Portugal are dreaming bigger, for a medal. Their tournament started with a tough loss against Egypt (37:31), but they bounced back against Bahrain (26:25).
On the other hand, Sweden won against Japan and Bahrain, but have not impressed and have a goal difference of +3. Can Portugal surprise them? Well, they might. But both are teams that can be tough to read. Let's see what happens when the game starts in 15 minutes.
 
10:40 JST Denmark have a historically good start

With three wins and a +32 goal difference, Denmark just registered the third most dominant start in the history of the men's handball Olympic tournament. The record is still held by the Soviet Union, who won the first three games at Moscow 1980 and had a +57 goal difference. France's three-win outburst and a +47 goal difference at London 2012 was the second best start, but powered by a 29-goal win against Great Britain.
Overall, Denmark are flying, yet their biggest challenges are still ahead of them, with matches against Portugal and Sweden looming. The good news for Denmark: both the Soviet Union (silver at Moscow 1980) and France (gold at London 2012) ultimately won medals in their competitions.

 

10:25 JST FINAL WHISTLE Denmark vs Bahrain 31:21

A 17-goal win against Japan to throw off the tournament, followed by a five-goal win against Egypt and now a 10-goal win against Bahrain, 31:21. It's Denmark's tournament and we are living in it! No, we are just kidding, but their performances have been superb at Tokyo 2020. They are just playing free-flowing handball, with a superb attack, firing from all cylinders in every game. Even with their stars awarded some rest today, Denmark have still passed the 30-goal mark and will be waiting for Japan's game against Egypt now. If the Asian side do not win, Denmark have booked the quarter-final ticket.
Credit to Bahrain here, because they really tried their best. The difference is still quite big between the two sides, as proved also in the game that took place at the IHF Men's World Championship last January. But they can still develop, they proved that they belong here in the first two games and Aron Kristjansson will surely motivate his players to give it their all in the last two games against Japan (Friday, 30 July, 11:00 JST) and Egypt (Sunday, 1 August, 11:00 JST).
Denmark's last two games will be against Portugal (Friday, 30 July, 19:30 JST) and Sweden (Sunday, 1 August, 21:30 JST), two crucial games for their placement in the group. Right now, they are leading the group with six points and a superb +32 goal difference.
 
10:15 JST Will Andersson's injury hamper Denmark?

Jacobsen's cautious approach has been surely prompted by an injury suffered by back Lasse Andersson in the first half, as the back tweaked his ankle and is now resting on the bench. In such a difficult tournament, Denmark cannot afford any major injuries to their players, yet this is no reason for Mikkel Hansen to stop scoring. By the 46th minute, the score of the first half has already been tied, and it is plain sailing for Denmark, who will be starting their Olympic campaign with three wins in a row for the second time in their history, after London 2012. They finished sixth then, but this is surely a better overall performance than nine years ago.
The game is basically over, as Denmark are cruising now, leading 28:16 after 50 minutes, as Bahrain's coach, Aron Kristjansson, has called a time-out to weather the storm.
 
10:03 JST Eight goals in 10 minutes in the second half for Denmark

This is getting out of hand quickly for Bahrain, as Denmark stepped up their game a bit in attack. Mikkel Hansen is still on the court, but he is not leading the way, having scored only three goals. It's rather Johan a Plogv Hansen, the right wing, who is scoring at will for the Danish side (five goals so far).
For their part, Bahrain are doing admirably in their first-ever edition at the Olympic Games, in a match against the reigning champions. They could have saved a draw in the final second of the game against Sweden and came close against Portugal, losing both games by one goal. At least for this, their Tokyo 2020 campaign should be considered a success. Moreover, they are boasting players like Mohamed Ahmed, who had a fine tournament up until this point, scoring 15 goals in three games, irrespective of his penalty miss in the final second against Sweden. Denmark are leading 20:13 after 40 minutes and they will probably hit 30 goals again and win their third game in a row.
 
09:37 JST HALF-TIME Denmark vs Bahrain 12:7

There have been almost six minutes without a goal scored by the two sides, between the 16th and the 23th minute, with Bahrain unable to take advantage of Denmark's changes. This is an atypical Denmark, a side who scored an average of 33.8 goals per game at the 2021 IHF Men's World Championship and an average of 39.5 goals per game at Tokyo 2020. But make no mistake, if Jacobsen's side do find their groove, they are nearly unstoppable, just ask Bahrain, who were handed a 20:32 loss only six months ago.
As Mikkel Hansen took the court in the end of the first half, Denmark's attack improved a bit, including a last-gasp goal from Faroese-born right wing Johan a Plogv Hansen, who is Denmark's top scorer in this game with three goals, after a ball turned over by Bahrain's attack. It is 12:7 at the break for Denmark and coach Nikolaj Jacobsen duly accomplished his plan: giving key players a rest, but play strong enough to be able to secure a win.
 
09:27 JST Jacobsen changing the lines… and Bahrain are in with a chance

Denmark changed lines and Bahrain are managing to stay afloat. This is not to say that the Scandinavian side is treating this game as fodder, yet the tournament is long and you cannot blame coach Nikolaj Jacobsen for ushering new players in. Denmark scored with 70% of their attacks, but their many turnovers are their undoing in this game.
However, Bahrain are missing shot after shot, therefore there is no surprise that Denmark are still leading, 7:5, despite only shooting 10 times in the first 20 minutes of the game. Goalkeeper Kevin Moller, who substituted Niklas Landin between the posts, has saved four shots, for a 44% saving efficiency. Could Bahrain spring a surprise?
 
09:14 JST Denmark staying true to their roots

Donning their golden shirts, Bahrain hoped it would be a lucky charm. Yet, against a powerhouse such as Denmark, lucky charms are hard to work. The Scandinavian powerhouse used a 4:0 run to jump to a 5:1 lead, with backs Jacob Holm, Mathias Gidsel and Mikkel Hansen combining for four goals.
It is the same tactic for Denmark, run as fast as they can and outscore opponents with the immense talent they have on display and it looks like it is working for the third time at Tokyo 2020. If the score stays the same, Denmark will hope that Japan do not win against Egypt and they will be through to the quarter-finals.
 
08:55 JST Denmark eye third consecutive win

Day 5 of the Tokyo 2020 Olympic handball tournament is upon us and we are treated, for starters, with a game featuring the reigning Olympic and world champions Denmark. The Scandinavian side have been unstoppable at Tokyo 2020, scoring at free will, boasting an average of 39.5 scored goals per game.
Their opponent is Bahrain, a side that lost their first two games, against Sweden (31:32) and Portugal (25:26) by the slightest of margins. The two teams also met in January at the IHF Men's World Championship, with Denmark taking a convincing win, 34:20. Yet this game might be a bit different, as Bahrain did not have coach Aron Kristjansson on the bench.
Ready? Let's watch handball together.
 
08:45 JST First decisions in round 3?

The first three clashes of the day are all scheduled in Group B, therefore we could have our first answers in this Olympic men's handball tournament.
If Denmark and Sweden win against Bahrain and Portugal and Japan do not win against Egypt, the two Scandinavian sides will become the first teams to progress to the quarter-finals, as they would boast a six-point lead ahead of Bahrain and Japan (five if Japan draw against Egypt), with only two matches to go.
The reigning Olympic champions have been scoring for fun in this tournament, by far the best attack, with 79 goals scored in two games – an average of 39.5 goals per game – while Sweden boast the top goal scorer of the tournament, left wing Hampus Wanne, with 21 goals in two games.
Make sure to tune in, as the group phase is getting more interesting than ever at Tokyo 2020.
After two rounds, Denmark (+22 goal difference) and Sweden (+3) are topping the table with four points, followed by Egypt (+1) and Portugal (-5) with two points each, while Bahrain (-2) and Japan (-19) are ending the standings, with zero points. 
All the relevant statistics, the standings and the schedule for the men's Tokyo 2020 Olympic Games tournament can be found here.