Qatar dominate final to retain Asian Championship
28 Jan. 2020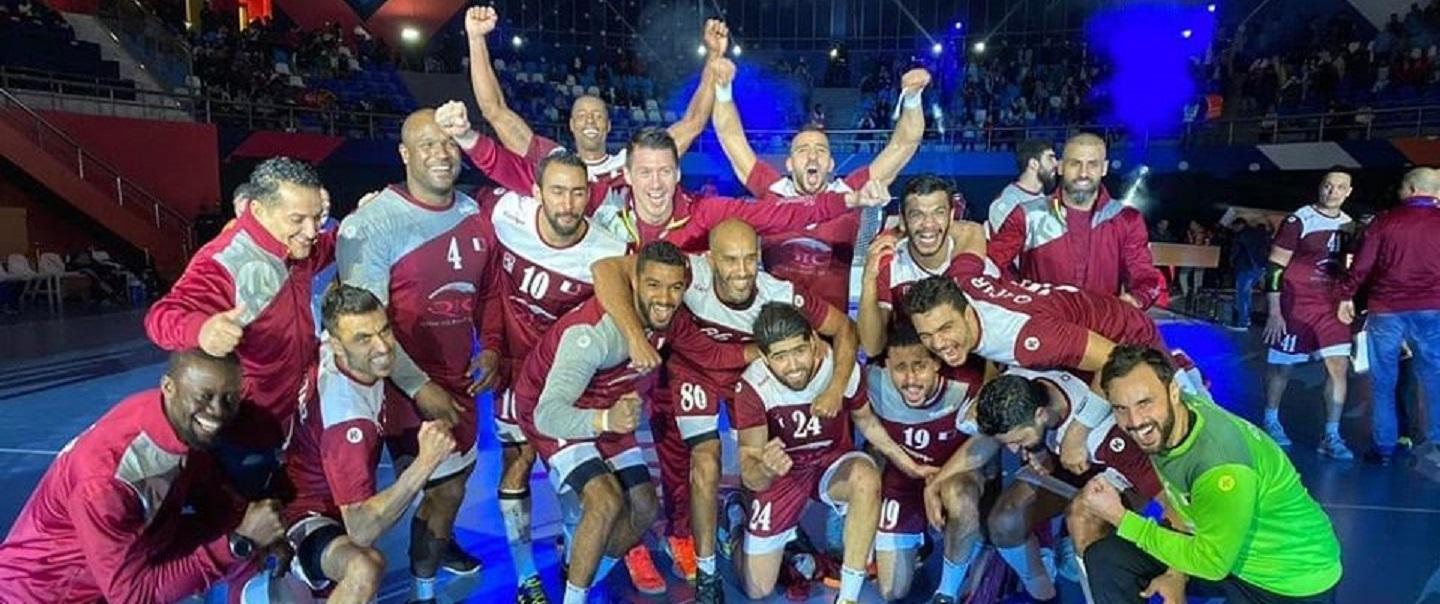 After IHF.info brought you all the information on the completion of the preliminary round of the 19th AHF Men's Asian Championship in Kuwait, 28 games across six days have taken place, ending with Qatar deafeating Republic of Korea 33:21(14:11) to retain the title they won in 2018.
13 teams were in Kuwait City competing for the continental title and a spot at the 2021 IHF Men's World Championship, to be held in Egypt, with a total of 43 games being played at the Saad Al-Abdullah sports arena.
The teams competing were: United Arab Emirates (UAE), Bahrain (BRN), Saudi Arabia (KSA), Japan (JPN), Korea (KOR), Qatar (QAT), Kuwait (KUW), Iran (IRI), Iraq (IRQ), P.R. of China (CHN), Hong Kong (HKG), New Zealand (NZL) and Australia (AUS).
Having won the AHF Men's Olympic Qualification Tournament in Qatar late last year to qualify to Tokyo 2020, defeating Qatar en route, Bahrain were the favourites going into the championship in Kuwait, but they suffered a shock defeat to Japan in their second main round game, 25:23, and then scraped past Saudi Arabia in their third main round encounter 18:17, with the Saudis outscoring them in the second half 11:8.
Despite these slight hiccups, this was enough for Icelandic coach Aron Kristjansson's side to set up a semi-final against the continental powerhouse of recent years, Qatar. Like Bahrain, the Qataris had won all their preliminary group games but were more impressive in the main round, dispatching Korea (34:27), Iran (31:25) and host nation Kuwait (29:23) with ease.
Japan and Korea faced each other in the other semi-final, after both had lost one game each in their preliminary groups, against Qatar and Saudi Arabia respectively. 
However, the main round was a different story for the teams as Japan easily defeated Saudi Arabia (30:22) and the UAE (31:19) to add to that shock defeat of Bahrain, who featured 13 players out of the 16 who had won that Olympic Qualification Tournament. Despite losing to Qatar in their first main round match, Korea went on to beat Kuwait (34:27) and drew with Iran (24:24). 
The results for Japan and Korea, combined with host nation Kuwait losing all three of their main round games, the same as Saudi Arabia – a massive disappointment for both teams after they had won all their preliminary group games – were enough for Japan to win their main round group and Korea to finish second.
The first semi-final was a thriller with the teams locked at 29:29 after normal time – this despite Japan having taken a 19:16 half-time lead. But Korea came back in the first period of extra time, winning 5:3, to take the match 34:32 as Kim Jinyoung top-scored with nine goals.
The second semi-final was more straightforward, with Qatar getting revenge over Bahrain, winning 28:24 (14:11), with Frankis Marzo scoring six goals.
The clash of the Icelandic coaches in the bronze medal match was won by Dagur Sigurdsson and his Japan side, who overcame a 15:14 deficit to win in the last moments 27:26, as Shinnosuke Tokuda struck seven times to ensure his nation won their last competitive match before Tokyo 2020.
Qatar retained their title in a one-sided affair, with Marzo again the top-scorer with eight goals, as he propelled his nation to the continental gold medal.
All four teams who made the semi-finals qualified automatically for Egypt 2021 and with Oceania teams Australia and New Zealand only finishing in the bottom two ranking places (12th and 13th), the continental qualification place for Oceania for Egypt 2021 will now be transferred to a wild card.
All games were streamed live on Kuwait TV (KTV) and for more information from the 2020 AHF Men's Asian Championship, visit the official AHF website and social channels:
Website 
Instagram
Twitter 
Facebook
Final Rankings:
1. Qatar*
2. Korea* (Already qualified for Olympic Qualification Tournament)
3. Japan* (Qualified for Tokyo 2020 Olympic Games – Host Nation)
4. Bahrain* (Qualified for Tokyo 2020 Olympic Games – Winner AHF Men's Asian Qualification Tournament)
5. United Arab Emirates
6. Iran
7. Saudi Arabia
8. Kuwait
9. Iraq
10. Hong Kong
11. China
12. Australia
13. New Zealand
*Qualified for 2021 IHF Men's World Championship
PHOTO: QATAR HANDBALL ASSOCIATION