20 Jan. 2020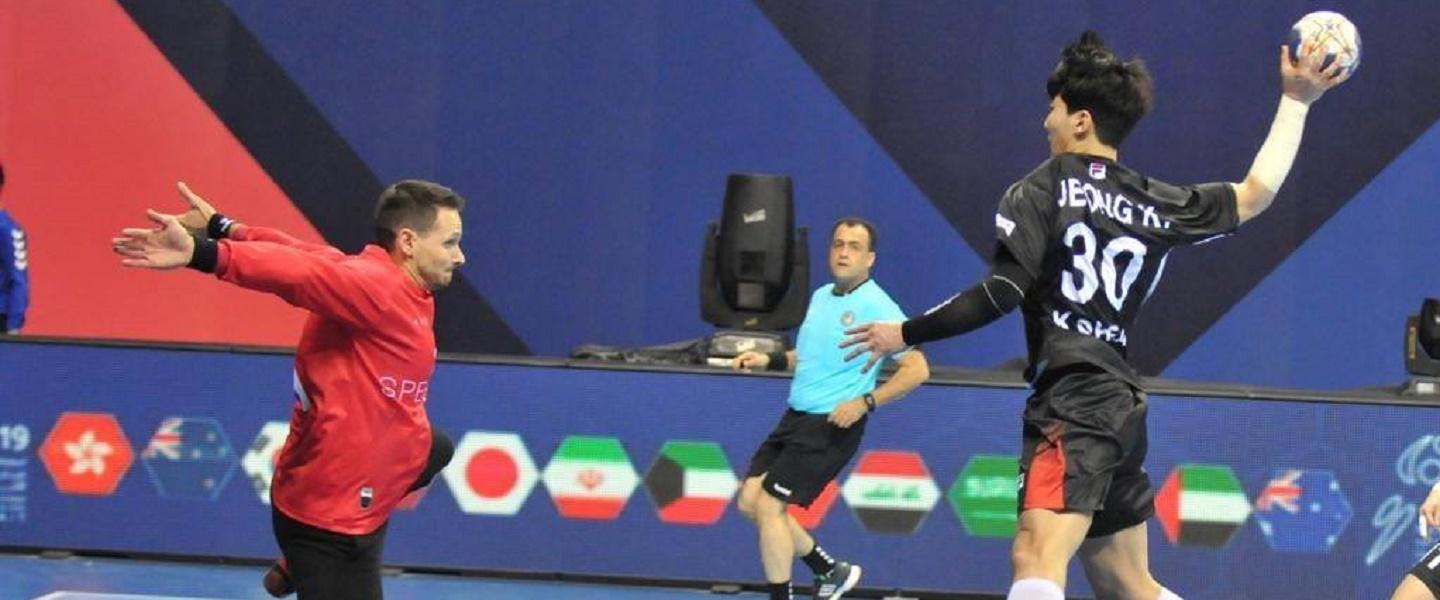 The main round of the 19th AHF Men's Asian Championship started today (Monday 20 January) in Kuwait after the preliminary group stage completed after 15 games.
13 teams are in Kuwait City competing for the continental title and a spot at the 2021 IHF Men's World Championship, to be held in Egypt, with all 43 games in total being played at the Saad Al-Abdullah sports arena.
After an impressive opening ceremony, the preliminary round took place over three days (16-18 January). In Preliminary Group A, Tokyo 2020-qualified Bahrain won both their games against Iran (22:20) and New Zealand (45:16) to win the group, with Iran joining them in the main round, after they defeated the Oceania side 53:21.
Group B was won by Qatar, but they were made to work, with Jordi Ribera's side coming back from a 16:17 half-time deficit against Dagur Sigurdsson's Japan side, to win 36:28. Both Qatar and Japan beat PR of China to confirm their spots in the main round in first and second respectively.
Saudi Arabia defeated Republic of Korea 29:27 after trailing 13:15 at half-time to secure Group C, with both teams defeating Australia to ensure a final eight spot.
Host nation Kuwait won all three games in Group D, the only group with four teams, defeating UAE (20:17), Iraq (25:22) and Hong Kong (42:18). The battle for second place was won by the UAE as they narrowly defeated Iraq 20:19, after leading by two at the break (10:8).
Current Asian champions Qatar were the strongest team going through to the last eight with the biggest goal difference (+39) out of all 13 teams and the most goals scored per game (85 in three), although Kuwait scored 87 in four matches.
The results mean that the schedule has now been confirmed for the main round and for the entire 9-13 Placement Round. The main round features two groups of four teams each. The top two teams in each of those groups will then face off in the semi-finals, the winners of which will compete for the Asian title.
All four teams in the semi-finals will qualify automatically for Egypt 2021 and now it has been confirmed that Oceania teams Australia and New Zealand can only finish in sixth place or lower, the continental qualification place for Oceania for Egypt 2021 will be transferred to a wild card.
All games are streamed live on Kuwait TV (KTV), view the stream HERE. 
Follow the 2020 AHF Men's Asian Championship via the official AHF website and social channels:
Website 
Instagram 
Twitter 
Facebook 
2020 AHF Men's Asian Championship – Match Schedule
All times local, schedule subject to change
Main Round – Group 1: United Arab Emirates (UAE), Bahrain (BRN), Saudi Arabia (KSA), Japan (JPN)
Main Round – Group 2: Republic of Korea (KOR), Qatar (QAT), Kuwait (KUW), Iran (IRI)
9-13 Placement Round: Iraq (IRQ), PR of China (CHN), Hong Kong (HKG), New Zealand (NZL), Australia (AUS)
Monday 20 January
9-13 Placement Round
10:00 IRQ vs CHN
12:00 HKG vs NZL
Main Round
14:00 UAE vs BRN
16:00 KSA vs JPN
18:00 KOR vs QAT
20:00 KUW vs IRI
Tuesday 21 January
9-13 Placement Round
10:00 AUS vs IRQ
12:00 CHN vs HKG
Main Round
14:00 BRN vs JPN
16:00 UAE vs KSA
18:00 IRI vs QAT
20:00 KUW vs KOR
Wednesday 22 January
Rest Day
Thursday 23 January
9-13 Placement Round
10:00 AUS vs CHN
12:00 IRQ vs NZL
Main Round
14:00 JPN vs UAE
16:00 BRN vs KSA
18:00 IRI vs KOR
20:00 QAT vs KUW
Friday 24 January
Rest Day
Saturday 25 January
9-13 Placement Round
10:00 HKG vs IRQ
12:00 AUS vs NZL
14:00    7/8 Placement Match
16:00    5/6 Placement Match
18:00    Semi-Final 1
20:00    Semi-Final 2
Sunday 26 January
9-13 Placement Round
15:00 HKG vs AUS
17:00 NZL vs CHN
Monday 27 January
16:30    Bronze Medal match
18:30     Final/Gold Medal Match
RESULTS
Preliminary Round
Thursday 16 January
HKG vs UAE 11:38 (4:21)
NZL vs BRN 16:45 (8:21)
CHN vs QAT 18:49 (8:23)
AUS vs KOR 20:40 (7:24)
IRQ vs KUW 22:25 (9:11)
Friday 17 January
IRI vs NZL 53:21 (22:11)
JPN vs CHN 39:16 (17:9)
KSA vs AUS 37:15 (19:8)
IRQ vs UAE 19:20 (8:10)
HKG vs KUW 18:42 (11:18)
Saturday 18 January
KOR vs KSA 27:29 (15:13)
BRN vs IRI 22:20 (14:11)
HKG vs IRQ 22:43 (9:24)
QAT vs JPN 36:28 (16:17)
KUW vs UAE 20:17 (11:10)
Sunday 19 January
Rest Day
Photo: Asian Handball Federation