All eyes on the North Macedonia 2022 semi-finals
08 Aug. 2022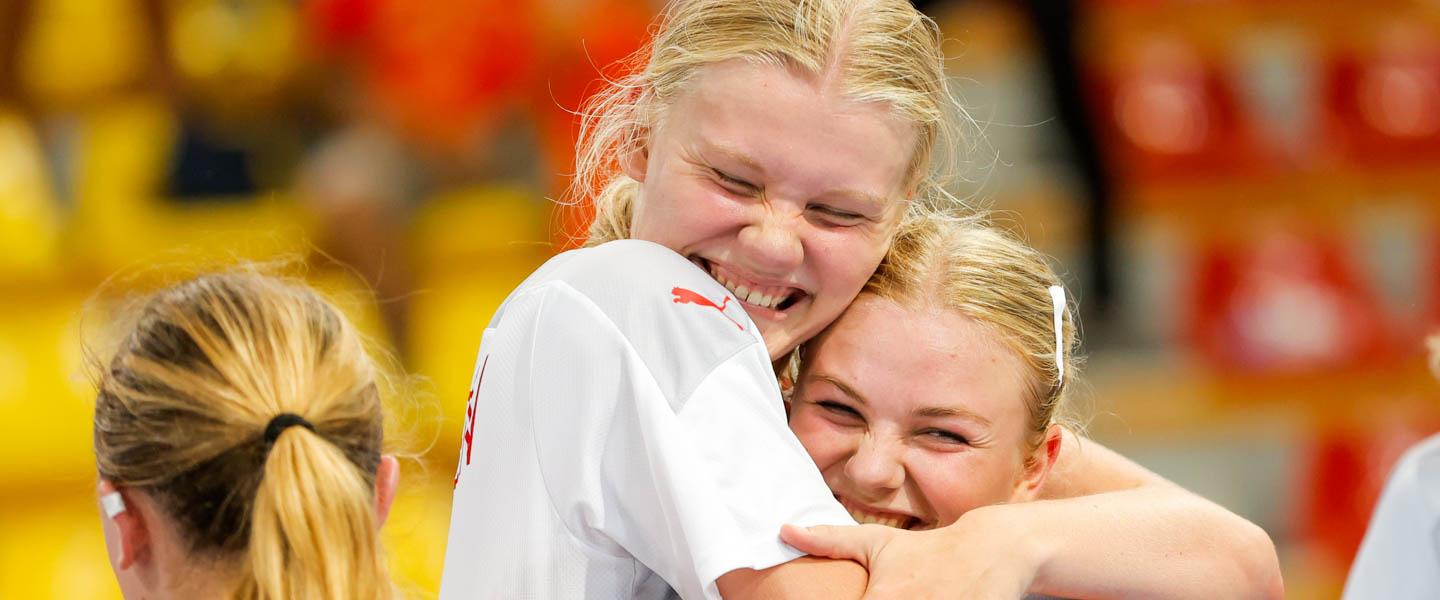 Live blog: Now we know! Denmark and Republic of Korea are in the final. A nail-biting match between the two powerhouses awaits us on Wednesday. Before that, the Netherlands and Hungary will battle for the bronze medal. France and Sweden play for fifth place, the two surprise teams Iceland and Egypt for seventh place.
The President's Cup ended today, with Spain emerging victorious and claiming the President's Cup trophy and 17th place.  
Now it's time for the last eight teams to recharge their batteries on the rest day and then be ready for their last matches at this IHF Women's Youth (U18) Handball World Championship on Wednesday.
Today's matches:
10:00 CEST 21/22: Switzerland vs Czech Republic (31:23) / 31/32: Algeria vs Uruguay (26:29) / 27/28: Senegal vs Kazakhstan (24:37)
12:00 CEST 23/24: Uzbekistan vs Austria (27:36) / 25/26: Slovakia vs Argentina (24:26)
13:30 CEST 29/30: Guinea vs India (38:28)
14:00 CEST 9/10: Germany vs Norway (24:32) / 15/16: Islamic Republic of Iran vs Brazil (26:29)
16:00 CEST 17/18 – President's Cup final: Montenegro vs Spain (20:26) / 11/12: North Macedonia vs Croatia (28:32)
17:00 CEST 19/20: Slovenia vs Faroe Islands (28:31)
18:15 CEST 5-8 Placement round: Iceland vs France (29:32) / Semi-finals: Netherlands vs Denmark (21:37)
20:00 CEST 13/14: Romania vs Portugal (32:35)
20:30 CEST 5-8 Placement round: Sweden vs Egypt (30:27) / Semi-finals: Republic of Korea vs Hungary (30:29)
21:58 CEST Full-time: Sweden vs Egypt 30:27 (14:13)
It was a nerve-wracking match for both sides, but Sweden were the superior side during most of it, and they ultimately snatched a three-goal win.
Ida Wall stopped 11 balls for a 39% saving efficiency, while the trio of Freja Wahlberg, Stella Huselius and Stina Wiksfors combined for 16 goals. In turn, Egypt's Miriam Omar Ibrahim became the top scorer of the game with eight goals, but it did not help the Africans.
On Wednesday, Sweden will face France in the 5/6 placement match, while Egypt, who have now lost three straight matches against European rivals, will try to end that unlucky run against Iceland in the 7/8 Placement Match.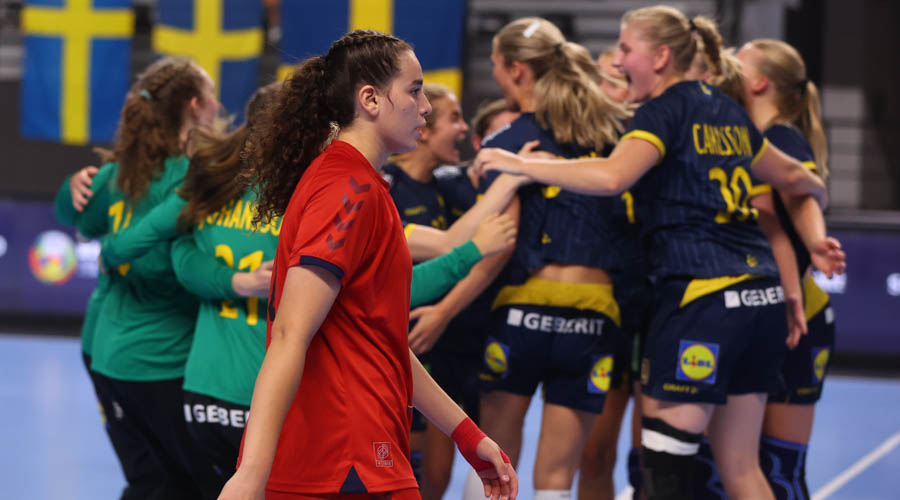 21:55 CEST Full-time: Republic of Korea vs Hungary 30:29 (17:16)
WHAT. A. MATCH. This seriously had all the ingredients of a top match for 2022, irrespective of the age category of whatever the league or the competition it was played in. The intensity, the speed, the twists and turns, the sublime actions from the Republic of Korea and the gritty defence and never-say-die attitude from Hungary. We could go on and on raving about what happened this evening in the Boris Trajkovski Sports Centre in Skopje, but the main take-away is that the final of the 2022 IHF Women's Youth World Championship will be played between Denmark and the Republic of Korea.
It has been a crazy game, but the Asian side stood tall and navigated through the difficult moments. And when push came to shove, they were better in the crucial moments of the game, delivering at the precise time when it was needed the most. With their fast-paced brand of handball, Korea did just enough in attack to clinch the win, despite Hungary doing everything they could to save the match. Eventually, boosted by 13 goals from Minseo Kim and Seojin Kim, Korea clinched a 30:29 win, an outstanding performance, which helped them seal the seventh win in a row at North Macedonia 2022. And, most importantly, they also had a strong goalkeeper in Gayeong Kim, who saved 10 shots, three of which came in the last four minutes, earning the Player of the Match award.
With a strong support behind them – Norway, Austria, Switzerland and Croatia all came to the arena to cheer for South Korea – the Asian side qualified for the final for the second time in history and for the first time since 2006. It is also the first semi-final they won after conceding two consecutive losses in 2016 and 2018. Hungary, on the other side, fought until the end, yet still conceded the first loss in the tournament and will now try to seal at least the bronze medal in Wednesday's match against the Netherlands.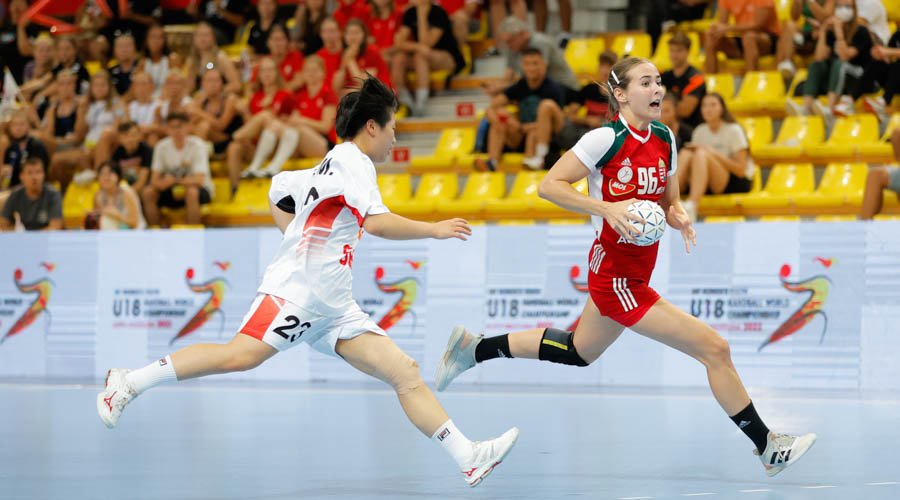 21:41 CEST Egypt managed to hit back
Sweden's goalkeeper Ida Wall made some more saves in the second half, while her teammate Stina Wiksfors scored five goals from five attempts throughout the game. Their individual effort combined with good team performance allowed Sweden to pull clear at 20:16 by the 39th minute.
However, Egypt once again weathered the storm and drew level midway through the second half, 21:21. So this is still anyone's game, which will probably be decided in the last minutes.
21:35 CEST Nip and tuck with a place in the final on the line
In the first half, Hungary hit the post five times and went down at a break by a single goal, despite creating the clear-cut chances needed to take back the lead. Improving their efficiency in the second half was key and this is exactly what Hungary did, deploying a 5:1 run that proved to be crucial to start the second part of the match. Some lucky goals were involved, but this time around, the post helped Hungary as they forced an early timeout from the Republic of Korea, whose attack was stopped in its tracks. However, this game is just a testament to how good Korea are. Hungary have studied them intensively, know what to expect, as signalled by coach Beata Bohus, yet the Asian side could hardly be stopped in the first 30 minutes.
Sure enough, after Korea's timeout, the tide started to turn once again. The Asian side deployed their own 4:1 run to tie the game, 22:22, with Seojin Kim and Minseo Kim scoring six and five goals respectively, which took their overall tally to 50 and 49 goals in the tournament. Right now, with 15 minutes to go, Hungary boast a one-goal lead, 24:23, but anything can happen in this game. Shall we see extra time?
21:34 CEST Full-time: Romania vs Portugal 32:35 (20:17)
After 45 minutes, Portugal had turned a three-goal deficit into a one-goal lead. This thanks to a 3-0 and 4-0 run. 
After that, it was a cat-and-mouse game in which the southern Europeans ultimately had the upper hand. This was also thanks to goalkeeper Rita Guimaraes, who had 12 saves, and Constança Sequeira, who scored 13 goals. She was thus by far the best scorer of the match. Romania's Maria Diana Lixandroiu scored seven times. 
In terms of efficiency, both teams were almost equal with 56% (Romania) and 58% (Portugal). What should annoy the Eastern Europeans is that they missed half of their penalties. 
While Portugal are ranked 13th, their second best result at an IHF Women's Youth Handball World Championship Romania equal their worst result. In 2016 they were also 14th, otherwise always in the top10. 
21:09 CEST Half-time: Sweden vs Egypt 14:13
As Egypt's shot efficiency dropped to 59%, Sweden used a 3:0 run to pull in front 12:9 by the 25th minute. However, the Africans held their nerve and closed the gap to one goal. They even had a chance to draw level just before the break, but Jana Abdelkader's shot was saved by Ida Wall.
The Swedish goalkeeper, who replaced Lina Bergfeldt midway through the first half, entered the game well, saving four of nine shots. Wall's saves helped the Scandinavians to get in front, their advantage is small, and Egypt will try to fight back after the restart.
21:04 CEST Half-time: Republic of Korea vs Hungary 17:16
11 of Hungary's 16 goals were scored by Petra Simon and Liliána Csernyánszki, their two main backs in this game. They are surely missing centre back Julia Farkas, who went off with an injury after yesterday's game against Egypt, as Hungary are forced to play without the MVP of the W17 EHF EURO 2021. They coped well for the first 18 minutes, but when the Republic of Korea really got into the groove, they just took a 5:1 run and turned the game on its head, thanks to a good defence, that forced some turnovers from Hungary and a mind-boggling attack. Really, who tries in-flight goals at the IHF Women's Youth World Championship at a random moment in the first half? The sheer speed of Korea's attack is difficult to describe and it is even more difficult for Hungary to stop it. When they flip the switch, it's bye-bye and see you later.
This is exactly what Korea have done in the second part of this half and Hungary had no answer for it. Remember, this is a side that conceded 21 goals against France, 19 against Norway and 23 against Egypt. In a single half, in this semi-final, Hungary have shipped 17 goals, which is surely a worrying sign. And Korea have not relied on a single player, rather having three players score three goals each and one, Seojin Kim, adding four. Yet with a 3:0 run that prevented Korea to score, Hungary just crawled back into the game, but are still down at half-time by a single goal, 17:16. It is a very interesting final to watch, with two very evenly matched teams, who are giving it their all for the chance to play in the final.
20:48 CEST Sweden and Egypt go hand in hand
After losing their quarter-final matches, Sweden and Egypt continue the tournament in the 5-8 Placement Round, where they are facing each other now. This is actually the last match of the tournament at Jane Sandanski Sports Center, as all four games on Wednesday will be held at another arena, Boris Trajkovski Sports Center.
The opening 15 minutes saw some tight fight, which found reflection in an 8:8 score. Egypt are better at converting their shots, reaching a 78% shot efficiency, while Sweden have only 58%. However, the rivals keep going hand in hand, as none of them can pull cleats so far.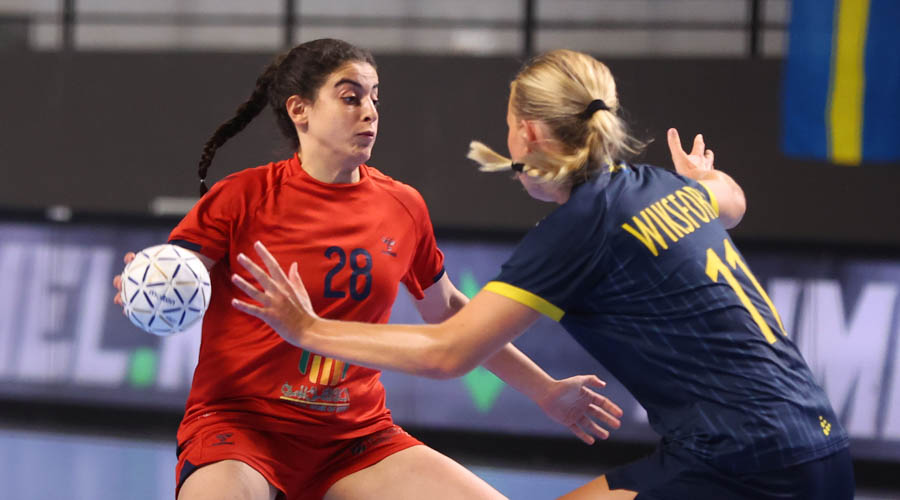 20:46 CEST Great teams collide in Skopje
Hungary have done a really good job at the start of the game to cut Korea's defence wide open and create open lanes where their backs could break through. Consequentially, the Republic of Korea tried to adapt and filled those lanes, but, in turn, left Hungary's wings wide open. This is how Hungary scored five goals in the first eight minutes and hit the post two times, as they were totally in control, especially in attack. Back Petra Simon scored twice and dished two assists in that span, as she consolidated her spot as one of Hungary's top players in this competition, despite playing in an unusual position, the right back.
But in defence, Hungary really had to work hard to stop the Republic of Korea. The high-paced style of the Asian side, which constantly dazzles and helps find open players who can then score has not been stopped by any side in this competition. More importantly, Korea faced only European opponents, so that experience might come in handy now. Yet their top scorers at North Macedonia, Seojin Kim and Minseo Kim have only scored one goal each after 15 minutes. It is a matter of whether Hungary can keep scoring at this pace, as they are leading, 7:5. If they do, they will win the match, because when forced to shoot from the 9-metre line, Korea cannot simply put up the required numbers.
20:35 CEST Half-time: Romania vs Portugal 20:17
So far, Romania is slightly ahead in the competition for 13th place. And this despite the fact that both teams are actually on an equal footing. Sometimes one team led, sometimes the other. Until Romania pulled away to four goals in the 28th minute. Portugal was able to score a second goal, but went into the break trailing. 
Both sides changed players at the goalkeeper position, Portugal even had a third goalkeeper. The southern Europeans made eight saves, while the other side only made four. Maria Diana Lixandroiu and Anamaria Mihaela Grigore have scored nine goals for Romania so far. Constança Sequeira (six) and Luciana Rebelo (five) provide the goals for the opponents.  
Will the second half be as evenly matched or will one team be able to pull away decisively?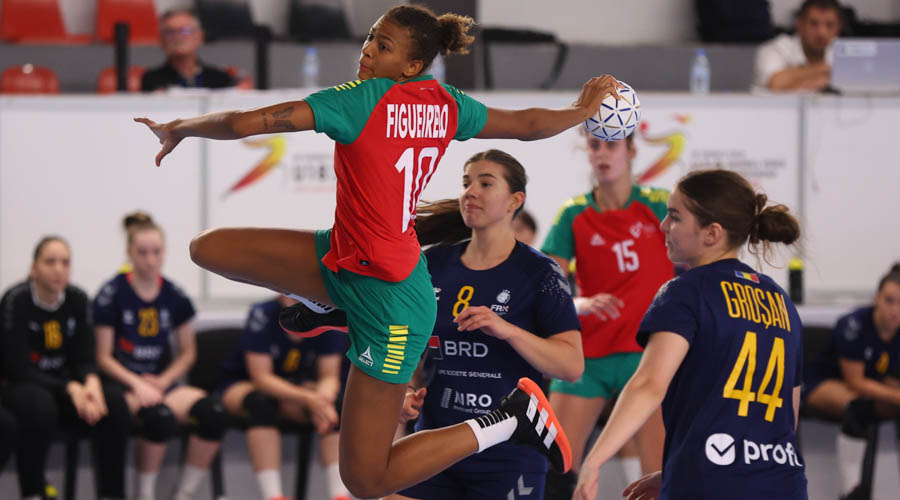 19:44 CEST Full-time: Iceland vs France 29:32 (14:17)
France opened this match with a 5:1 run – and ultimately won by three goals. Iceland fought hard and had some good spells in the game, but overall they did not have enough quality to match their rivals. Probably the French goalkeepers Shana Wanda and Emma Lazzari underperformed, combining for just six saves, but solid defence and a free-flowing attack made up for it. In particular, left back Lylou Borg was on fire, making a difference with her 10 goals.
On Wednesday, France will fight for fifth place against either Egypt or Sweden, whose encounter is about to start at 20:30 tonight. The loser of that clash will meet Iceland in the 7-8 Placement Match, which will also be played the day after tomorrow.
19:35 CEST Full-time: Netherlands vs Denmark 21:37 (13:21)
At the end of a superb match for Denmark, where they earned an early lead and never looked back, the Scandinavian side collected their seventh consecutive win at North Macedonia 2022. One that was synonymous with qualifying for the final of the IHF Women's Youth World Championship for the fourth time in history and for the first time since 2016, with a clear win against the Netherlands, 37:21, Denmark's largest in the competition so far. It was total domination on both sides of the ball by the Scandinavian side, who clearly has a huge potential, with a great generation that is surely led by Julie Mathiesen Scaglione. The 17-year-old left back has scored eight goals in the game to take her overall tally to 52 goals, only four goals shy of the first place in the top goal scorer standings, currently co-held by Croatia's Andeja Zagar and Uzbekistan's Sevinch Erkabaeva, with 56 goals.
However, this is not all about the current Denmark side. They have some great team spirit, and an amazing defence, which is surely one of the top three at North Macedonia 2022 and can rotate two goalkeepers with some similar statistics, handing a rest to the other when she is not in the best spirits. Denmark have assured a medal now, their sixth in eight editions of the competition, the best record for a single team in history. They could also leapfrog Russia in the all-time medal table with a gold medal. Moreover, they just secured their largest win in the competition at North Macedonia 2022 and set the second largest win in history in the semi-finals at the IHF Women's Youth World Championship, just one goal shy of Sweden's record of 17 goals, 37:20, in 2010, against the same opponent, the Netherlands.
On the other hand, the Netherlands made it so far with great character and spirit, securing an impressive, if nail-biting win in the quarter-finals against Iceland yesterday. This time around, they stood no chance, being outclassed in every department on the court. But they will still fight for the bronze medal on Wednesday, capping off an incredible summer for them, after having already secured the bronze medal last month at the IHF Women's Junior World Championship.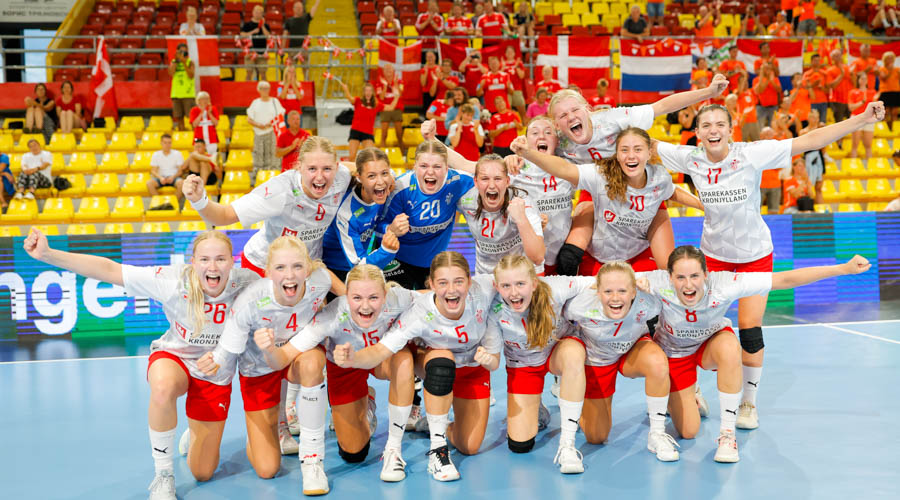 19:24 CEST France play with confidence
France are more and more likely to win this match and continue fighting for fifth place. After 45 minutes, they are holding a six-goal lead, 25:19. After the break, Iceland have been trying to hit back, but without success. The French are defending well, and Lylou Borg has already scored eight goals.
Of course, Iceland still have a chance to mount a heroic comeback in the remaining time. But France play consistently and confidently, and it does not look like they will let the victory slip away.
19:19 CEST No question about the winner
Left back Julie Mathiesen Scaglione is unstoppable in this match. We have heard this many times at North Macedonia 2022, but she really plays in a league of her own, displaying some great skills, both in shooting and in playmaking. After only 33 minutes in the game, she just hit the 50-goal mark in the tournament, improving her tally to seven goals in this match, as the Dutch defence simply cannot cope with her. But it is not only Scaglione who is shining, it is the whole Denmark team, who are really looking like title contenders and will surely earn their seventh win in a row at North Macedonia 2022.
They have outplayed, outfoxed and stopped the Netherlands throughout the whole game, leaving no question about who the winner will be in this match. Denmark will deservedly qualify for the final, as they are now leading, 28:15, after 45 minutes. It has been a masterclass of handball by the Scandinavian side, who, once again, proved they are a complete team on both sides of the ball. But will that be enough for the title?
18:53 CEST Half-time: Iceland vs France 14:17
After a slow start, Iceland hit back to lead 12:10 by the 19th minute, and France also needed a time-out to adjust their game. It seemed to work, helping the French to open a three-goal lead at the break.
However, nothing is yet decided in this 5-8 Placement Round match. France converted their shots slightly better, 63% against 58%, but Iceland also have their trump cards – such as Kartin Asmundsdottir, who scored six goals.
Both sides can improve their goalkeeping, especially France, as Shana Wanda and Emma Lazzari made only three saves combines in the opening 30 minutes.
18:49 CEST Half-time: Netherlands vs Denmark 13:21
The difference between these two teams is telling, just by looking at their previous results at North Macedonia 2022. Those do not really tell the whole story, but Denmark's six-game winning streak was surely something that could be used to turn the balance in their favour before the game, especially with Netherlands losing players such as influential as centre back Jalisha Loy. Well, if previous results are an indicator, then Denmark surely have confirmed the expectations in the first half, which they thoroughly dominated, even creating a six-goal gap, 17:11, at one point in the match.
It was not about only Scaglione or With Johansen, but the whole team, starting with the defence and finishing with even the role players. And, most importantly, they duly delivered irrespectively of what Netherlands threw at them. Trying to block Denmark's two best backs, the Dutch side deployed a man-to-man coverage on them, only to see themselves beaten every time they tried the new tactic. With Scaglione, Johansen and right wing Laura Galle Hansen running the show, scoring four goals each, Denmark have opened a huge gap at the break, 21:13, which is the second-largest in history in such a match, with the record being a 10-goal gap set by Serbia against Denmark, 15:5, in 2008.
18:32 CEST Iceland needed time to wake up
The maiden World Championship has already become a success for Iceland, who managed to reach the quarter-final before narrowly losing against Netherlands. In the 5-8 Placement Round, they are now playing against France, who hoped to win their first ever medal at this level but were unable to overcome the Danish barrier yesterday.
Iceland had to take an early timeout already six minutes into the match. By that time, they were down 1:5, as France stood well in defence and scored from fast counterattacks. After listening to the coach's instructions, Iceland increased their goal efficiency to 67%, which is just the same as France has. While the French are still in front, 10:9 in the 16th minute, the situation may change quickly in this match.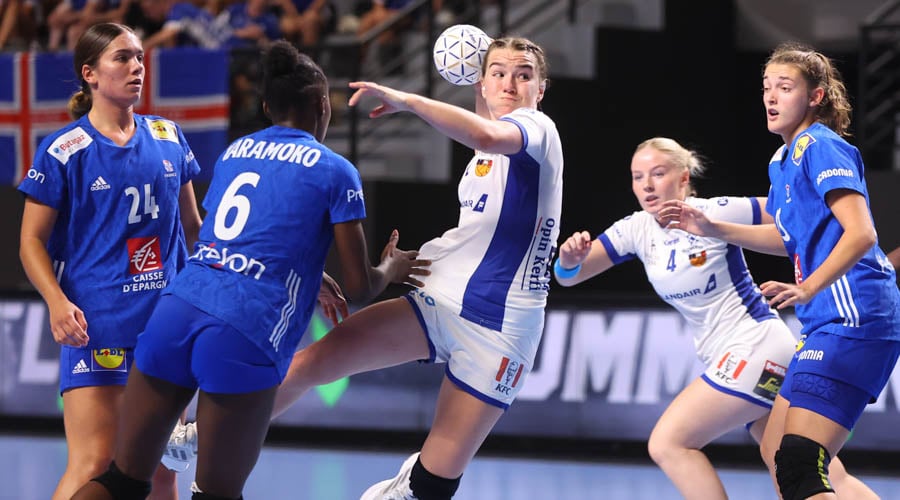 18:31 CEST Denmark in firm control of the first semi-final
Riding a 5:1 run after conceding the first goal of the game, Denmark have made this game easier for themselves. The two-time world champion in this age category have always looked in control at North Macedonia 2022 and there is no obvious difference in this game, as they have been constantly finding ways to score, with clever breakthroughs and strong shots. Of course, it goes without saying that their two best players were backs Julie Mathiesen Scaglione and Anne With Johansen. We have talked a lot about what Scaglione does on the court for Denmark, but her input has been truly crucial, as defences have to take better care of her, leaving more space open for Denmark's other players.
The Dutch side is clearly feeling the loss of centre back Jalisha Loy, who left the court injured in the quarter-final against Iceland yesterday. There is certainly a lack of impetus, creativity and speed in the Netherlands' attack and Denmark have really turned up the pressure here, with their traditionally strong defence. Adding some crunch saves from goalkeeper Ida Marie Kaysen, whose percentage over the first 13 minutes was 42.8%, Denmark really have this game in control, leading 8:4. Only three saves in a row from goalkeeper Nikki van der Vorst managed to keep Netherlands in the match so far.
18:22 CEST Full-time: Slovenia vs Faroe Islands 28:31 (12:16)
Faroe Islands made it exciting again in the second half. This was also because their scoring rate dropped below 60%. 
The six-goal lead from the 36th minute melted away more and more and Slovenia equalised in the 45th minute. But they did not manage to take the lead. Instead, the northern Europeans kept putting a goal ahead. But in the 57th minute, they were able to increase the gap again. 
Saša Posega prevented a higher defeat. The goalkeeper shone with 13 saves. Faroe Island's Silja Arngrimsdottir Müller, on the other hand, was a disappointment with only six saves. Her team-mate Anna Elisabeth Halsdottir Weyhe, on the other hand, had a good showing with eight goals and was the most successful scorer. For the Eastern Europeans, three players shared the "crown" with six goals each: Nena Černigoj, Azra Zulić and Lara Bukovec. 
With 20th place, Slovenia ended this World Championship with their worst ever result. The debutants, on the other hand, can be very satisfied with 19th place and it will be interesting to see how the young players develop. The potential is there and maybe we will see one or the other in two years at the U20 World Championships.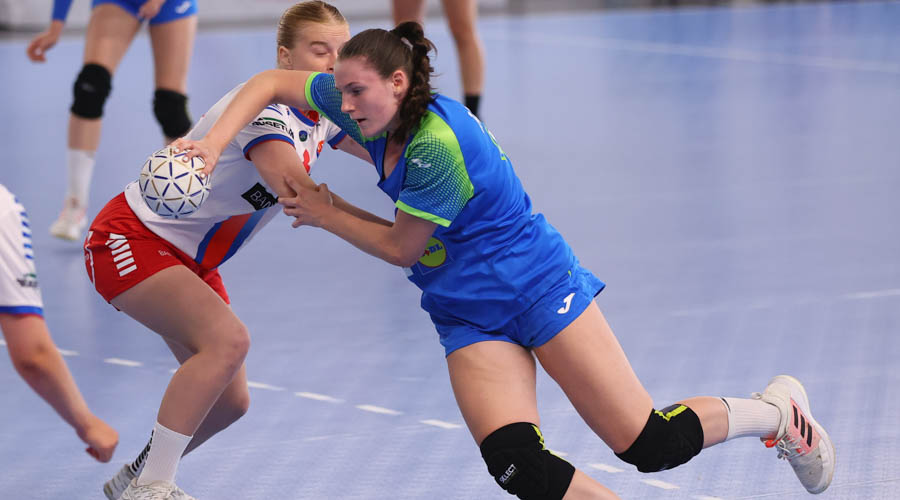 17:37 CEST Half-time: Slovenia vs Faroe Islands 12:16
Faroe Islands go into the break with the lead, but they could only increase it by one goal in the last 15 minutes. 
Slovenia only managed to increase their scoring rate marginally to 52%, while the Northern Europeans settled at 64%. What could cost Slovenia dearly, in the end, is that they couldn't convert all the penalties either. Where they are efficient is their fastbreak goals, here they score every time. Faroe Islands can boast 100% on their shots from 9m. But their goalkeeper is lacking. Silja Arngrimsdottir Müller has only saved 3 of 15 shots so far. On the other side, there was a change. After Zala Vuk could only save one out of ten balls, Saša Posega is now between the posts, who has saved 4 out of 11. Faroe Island's Anna Elisabeth Halsdottir Weyhe was the top scorer, netting five of her six attempts.
17:35 CEST Full-time: Montenegro vs Spain 20:26 (9:12)
Montenegro struggled in attack in 10 opening minutes of both halves, which probably cost them a victory. At least Spain were more stable and consistent, so their six-goal victory looks quite deserved. Eider Poles Olucha became their top scorer with six goals, while Jelena Vukcevic and Nikolina Markovic netted four times each for Montenegro.
After the final whistle, Spain were awarded the President's Cup by Joёl Delplanque, 1st Vice-President of the IHF. In the preliminary round, the Iberian team lost against Hungary and France, missing a main round spot, but went on to win their next five encounters, which allowed them to take a consolation trophy.
Overall, the Spaniards finished 17th at North Macedonia 2022, while Montenegro took the 18th position.
17:24 CEST Full-time: North Macedonia vs Croatia 28:32 (10:20)
Note to self: nothing is impossible in handball. Croatia really packed it in after opening the 12-goal gap, 25:13, in the 37th minute. What followed was a 10:1 run from North Macedonia, that cut the lead to only three goals, as the leading side simply failed to turn up on the court. Misses, passes thrown into the stands, balls that went out of their control… Name it, they had it. Only after the second timeout was called late by their coach, in the 49th minute, did everything start to get back into place. Establishing a rhythm in attack was crucial, as they used their own 3:0 run to put some distance and totally disrupt North Macedonia's momentum. Eventually, North Macedonia could only cut the final gap to four goals, 32:28.
This game was truly a tale of two halves for both sides, mirrored in the first and the last 30 minutes. But Croatia's gap, secured in the first half, was too big and eventually, they finished in 11th place, with North Macedonia just behind them. Unfortunately for Andjela Zagar, her eight goals in this game were simply not enough to clinch first place in the top goal scorer standings after the penultimate day of the 2022 IHF Women's Youth World Championship. Her tally in the competition is now 55 goals, which is enough for second place, just one goal behind Uzbekistan's Sevinch Erkabaeva.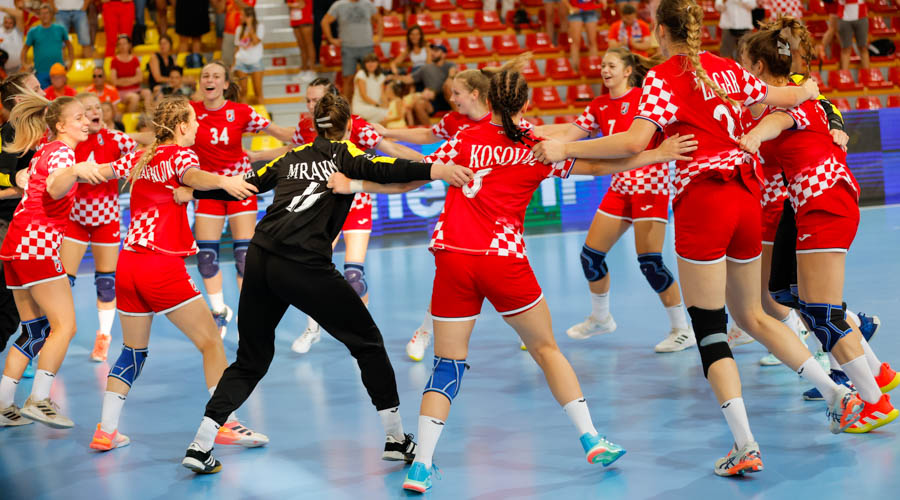 17:16 CEST Still all possible in the match between Slovenia and Faroe Islands
Can Faroe Islands cap their debut with 19th? Either way, it's just "result cosmetics" for Slovenia, because whether they finish 19th or 20th, it's their worst result. They finished 5th in their first participation and 16th last time. 
Slovenia are lucky to be only three goals down after 15 minutes with only a 50% scoring rate. Faroe Islands, on the other hand, have an above-average 80% so far. None of the goalkeepers has stood out so far, with only two saves on either side. 
17:07 CEST Spain edge closer to consolation trophy
Montenegro and Spain keep fighting for the President's Cup, and after 45 minutes, the Spanish team are still in front, 19:15.
Just like in the first half, Montenegro struggled in attack during the 10 opening minutes of the second half, allowing their rivals to pull clear at 16:10. And although the Balkan team improved their game and restored their scoring abilities, later on, a four-goal deficit does not look too optimistic for them with 15 minutes remaining. However, nothing is yet lost, so Montenegro will try to hit back.
17:03 CEST Croatia keep North Macedonia at arm's length
There is not a lot to report on this game, other than Croatia are cruising to a win, which will be their second-largest at North Macedonia 2022. The European side has surely put up some great performances in attack, as they will probably end as the team with the largest number of goal scorers on average in this tournament, continuing their attacking prowess also against North Macedonia. The hosts have simply not been up to par in this game, turning over the ball too many times, while Croatia thoroughly dominated. They did slip a 13-goal lead diminish to only seven goals, 25:18, with 17 minutes to go, but those fluctuations are understandable at this level.
It is virtually impossible to see North Macedonia mount a comeback, but Croatia are definitely not playing at a full level right now. Despite their 4:0 run, North Macedonia have simply not been able to compete with their opponents today.
16:37 Half-time: Montenegro vs Spain 9:12
In the President's Cup final, both teams looked nervous in the beginning and missed many chances - especially Montenegro, who scored only two goals by the 16th minute. 
But then the Balkan team woke up after a slow start and started to catch up. Spain are still in front, but a three-goal lead with 30 minutes to go does not secure anything for them. In any case, the second half should be exciting to watch.
16:34 CEST Half-time: North Macedonia vs Croatia 10:20
For ten minutes, North Macedonia's attack stopped producing any meaningful threat to Croatia. With the turnovers piling up and misses racking up, Croatia duly took advantage and went on a 9:1 run that opened up an eight-goal lead. Not even a timeout from the hosts managed to stop the rut, as Croatia transformed balls won in defence to easy goals on fastbreaks, four of those nine goals coming in one-on-one situations with the North Macedonian goalkeeper. With the morale downed by this run, the hosts failed to come back and are now down ten goals at the break, 10:20, as everything points to their third loss in a row.
With the win virtually in the bag for Croatia, we focus our attention on watching Anđela Žagar. She scored six goals in this first half, improving her overall tally at North Macedonia to 53 goals. She only needs four more to leapfrog Erkabaeva, which looks attainable, especially if she continues to be on penalty duty like she was throughout the tournament.
16:17 CEST Spain pull in front in the fight for President's Cup
Montenegro and Spain were frustrated not to reach the main round, but both teams focused on winning the President's Cup – and so far, they have won all their matches in it.
But only one of the teams will claim the consolation trophy, and now it looks like Spain have a better chance. After 15 minutes, they are in front 6:2, as Montenegro needed almost 10 minutes to score their opening goal. Spain's goalkeeper Andrea Suarez Sanchez have saved four of six shots at the moment, inspiring the Iberian team to a lead.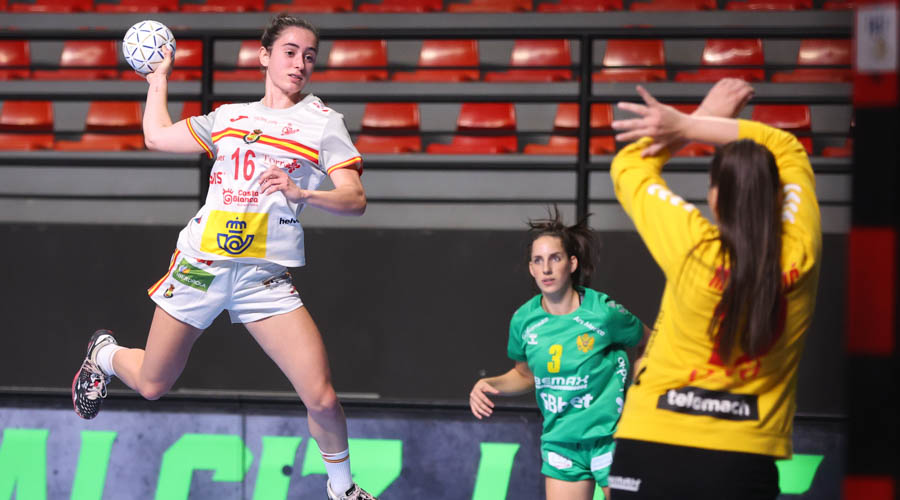 16:16 CEST: Battle of the backs 
Croatia went to a traumatising loss on penalties against Norway, 39:40, in the previous match, where no less than 13 penalties were shot by each team. However, they are aiming to finish on a high, the 11thplace at North Macedonia 2022, but they will have to win against the hosts, which have already sealed their best-ever placement in the competition just by winning their group in the preliminary round. While this could have been a slow-paced game, Croatia imposed their will in the first minutes, trading goals with the hosts, as right back Andjela Zagar has already scored four goals, improving her overall tally to 51 goals in this competition.
The top goal scorer standings might be an objective for Zagar, as she is only trailing three other players now, being six goals shy of the leader, Uzbekistan's Servinch Erkabaeva. It seems that this is one of Croatia's objectives, with all balls going through Zagar at this time. After 15 minutes, Croatia are leading North Macedonia, 7:6, with five of the hosts' goals being scored by back Teodora Duskoska, who is having a field day.
15:27 CEST Full-time: Islamic Republic of Iran vs Brazil 26:29 (10:8)
Brazil, who rotated their squad more actively during the game, had more power left in the closing minutes. After drawing level at 23:23 six minutes from full-time, they went on to enjoy a 6:3 run in the remaining time and celebrated a victory.
The beginning of the match hardly suggested such an outcome. Just like in many previous matches, Brazil struggled in attack, scoring just twice by minute 15, but improved a lot afterwards, especially in the second half. Eduarda Borges became their best scorer with 10 goals, and Kelly Rosa added eight more, and their effort helped the South Americans to make a comeback.
So Brazil ended their three-match losing run to finish 15th, which is still their lowest ranking at the World Championships, while debutants Iran who lost their last five games at North Macedonia 2022, remained 16th. However, reaching the main round at their maiden tournament is already a positive result for the Asians, who defeated Senegal and Uzbekistan in the preliminary group.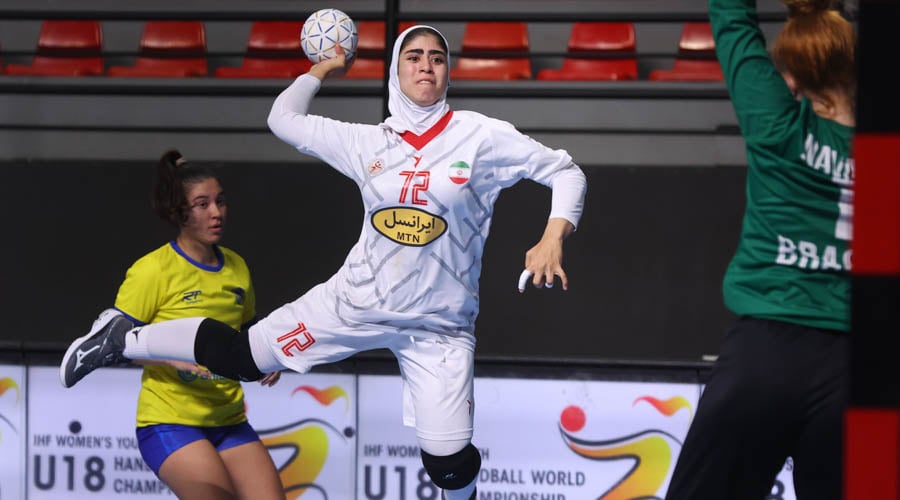 15:20 CEST Full-time: Germany vs Norway 24:32 (15:18)
Norway will be definitely ending North Macedonia 2022 on a high, exactly as they have started the tournament, with 12-goal wins against Uruguay and Brazil. This, however, is their most dominant win as of yet, with the runners-up of the W17 EHF EURO 2021 being totally outplayed by the Scandinavian side in this match. As the lead went into double digits, Norway even afforded to hand minutes to the players that did not feature as prominently throughout the competition, but it did not have an impact on the final result, as they still clinched a clear win against a Germany side that looked out of sorts throughout most of the competition.
Nora Rosenberg had one of the best games in her career, scoring 11 goals from 12 shots, to lift Norway to the win, while right back Constance Hedenstad added another six goals to pile up on Germany's misfortune in this match. It has been all Norway from start to finish and this finish at North Macedonia 2022 could just spark the team for the future, as their interest will be piqued by the untapped potential they had, especially in attack. While these last two matches against Croatia and Germany mattered only for the final standings, scoring at least 30 goals in both matches over 60 minutes can kickstart the confidence boost for Norway.
The ninth place finish is not what they envisioned, but their luck was totally off at the draw, as they had to face one of the toughest sides in the competition, the reigning European champions, Hungary, and a defensive powerhouse in France. On the other hand, Germany, the tenth place, will rue the missed chances and mark this tournament as one where they could have done better.
15:05 CEST Islamic Republic of Iran are more efficient
Islamic Republic of Iran continue to hold an advantage in the 15-16 Placement Match, but Brazil have been trying to put pressure on their rivals. Yet, when it comes to shot efficiency, the difference between the teams is still quite big: Iran have converted 66% of their shots, Brazil 43%. No wonder the Asians are in front 20:17 with 15 minutes to go.
Brazil have actively rotated their squad, but it is mainly two players who have an impact in attack: Eduarda Borges has scored six goals, and Kelly Rosa four. Iran have more options in attack, and they just hope that their key players will not lose energy in the closing minutes.
15:03 CEST Norway dominate against Germany
Hedenstad and especially Rosenberg have been unstoppable today for Norway, who are edging closer to finishing the tournament with a two-game winning streak, after they had previously started the competition with three wins in a row, with two losses against Hungary and France sandwiched between the winning streaks. Rosenberg has already ten goals under her belt with 15 minutes to go, as Norway started the second half with a 5:1 run that really decided the match. It is not impossible at this level, but it will be very difficult for Germany to pull off a comeback, as they find themselves down six goals now, 25:19.
Kühne and Leuchter, who have been the most reliable players so far, are having once again an off day, combining for 10 missed shots so far, but it was more about not hitting the target than making Norway's goalkeepers look unbeatable. Norway looked prime to seal the ninth place, while Germany are close to their worst finish in the competition since Slovakia 2016 when they ended in 11th place.
14:54 CEST Full-time: Guinea vs India 38:28 (17:16)
30th place goes to Guinea. As was to be expected or feared, India had to pay tribute to their depleted squad. They were able to keep up in the second half of the match, but then steadily declined. Guinea, on the other hand, turned up the heat and built a 10-goal lead. 
And this despite the fact that India were not bad in terms of converting their chances with 61%. Guinea were able to convert 67%. In terms of fastbreak goals, the Africans were ahead. They scored six, while their opponents scored only one. 
India's Chetna Devi tried hard and made 13 saves. The trio of goalkeepers on the other side combined for only nine. A trio also dominated Guinea's attack: Mariama Bangoura, M'mah Kouroma and Mayelie Soumah scored a combined 23 goals. But the top scorer comes from India. Sanjana Kumari scored on 9 of her 11 attempts.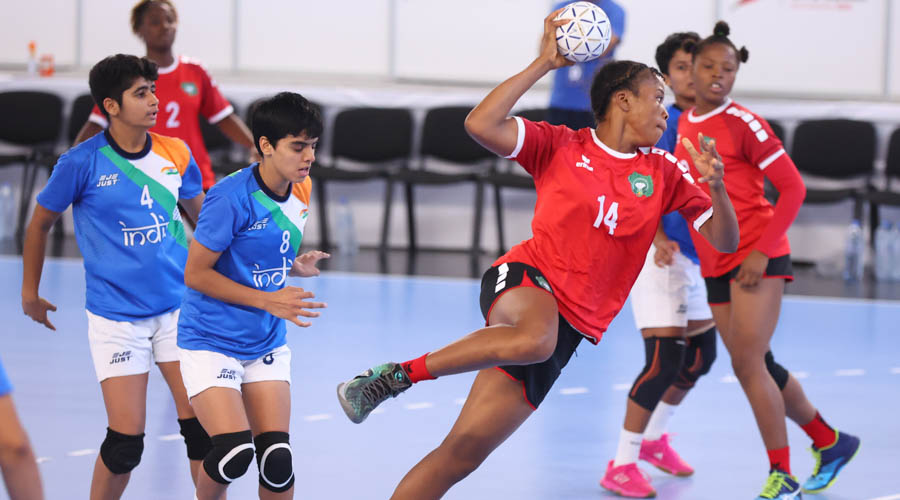 14:37 CEST Half-time: Islamic Republic of Iran vs Brazil 10:8
Brazil have struggled in attack during the entire tournament, and the opening 20 minutes against Islamic Republic of Iran demonstrated these problems once again. The South Americans often shot wide and lost the ball - or their timid attempts were saved by Iran's goalkeeper Elnaz Yarmohammadtouski, who parried 10 shots before the break.
However, Brazil managed to improve their game as the match progressed. While they netted only twice during the opening quarter of an hour, they went on to score six goals in the following 15 minutes. A two-goal deficit does not look unassailable, so Iran have to stay fully focus to claim the 15th place.
14:34 CEST Half-time: Germany vs Norway 15:18
Back Nora Rosenberg and Constance Hedenstad were unstoppable for Norway, as they combined for nine goals in this first half, which the Scandinavian side dominated for the most part to take a three-goal lead at the break against Germany, 18:15. But there is a question that needs to be asked? Where was this Norway attack when it mattered most, in the matches against France and Hungary? Remember, they scored 19 goals in each of those games, and in the first one, they only mustered two goals in the first 17 minutes. It is a true change of mentality, a true change of pace, with these backs missing when Norway needed them in those matches.
Let bygones be bygones, though, as this tournament is about improvement and learning new experiences. Finishing ninth will be an improvement from Poland 2018, when Norway finished 11th, so that is a plus for Kristine Lunde-Borgersen's side. What about Germany, though? They came in as favourites after finishing second at the W17 EHF EURO 2021 and were disappointed here, missing the cue in important matches. They made a comeback halfway through the first half but were still too passive in defence. Conceding 18 goals is a lot for a single half, therefore they need to improve that aspect in the second part.
14:17 CEST Islamic Republic of Iran helped by good goalkeeping
Islamic Republic of Iran have lost four straight encounters at North Macedonia 2022, while Brazil are on a three-game losing run. However, both teams are eager to end the tournament on a high and win the 15-16 Placement Match.
The rivals made a lot of mistakes early in the match, and the score was still 0:0 after four minutes. But then Iran ended that drought - and they went on to take a lead. Goalkeeper Elnaz Yarmohammadtouski has been doing a good job, recording five saves, and after 15 minutes, the Asians are in front 6:2 in this low-scoring battle.
14:16 CEST Norway and Germany produce 18 goals in 16 minutes
Norway had the better start of the match, but Germany just went on a 5:1 run, as backs Nieke Kühne and Viola Leuchter started to get into stride. The two players, Germany's top scorers in the competition, have combined for six goals, as Germany push for their third consecutive win at the IHF Women's Youth World Championship, after a disappointing start, where they lost two matches, against the Republic of Korea and the Netherlands, basically stopping their challenge for a medal at North Macedonia 2022.
Norway have tied the game quickly, 9:9, as the match is still balanced after 16 minutes, as these two sides are trading goals, in a big change in their style, after some matches where they failed to produce something in attack. However, both had two of the toughest schedules in the competition, so that might be a warning.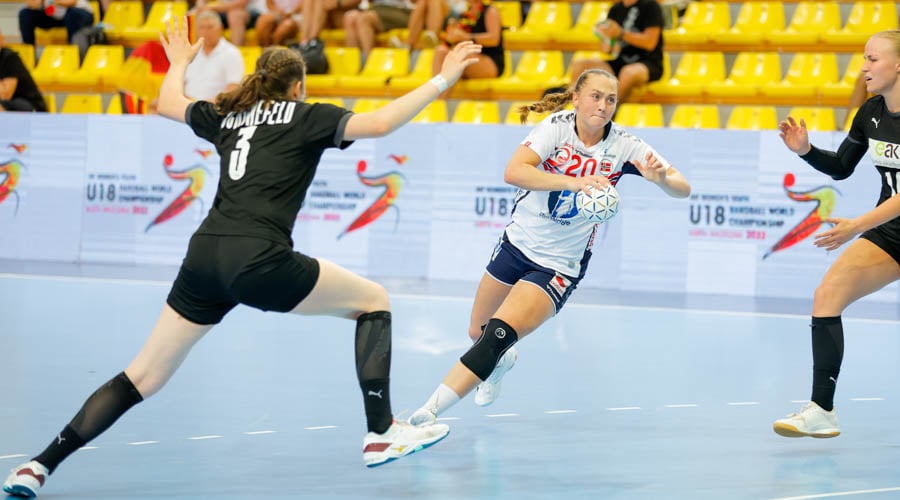 14:03 CEST Half-time: Guinea vs India 17:16
India is still keeping up well. They were even able to reduce the four-goal lead that Guinea had built up in the meantime and go into the break only one goal behind. 
Meanwhile, India's goalkeeper Chetna Davi made seven saves. On the other side, however, three goalkeepers combined to make only three saves. India are also ahead in goal-scoring efficiency. They converted 73% of their chances in contrast to Guinea, who scored 59%. India's Sanjana Kumari has scored six goals, one more than Guinea's M'mah Kouroma.
Who will prevail in the end? Will India's depleted team hold on or will they be overrun by Guinea in the second half?
13:50 CEST The duel of the debutants
Two teams face each other, India and Guinea, whose commonality is not just their first appearance in the IHF. But both teams also had problems with the journey. The difference is that India had to forfeit their first match and thus started the competition with a deficit of -10 goals and one match less. Guinea, on the other hand, were able to play their first match.
Although India are scoring on 82% of their attempts so far, they are trailing. This also means that they are coming up short on chances. For Guinea are only at 62% so far in terms of scoring efficiency. While Guinea rotates between their three goalkeepers, India's options are limited. They have only one goalkeeper left in Chetna Devi and also limited changes otherwise with only seven field players on the match sheet. 
Will they still be able to keep up for 60 minutes? Or will they run out of steam in the second half and let Guinea pull away?
13:28 CEST Full-time: Slovakia vs Argentina 24:26 (12:14)
It was a back and forth match, and for a while, it looked like Slovakia firmly took it under their control and would snatch a win. However, Argentina weathered the storm and had a 5:0 run between minutes 45 and 52, taking a 24:20 lead. The Europeans pushed hard to avoid a defeat in the remaining time, but only managed to slash the gap to two goals.
So Argentina claimed their third straight win and finished 25th, while Slovakia took the 26th position, the lowest among all European teams at North Macedonia 2022. On the other hand, Austria's 23rd place finish is their worst ever, but it has been a sobering experience and, at least, they managed to win two games in the competition.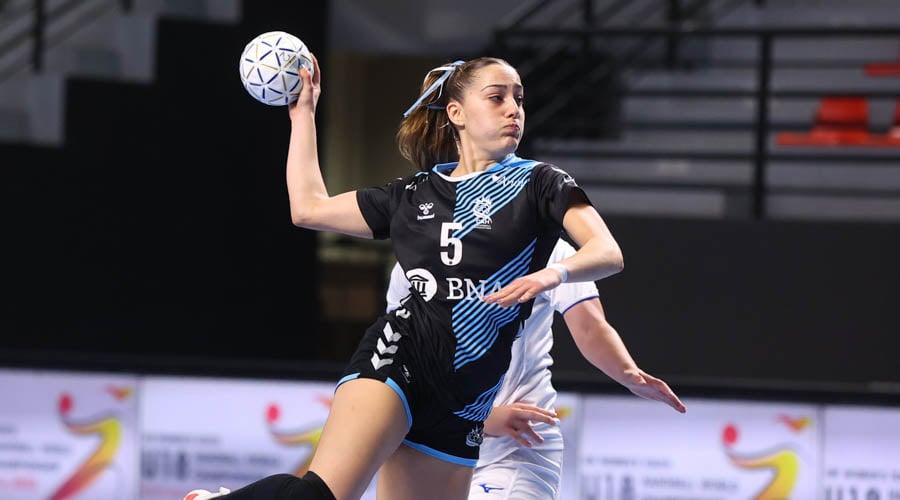 13:21 CEST Full-time: Uzbekistan vs Austria 27:36 (12:18)
Eventually, Austria got their act together and managed to outscore Uzbekistan, taking advantage of the Asian side's lack of depth. Conceding more goals in the second half has been a constant problem for Uzbekistan throughout the competition, which was also displayed today, in the Placement Match 23/24, against Austria, with the European side constantly exploiting the free spaces between the players in defence.
One consolation for the Asian side is that their top scorer, Sevinch Erkabaeva, had a better second half and added six goals to her tally at North Macedonia 2022. With 56 goals scored throughout the competition, she is still leading the top goal scorer standings, but it will be difficult to keep that place until the end of the competition, with other players vying for that place. She still keeps a six-goal advantage over the Islamic Republic of Iran's Fatemeh Merikhi, but Korea's Seojin Kim and Minseo Kim and Denmark's Julie Mathiesen Scaglione are also close and have two games in hand.
Uzbekistan have now finished 24th for the third time in a row at the IHF Women's Youth World Championship, but at least they avoided finishing last, taking their first-ever win in the competition. On the other hand, Austria's 23rd place finish is their worst ever, but it has been a sobering experience and, at least, they managed to win two games in the competition.
13:09 CEST Slovakia striking back
In the second half, Slovakia took the initiative. A 3:0 run powered by Laura Walterova's goals helped the Europeans to draw level at 14:14, and they went on to dominate. Goalkeeper Jana Kantorova, who replaced Barbora Jakubikova, entered the game well, having already made six saves.
After 45 minutes, Slovakia lead 20:19. However, their advantage is very shaky, so it is still anyone's match, and Argentina will push hard to finish the game, and also the tournament, with a win.
13:05 CEST Austria fail to shake off Uzbekistan
Austria have not produced a very good game today and this is clearly to be seen in the score line, where Uzbekistan have even managed to cut the gap to only five goals, 22:17, with 21 minutes to go. Yet the Asian side is still suffering in defence. They have conceded the second largest amount at North Macedonia 2022 so far, 301 goals in six matches, for an average of 50.1 goals per match, which is immense. That number will surely go down after this match, but the fundamentals are not there, with Austria not needing to stress a lot to create something out of thin air to score.
However, Austria's defence has not lived up to expectations, as goalkeeper Nina Tilliacher posted a saving efficiency of 30%, which is too little for a match against Uzbekistan. With 15 minutes to go in the match, Uzbekistan are down only four goals, 24:20. Is there a surprise in the making here?
12:40 CEST Half-time: Slovakia vs Argentina 12:14
Argentina's lead reached four goals by the 19th minute (11:7), but Slovakia did not give up. They used a 3:0 run in the next three minutes to close the gap to just one goal. However, the Europeans failed to draw level, as their rivals went to the dressing-room with a two-goal advantage.
Argentina's shot efficiency dropped to 54%, which is just slightly better than Slovakia's 50%. So the match is very close, and although the South Americans have the upper hand now, Slovakia will definitely have a chance to hit back after the break.
12:33 CEST Half-time: Uzbekistan vs Austria 12:18
Against European sides at the 2022 IHF Women's Youth World Championship, Uzbekistan dropped a nine-goal loss, 30:39, against North Macedonia, a 17-goal loss, 26:43, against Montenegro, and a 20-goal loss against Switzerland, 23:43. This might just be their best game against such an opponent at North Macedonia 2022, as they are down only six goals at the break, 18:12, against Austria. There are not many takes after the first half, other than Austria's passivity at times throughout the match, as they could not capitalise on the Asian side's bad start, where they failed to score a goal in seven minutes.
Yesterday, the Asian side went down 11:0 after 11 minutes against Switzerland, setting up the tone for the match. Sure, Austria must have the initiative and a better depth than Uzbekistan, but this first half has been a bit underwhelming, despite opening up a bigger gap in the dying minutes. Two words also about Sevinch Erkabaeva, who seems to have been getting more tired in the last matches. Her output is lower now, as she only scored one goal from seven shots. That will not help her case seal the top goal scorer title, but will surely finish in the top 10 of that standings.
12:18 CEST Argentina pull in front
Both Slovakia and Argentina are on a two-game winning run, and both sides hope to take another victory, which will allow them to finish 25th. Judging by the opening 15 minutes, the South Americans are closer to that goal, as they are in front 8:5.
It was actually Slovakia's Laura Walterova who opened the score, but then Argentina seized the initiative. A 67% shot efficiency and a few saves by Candelaria Cuadrado helped them to pull clear, and the Slovaks have so far failed to match their rivals.
12:16 CEST Uzbekistan register slow start, but bounce back against Austria
After the end of the main round and the President's Cup group phase, Uzbekistan had the best attack in the competition, scoring 171 goals in five matches. Their form has dipped since that moment and they needed seven minutes and 38 seconds to score their first goal against Austria in this match, a single day removed after needing more than 11 minutes to put the first goal on the board against Switzerland. They definitely find it hard playing against European opponents, but the Asian side is doing the best they can to be competitive.
It will be interesting to see how many goals back Sevinch Erkabaeva can score, as she is currently in first place in the top goal scorer standings, with 50 goals, with Korea's Minseo Kim and Seojin Kim and Denmark's Julie Scaglione having an extra game in the competition. Right now, after 15 minutes, she only scored once, but Uzbekistan tried to be competitive – they are down only three goals against Austria, 8:5.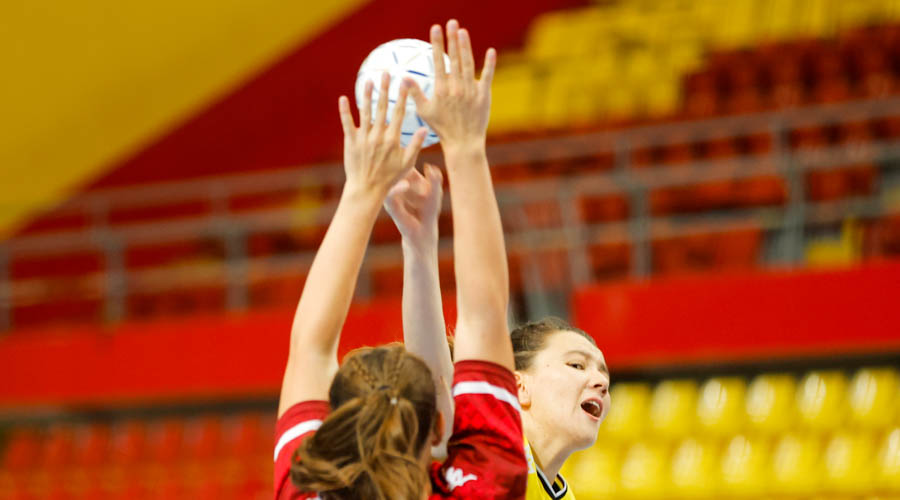 11:29 CEST Full-time: Switzerland vs Czech Republic 31:23 (12:14)
In the end, it was Switzerland who deserved it more, who wanted it more and had the better team to execute the plan. After weathering out the storm in the second half, they went on an 8:3 spree that sealed the win for them, with Emmenegger and Emma Bachtiger each scoring eight goals. Eventually, Switzerland clinched a 31:23 win, with a strong comeback in the second half, scoring 19 goals past a defence that failed to stop them.
They finish in the 21st place, and whilst it might not be a very good placement, it was still the best they could do facing some difficult competition. It could have been better, but a painful 23:32 loss against Slovenia derailed Switzerland's ability to edge even higher in the final placement.
On the other hand, Czech Republic lost three games, won three and drew another one and will finish in 22nd place. This is not a team as strong as their junior one, but they have a building block in Simona Schreibmeierova, who finished the tournament with 45 goals and could end in the top 10 top scorers of the competition.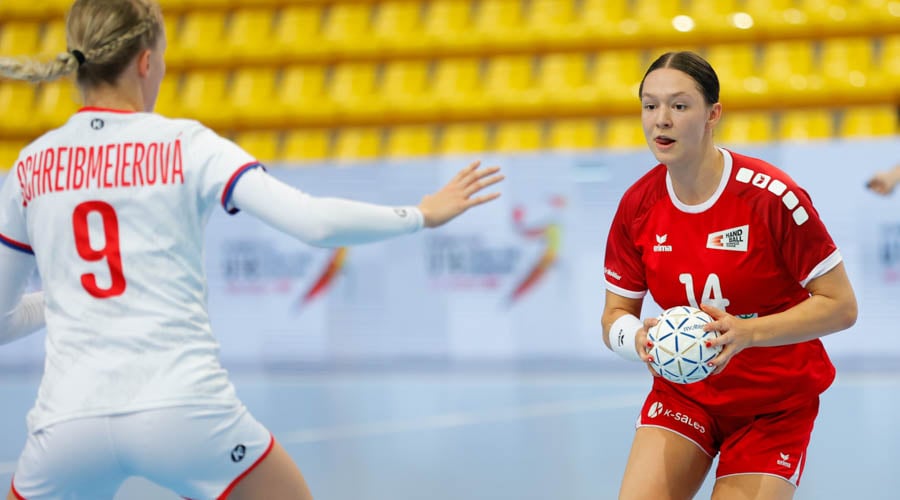 11:25 CEST Full-time: Algeria vs Uruguay 26:29 (14:15)
Algeria are 32nd and thus last at this IHF Women's Youth World Championship. For a while, things looked good for the Africans. They were able to take advantage of a weak phase of Uruguay and equalise in the 46th minute. Shortly afterwards, they even took the lead again and extended it to three goals by the 53rd minute. But Uruguay did not let themselves be shaken off.  They gradually worked their way back until they scored 26:26 after 57 minutes. After that, they turned the game around.  Algeria were unlucky and then conceded a penalty, which Uruguay converted. The South Americans, on the other hand, were on the right track. They won with a three-goal lead. 
In terms of chances, Uruguay were even a touch worse than their opponents (60% compared to 62%). But the trio of Martina Pilar Marquez Huguet (six goals), Emiliana Heilmann Potrie (six) and Savina Gabriela Bergara Prieto (five) still provided enough offensive power. For Algeria, Lina Ines Sadi was the most successful scorer with six goals. Lyna Yelles scored once less. 
Algeria paid a price on their debut and will certainly take some experience with them. For Uruguay, 31st place should be a disappointment, as it is their worst ever result. After finishing 12th and 17th, it is definitely a step backwards, but today's victory is at least a conciliatory ending.
11:20 CEST Full-time: Senegal vs Kazakhstan 24:37 (11:20)
If we do not count a 10:0 forfeit win against India early in the tournament, Kazakhstan earned their maiden victory at North Macedonia 2022, ending a five-game losing run. The Asian team somewhat slowed down after the break but maintained their advantage with ease. Yelena Berenda and Zhanerke Kuandykova shone in their attack, scoring 12 and 11 goals respectively.
Thanks to this win, Kazakhstan finished 27th – this is their lowest ranking in six participations in the World Championships, but let us not forget that the previous editions of the tournament featured no more than 24 teams. Senegal, who made their debut at this level, claimed their only win in the event in the preliminary round against Uzbekistan - but failed to beat another Asian team now and took the 28th position.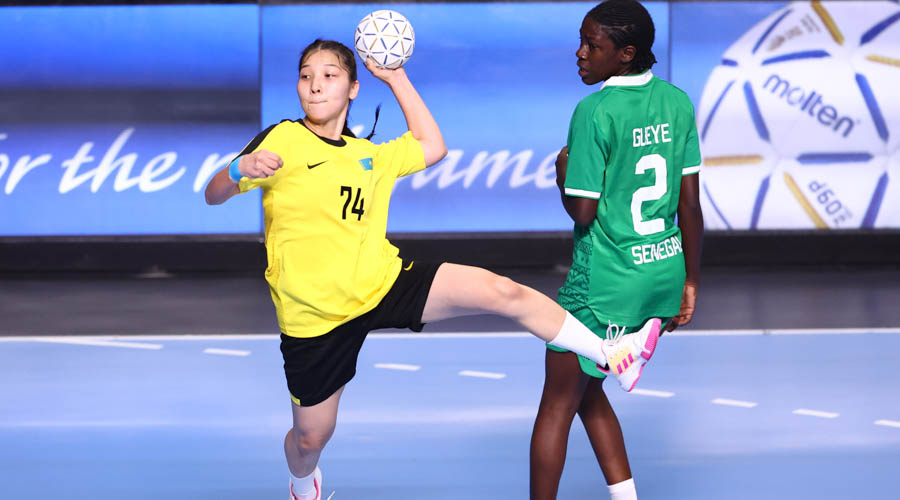 11:10 CEST Strong start for Switzerland in the second half
It has been an abysmal start of the second half for Czech Republic. Basically the story of their tournament, an underwhelming performance from them, failing to get to par with other European teams, which looked better and more cohesive. Switzerland got off to an 8:2 run to start the second half, basically turning the game on its head. They scored from every position imaginable, including an open goal shot converted by goalkeeper Claire Hartz, who saved six shots in the first 10 minutes to help her side steer clear.
Czech Republic's attack dipped under 50% shooting efficiency, as misses keep piling up, while Switzerland's Mia Emmenegger has been nothing short of superb in attack, improving her tally to six goals, with four goals coming via fast breaks. But between the 41st and the 45th minute, Switzerland did not a score a goal and their opponents managed to close the gap to only two goals, 20:18. This game is not over yet.
11:03 CEST Kazakhstan get closer to a long-awaited win
Kazakhstan have no problems maintaining their lead in the second half. After 45 minutes, the Asian team are in front 28:19. Their shot efficiency now stands at 70%, and Zhanerke Kuandykova has already increased her tally to 10 goals.
Senegal have been trying to fight, but it looks like they will suffer their fourth straight defeat in the competition and finish 28th.
10:35 CEST Half-time: Senegal vs Kazakhstan 11:20
While Zhanerke Kuandykova was Kazakhstan's best scorer early in the match, her teammate Yelena Berenda started to have more impact in attack as the first half progressed. This duo has already combined for 13 goals, powering the Asians to a comfortable nine-goal lead at the break.
At Senegal, Salimata Fall has shown some good individual performance, scoring almost half of her team's goals (six). However, Kazakhstan were better as a team, reaching a 69% goal efficiency compared to Senegal's 50%, so their lead is quite logical.
10:34 CEST Half-time: Algeria vs Uruguay 14:15
Uruguay actually "woke up" in the last 15 minutes and turned the game around. A four-goal deficit turned into a one-goal lead. 
This was also thanks to Emiliana Heilmann Potrie and Martina Pilar Marquez Huguet, who both scored five goals each. The substitution of goalkeeper Virgina Carolina Antoria Fernandez also turned out to be right. She has a 50% rate so far in contrast to her colleague Lucia Belen Fernandez Pelaez, who could only show one save in eleven attempts.
Algeria, on the other hand, have to watch out, their goal rate has dropped to 58%. The defence can no longer find a recipe against Uruguay and goalkeeper Oumenia Meriem Salah is not convincing either, with two saves in 17 attempts.
Will Argentina regain the lead or will Uruguay march through to avoid the unloved last place at this World Championship? 
10:32 CEST Half-time: Switzerland vs Czech Republic 12:14
Just as we were highlighting Switzerland's performance, the Czech Republic went on a 3:0 unanswered run, spurred by their top scorer, Simona Schreibmeierova, to take back the lead from Switzerland. Another 3:0 run for the Czech Republic put Switzerland in the awkward position of having scored a single goal in only eight minutes, with their opponents jumping to an 11:8 lead after 24 minutes. Schreibmeierova in particular was the architect of those superb runs, as she now entered the top 10 of the top goal scorer list, hitting the 40-goal mark in the tournament, with her five goals in the first part improving her overall tally to 44 goals.
Goalkeeper Patricie Wizurova was excellent for the Czech Republic, finishing the half with nine saves and a 45% saving efficiency, as Switzerland's shooting efficiency for the first 30 minutes dropped under 50%. Eventually, the Czech Republic have a two-goal lead at the break, 14:12, but Switzerland are eager to come back.
10:19 CEST Kazakstan enjoyed a good start
Before the 27-28 Placement Match, Kazakhstan lost five straight games. In fact, they have not won any games at North Macedonia on the court, getting a 10:0 victory in their opening encounter with India because the Indians arrived at the tournament late due to travel problems.
But now the Asian team seem to have a good chance to end their campaign on a high. After 15 minutes, they are holding an 11:5 lead against Senegal. Zhanerke Kuandykova has already netted five times, while Kamilla Nadirova made four saves, so the African need to improve both in defence and attack to pull back.
10:17 CEST Slight advantage for Algeria so far
Algeria lead 12:8 after 15 minutes thanks to a slightly better chance conversion (72% compared to 65%). Uruguay are doing better since goalkeeper Lucia Belen Fernandez Pelaez was replaced by Virgina Carolina Antoria Fernandez. But Algeria's goalkeeper Oumenia Meriem Salah is not yet convincing either, with two saves.
Even though they are four goals up, Algeria cannot feel safe because Uruguay are getting better and better into the game and are slowly turning up the heat.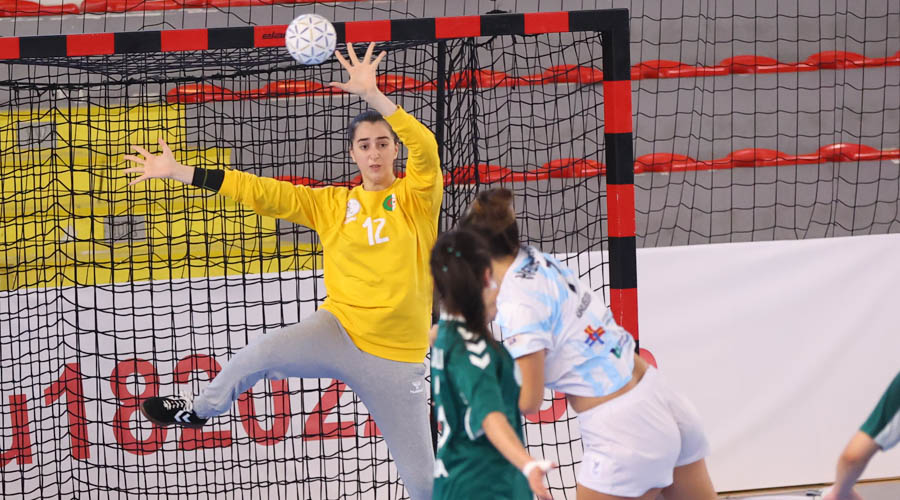 10:16 CEST Good start once again for Switzerland
Overall, Switzerland have looked like a team that is more dangerous than the Czech Republic on the court and this is also correct this morning when the two sides collide for the Placement Match 21/22. At their debut at the IHF Women's Youth World Championship, the Swiss team looked pretty confident, boasting some players that will likely play a part in the future of the senior team, like goalkeeper Claire Hartz, right wing Mia Emmenegger or back Nuria Bucher. Emmenegger has been excellent today too, scoring three goals already, as Switzerland shrugged off a weak start to go on a 5:1 run, taking a strong lead.
It is not particularly a strong tournament for Switzerland, but the draw was not kind for them, as they faced the Republic of Korea and Germany in the preliminary round, two of the top 10 sides in the competition. They managed to bounce back after that and are aiming to earn their fourth win in seven games at North Maced0nia 2022. Leading 6:5 after 15 minutes, they are looking they are going to do just.
09:45 CEST How to watch
Want to follow the action in the halls in the Boris Trajkovski and Jane Sandanski Sport Centres in Skopje? Then you can do so via live stream or, partly, also on TV.
Viaplay, for example, today broadcasts several matches like those of Sweden or Netherlands. AMC / Sport 1 will cover the matches of Hungary and Czech Republic.
09:30 CEST Kim shares some insight into Korea
Before the start of the games, are you not interested in how the Republic of Korea got here? Well, we have just the article for you. We talked a bit with Minseo Kim, their centre back, who is the seventh best scorer at North Macedonia 2022 and the top assist provider in the competition. Sharing some insights into the team, Kim dreams about the gold medal, which would cement this generation's legacy into history. You can read about it here.
09:00 CEST How to stay close to North Macedonia 2022
Are you interested in everything around North Macedonia 2022? Don't worry, we got you covered. The preview for the second day is already online. Alternatively, you can also follow our Social Media channels, where every meaningful info will be uploaded . 

08:30 CEST Skopje calling once again
Two days of competition separate us from finding out who will be the new IHF Women's Youth World Championship title holders. There are only four teams left after some crunch quarter-finals on Sunday, which saw competitive matches. But, as there can be only one champion, some of the contenders were eliminated. Either Netherlands, Denmark, Republic of Korea or Hungary will be the gold medallists, with the latter three sides riding six-game winning streaks into the semi-finals.
Only one of these sides, Denmark, have won the gold medal (2006 and 2012), so there is a 75% chance to see a new team crowned as champions. But will it happen? Denmark surely seem to be strong and they also are big favourites in the semi-final against the Netherlands. Let's wait and see.