Dazzling at North Macedonia 2022: Minseo Kim follows in the footsteps of Korea's amazing centre backs
07 Aug. 2022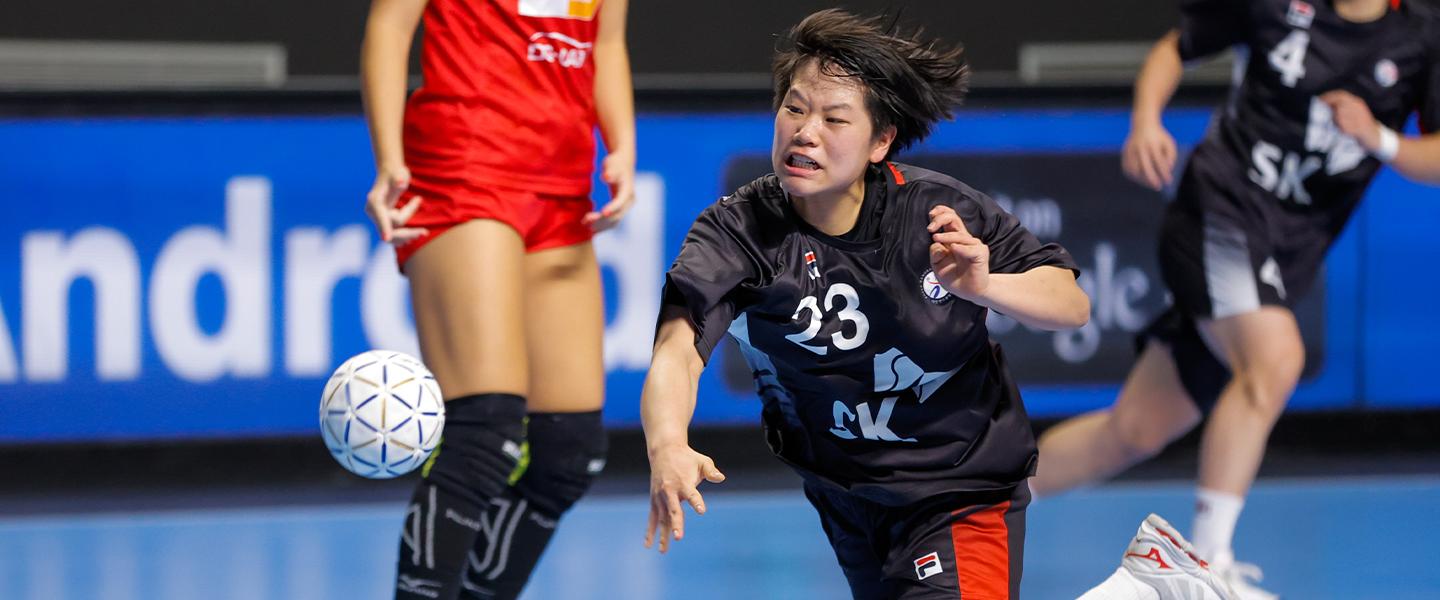 Only two teams have finished in the top 10 of the IHF Women's Youth (U18) World Championship at each of the previous seven editions of the competition. Both of them extended their streak at North Macedonia 2022, having made the quarter-finals with a clean sweep of their opponents, winning all their five games on the way to the knock-out phase.
Denmark and the Republic of Korea are those two sides who have been constantly delivering good results in this age category, an outstanding show of consistency, with the pipeline of talent constantly providing new and exciting names, who took the competitions by storm.
The Republic of Korea have been one of the most interesting teams to watch for a long time, having secured medals in each age category of IHF Women's World Championships. 
At the senior level, they secured a gold medal in 1995 and the bronze medal in 2003. At the IHF Women's Junior (U20) World Championship, no team has won more medals than Korea's nine, while at youth level, the Asian powerhouse clinched one silver and two bronze medals in seven editions.
With a penchant for a free-flowing attack, a good physical preparation and some dazzling skills, that have involved lobbed passes, in-air goals and some superb dribbles, Korea have always been one of the teams in these younger-age category competitions who fascinate handball fans around the world.
At North Macedonia 2022, things are no different, as the Asian side beat four European sides – Slovenia, Germany, the Netherlands and Romania – in emphatic fashion – setting up a quarter-final against Sweden, where they should be favourites.
"We have been training a lot since when we were little to have this style of handball. Speed is crucial in our brand of handball and we also work hard to create as many fast breaks as possible. This is the idea we base our game on," said Korea's Minseo Kim, after the Asian's side fifth win at North Macedonia 2022, 26:24 against the Netherlands.
Kim has been one of the players to watch in the championship – a very consistent back, who is almost impossible to defend at times. Try stopping her from breaking through the defence, she will immediately deliver an assist to a teammate. Try stopping Korea's collective play and Kim will break through and score, like she already did 19 times in the event.
In fact, Korea's rising star is the second best scorer at North Macedonia 2022, with 40 goals and a superb efficiency of 78%, while also delivering the largest number of assists in the competition, 23.
No other player has contributed to more goals in the competition than Kim, with Romania's centre back Alicia Boiciuc in second place in that respect, with 28 goals and 23 assists.
"I knew that I was near the top of the two individual standings, but it is thanks to my teammates. Because we played as a team. This is why we are here and this is why my statistics are so good," said Kim.
 

Sure enough, the Republic of Korea will be favoured against Sweden in the quarter-finals – but to fight for the title, the Asian side must also win against either Hungary or Egypt, in a potential semi-final, which would be a tough ask.
"This is my first time playing in such a competition and it is an honour to be here. My goal was, at first, to qualify from the preliminary round. It is very good that we made it here, in the quarter-finals, especially without dropping a game. All we want to do is win the next game.
"If we manage to win a medal, it will be an amazing start of our careers for all the players here and we will surely be proud that winning a medal is helping Korea to improve its status in handball," added Kim.
But how did the centre back reach the top?
"Since I was young, I liked sports and enjoyed various sports, and I followed one of my friends to play handball since the fourth grade of elementary school. In handball, teamwork is the most important and I often score, so the thrill of that moment is why I play handball. I feel through this sport that I grow myself every year," adds the 18-year-old centre back, who is only 1.60m tall.
The passion for handball was also instilled by two centre backs from Korea, who were leading in their generations.  Ona Kim – a bronze medallist at the Olympic Games Beijing 2008 – and Kang Kyung-min – the MVP of the Korean league in 2020 and 2021 – are the players who serve as models for Kim's game.
"I just want to instil the same style of play, a very fast one, where I play," concluded Korea's centre back.