DR Congo hope to inspire on world stage 
22 Jan. 2021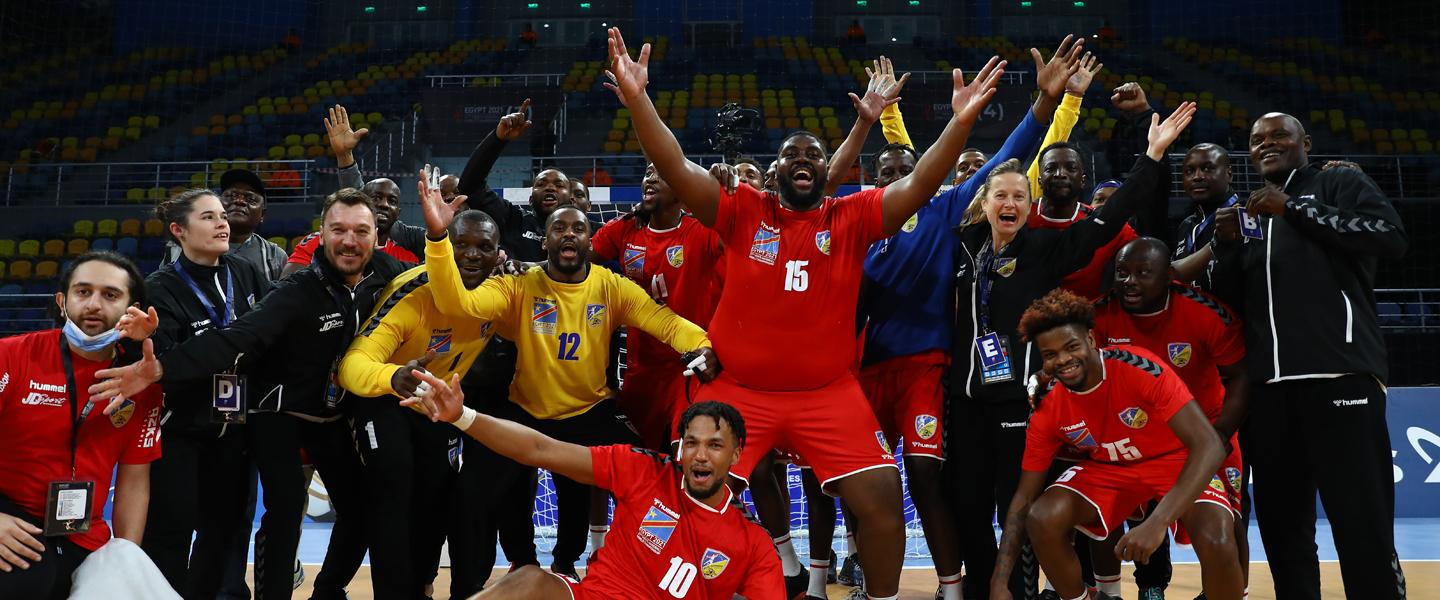 Back in September 2020, four months before the start of 2021 IHF Men's World Championship, DR Congo captain Aurélien Tchitombi, said to ihf.info, "…if we win only one game during the whole competition, it will still be a good result for us. 
"Our objective is to show how Congolese handball has grown in the last decade and how it continues to progress."
That objective was fulfilled on Thursday (21 January) evening as his men's side defeated Angola 32:31 in Giza to join their women in having an IHF World Championship win to their name.
"It's a great, great feeling because to be here for the first time in the world championship and go back home with a victory, it's important for the whole country," said DR Congo goalkeeper Junior Lucau Herdeiro to ihf.info after their win.
"If you look at our first game here against Argentina, we played a really good first half with good defence. Against Bahrain we were also down in the first half [like against Angola] and then we tried to come back but we didn't manage to re-focus ourselves to come back in the game.
"Tonight, we told ourselves this time we really have to play good for 60 minutes," he added. "No matter how the result stands in the first half, the game is 60 minutes and when the time is over, we will be the winners."
And win they did, thanks to a mammoth 12 fast-breaks scored out of 14 attempts (86%), the last of which was sunk home by Steeven Corneil Olivier, who plays his club handball for Angers in France.
The right wing had carefully been watching the Angolan attack and prepared himself to pounce in the last moments, which he did, to devastating effect, scoring his sixth goal from seven attempts.
"It was not the first time they were doing this combination, so I was really prepared and waiting for it and I was ready to catch the ball," he said to ihf.info. "I was sure I could get it. I was ready. I caught it and did the fast break – this is really the basics of our game. We defended strong, got the ball, and went on the fast break, and this is really how we train: every training camp and training session.
"We're really happy because we worked really hard for this," he added. "We have never beaten Angola, it has been a really long time, so it was a big, big accomplishment to beat them tonight and it was a big relief when the [final] buzzer sounded."
Being patient
The result had been coming, with those preliminary group clashes against Argentina, where they led (14:13) at half-time and behind against Bahrain by just two (12:14).
"In our two previous matches we played good games but in the second half we lost too many balls in attack," said DR Congo coach Francis Tuzolana. 
"Today we concentrated more and fixed these mistakes; we eliminated all of them we made last time out. We prepared very well for this one and watched the Angola videos, but we were very motivated to win our first world championship match as we were very disappointed with our final preliminary group match against Bahrain."
"We really built on those two matches," added Olivier. "We especially did a lot of video work on these two matches and their mistakes; all the mistakes we made. We were able to win tonight because of these two matches, and the work we did on them."
Defence or fast-break was the key?
While DR Congo recorded an impressive 12 converted fast-breaks, coach Tuzolana admitted the attacking part of the game was not necessarily his focus pre-match.
"We were working more on defence than specifically on the fast-break," he said. "We had prepared a 6-0 defence tonight, but it was not working so we had to change for 5-1, which was not the plan, but we took the risk and it paid off."
"We did a great game, thanks to my defence in front of me, both of our players in front of me, Fred (Mbaka) and (Andre) Quentin," explained Herdeiro. "And then, as soon as we won the ball, we had a good fast break, stayed disciplined in attack and scored a lot of goals."
Inspiring a generation
Tchitombi also told ihf.info back in September that one of the key factors inspiring him to play at his very best in Egypt is the potential to inspire, and then develop, DR Congo players of the future, and now, with a win, it confirms their place at the top table in global handball.
"It's important to be here in the world championship because it is not just any other competition, it's the best players in the world playing against each other," said Herdeiro. "To come away with a victory is a big achievement. Hopefully, we have inspired a lot of young players and they now believe they can go back home, practice, train hard and one day they will take over [from us]."
His thoughts are backed up by both Olivier and line player Gauthier Mvumbi.
"It's really a message that we want to carry out and show to the kids that if you work hard, train hard, then you can reach your goals," said Olivier. "As you know, not everybody can wear the national team jersey, so we want to show a really strong message to the kids and we're really proud of it."
"It's our first participation so we were already happy to qualify," added Mvumbi. "We know our image here is really important and we are really taking care of it to show the young people of DR Congo."
Captain Fantastic
The only negative part of their historic evening came when Tchitombi slipped when starting an attack in the 50th minute, receiving lengthy treatment on court before being stretchered off and going to hospital, missing the momentous occasion.
"He got injured fighting for this team and fighting for this victory, we won it for him tonight and we are dedicating this victory to him," said goalkeeper Berlin Tietchop, at 43-years-old the oldest player at Egypt 2021. "It was the very first time we beat Angola and it is so important for us to have this victory."
Losing your influential captain at the crucial part of the game would destroy a lot of teams, but not for DR Congo, who used their devastating loss to inspire them further.
"I thought maybe it would affect us, but it did the opposite and we won for him tonight," said Mvumbi, with Herdeiro in full agreement.
"It was hard to see him injured and we thought that maybe it could be the turning point of the match, but they really kept strong together," added the goalkeeper who plays his club handball for Skanela IF in Sweden. "This victory is for him and we are really proud to win for him.
"We heard the injury was quite severe," added Mvumbi. "Now, we just want to be next to him and help him recover."
Memories made
And what does it feel like to be a world championship match-winner?
"It's enormous, it's huge, it's fantastic," concluded Olivier at the end of a night which will remain etched in his memory forever.

Photo: Egypt 2021