Match of the Day: Korea desperate for victory over triple-winners
08 Dec. 2019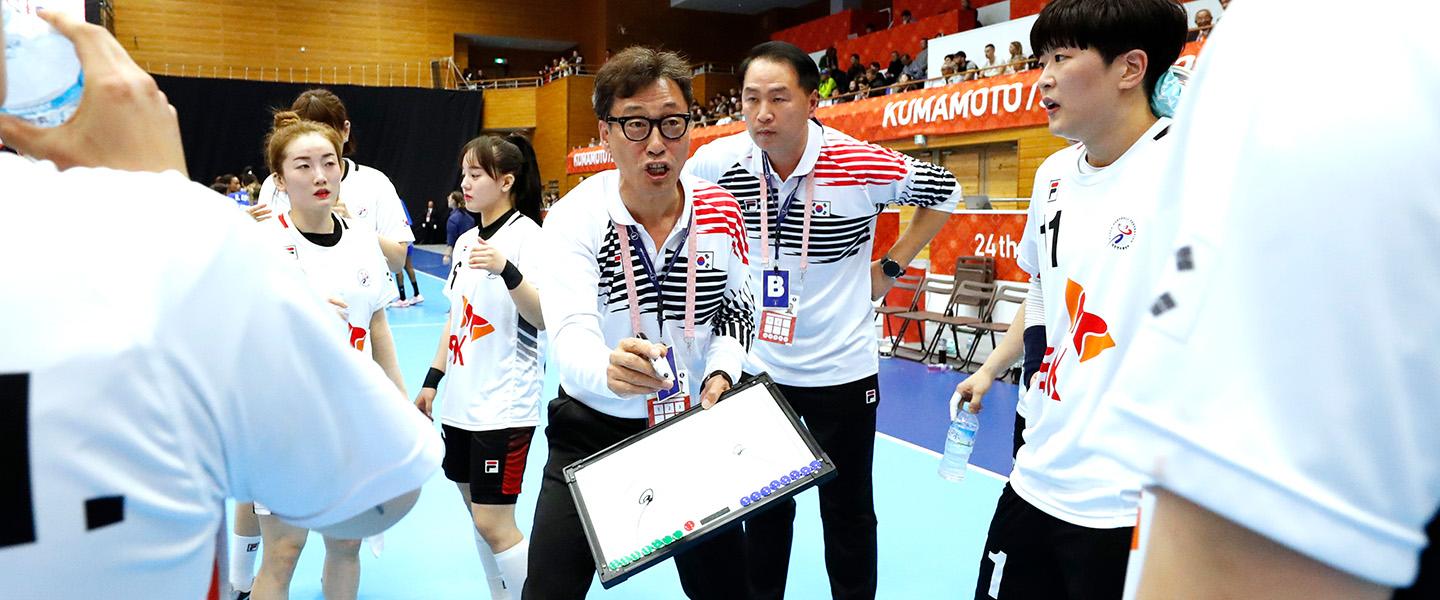 Going into the second match day of the 2019 IHF Women's World Championship in Japan, Republic of Korea remain the last non-European team in contention to qualify for a semi-final spot, but they will likely need nothing less than a win over the three-time title-winning Norwegians to put themselves in the best position to go forward.
The record Asian champions lost their first match of Japan 2019, when Serbia defeated them 36:33 in the opening round of matches in the main round on Sunday 8 December.
Korea coach Jae Won Kang can boast the tournament top-scorer in Eun Hee Ryu (53 goals) but with his team already qualifying for the Tokyo 2020 Olympic Games he is using Japan 2019 as a valuable, competitive learning experience.
"We still have mainly eight players who are playing most of the game," he said after the Serbia loss. "Mostly our players are quite tired because we are only using those eight. We have a number of younger players here, but they are not enough to play against teams like Serbia.
"Against Serbia we also had goalkeeper problems, but even though Korean players are not as shorter as they were than before – now they are much taller – they should move faster. Goalkeepers have only been playing in Korean league and are not used to the timing of European players shooting either, but these players are very young and need experience. We will use them for the rest of the tournament."
Norway coach Thorir Hergeirsson was in a rush to leave the Aqua Dome after their first main round match, a clash against neighbours Denmark which was easily won in the end, 22:19.
"I am very proud of the team working hard to win this game," said the coach after his side came from behind to beat the Danes. "Now we have to use our 20 hours very well as we meet a totally different opponent in Korea and have to prepare."
Both Norway and Korea have had indifferent campaigns so far at Japan 2019 with Norway losing against Netherlands in the group stage and Korea drawing twice, against Demark and Germany.
Main Round – Group I
In the other group games, Germany take on Serbia at 15:00 in the Aqua Dome with the Serbians desperate to go from two to four points and full of confidence after a high-scoring victory over Korea on day one of the main round.
"We met an excellent team tactically and positionally very well prepared in Korea," said Serbia coach Ljubomir Obradovic. "It was not easy to play against them, but we prepared ourselves for the different defence style of Korea and it was very important to make their attacks not efficient."
Denmark face Netherlands at 18:00 with both sides coming off of disappointing losses in their opening main round matches, but the team in orange better placed in the group. A loss for Denmark would be devastating with their coach Klavs Bruun Jorgensen all but writing off his team in the post-match media conference after their 22:19 Norway loss.
"I am extremely disappointed that even though we got a good start we stopped playing handball and stopped attacking the goal," he said after Denmark were 5:0 up and lost. "We are now concentrating on getting as many points possible to get into the Olympic Qualification Tournament."
President's Cup, 13-24 placement matches
World championship title-holders France take on Hungary at 18:00 in the Park Dome in an unlikely 13/14 play-off for the President's Cup trophy at the Park Dome Kumamoto which will be bittersweet for whomever wins it.
The rank for Hungary will be their second lowest finish in history whatever the result, but an improvement on their record low – 15th in 2017. If France were to lose, 14th place would equal their second lowest ranking too, after a 15th spot in their first-ever appearance, back in 1986.
 
South America plays West Africa for 15th place at 15:00 in the Park Dome as Argentina – already with their best-ever ranking, taking on an Angola side who will register their best finish since 2011 with a win.
At 18:00 in the Kumamoto Prefectural Gymnasium, former world champions Brazil will equal their 2017 ranking with a loss and 18th place finish, their second worst of all time after a 20th place finish in 2003. While Senegal, in their first-ever World Championship will be looking to improve on what is already an historic ranking.
Slovenia will record their worst-ever ranking in their brief history as an independent nation in the Women's World Championship after finishing 18th in 1997 when they finish their Japan 2019 at the Kumamoto Prefectural Gymnasium for 19/20 place against DR Congo.
Since they were able to participate, they have only appeared in five championships, so qualifying through was a success – but having beaten potential semi-finalists Netherlands easily in their first game, they will wonder what might have been. For DR Congo, a win will ensure their best-ever ranking, beating 2013's 20th place – one of only two appearances at this level.
Fresh off of their first wins at Japan 2019, both Cuba and Kazakhstan will play off for 21st place as Kazakhstan hope for their best ranking since 2011 (19th) and Cuba hope to equal their best-ever ranking of 21st, gained 20 years ago in 1999.
Australia have either finished 23rd or 24th out of 24 teams in a Women's Senior World Championship and tomorrow will be no different as they take on PR of China in the 23/24 placement match.
The Oceania side will be hoping for the first win to ensure they put a run of bottom spots since 2005 to an end and equal their best finish of 23rd in 1999 and 2003. Whatever the result tomorrow, it will be China's worst-ever ranking, after they finished 22nd in 2017. Both teams have now played six matches and lost six each.
Click here for an overview of today's matches as well as live results, streaming, news and galleries.