Cuba strike gold at the 2023 Women's Central American and Caribbean Games
03 Jul. 2023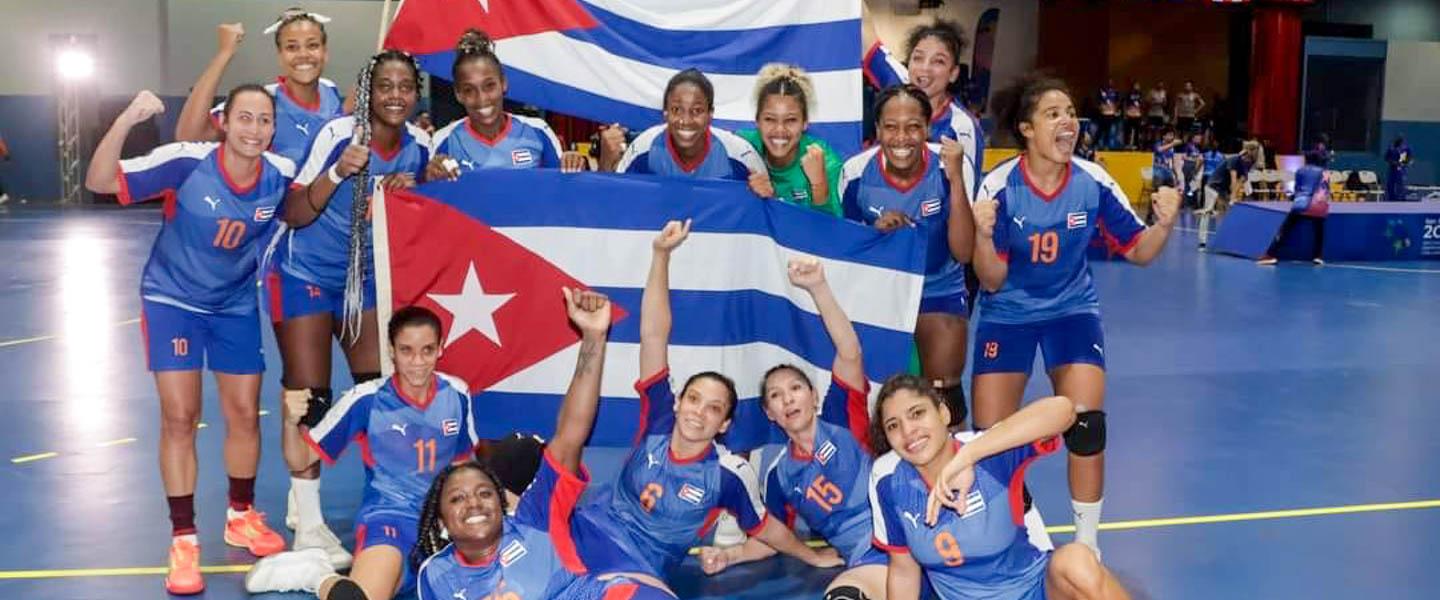 Eight teams lined up at the start of the 2023 Women's Central American and Caribbean Games, with the top sides in the region fighting for the coveted gold medal between 24 and 29 June in Soyapango, El Salvador.
It was the first edition of the competition held since 2018, with the previous being cancelled due to the COVID-19 pandemic, as the Dominican Republic tried to retain the title won in 2018.
The eight sides have been divided into two groups of four teams each, with the top two sides in each group progressing to the semi-finals and extending their chances to secure the trophy.
In Group A of the preliminary round, the reigning champions cruised to a three-game winning streak to secure the first place in the group, taking clear wins against hosts El Salvador (31:23), Costa Rica (31:14) and Mexico (30:28).
Mexico ended up on the second place, a foregone conclusion after the first game, where they clinched a 31:19 win over Costa Rica, doubling down with a win against hosts El Salvador, 43:13.
In Group B, Puerto Rico, one of the favourites, secured the first place, with wins over Colombia (34:25), Nicaragua (51:25) and Cuba (35:28), with left wing Zuleika Fuentes in absolutely superb form, scoring 26 goals in the first three matches.
Cuba ended up on the second place, as their wins against Nicaragua (46:15) and Colombia (37:25) were enough to see them through to the semi-finals, where they produced a huge shock.
Backed by a 12-goal outing from right back Gleinys Reyes, who featured at the 2015 IHF Women's World Championship, Cuba secured a 33:27 win over the Dominican Republic, eliminating the reigning champions from contention.
In the other semi-final, Puerto Rico rode a nine-goal outing from Nathalys Ceballos to clinch a nail-biting win over Mexico, 26:25, sealing a place in the final for the second time in a row.
The final was another close game, with Puerto Rico taking a two-goal lead at the break (14:12) only to drop their level in the second half, enabling Cuba to secure a 29:28 win, with Reyes scoring an otherworldly 15 goals.
In the bronze medal game, the Dominican Republic took the medal with a 29:27 win over Mexico. At the same time, Colombia ended up on the fifth place, Nicaragua on the sixth place, Costa Rica seventh and hosts El Salvador on the eighth place.
The top two sides, Cuba and Puerto Rico qualified for the 2023 Pan American Games, which will take place in Viña del Mar, Chile between 21 October and 1 November 2023.
Photo: JIT / Handball Federation Cuba