Denmark add fire to Group B race with win vs Brazil
04 Dec. 2019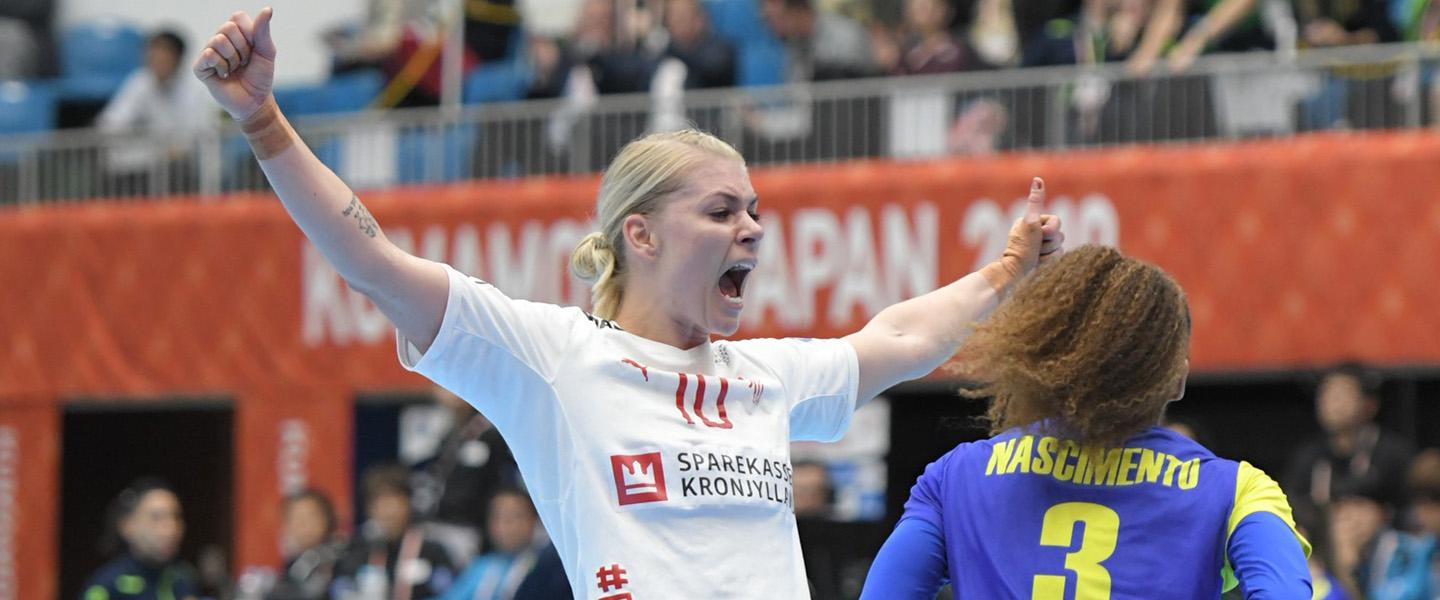 Denmark closed round 4 for Group B at the 24th IHF Women's World Championship with a commanding win over Brazil, secured in the final stages after a level score line 10 minutes before time. The result means Brazil cannot progress to the main round, while Denmark move up to five points alongside France. 
After round 4, Republic of Korea lead the group with seven points, ahead of Germany on six, followed by Denmark and France. Brazil are in fifth with one point, and Australia are sixth on zero.  
GROUP B
Denmark vs Brazil 24:18 (11:9)
With a crucial two points on the line, it was a tightly contested match between Brazil and Denmark. The Scandinavian side always held the edge after a stronger start, while the 2013 world champions fought to level the game, which they did towards the end – before falling decisively behind in the final stages. 
Denmark were quick to take the lead when the match began, and it soon appeared as though Brazil might be outmatched, as they trailed 2:5 in the 10th minute and 3:7 in the 18th. As so often with Denmark, goalkeeper Sandra Toft played a key role in paving the way for her attackers to claim the upper hand, with several important saves including a penalty early on. 
Brazil coach Jorge Duenas called a time-out after Denmark created their four-goal advantage just before the 20-minute mark, and after that his side played on more level footing with Denmark. By half-time, Brazil had closed the distance to two goals, and with the opening strike of the second period, they came within one, 11:10. 
The one-goal score line remained as the last quarter began, 15:14. Five minutes later, Brazil's efforts were finally rewarded, as Bruna de Paula drew the match level for the first time, 16:16, in the 50th minute. With their own goalkeeper, Barbara Arenhart, becoming stronger and stronger behind their defence, Brazil appeared to have the momentum on their side even though Denmark maintained the edge. 
But two minutes later, a penalty goal from Stine Jorgensen pulled Denmark two goals in front once again – and Brazil found themselves back on the hunt. This time, they could not come back. Two minutes after the level score, Denmark moved in front by two, and from there, Brazil's hopes quickly faded, as they could manage just one goal in the next eight minutes – while Denmark scored six. 
Although Brazil fought to the end, the game was decided some minutes before the buzzer, latest when Denmark hit a 23:17 lead with just over two minutes on the clock. 
hummel Player of the Match: Sandra Toft, Denmark
Photo: JHA/Sports Event