Group H: Three contenders for two main round berths
16 Jan. 2023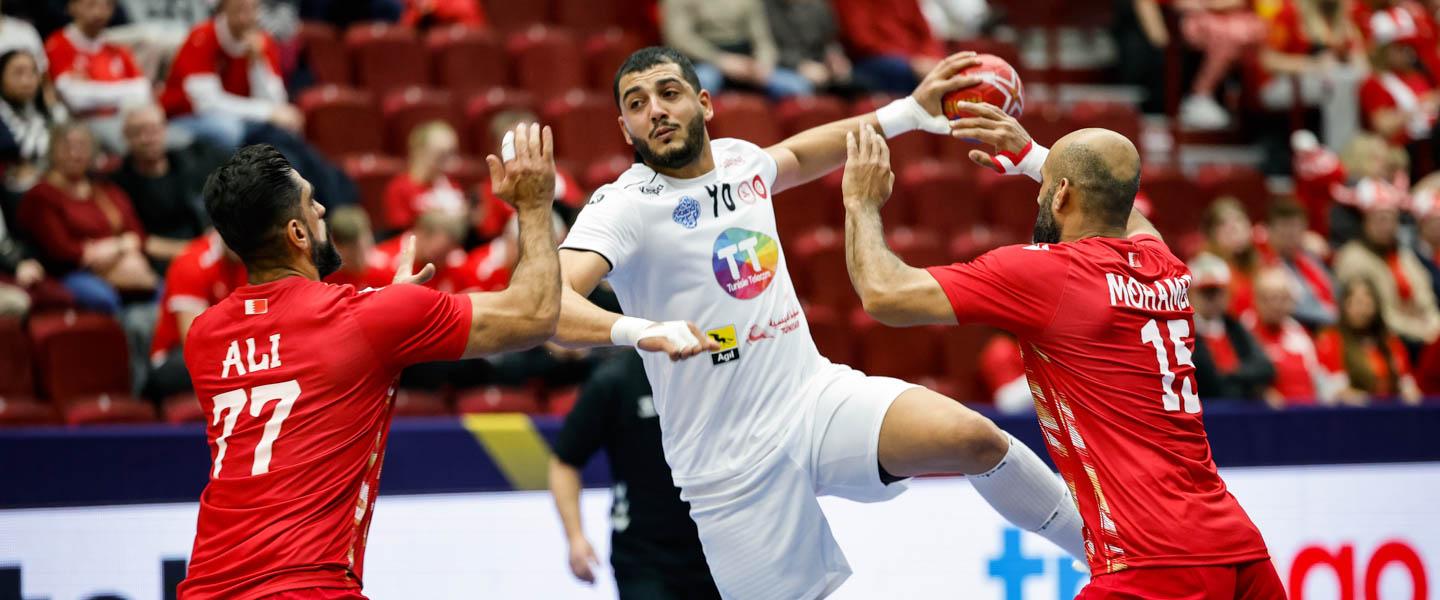 Defending champions Denmark easily secured their progression to the main round, but two other tickets are still up for grabs. On Tuesday, each of the three contenders - Belgium, Tunisia and Bahrain – will learn their fate. 
18:00 CET: Belgium vs Bahrain
After a 28:43 defeat against Denmark in their first-ever match at the Men's IHF World Championship, Belgium responded in style, taking their maiden victory at this level. The match against Tunisia was extremely hard-fought, but the Belgians were slightly better in the crucial phase, ultimately winning 31:29. 
However, they have little time to celebrate ahead of the match against Bahrain, in which even a draw will secure them a main round spot. In fact, "The Red Wolves" will progress even with a loss, provided Tunisia are beaten by Denmark, which looks very likely. 
"We'll have to go all out again. We are not sure of how we are progressing yet and we also want to reach the next round with as many points as possible. After all, you never know what can happen there. Everything is possible," Belgium's coach Yérime Sylla said.
His team has never faced Bahrain, who snatched a 27:27 draw against Tunisia early at the tournament before losing against Denmark (21:36). If the reigning champions beat Tunisia on Tuesday, even a draw will be enough for the Asian side to reach the main round. And if both Bahrain and Tunisia lose their encounters, everything will be decided by their overall goal difference in the group matches. 
20:30 CET: Tunisia vs Denmark
Tunisia looked well in pre-championship friendly matches, but both their matches at Poland/Sweden 2023 so far have been a frustration. 
In the match with Bahrain, the Africans let the victory slip out of their hands, and two days later they could not take any points against the debutants from Belgium. 
With one point, they are still in third place, ahead of Bahrain on goal difference, and will progress to the main round if they maintain that position. However, Tunisia do not have a big chance of grabbing points in their last group match against Denmark, so their position is very shaky. 
In contrast, the Danes showed their quality already at the start of the competition. Supported by thousands of fans who crossed the Øresund to attend the matches in Malmö, they celebrated two commanding wins with the same 15-goal difference against Belgium and Bahrain.
Denmark can be certain of progressing and finishing top of the group, but they need to beat Tunisia in order to take the maximum of four points to the next stage. 
So far, the two rivals have met in six competitive matches, and Denmark won five of them, most recently 36:22 at the 2019 World Championship. The African team's only victory took place on their home court at the 2005 World Championship (25:22).