Barzz: "I have big dreams for handball in Afghanistan"
01 Apr. 2021
Inspired by Gender Equality Month in March, the IHF celebrates women in various roles in handball. The focus today is on Onab Barzz, the Secretary General of the Afghanistan Handball Federation and quite possibly the youngest-ever person to hold this position in global handball history.
Finding handball, representing your country
Born in Afghanistan in 1999, Onab Barzz discovered and fell in love with handball aged just 12. She progressed quickly as a player, going on to represent the Afghanistan women's national team, but put her playing career on hold aged just 16 when she became not only the youngest-ever, but first woman, to hold the position of Secretary General at the Afghanistan Handball Federation – just a few years after seeing the sport in action.
"Before I discovered handball at school back in around 2012 I had already participated in many sports like basketball, swimming and athletics, but when I found handball I became more interested in it than the other sports and it became my passion, my love and my family," explains Barzz to ihf.info about when she first found at about handball.
"I played around three years for Kabul club and about five years or so with the national team," added the right-handed right wing. 
"For Afghanistan I played more than 10 games including at the 2016 South Asian Games in India, the IHF Trophy in Bangladesh as well as friendly matches with Iran. In Bangladesh we played really well against Sri Lanka and the hosts. I've always dreamt to play in an IHF World Championship but haven't yet."
Pausing playing for politics
Those dreams were put on hold back in 2016 when as player and team manager for the national team, she was proposed by the former President of the Afghanistan Handball Federation as their new Secretary General for the next four years – and was selected.
"Unfortunately, I had to quit the national team [to concentrate on this job] although I do continue my training, but to be honest, I was dreaming about this job: to be one of the main people responsible for handball in my country and when I got the job I was so excited, excited to work hard and go for my plans," revealed Barzz about her role for the federation, whose main office is at the Kabul Ghazi Stadium in the nation's capital.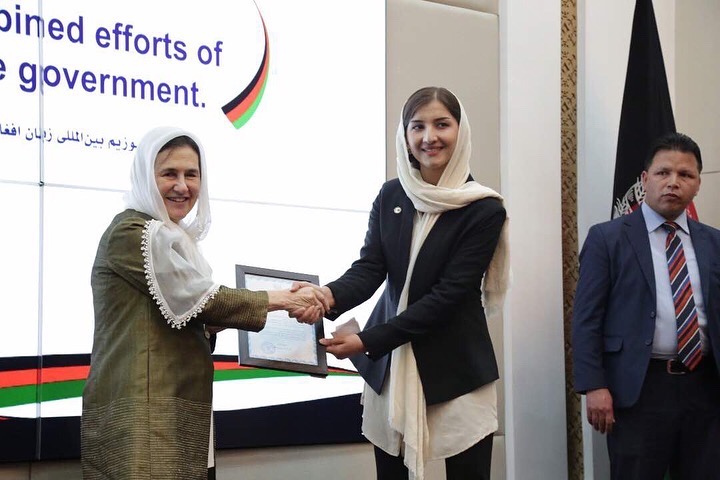 "There are set limits, a four-year period, so initially it was 2016 to 2020," she explained to ihf.info from Stockholm, Sweden, a city she splits her time with along with Kabul. "But in 2018 we had elections, a new president – Hedayatullah Muhmand – was elected for the next four years (2018 to 2022) and I was chosen to continue my role for that period. 
"All of the federation members have always supported and respected all of us at all levels, whether we are players or employees – they are like my family."
Dreams on the national and international stage
As part of the new generation of sports administrators, Barzz brings many fresh ideas, hopes and plans for handball in the country on the crossroads of central and south Asia.
"The young generation always make the changes," says the 21-year-old. "Handball does not limit how we want our lives to be. Where possible, we should travel around and discover handball at an international level. Just in Asia, through handball, I have visited India, Pakistan, Iran, Tajikistan, Uzbekistan, Kazakhstan, Bangladesh, the United Arab Emirates and Japan - in this generation we don't just only 'live' in one country, we can and do, dream big as other countries.
"I have very big dreams and am working hard to make them come true," she added. "As a federation, we have plans for the next six years; including starting a handball academy, handball at school, establishing women's beach handball, increasing the amount of junior and youth teams from 20 to 70, the establishment of a Handball Premier League and national leagues, hosting of international beach and indoor events as well as further plans for children's handball, women's refereeing and women's coaching."
Expanding handball in Afghanistan, equally
"Of course I support gender equality, but, together, men and women can bring change," says Barzz passionately when asked about Gender Equality Month and what the general theme of gender equality means to her.
"I believe that women are powerful and have the right of leadership and in my life I really faced very big difficulties and hard times, which only I can feel all the time. Sometimes I felt like giving up, but then I stood up again and fought more powerfully until I achieved what I needed to."
Thankfully, the difficulties and hard times that Barzz – and women in general – have faced in the past and continue to face are slowly being consigned to history, but there is still plenty of work ahead.
"Generally-speaking, in Afghanistan, men have the right to lead in anything they want to and many ignore the women's right to play sport and to study, for example," said Barzz, who is also Secretary General for the Afghanistan Bowling Federation. 
"I remember when I started playing handball there was only one team and even that was not complete, it was five or six girls that were training together but on the other side, there were too many players for the men's teams because the people then leading the federation were not willing to increase the number of women players.
"Call it 'tradition' or whatever, but they didn't agree with women playing sport back in that time," she added. "I felt so sad and asked myself 'why was this so?' and 'why can't we have the same?', 'why can't we play the same as men do?'.
"It was a shock for every man at the handball federation and even the National Olympic Committee and Ministry of Sport, when I became the first Secretary General, but I made my plans, I worked hard for them, went for it and I had success."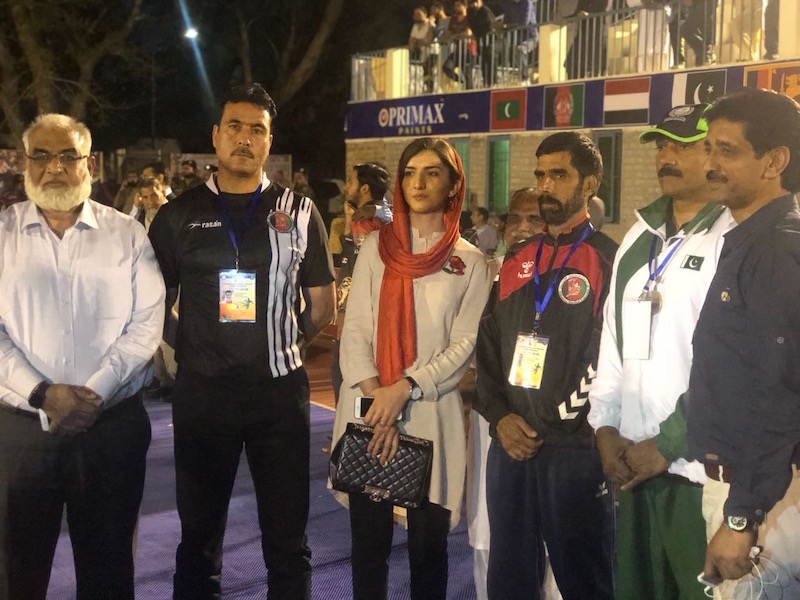 Those plans included a number of initiatives which not only focus on gender equality and promoting handball to women and girls, but to elevate the sport as a whole within the country and region.
This was epitomised in November 2018 when the first-ever Afghanistan Women's National Handball Championship was held featuring 50 players across five teams from three provinces and attended by the President of the Afghanistan National Olympic Committee, alongside VIPs consisting of Presidents/Secretary Generals from 20 other sports federations – all of whom were in attendance to show their solidarity and well wishes for the tournament.
"My main target when I started was to not only increase the number of women players overall as well as those playing handball in other provinces so that everyone could play, but women leaders, members, referees and coaches – I want women to join and become part of handball," said Barzz. 
"I wanted to break this 'traditional' culture that we have where girls or women don't have the right to play sport or that playing sport is not good for them. Now, there's a lot of women's players not only in Kabul but in seven other provinces. Even in the provinces where security isn't so strong like in Kabul we gave the women the right and courage to start playing handball.
"In general, at the moment, handball is one of the top three sports in Afghanistan behind football and cricket. This is a really good point for us, but especially, that the young generations are interested in, and are starting to play, handball."
Currently, Afghanistan has men's and women's senior and junior national teams for the 7-a-side game and a men's senior beach handball team. The men's team made their continental debut on the sand at the 6th AHF Men's Asian Beach Handball Championship in Thailand in 2017 and followed up with a second consecutive appearance at the seventh edition in 2019 in China.
And while a women's beach team is imminent, with Barzz and the federation currently working out issues surrounding their dress and coverage, they have even bigger plans to widen the pool of handball talent in the country, despite COVID-19 curtailing plans.
"We can't say what our 2021 calendar looks like in general due to the COVID-19 situation, but right now we are focussing on our national leagues and Handball at School," she said. "We want to connect this with our Ministry of Education and Ministry of Sport together so handball can be taught as part of subjects in school.
"That will be great for us as well, because we can produce a lot of young players from schools, a lot of teams and have leagues for youth players. We are also planning to hold joint women's and men's refereeing and coaching courses with a 50-50 split of participants."
That hard work is paying off, even during COVID-19 times with the last few months seeing a diverse range of activities including the 'Peace Cup' in Nangarhar Province, attended by 150 players, and various friendly matches between provinces. 
Dreams, plans, future
It is not just gender equality that is on the 'To Do' list for Barzz, she wants to ensure handball is successful on and off court in Afghanistan and finds it place in the country as a sport which can lead to a lifetime of experiences. 
And while they may not be at the level of their continental superpowers in Qatar on the men's side and Korea on the women's side, progress is being made.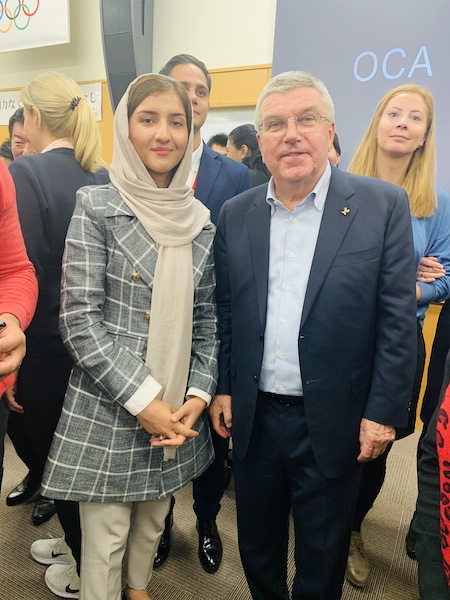 "At the moment, our national teams are in a good position in South Asia," says Barzz. "But we still have lots of work to do as if we compare Afghanistan to other South Asian or Asian countries it is impossible. 
"We had been planning to have training camps and matches against our neighbouring countries like Pakistan, Iran, Uzbekistan and Tajikistan but, of course, with the coronavirus situation we cancelled this plan until the situation gets better.
"But still, we continue wanting to increase the number of players overall and the number of provinces playing handball. I want handball to grow up in all 32 provinces the same for men and for women. I want to bring the ideals of gender equality into our federation with a 50-50 split between men and women in the office and committees, and make it the same for players, coaches and referees. If we have 10 men, we should have 10 women, 500 men, 500 women.
"I wish our next President will be a woman and it will bring something new, but if this happens there should be a male Vice President."
Barzz is keen to share one inspirational story from the province of Sar-e Pol, in the north of the country, towards the Turkmenistan and Tajikistan borders.
"We appointed a woman in Sar-e Pol who is managing both the men's and women's teams there even though they don't have the equipment or even a standard handball court," she explains. "But she is working hard to do this and fighting for the others who wish or want to play handball in their place, in their home town or village.
"This is what I want to do all over my country and I am sure in the next five years it will happen."