24 Jul. 2021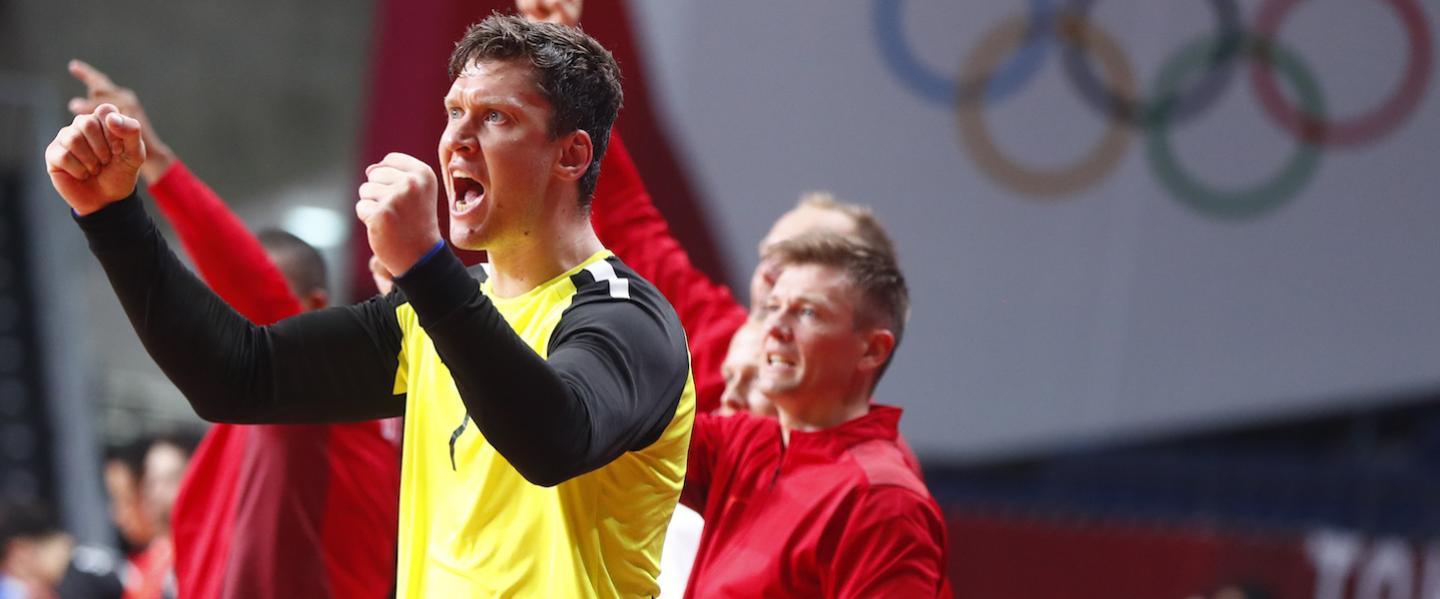 Running updates of Tokyo 2020 men's Group B – follow the action of the Olympic handball tournament live and stay always up-to-date. 2021 IHF Men's World Championship silver medallists Sweden and Bahrain opened day one in group B and the Asian side was close to a big surprise.

Group B of the men's tournament at the Tokyo 2020 Olympic Games throws off, with three games scheduled on the first day of the competition. 
Today's matches:
14:15 JST: Sweden vs Bahrain (32:31)
19:30 JST: Portugal vs Egypt (37:31)
21:30 JST: Denmark vs Japan (47:30)

23:00 JST FINAL WHISTLE Denmark vs Japan 47:30

Bright first step for the Rio 2016 gold medallists Denmark at Tokyo 2020! Twelve of their players scored tonight. They were in total control during the whole game and the reward was a considerable rotation of the squad to keep them all fresh. All good for the Danes.
It's true that Japan will have to make adjustments for the sake of their future in this competition, but it's also a fact that they felt under a lot of pressure tonight and unfortunately, due to the circumstances, couldn't lean on their crowd for support on such a special occasion. Time to look ahead.
The top scorers of the game were Denmark's Jacob Holm, with nine goals, followed by his teammate Magnus Saugstrup and Japan's Hiroki Motoki, who netted eight times each.

22:40 JST Comfortable lead continues for Denmark

Japan are trying a more aggressive approach in the beginning stages of the second half but the result is no different. Denmark are far from feeling threatened as they are up 34:22 into the 45th minute. Their goals are coming from all sides. Line player Magnus Saugstrup is now the top scorer with seven goals.

22:10 JST HALF-TIME Denmark vs Japan 25:14

Japan got off to a rocky start and now they need a miracle against a merciless Danish team. Young players continue to shine on the first competition day at Tokyo 2020. 22-year-old Denmark right back Mathias Gidsel is on fire with five goals plus three assists.
The host's best player at the moment is wing Hiroki Motoki, but his four-goal tally is not enough to keep Japan close.
 
21:50 JST Denmark are outplaying Japan

Denmark are proving to be too much for the Japanese side tonight, as they have a 12-goal lead into the 20th minute. It's 18:6 for the defending gold medallists, led by a brilliant Mikkel Hansen — five goals and one assist. Left back Adam Yuki Baig scored Japan's first goal in the 6th minute, the Asian side's first Olympic goal since Seoul 1988.
 
21:30 JST Defending Olympic champions Denmark ready to meet hosts Japan

Gold at Rio 2016. Gold at the 2019 and 2021 IHF Men's World Championships. Denmark don't need any other presentation than that. Their campaign at Tokyo 2020 takes off versus the hosts, who have had a strong preparation with one thing in mind – to shock the defending champions in their opener.
 
21:10 JST FINAL WHISTLE Portugal vs Egypt 31:37

How important was Yahia Omar's 9-metre goal after the half-time buzzer? Well, probably a lot from a psychological point of view. The truth is that Egypt came into the last 15 minutes of the game with a richer reserve of fuel than Portugal, who had put on a great battle in the first period. Goalkeeper Mohamed Eltayar was untreatable and a key to secure the first win for Roberto Parrondo's boys — he ended the game with nine saves at a stunning 47% rate. 21-year-old Egypt back Ahmed Hesham contributed nothing less than seven goals in his first Olympic appearance. He shall never forget this night, although there is still a long way to go for them in Group B. It was a wonderful start and now the African champions have reasons to dream high!

20:43 JST Egypt are back in the lead as we expect a thrilling final minutes

We are still enjoy an action-packed match! Egypt took back the lead after 12 minutes, helped by Barça playmaker Ali Zein, who is pulling the strings in attack magnificently. Ahmed Hesham is the leading scorer with Egypt with six goals. Portugal feel the pressure and their nerves are now visible. Egypt hold a two-goal edge into the 47th minute.

20:15 JST HALF-TIME Portugal vs Egypt 15:15

WOW! It's a back-and-forth battle now at Yoyogi National Stadium! Egypt were narrowly ahead of Portugal for most of the first half in their opening game in Group B, but the European side remained focused and never lost their tactical order. Their effort paid off into the 29th minute when right winger Pablo Portela got his fourth goal (4/4 — 100% efficiency) for the 'Lusos' to take the lead. Egypt couldn't score in their last play, but they had a free throw. Everyone at the arena were getting ready for a deserved half-time break when Omar Yahia netted from 9 metres — Mikkel Hansen style!

19:50 JST Portugal score their first Olympic goal but trail half-way through the first half

22-year-old left back Andre Gomes opens the score as he gets the first goal for Portugal in Olympic history. Egypt impress with a fast attack while the Portuguese surge on the counterattack. It's an incredibly high-paced match plenty of quality goals for both sides. Into the 15th minute, the African team lead 8:7. Egypt's Ahmed Hesham and Omar Yahia are both on three goals, while Portugal's Alexis Borges is their top scorer with two.
 
19:20 JST Portugal make their Olympic debut versus African champions Egypt

After tragically losing goalkeeper Alfredo Quintana, Portugal clinched an Olympic berth in the most dramatic manner possible. Now they are ready to jump on court and take on Egypt, who intend to confirm the growth they have been showing in recent years at Tokyo 2020.
Will debutants Portugal be able to make a grand entrance at the Olympics?

 

16:15 JST Quotes after Sweden's win

Hampus Wanne, Sweden left wing
On the key to the win: "We scored 32 goals – that was amazing from us. It's good that we scored 32 goals in the first game, but unfortunately we let in 31. I give a lot of credit to Bahrain – they did a great job in defence and attack. Of course it would be good if we made an easier game so we could rotate a bit more – but we won. That's the important bit."
On what was so challenging from Bahrain: "They played really aggressive and high defence that we normally don't see in Europe that much, so of course it's harder for our players on nine metres to adjust to that in just one game. Of course we have trained on it before but we can't do it as good as they have, so I believe the defence of Bahrain was really good."
On what he said to Mohamed Ahmed, who took the final penalty saved by Palicka: "I just told him he did a great game. I just wanted to comfort him a little. I believe that's one of the things we do in handball. I just wanted to tell him they did a great game and the game isn't decided on just one penalty – it's a lot of things that happen in one game."

16:00 JST Wanne shines against Bahrain

If Sweden progress from group B, which seems likely, they will surely have one of the top candidates for the top scorer standings in Hampus Wanne. The left wing was hugely impressive both in positional attacks and on fast breaks, underlining once again how crucial the wing play is for Sweden.
Wanne scored 13 of Sweden's 32 goals and is now clearly topping the standings, with five goals more than Norway's Sander Sagosen and Argentina's Diego Simonet. However, there are signs of trouble for the Scandinavian side, especially in defence, where they conceded 31 goals against underdogy Bahrain.
They had only twice conceded more in the history of the Olympic Games – 33 goals against Iceland at London 2012 and 32 goals against Germany at Rio 2016.
 
15:45 JST FINAL WHISTLE Sweden vs Bahrain 32:31

What a dramatic match! An incredible finish for an outstanding game, one of the best that will be on display at the Olympic Games Tokyo 2020.
Bahrain led throughout the second half, but Sweden's experience paid off exactly when it mattered the most. With 52 seconds to go in the game, the European side went back in the lead (32:31), thanks to a goal from Albin Lagergren. But did you think it was over? Not by a country mile.
Bahrain got the ball again and coach Aron Kristjansson called a time-out to streamline the attack. It all went as planned, with back Mohamed Mohamed receiving a penalty after he was fouled by Felix Claar. Sweden did not call for the time to be stopped, rather they relied on the talent and inspiration of goalkeeper Andreas Palicka.
And Palicka's memory of the debut at the Olympic Games is one he will always cherish. Faced with a flawless Mohamed Ahmed, Palicka guessed right, flicked his body into the left and saved the shot, basically gifting his team the win (32:31) and two crucial points ahead of the game against hosts Japan on Monday.
Ultimately, Bahrain fell short, but how close they were to a huge surprise! Ahmed, their best scorer with six goals, failed to convert the last penalty, but their first-ever Olympic game outlined their huge heart and potential. Next stop, a game against fellow debutants Portugal.
 
15:30 JST Bahrain still standing strong

It's on a knife edge this game! Bahrain are still leading (29:28), with eight minutes to go and anything can happen in this game. Bahrain's coach, Aron Kristjansson, is standing strong, leading by example on the bench.
Sweden are relying heavily, almost too heavily, on Hampus Wanne, who scored 12 goals, but missed a one-on-one shot with Mohamed Ali earlier. Who is going to win this game?
 
15:15 JST Wait, can Bahrain really pull a surprise?

This is prime handball now. Bahrain are deploying an aggressive 5+1 defence, which is shifting to a 3+3 defence at times, which leaves the Swedish backs scratching their heads in regard to what can be done to score. And when Sweden do penetrate Bahrain's defence, goalkeeper Mohamed Ali produces some superb stops. Right now, Sweden are in trouble and it does not look like they have the firepower to break Bahrain.
The only question is whether the Asian side can stay true to what they are playing for 60 minutes. With 20 minutes to go, Bahrain are still up by two goals (22:20), as Mohamed Ahmed and Mohamed Mohamed lead their side with four goals each.
 
14:55 JST HALF-TIME Sweden vs Bahrain 16:18

Well, that was unexpected. In one of our previous posts, we said that this could be one of the most lopsided games of the day, yet the truth is that Bahrain tapped into their unsourced potential and really caused trouble. It all started with Ekberg's injury and it quickly went downhill for Sweden, as Bahrain used all their might and sheer will to embark on a 6:0 run that turned the game on its head (16:15).
Something is happening with the so-called underdogs at the Olympic Games as their motivation is extremely high and can help teams like debutants Bahrain excell. It is exactly what happened here with Bahrain, as line player Ali Eid turned into an unstoppable force, scoring twice and receiving two penalties for his struggles, while Mohamed Mohamed scored four times.
Sweden looked shocked, their reliable fast breaks gone – they did score five in the first 20 minutes – and coach Glenn Solberg did not call a time-out when one was needed to stop Bahrain's resurgence. Therefore, a big surprise is on the cards: Bahrain are leading 18:16 at the break and Aron Kristjansson's game plan is surely working. In fact, Bahrain out-Swedened the European team at their game.
What could the IHF Men's World Championship silver medallists do at the break? Well, for starters, improve their defence. Conceding 18 goals in a half is by no means a stellar performance, while goalkeeper Andreas Palicka saved only two shots in the last 25 minutes of the first half. Especially when your goals dry up and you only score once in the last eight minutes and a half.
We have a game on our hands, ladies and gentleman!
14:40 JST Ekberg hobbles to the bench after tweaking his ankle

Bahrain have been working hard to ensure this does not turn into a one-sided match and they really improved, especially in attack, where their efficiency soared to 75%. However, Sweden are still leading, 14:11, with 10 minutes to go in the first half, but they could have a bit of trouble after Niclas Ekberg, their experienced right wing, suffered an ankle injury, while trying to score.
Ekberg has hobbled to the sideline and was replaced by Daniel Pettersson, who has already scored a goal in only two minutes spent on the court. In total, Sweden have scored eight goals with their wings.

14:30 JST Strong start from Sweden
 
Sweden jumped to a 2:0 lead, but Bahrain replied with their own 3:0 run to take a surprising lead after five minutes.
However, Sweden's defence and fast breaks have been outstanding. A flurry of fast breaks, converted by line player Max Darj and left wing Hampus Wanne, saw the European side back in front. In fact, Sweden used their own 6:0 run to take a commanding 8:3 lead after nine minutes, prompting Bahrain's coach Aron Kristjansson to take a time-out.
Wanne has been outstanding so far, scoring four goals from four shots, as Sweden boast an 82% scoring efficiency in the first half.
As Bahrain continue to turn the ball over, they help Sweden score easy goals on the trot. This seems like the most unbalanced game today so far and could likely result in a straightforward win from Sweden, who can rest their main players ahead of the other four matches in the group.
 
14:00 JST Sweden start as clear favourites against Bahrain

While the first medals have been awarded in the shooting competition at the Tokyo 2020 Olympic Games, the men's handball tournament is also in full swing on the first day of the competition.
In Group A, favourites had their way, as Norway shrugged off a slow start to cap off a 27:24 win against Brazil, while France enjoyed a straightforward win against Argentina (33:27) to jump to the first place in the provisional standings.
It's time now for the first clash in Group B, with the silver medallists of the 2021 IHF Men's World Championship in Egypt, Sweden, taking on Asian side Bahrain. On paper, the Swedish side are the favourites, as their experience and depth should see them clinch a win. But stranger things have happened and Bahrain will be buoyed by the comeback of Icelandic coach Aron Kristjansson.
Sweden have also clearly won the only mutual encounter between the two sides at the 2017 IHF Men's World Championship (33:16).
Fine memories for Ekberg at the Olympic Games
Nine years ago, at London 2012, Swedish right wing Niclas Ekberg helped Sweden seal their fourth-ever silver medal at the Olympic Games with a superb performance. Ekberg was the top scorer of the tournament with 50 goals and is one of the few players from that competition who make their comeback to Tokyo 2020.
The 32-year-old right wing, who was also the top scorer of the final at London 2012, missed the 2021 IHF Men's World Championship, but his level of experience is unparalleled in the Swedish squad, even though Ekberg nurses an injury suffered while representing his club, THW Kiel, in June.
For Sweden, goalkeeper Andreas Palicka, one of the top shot stoppers in men's handball, and the All-star goalkeeper at Egypt 2021, will make his debut at the Olympic Games at the age of 35, and will likely be a focal point of Glenn Solberg's side.
Bahrain make long-awaited debut at the Olympic Games
What a debut Bahrain will have at the Olympic Games. The Asian nation have never played a game in the competition until the match against Sweden, therefore the emotions will be running high for a country whose experience at the highest level is limited at best. In four participations at the IHF Men's World Championship, Bahrain have only won two of their 27 games, adding another two draws at Sweden 2011. All of Bahrain's players are plying their trade in Asia, either in the domestic championship, or in the United Arab Emirates.
On the other side, Sweden won 35 of their 53 games played at the Olympic Games, including two matches against Asian sides. Moreover, Sweden have a checkered record in opening games at the Olympic Games, winning six, drawing one, the inaugural one, against Poland (13:13) at Munich 1972, while conceding a loss against Germany (29:32) at Rio 2016, their worst-ever Olympic tournament, where they finished 11th.
Knowledge is power
If you want to know more about Group B, you can find everything you need on our website. 
Who's who at the Tokyo 2020 Olympic Games?