Examining Men's Tokyo 2020 Group B: 2021 IHF Men's World Championship finalists set to clash in Japan
21 Jul. 2021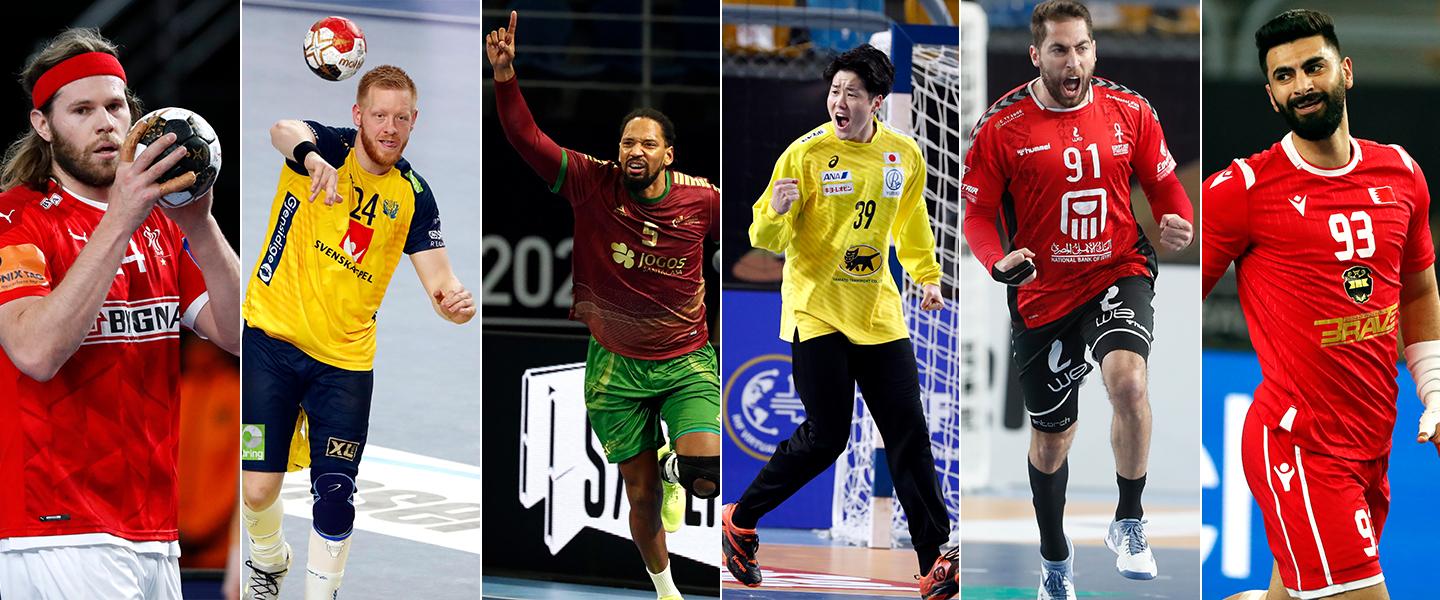 Teams from three continents – Africa, Asia and Europe – will clash for the four quarter-final berths available in Group B at the men's Tokyo 2020 handball tournament, with the clash between Denmark and Sweden, the finalists of the 27th IHF Men's World Championship earlier this year in Egypt, highlighting the group.
In January, Denmark completed their second consecutive unbeaten IHF Men's World Championship to seal the gold medal after a superb performance, including a 26:24 win against Sweden in Cairo in the final.
The clash between the two Scandinavian powerhouses is well-steeped in history, the two sides having met 26 times in competitive games, with Sweden holding the head-to-head record, winning 14 games, as opposed to Denmark's 11. 
Sweden have also won two of the three games between the two sides at the Olympic Games, including a 24:22 narrow win in the quarter-finals at London 2012. But Denmark were better in the last years, more recently taking a 31:30 win in a friendly game on home court on 12 July.
The Danish side have a quite compelling argument from a statistical viewpoint, holding the historical record against every other team in the group. They have not faced Portugal since 2004, but all three games between the two sides, at the Men's EHF EURO 2000, Men's EHF EURO 2002 and Men's EHF EURO 2004, finished with Danish wins.
Denmark have also won all three games against hosts Japan and Bahrain, while never conceding a loss against African powerhouse Egypt. Yet the last match between Denmark and Egypt produced one of the classics at the IHF Men's World Championship, with the European team clinching a 39:38 penalty shoot-out win in the quarter-finals after surviving a sturdy challenge and a red card for the MVP of the last two World Championships, Mikkel Hansen. 
Denmark's challengers for first place in the group, Sweden, are bringing back a strong team to Tokyo, with right wing Niclas Ekberg back into the fold, after taking a break from international handball for the last two years. Fitness issues have hampered backs Jim Gottfridsson, Felix Claar and wing Ekberg, but all three should be ready to start Sweden's inaugural game at Tokyo 2020, against Bahrain.
The Scandinavian side have never lost against Japan – two wins in two games – and Bahrain – one win in one game – conceding only a loss in nine games against Egypt, 25:26, at the Rio 2016 Olympic Games. Sweden also narrowly won the clash against Egypt at Egypt 2021, 24:23.
Moreover, Sweden will eye to avenge their painful 25:35 loss at the Men's EHF EURO 2020 against Portugal, their worst-ever home defeat in a final tournament they hosted, as Portugal produced a vintage display, which they hope to replicate in Japan.
Making their debut at the Olympic Games, Portugal have never faced Japan or Bahrain, while having conceded one loss in the only game played against Egypt (19:23) at the 2001 IHF Men's World Championship. Led by charismatic coach Paulo Pereira, the 'Heroes of the Sea' are dreaming big for a medal, yet starting good against Egypt, Bahrain and Sweden will be key to their ambitions.
Meanwhile, Egypt have won their only game against Japan, 34:28 at the World Championship 10 years ago, while splitting wins in the two games against Bahrain, taking their sole win (31:29) at the 2017 IHF Men's World Championship.
'The Pharaohs' will try to improve on their emphatic form shown at the World Championship they hosted in January, with the sixth place at Atlanta 1996 currently their best outing in Olympic Games history.
Hosts Japan are back at the Olympic Games for the first time since 1988 and the ask will be high of them, as progressing from this group will mean that they secured their best-ever finish in the competition.
Their lightning-fast attack will be once again highlighted at Tokyo 2020, as it was at the IHF Men's World Championship in January, when they finished 18th. Playing at home will surely serve as a motivation, as will their recent record against Bahrain, a team Japan won against in the last three mutual games. However, the head-to-head record is split, with four wins for each. 
Group B throws off on Saturday 24 July with Sweden against Bahrain, Portugal against Egypt and Denmark versus Japan.
Visit the competition mini-site for more information. You can read about Group A of the men's Olympic tournament here and Group A of the women's Olympic tournament here.