The transitional challenge: How Bojana Popovic progressed from a generational player to a great coach
29 Apr. 2021
As a player, she was in a league of her own. Intelligent, with a shot impossible to stop, creating chances for her teammates – a fine line between top scorer and facilitator, a back that was unique in her own way.
The resume speaks volumes: six-time Women's EHF Champions League winner with Slagelse, Viborg and Buducnost, silver medallist at the London 2012 Olympic Games and a bronze medal at the 2001 IHF Women's World Championship.
Bojana Popovic was a transcendent talent that paved the way for modern backs, who dominate women's handball in the current era. 
Such a superb handball IQ could not have been lost just like that and both the Montenegrin Handball Federation and Buducnost, one of the most successful clubs in the history of handball, found a way to nurture Popovic's talent. Now 41, she was named head coach for both sides she represented as a player, after several seasons in which she polished and nurtured her knowledge before making the big step.
"I think it is a match made in heaven, because Buducnost is the first step towards the national team. There are many players in the national team who are coming from Buducnost, therefore the chemistry is there, we know each other very good and we can do great things. When you coach Buducnost, it is the best way to learn the players and have control on both teams," said Popovic to ihf.info.
From former teammates to a coach-player relationship
The past month has truly been a challenge for the Montenegrin women's national team, who secured not only a berth for the Olympic Games, but also qualified for the IHF Women's World Championship in December.
Between the two achievements, Popovic was named head coach of the Montenegrin side, replacing Kim Rasmussen, who led the side both at the Women's EHF EURO 2020, where Montenegro finished eighth, but also at the Tokyo Handball Qualification 2020.
"I think it is important that Montenegro qualified for the fifth time in a row at the World Championship and for the third time in a row at the Olympic Games. For such a small country, it is crucial to be in these tournaments. I am happy and proud of these girls, after a very difficult year," said Popovic to IHF.info.
A well-respected figure in Montenegro and one of only two players to win the Women's EHF Champions League six times, Popovic made the transition into coaching easily, a natural step after a star-studded career.
Her lack of experience in the role was not an issue, with all the Montenegrin players looking up to her, including former teammates such as Jovanka Radicevic, Majda Mehmedovic and Andrea Klikovac.

Indeed, the move paid off in an instant, but more challenges await, as Popovic herself underlines the differences between her roles as a coach and a player.
"From my point of view, being a coach is different and more difficult than being a player. As a player, I just took the ball, put on my shoes, went to training and enjoyed handball. During my career, especially throughout the final years, I learnt how to emphasise what my teammates did, but as a player you think more for yourself. But, slowly, I started learning. In the coaching role, I have 20 players and I need to think about all of them, not only on the court, but outside of it," added the 41-year-old Montenegrin. 
A mix between Anja Andersen and Dragan Adzic
Popovic lives and breathes handball and following her retirement in 2012, after winning the silver medal at the Olympic Games, she was not able to stay away. She made her comeback briefly as a player in 2016 for the Olympic Games in Rio, but a plethora of previous injuries saw her role seriously diminished.
With shrewd knowledge, Popovic acted as a sporting director for Buducnost, but the natural calling was coaching. Indeed, she worked for tactical masterminds like Anja Andersen, Jakob Vestergaard or Dragan Adzic and the voice inside calling for a more active role was impossible to dismiss.
The former Montenegrin left back pinpoints Andersen as the coach who influenced her the most during her career, unlocking her true potential and understanding of the opponent's defence. But it was also Adzic, under whom Popovic served as an assistant coach, who influenced her style in the first years on the bench.
"It was the longing for handball, really, who made me try my mettle as a coach. I was always on the court, during the trainings, I travelled with the team and, slowly, I started to be an assistant coach. I took my exams for the Master Coach licence and I learnt a lot during these years, therefore I think I am ready to lead," added Popovic.
A modern leader, who puts the welfare and confidence of her players first, Popovic is mixing the open-voiced Scandinavian style with the traditional Montenegrin style, where the respect for the coach is paramount.
"I love to see that my players have ideas and make their voices heard. I know how it is to be a player, therefore I have full confidence in them and I love it when they say openly how the game feels on the court.
"In the end, the decision and the responsibility are mine, but their input is valuable, but it is very good to hear what their process of thinking is. Because if their mind is not fully focused or their input may not be correct, well, it is my job to help them regain confidence and restore their state of mind," said Popovic.
A young team in need of leadership
As a former player, who has not been retired for a long time, Popovic admits she still thinks like a player at times, feeling the urge to enter the court and correct the things that are not properly working. But she resets quickly, knowing her new role must be the one of leader and inspire calm and confidence from the bench.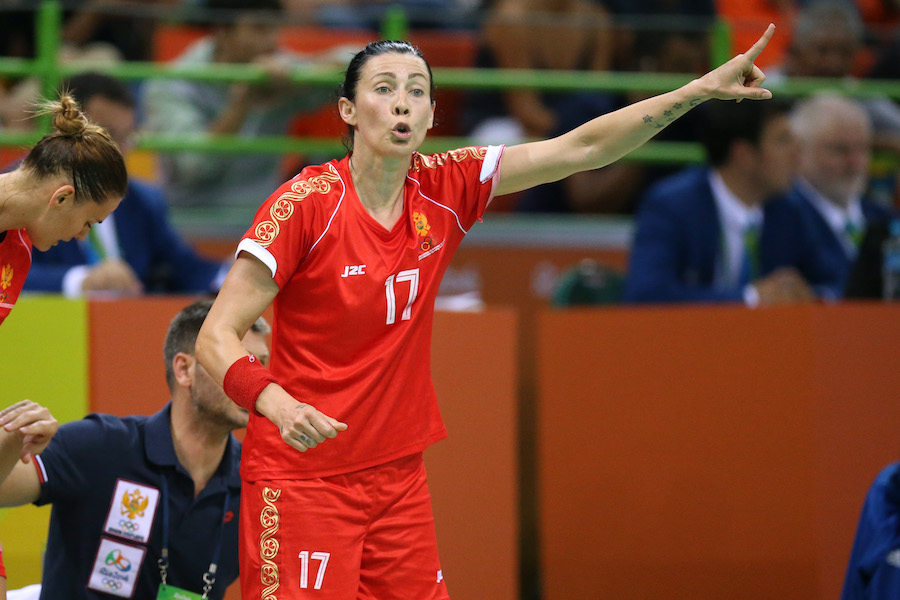 The challenge is to draw up plays and help players, who are maybe not as gifted as Popovic was – a four-time Player of the Year in Denmark – to maximise their potential in crunch time.
"It does not matter what I want to do on the court, the key is what a player can do on the court, not what I want to do. There are players who are defensive specialists and improve the team on that part of the game, but in attack, they could be stopped easily by the opponents. So, the quick fix is to step out of the player's shoes and think as a coach," said Popovic.
But while coaching both Buducnost and Montenegro is crucial, as Popovic puts it, there is also the downside – a lack of spare time. When national teams step into action, clubs get a break, as players who are not called up can recharge. 
Still in her first full year as a head coach, Popovic counts this as a blessing, immersing herself into work and trying to improve both herself and her teams.
The first doubleheader in her tenure as the Montenegrin women's national team coach was a success, a 55:47 aggregate win against Belarus in the play-offs for Spain 2021.
With many young players in the ranks and an average age of 24.4 years old, Montenegro still look like a work in progress, with emerging talents joining experienced players to complete a roster that needs plenty of polishing and work.
Yet, Popovic does not back down from a challenge – exactly the mentality she had as a player, when she led the 'Golden Lionesses' to one of the biggest-ever surprises in the history of the Olympic Games, winning the silver medal at London 2012.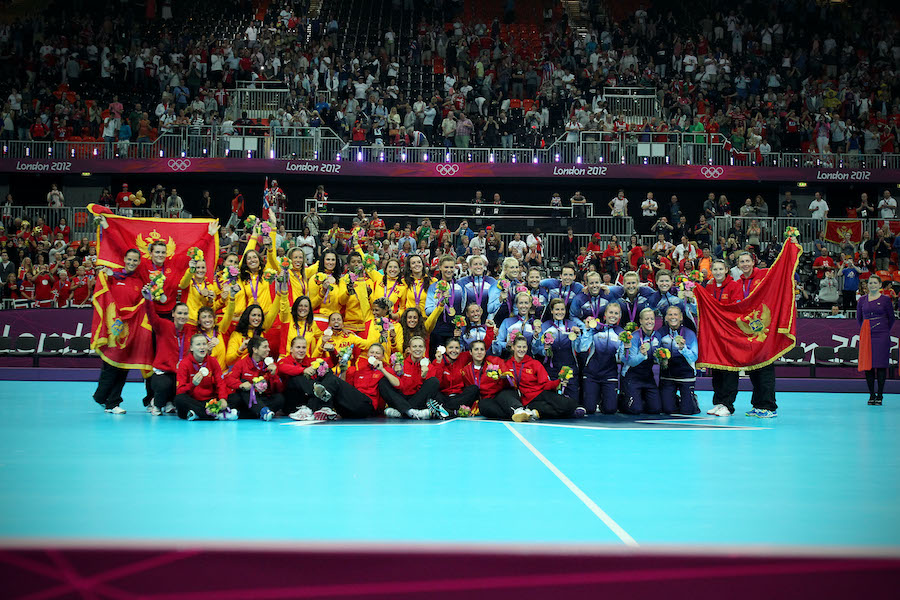 Emulating that performance will be difficult, it might even seem to be an impossible task, but Popovic is upbeat.
"Things are happening fast and we need to be ready for both Tokyo 2020 and Spain 2021. My dream was to represent the national team at the Olympic Games once and I did it and also won a medal. Now, I can do it as a coach and it will be even more spectacular. There are not many who can say they did this, so I am very happy," concluded the 41-year-old Montenegrin coach.
But what would a medal at Tokyo 2020 mean for Popovic?
"Only thinking about it gives me goosebumps. It would be amazing and a dream come true, because we are a small country and we won only one medal, so it would be something huge," concluded Popovic.
Passion is powerful and it can separate the ones who try and the ones who really mean business. For such an amazing player to still get goosebumps while even thinking about medals, it means handball runs through her veins and there is no better person for the job to lead the Montenegrin women's handball team.
While Montenegro might not have another Bojana Popovic on the court, they still have one on the bench – and with the same gritty attitude displayed in the past decade, everything can work out well.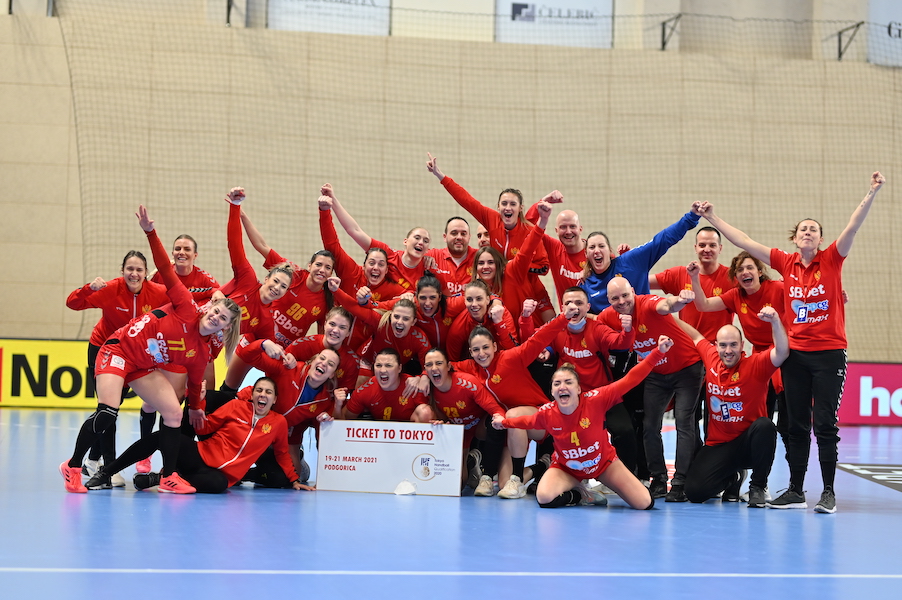 Photos Tokyo Handball Qualification 2020: Luka Novovic / RSCG