15 Nov. 2023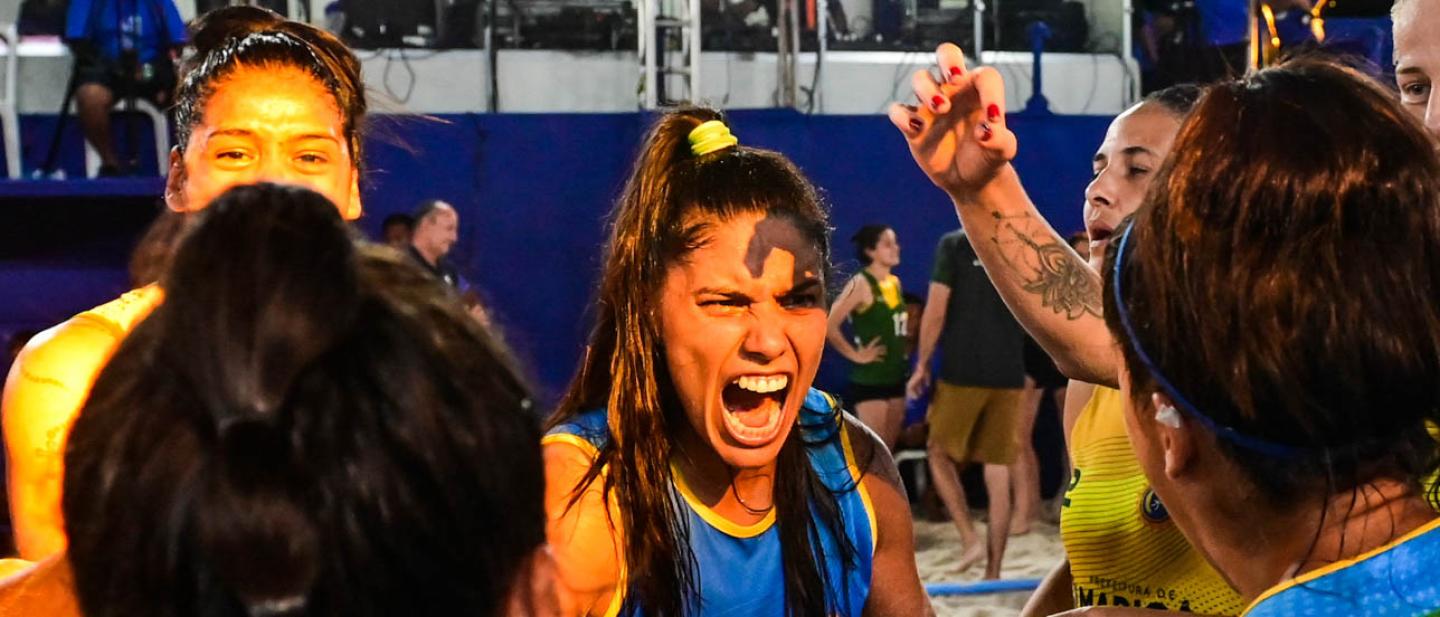 Brazil's women's beach handball team found themselves in a familiar place last week in Qatar – on top of a global podium.
That was as winners of the '2023 IHF Beach Handball Global Tour', following their stage 4 – finals title win in Doha.
Doha was historic for Brazil's women as they became the first-ever IHF Beach Handball Global Tour title winners – another page in their packed history books to add to their numerous awards and medals from World, Pan American and South and Central American Championships, South American Beach Games, ANOC World Beach Games, The World Games and much more.
But that win in Asia also marked the end of a long wait for Brazilian women's global gold, with their last coming at the 2017 The World Games and almost a decade since their last IHF Women's Beach Handball World Championship gold (2014).
Last year, the team failed to qualify for The World Games for the first time ever after losing the 2022 South and Central America Handball Confederation Championship final to Argentina on home sand in Maceió (they had previously finished in the top three of every edition of the event from 2001-2017, including three golds).
Added to that result, they also equalled their lowest-ever IHF Women's Beach Handball World Championship ranking, finishing sixth at Greece 2022 – after medalling in every edition from 2006-2018, which also included three golds.
Now, everyone associated with the team hopes the win in Qatar will provide the spark needed to reignite the gold medal-winning machine, starting at the very top.
"We finished the year in a fantastic way," explained Brazil coach Vinicius Carlos de Oliveira to ihf.info following the victory in Asia. "It was an important title to win in Qatar because we are reformulating the team and applying a methodology that we believe will give us results.
"We won the first stage of the IHF Beach Handball Global Tour at home in Maricá, won the South American Beach Games in Santa Marta, Colombia and closed with a flourish in Qatar.
"We played two excellent Global Tour stages with different athletes, but our level of play remained very high – the 2023 IHF Beach Handball Global Tour helped us start our 2024 project and our main objective next year is to be world champions and to take Brazil back to the top of the world."
Overcoming Argentina
The '2024 project' is certainly spurred on by the preceding year, an important 12 months both competitively and mentally for the Brazilian women as they reversed their fortunes against rivals Argentina.
After key losses against their neighbours – at Maceió 2022 and in the 2019 South American Beach Games final – they defeated Argentina twice in Maricá and in the 2023 South American Beach Games final in Santa Marta to win gold.
"The defeat to Argentina in Maceió last year taught us great lessons," said Brazil's Juliana Xavier Andrade de Oliveira to ihf.info. "I believe that the importance of beating Argentina was to win the title of champion and prove to ourselves our ability as athletes and as a team.
"We have been tirelessly dedicating ourselves after very tough defeats in the (2022) World Championship to return to being the Brazil that people were used to following: a winning Brazil," added the specialist, who made her national debut at The World Games back in 2017.
"In Maricá (Stage 1) we were able to demonstrate – with great work from the coaching staff – that we really are a team of winners. We managed to impose our game and show that Brazil is a reference in Beach Handball worldwide."
Those tough lessons learnt were also backed up by Oliveira's teammates, defender and pivot, Renata Santiago and defender Arianne Demetrio Florindo.
"We had come from a defeat to them (Argentina) in Maceió, which ended up costing us qualification for The World Games 2022," said Santiago, who works as a personal trainer in Rio de Janeiro and who made her debut for Brazil at The World Games in 2013.
"There was a bitter taste of defeat, but we knew the responsibilities we had regardless of the team we faced."
"The strongest teams in South America are Brazil and Argentina, so we always go into those games with 'blood in our eyes' because we never want to lose," added trainee physical education teacher Florindo, who made her Brazil debut at the 2018 Pan American Championships.
"We had come from that painful defeat in Maceió the previous year and we didn't want to let it happen again. It's healthy competition, but it's great to reach the final against them and especially come out victorious."
Tough competition and success in the Asian sand
To win the 2023 IHF Beach Handball Global Tour, Brazil first had to win a stage, which they did, back in April, then see off Tunisia, China and Poland (twice) in Qatar.
All three teams from three different continents were beaten but all posed their own, unique risk, evidence for the Brazilians of the continued growing development of the sport on a global scale.
"It was great to see Tunisia with a renewed team and with a lot of strength for future growth," said Brazil left wing Nathalie Sena about playing the African champions and Stage 2 winners in Qatar.
"China surprises us every year with tall, strong girls and I believe they will be a big surprise in the next competitions, especially at home in the 2024 IHF Women's Beach Handball World Championship. Another great opponent in the upcoming competitions will be Poland. In Qatar they showed a renewed team with a high technical and tactical quality."
For Sena's teammate Patricia Scheppa, the evidence of the quality on show in Qatar can only bode well for the future of the sport.
"Beach Handball is in a fight to become an Olympic sport and I'm happy to see teams growing and participating in these competitions – our sport needs this; the more teams playing, the better," said the Sao Paulo-based physical education professional who made her Brazil debut in November 2011.
"I especially liked China, which performed a trained beach handball and I hope that all the teams we faced continue to work and grow so we will see our sport advance more and more."
"The teams were very prepared," added Santiago. "We knew that there weren't easy teams and every match is a story, but I'm very happy with the evolution of Beach Handball in a general way. Tunisia had a very renewed team and were very competent, China surprised me a lot with their offensive work and Poland did very well, with a very fierce teams deserving of being in the final."
A new year with new incentives?
As 2023 draws to a close and 2024 on the horizon, the action continues for the Brazilian women, many of whom will participate in the ongoing Brazilian Beach Handball Circuit (and regional events) alongside national team matches including the 2024 South and Central America Handball Confederation Championship and potential appearances on both the 2024 IHF Beach Handball Global tour and at the 2024 IHF Women's Beach Handball World Championships and other events.
"Even though we won all the 2023 competitions, for us it is over and in the past and today we are focused on the various 2024 competitions," says a straightforward Sena to IHF.info about the next 12 months, evidence of the focus from Sena and her Brazilian teammates on not only their own performance on the sand but also as ambassadors for the sport both for their country and in general.
"I hope that in 2024 we can see and participate in the inclusion of sport in the Olympic context, as a presentation sport," she added. "I hope we can contribute to the development of grassroots Beach Handball in Brazil and demonstrate the strength and quality of Brazilian Beach Handball in all the competitions we compete in and, if it is God's will, emerge victorious from them."
"2023 was a 'golden year' for the Brazilian team," added teammate Santiago. "I played in all the competitions with the Brazilian team and was champion in all of them so I'm very happy with our performance, but for 2024, I have a lot of dreams.
"I really want Brazil to qualify for the 2024 IHF Women's Beach Handball World Championship and be there with them too," she said. "But, most importantly, I would really like to be at the Paris 2024 Olympic Games showcase, it would be a dream."
'2023 IHF Beach Handball Global Tour: Champions'
In their own words, those involved in Brazil's title win in Qatar tell IHF.info what it means to them…
Juliana XAVIER ANDRADE DE OLIVEIRA (specialist/playmaker):
"An immense satisfaction to have the opportunity to compete and to have managed to become champion.
"It's an unprecedented title to crown all the work carried out in Brazil with Beach Handball."
Arianne DEMETRIO FLORINDO (defender):
"It was a competition that had a lot of meaning for us; we wanted to be champions.
"We won an unprecedented title and are now part of another chapter in the history of world Beach Handball."
Nathalie SENA (left wing):
"Winning the first-ever IHF Beach Handball Global Tour title was very special and significant.
"It was a year of many achievements and we ended the cycle as champions of all the tournaments we played.
"With changes and renewals taking place within the team our performance did not drop. It was a very important year for the sport and especially for Brazil.
"We know about the growing visibility of our sport and our goal is to present the strength of our sport to the world."
Patricia SCHEPPA (right back/pivot/defender):
"Winning this first title in the competition means a lot to us, it's historic. We left our name in history; Brazil is the first and I am happy for this achievement.
"We believe that the IHF Beach Handball Global Tour will become increasingly bigger."
Renata SANTIAGO (pivot/defender):
"Without doubt; it is wonderful. We have the first title. We are so happy."

Credit photo: Santi Russo / Play Handball