06 Nov. 2023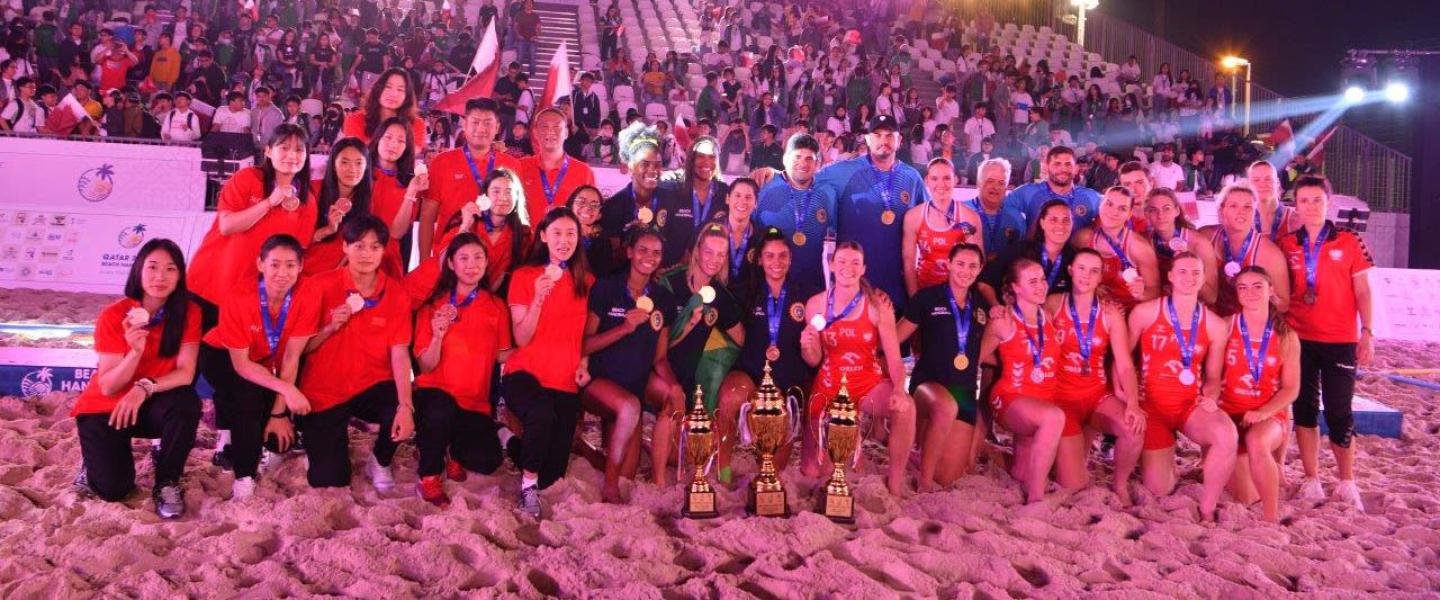 Brazil have defeated Poland in the final of the 2023 IHF Beach Handball Global Tour – Finals stage in Qatar to take the overall title of '2023 IHF Beach Handball Global Tour Champions'.
With a medal-laden history, the South American side – who qualified for Doha after winning Stage 1 of the Tour – were strong favourites to take the title in Qatar's capital city Doha at the two-day (3 to 4 November) event and so it proved, as they won all four games on their way to gold.
In total, four national teams competed across eight games at the Al-Gharafa Beach Venue, with the People's Republic of China and Tunisia completing the quartet of nations playing on the same sand which was used for the 2019 ANOC World Beach Games.
Six games made up an initial, round-robin preliminary round which saw Poland defeat China 2-0 in the opening game, thanks to 16 points from Natalia Rogalska, who scored eight points in a row to ensure a first set, 16:14 win. The European side then eased to a 21:16 second set victory.
Brazil's Beatriz Cruz also scored 16 points in her first game in Doha, helping her side to a 2-0 victory over Tunisia in the second game of the opening afternoon session.
The African champions returned later on, opening the evening session against China, but they could not prevent Sun Mingyue stamping her authority on the game with 14 points, leading her Asian side to a 2-0 victory. Nathalie Sena's 18 points then confirmed another Brazil victory, 2-0 over Poland in the closing game of the opening day.
With the top two teams in the preliminary group going directly through to the gold-medal match, the final two group matches in the opening session of the second day were crucial.
First, Rogalska helped Poland to a 2-0 win over Tunisia, her 24 points proving vital in the win. But their place was not confirmed until the final group game, which saw China shock Brazil with a 20:14 first set win. Cruz then ensured a dominant second set victory (14:3) for the Brazilians and after China missed their second and third shots in the shoot-out, Brazil confirmed their victory
This meant Brazil finished top of their preliminary group with six points from three wins, ahead of Poland in second (four points), China (2) and Tunisia (0). The Brazilians scored the most points (120) and conceded the fewest (63) in the first stage of competition.
In the medal matches, Mingyue Sun (14 points) led her China side to a 2-0 victory over Tunisia to finish third while the final itself was a one-sided match, Cruz scoring 25 points in a 2-0 Brazilian victory over Poland (17:12, 25:8).
Brazil's Juliana Oliveira ended the event as the statistical MVP, using the formula devised by IHF scouting partner Toma-soft, with her teammate Ingrid Frazão the statistical most valuable goalkeeper. Frazão also made the highest number of saves, stopping 32 of 72 shots faced, to end with a 44% save rate.
With Brazil scoring the most points overall (162 – 83 goals in total), or 40.5 per match on average, and conceding the least (83), it was no surprise that Cruz ended up the top individual scorer on 72 points (18 per game on average) which included 15 spin shot and 16 in-flight goals.
Results
Preliminary Group
POL vs CHN 2-0 (16:14, 21:16)
TUN vs BRA 0-2 (6:26, 10:16)
CHN vs TUN 2-0 (16:12, 20:8)
BRA vs POL 2-0 (15:10, 26:8)
POL vs TUN 2-0 (22:8, 22:10)
BRA vs CHN 2-1 (14:20, 14:3, SO 9:6)
Placement 3/4
CHN vs TUN 2-0 (23:14, 20:12)
Final
BRA vs POL 2-0 (17:12, 25:8)
2023 IHF Beach Handball Global Tour
Stage 1
Location: Maricá, Brazil
Dates: 26 to 30 April 
Men's Ranking: 1. Brazil, 2. Argentina, 3. Portugal, 4. Uruguay, 5. USA, 6. Chile
Women's Ranking: 1. Brazil, 2. Argentina, 3. USA, 4. Mexico, 5. Chile
Review (men), Review (women)
Stage 2
Location: Hammamet, Tunisia
Dates: 20 to 22 June 
Men's Ranking: 1. Tunisia, 2. Morocco, 3. Algeria, 4. Togo
Women's Ranking: 1. Tunisia, 2. Kenya, 3. Algeria, 4. Mali
Review (men's and women's)
Stage 3
Location: Plock, Poland
Dates: 22 to 23 July
Men's Ranking: 1. Denmark, 2. Croatia, 3. Qatar. 4. Poland
Women's Ranking: 1. Germany, 2. Denmark, 3. Poland, 4. Croatia
Review (men), Review (women)    
Stage 4 - Finals
Location: Doha, Qatar
Dates: 3 to 4 November
Men's Ranking: 1. Qatar, 2. Brazil, 3. Denmark, 4. Tunisia
Women's Ranking: 1. Brazil, 2. Poland, 3. China, 4. Tunisia
About the IHF Beach Handball Global Tour
The IHF Beach Handball Global Tour was launched at the 2022 IHF Men's and Women's Beach Handball World Championships in Greece.
The Tour debuted in Gdansk, Poland, in July 2022, with Croatia winning the men's tournament and Spain taking the top spot in the women's tournament.
The 2023 Tour visited Brazil, Tunisia, Poland and Qatar.
Photo: Qatar Handball Association