18 Mar. 2021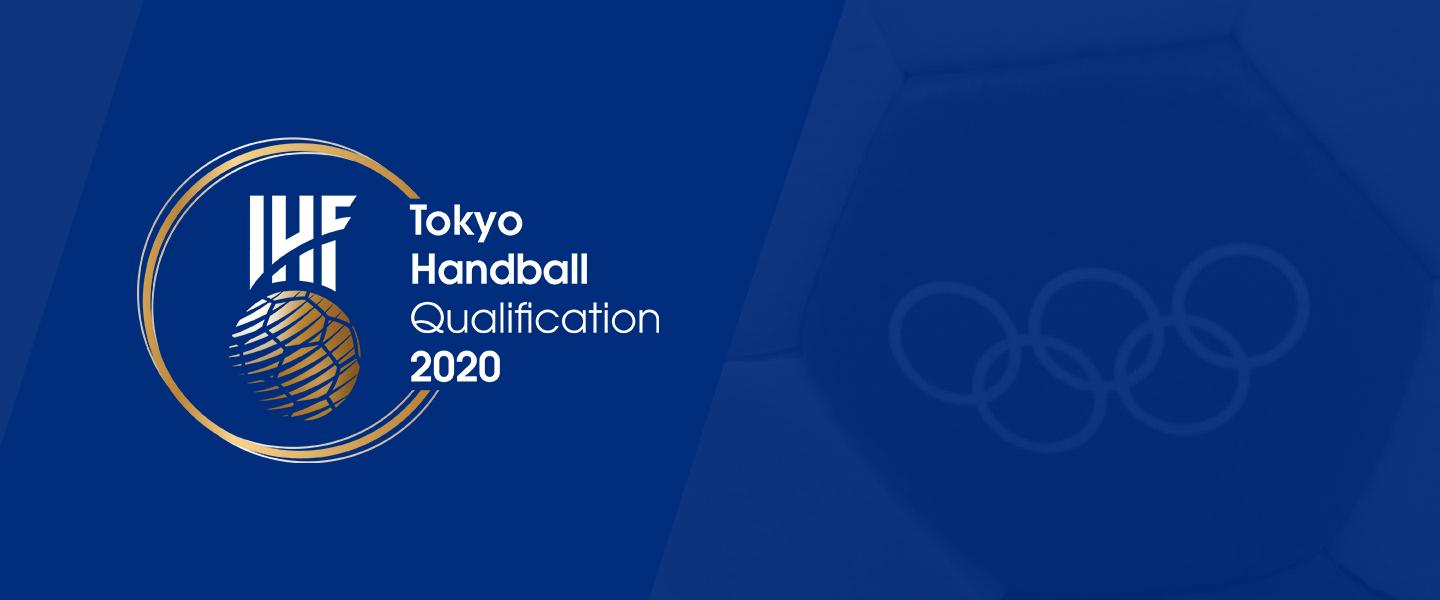 The remaining six places for the Tokyo 2020 Olympic Games women's handball competition will be decided this weekend (Friday 19, Saturday 20, Sunday 21 March) as the journey to Japan reaches its final destination when the Tokyo Handball Qualification 2020 – Women's Tournaments throw off across Europe.
Llíria, Spain (Tournament 1), Győr, Hungary (Tournament 2) and Podgorica, Montenegro (Tournament 3) will host 10 teams, with six moving through to Japan in July. The reigning Olympic champions Russia and one of the most successful-ever Olympic teams, Norway, are both in the tournaments which are set to be full of sweat, tears and joy.
Six teams are already qualified for the Tokyo 2020 Olympic Games women's handball competition which is played from 24 July to 8 August 2021. As hosts, Japan qualify directly, as do the reigning world champions from the original dates of Tokyo 2020, Netherlands (2019).
In addition, representatives of each continent have secured their places at Tokyo 2020 via continental championships and qualification events with Angola, Republic of Korea, France and Brazil taking their championships in, Africa, Asia, Europe and South and Central America, respectively.
 
Tournament 1: Llíria, Spain
Just last week this qualification tournament turned into a three-team affair with hosts Spain, along with Argentina and Sweden, hoping to secure one of the two places to Tokyo 2020 – and with it, join their already-qualified men's teams at the global sporting celebration.
South American side Argentina will go into this tournament as the big underdogs, taking on two formidable teams but, led by coach Eduardo Gallardo, they will be looking to make their second, consecutive appearance, following their debut at Rio 2016. The squad, with a plethora of players currently at European clubs, will be at home in Spain and despite limited training opportunities, they will look to cause an upset in the eastern Spanish city.
After announcing her planned retirement following an 11th place finish at the 2020 European Championship last December, Bella Gullden will not be in the Swedish side for the first time in many years.
In addition to the Gullden change, Sweden coach Tomas Axner lived up to the first part of his second name and 'axed' many players following Sweden's finish, their worst in an international tournament since 2009.
Defensive specialist Sabina Jacobsen has also retired while long-term national team players, goalkeeper Filippa Idehn and right wing Nathalie Hagman, even though still on the provisional registration list, did not make the final squad as announced on the website of the Swedish Handball Federation – despite playing for Sweden at the last eight international tournaments. 
Centre back Jenny Carlson will make her debut for Sweden, while Johanna Bundsen will replace Idehn between the posts. Axner will be without his assistant coach Johanna Wiberg who is forced to stay at home after testing positive for COVID-19.
In a star-studded line-up at Japan 2019, Spain had their best-ever IHF Women's World Championship, finishing second after an impressive campaign, losing by the slightest of margins in a hard-fought final against the Netherlands, but ninth at the Women's EHF EURO 2020 was a step back. If the home side qualify, it will be their third consecutive Olympic Games berth, after taking the bronze medal at London 2012 and finishing sixth four years later in Rio.
For the golden Spanish generation, which features Silvia Navarro, Carmen Martin and Nerea Pena, it would be one of the last chances, if not the last, to complete their trophy cabinet with another medal.
(All times CET)
Friday 19 March
21:00    Spain vs Sweden
Saturday 20 March 
18:15    Sweden vs Argentina
Sunday 21 March 
19:30    Argentina vs Spain
Tournament 2: Győr, Hungary
A strong pillar of women's club handball in Europe, Hungary are desperate to get back to Olympic Games participation, following a 13-year break after finishing fourth at Beijing 2008.
The side finished just 14th at the 2019 IHF Women's World Championship in Japan, with coach Kim Rasmussen stepping down and being replaced by the domestic duo of Gabor Elek and Gabor Danyi who work with top Hungarian clubs and Women's Champions League participants FTC-Rail Cargo Hungaria and Györi Audi ETO KC, respectively.
Seven of the 16 players in Hungary's squad at the European Championship represented FTC, and two more came from Györ but the young Hungarian team finished 10th. Hungary have an interesting mix of youth and experience with Blanka Biro, Zsuzsanna Tomori, Aniko Kovacsics and Nadine Schatzl providing the experience and 2018 IHF Women's Junior World Championship champions Katrin Klujber and Noemi Hafra providing the youth.
The Asian representative in Hungary came about after a number of changes. Initially, the Handball Association of the Democratic People's Republic of Korea withdrew with Kazakhstan, as the first alternate, called upon to take part – but in tournament 3 in Montenegro. However, due to the withdrawal of PR of China, fourth-placed Asian qualifiers Kazakhstan were moved to Hungary.
Whatever their circumstances of arriving in Hungary, Kazakhstan have a solitary Olympic campaign to their names – 2008 in Beijing – and will be hoping to overcome the odds and grab a spot in an Asian Olympic Games again. Between 2007 and 2019, they also took part in five IHF Women's World Championships, finishing between 18th and 22nd place but they will be hard-pressed to even get a draw in Hungary with captain Marina Pikalova admitting beforehand. "We need to get some experience and to have more playing practice."
One team which does not even have an Olympic Games appearance to their name is Serbia, despite regularly appearing in IHF World Championships and European Championships, their results have not been consistent. A World Championship silver on home ground in 2013 has been a highlight, with star player Andrea Lekic recovering from a serious achilles tendon injury and named in the provisional squad.
The 33-year-old centre back will return to Györ where she played for the local club between 2011 and 2013 and became an honorary citizen. Even if she is not ready to play, her presence can help the team and raise their spirits.
Completing the only four-team tournament are 2016 Olympic champions Russia. Led by former coach Evgeny Trefilov, the women took their first-ever Olympic gold medal (as Russia) five years ago with Darya Dmitrieva and Polina Kuznetsova elected to the All-star Team and Anna Vyakhireva named the MVP.
With a perfect mix of experienced players and young stars such as Vyakhireva and Dmitrieva, Russia seemed to have a bright future. However, they have failed to win a gold medal at any major international competition after 2016. 
At the recent European Championship Russia had to play without Vyakhireva, her Rostov teammate Anna Sen and the young CSKA star Elena Mikhaylichenko, who were all sidelined due to injuries but in dramatic fashion, a failure to make the semi-finals saw then assistant, now head coach Alexey Alekseev take over for the fifth-place match against the Netherlands. Alekseev had also been an assistant to Trefilov and that knowledge could be key for another Olympic ticket.
Friday 19 March
17:00    Kazakhstan vs Hungary
20:00    Russia vs Serbia
Saturday 20 March 
17:30    Serbia vs Hungary
20:30    Russia vs Kazakhstan
Sunday 21 March 
17:30    Serbia vs Kazakhstan
19:30    Argentina vs Spain
Tournament 3: Podgorica, Montenegro
Handball fans are in for a real treat when Norway, Romania and host nation Montenegro clash in Podgorica, another three-team tournament which is set to feature some global superstars and offer a fascinating three-way fight for an Olympic spot.
There are many stories to be had in Podgorica, starting with the very first game – a replay of the London 2012 Olympic Games final as Norway take on Montenegro. Hosts Montenegro then have a day off before facing Romania, while Norway have to play Romania the very next day.
In fact, since their introduction back in 2008, Romania have been involved in all editions of the Olympic Qualification Tournaments – the previous three: Beijing 2008, London 2012 and Rio 2016 and now the fourth.
Including 2020, the last three editions have seen Romania face Montenegro, losing 23:34 in 2012 and drawing in 2016, a tournament in which they both qualified through to Brazil, where Romania defeated the Montenegrins 25:21 in the group stage. Romania's 38-year-old coach Adrian Vasile, who has only been in the job since 19 January this year, also knows Montenegro well – he was previously their assistant coach – but he has been affected in the build-up by COVID-19 and has been taking sessions remotely.
The handball world knows four-time IHF Female World Player of the Year and all-round handball legend, Cristina Neagu, captain and leader of Romania – and she knows Montenegro and Podgorica well, having played for four years at Buducnost.
With their six Olympic Games medals, equal to Republic of Korea, Norway are one of the most successful Olympic teams ever, and qualification through to Tokyo 2020 would set them up in their attempt to equal Denmark's record of three Olympic golds (1996, 2000, 2004) and with it, sit as the undisputed Queens of Olympic handball.
Their appearance in Podgorica is the first time the Norwegians find themselves in an Olympic Qualification Tournament and follows one of their worst-ever pair of consecutive finishes at a European and World Championship – fourth at the 2019 IHF Women's World Championship in Japan and fifth at the Women's EHF EURO 2018 in France, a tournament where they missed out on a semi-final spot on goal difference.
Norway have a squad littered with global superstars, including EHF EURO 2020 All-star Team members, Herrem and centre back Stine Oftedal (2019 IHF Female World Player of the Year), as well as goalkeepers Silje Solberg and Katrine Lunde. 
But it is their influential right back Nora Mork who has attracted a lot of attention ahead of the tournament. After top-scoring at the European Championship and making the All-star Team, Mork reagitated an old injury in the Women's Champions League with Vipers and having not fully recovered she will only be used in Podgorica for seven metres. 
Hosts Montenegro have been dealt an even harsher blow, with the news that Jelena Despotovic tested positive for COVID-19 in Hungary with her club and will not be available for selection. Also unavailable will be right back Djurdjina Malovic, who picked up an injury. Coach Kim Rasmussen who joined the team on Sunday in Montenegro moved quickly, calling up right back Sanja Premovic and Nikolina Knezevic.
Montenegro have an unbeaten record in Olympic qualification tournaments, having qualified through both in 2012, where they won silver at London 2012 and again for Rio 2016 – not bad for a country with a population of just over 620,000 people.
Leader of the Montenegrin team is the enigmatic right wing Jovanka Radicevic who was named in the Denmark 2020 All-star Team, and who has an Olympic Games silver medal to her name, just like fellow influential player, left wing, Majda Mehmedovic and Rasmussen's assistant, Bojana Popovic.
Friday 19 March
19:30    Norway vs Montenegro
Saturday 20 March 
19:30    Norway vs Romania
Sunday 21 March 
16:00    Montenegro vs Romania
All games will be streamed live via the IHF Competitions YouTube channel here (geo-restrictions apply).
The IHF Women's Tokyo Handball Qualification 2020 mini-site already features the very latest news about the three tournaments, with match previews, reviews, features, interviews, photos, statistics and much more to come.
For more information on the Tokyo 2020 Olympic Games, visit www.tokyo2020.org.