01 Apr. 2021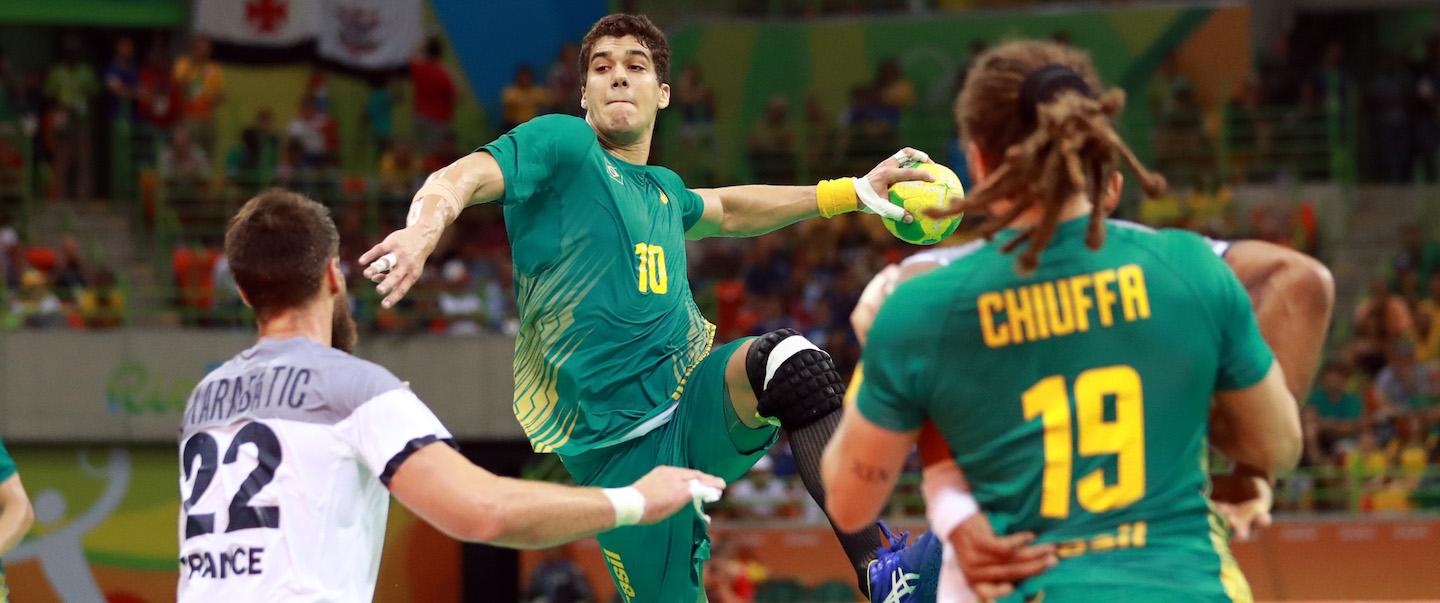 Following the completion of the draws for the Men's and Women's Handball Tournaments of the Olympic Games Tokyo 2020 this morning, the games for the Preliminary Round can be revealed, as per the Regulations for IHF Competitions (Indoor Handball).
The Tokyo 2020 handball competitions start on Saturday 24 July, with the preliminary round of the men's tournament throwing off, followed on Sunday 25 July with the start of the women's tournament. 
Six games in each tournament will be played daily, alternating between the men's and women's tournament, with the preliminary round finishing on Monday 2 August.
Daily highlights – men 
Hosts Japan start their men's tournament against the very best team in the world and Olympic Games title-holders – Denmark. Coached by Icelander Dagur Sigurdsson, the Japanese men will relish the chance to test themselves against the 2019 and 2021 IHF Men's World Championship winners who can not only count on current IHF Men's World Player of the Year Niklas Landin in goal, but 2021 world championship MVP Mikkel Hansen. Both players were also in the Rio 2016 Olympic Games All-star Team.
Emotions will be running high in two other games on the opening day with Bahrain making their Olympic Games debut against Sweden, while Portugal, also appearing for the first time, will face Egypt. The debutants will face each other on Day 2 and therefore guarantee at least one will be able to take home an Olympic point at least.
Rounding off the six opening day matches will be Norway vs Brazil, France vs Argentina and the winners of the past three EHF Men's European Championships – Germany (2016), Spain (2018, 2020).
Egypt play Denmark on Day 2 with the North African side looking to get revenge for that Egypt 2021 IHF Men's World Championship quarter-final loss in one of the greatest handball games in modern times, a match which finished with a 39:38 Danish win following a shoot-out and two additional periods of extra time.
Day 3 will see a repeat of the Rio 2016 semi-final between France and Germany, won by the French, who will then repeat their London 2012 quarter-final against the Spanish on Day 4 – which they also won on their way to gold. Denmark and Sweden also repeat their London 2012 last eight match – and Egypt 2021 final on Day 6.
Home fans will be excited when Japan and Bahrain face off against each other in the all-Asian clash on Day 4. Japan beat Bahrain in the bronze medal match at the 2020 AHF Men's Asian Championship. Another bronze medal match, at Egypt 2021, saw Spain beat France – they face each other on Day 4 too.
Daily highlights – women 
The opening day of the women's competition also sees a repeat of the host nation taking on the world champions, with Japan, appearing in their first Olympic Games since 1976, going up against the Netherlands. Montenegro, who won London 2012 silver, face Angola on the opening day of Tokyo 2020 – they also met at the same stage in 2012. 
Norway and Republic of Korea also meet on the opening day and it represents two of the most successful sides in Olympic handball history – they have won a combined 12 Olympic medals split equally between them. Both are their current continental champions, with Norway also featuring 2019 IHF Women's World Player of the Year Stine Oftedal. Oftedal and her teammates will be hoping that Rio 2016 top scorer Nora Mork will have returned to full fitness by July.
The other opening day matches include the Russian Olympic Committee and their Rio 2016 MVP Anna Vyakhireva, taking on previous hosts Brazil, a country close to the hearts of the many Russian players after winning gold there, defeating France in the final, who play Hungary on Day 1. Spain vs Sweden is the sixth match.
Other highlights include a repeat of the Rio 2016 quarter-final between France and Spain, which went to extra time, on Day 2, while a London 2012 gold medal match repeat of Norway vs Montenegro takes place on Day 3 – the Montenegrins beat the Norwegians in their qualification tournament last month. 
Also on the third day, Japan will take on the Asian powerhouse of Republic of Korea, a renewal of the continental rivalry which most recently saw the Koreans defeat the Japanese in the final of 2018 AHF Women's Asian Championship.
African champions Angola have two consecutive matchdays where they will hope to overturn losses against Norway and Netherlands at the 2019 IHF Women's World Championship in Japan. Day 2 sees them face Norway, who they lost to 24:30 in Kumamoto, while on Day 3 they face Netherlands, who they went down 28:35 to back in 2019.
Two sets of players very familiar with each other, particularly from the Rio 2016 final, will go head-to-head on Day 4 when Russian Olympic Committee take on France. The Russian side lost to France in the 2018 European Championship final.
MATCH SCHEDULE
Throw-off times for each matchup will be confirmed at a later date via ihf.info
Men's Tournament
Group A: Argentina (ARG), Spain (ESP), Germany (GER), France (FRA), Norway (NOR), Brazil (BRA)
Group B: Bahrain (BRN), Egypt (EGY), Portugal (POR), Sweden (SWE), Denmark (DEN), Japan (JPN)
PRELIMINARY ROUND
Day 1: Saturday 24 July
NOR vs BRA
FRA vs ARG
GER vs ESP
DEN vs JPN
SWE vs BRN
POR vs EGY
Day 2: Monday 26 July
BRA vs FRA
ESP vs NOR
ARG vs GER
JPN vs SWE
EGY vs DEN
BRN vs POR
Day 3: Wednesday 28 July
NOR vs ARG
FRA vs GER
BRA vs ESP
DEN vs BRN
SWE vs POR
JPN vs EGY
Day 4: Friday 30 July
FRA vs ESP
GER vs NOR
ARG vs BRA
SWE vs EGY
POR vs DEN
BRN vs JPN
Day 5: Sunday 1 August
ESP vs ARG
GER vs BRA
NOR vs FRA
EGY vs BRN
POR vs JPN
DEN vs SWE
Quarter-Finals: Tuesday 3 August
Semi-Finals: Thursday 5 August
Bronze/Gold: Saturday 7 August
Women's Tournament
Group A: Angola (ANG), Republic of Korea (KOR), Norway (NOR), Montenegro (MNE), Netherlands (NED), Japan (JPN)
Group B: Brazil (BRA), France (FRA), Hungary (HUN), ROC, Spain (ESP), Sweden (SWE)
PRELIMINARY ROUND
Day 1: Sunday 25 July
NED vs JPN
MNE vs ANG
NOR vs KOR
ESP vs SWE
ROC vs BRA
HUN vs FRA
Day 2: Tuesday 27 July
JPN vs MNE
KOR vs NED
ANG vs NOR
SWE vs ROC
FRA vs ESP
BRA vs HUN
Day 3: Thursday 29 July
NED vs ANG
MNE vs NOR
JPN vs KOR
ESP vs BRA
ROC vs HUN
SWE vs FRA
Day 4: Saturday 31 July
MNE vs KOR
NOR vs NED
ANG vs JPN
ROC vs FRA
HUN vs ESP
BRA vs SWE
Day 5: Monday 2 August
KOR vs ANG
NOR vs JPN
NED vs MNE
FRA vs BRA
HUN vs SWE
ESP vs ROC
Quarter-Finals: Wednesday 4 August
Semi-Finals: Friday 6 August
Bronze/Gold: Sunday 8 August
All games will be played at the Yoyogi National Stadium in Tokyo.
Visit tokyo2020.org for more information on the Olympic Games Tokyo 2020.