23 Sep. 2022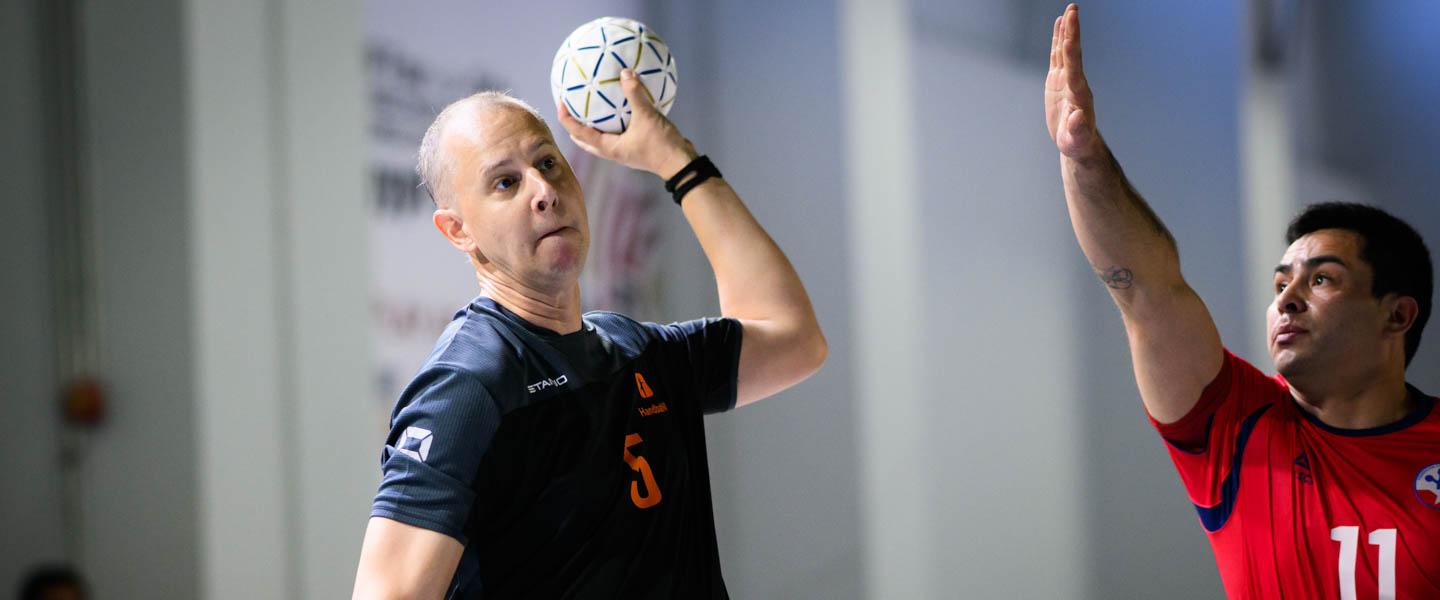 Live blog: The 1st ever IHF Four-a-Side Wheelchair Handball World Championship had six teams at the start, all playing in a single group in a round-robin format. The winner will be decided in the gold-medal game on Sunday, between the sides finishing in the top two places in the group. And we can confirm that those teams are Egypt and Brazil, precisely the sides that finished the second day of the competition in the Dr Hassan Moustafa Sports Hall.
Brazil have eight points already, while Egypt are on six points, with no mathematical possibility of being dethroned. The African side can be tied on points by Chile, but they hold the tiebreaker after securing the win in the third round, 2-0 (8:5 and 5:2). The fight for the two places for the bronze-medal game is still ongoing, with Chile (4 points), the Netherlands (3 points) and Slovenia and India (2 points each) having a chance.
Today's matches:
10:00 EET Netherlands vs Slovenia 1-2 (4:3, 1:5, 1:2) / Brazil vs India 2-0 (5:4, 12:0)
12:00 EET Chile vs Egypt 0-2 (5:8, 2:5)
16:30 EET India vs Netherlands 2-0 (7:6, 7:2) / Chile vs Slovenia 2-0 (9:4, 6:5)
18:30 EET Egypt vs Brazil 0-2 (4:5, 3:10)

19:06 EET Full-time: Egypt vs Brazil 0-2 (4:5, 3:10)
Brazil are definitely a diesel, a team that will perform better in the second set, and they did just prove this once again after dominating India this morning. After scoring five points in 10 minutes and 35 seconds in the first set, they replicated that amount in only two minutes and six seconds of the second set, with two spin shots that counted double the amount of points converted by Guilherme Lourenço. Egypt's main issues stem from them using a three-player attack with goalkeeper Ayyat Ahmed Said Mohamed Ibrahim between the posts, who has, unfortunately, failed to save more than a shot in this match.
By midway in the second half, Brazil were already up 6:1, and this was an advantage they could not lose. Egypt tried to make do with what they had, especially after coach Wael Sayed took out Magdy Abbas. Yet any move they tried did not pay dividends, as their attack, the second best in the competition so far, failed to produce more than seven points throughout the whole game. It was Egypt's first defeat in the competition after three wins in a row, but it was also Brazil's fourth consecutive win, underlining their winning pedigree, taking the game in straight sets, 2:0 (5:4 and 10:3).
18:47 EET Half-time: Egypt vs Brazil 0-1 (4:5)
This is a very nip-and-tuck game, with both sides trying to find ways to trick the other and score goals. Brazil's attack has been somewhat mistake-prone in this match, as they have lost their shine in the first minutes, only to be saved by the same Anderson Ferreira and Jordean Rodrigues, two of the best players at this World Championship. Surprisingly, Egypt have not featured the top scorer of the competition, Magdy Talaat Abdo Abbas, from the start, but when he did make his appearance, he did score his first goal, taking his team's lead to 3:2, as Brazil missed shot after shot.
However, Egypt hit the post four times and, eventually, this looked to be their undoing. Magdy Abbas missed a one-on-one shot with experienced goalkeeper Claudinei Marques Dias, but Jordean Rodrigues hit the post twice with the same shot, and the ball refused to pass the line. Therefore, the set needed extra time, after the two sides finished tied, 4:4. So the sent went to the golden goal, which was scored by Brazil's Shirlei Januario, which delivered Egypt's first lost set in the competition, 5:4.

18:00 EET We have the first finalist
India's win against the Netherlands has undoubtedly stirred the pot and delivered our first finalist. And the lucky team is Egypt, who are just preparing to throw off their game against Brazil. The two unbeaten sides in the competition face a crunch clash. Why are Egypt through and Brazil not? Well, it all has to do with the schedule. The only team that can reach six points – the amount that Brazil and Egypt have – is Chile. The South American team is still due to play against Brazil tomorrow but have already lost against Egypt.
This means Egypt hold the tiebreaker against them, as there cannot be a three-way tie with Brazil and Chile. Therefore, the hosts are the first team to play the final, scheduled for Sunday at 19:00 EET and will feature the first two teams in the group. Brazil will join Egypt if they take a set in the next two games. It looks doable for the South American team, but surprises were here at Egypt 2022.
17:06 EET Full-time: India vs Netherlands 2-0 (7:6; 7:2)
After three straight defeats at the IHF Four-a-Side Wheelchair World Championship, India celebrated their maiden win at the tournament. They are now level on two points with their rivals Netherlands, who suffered their third consecutive defeat.
Clearly inspired by winning the first set, the Asian team dominated even more after the restart. Javed Choudhari continued to make his impact in attack, and his teammate Ramesh Shanmugam, who took the position in goal, made a couple of saves and scored two spectacular goals from his half, securing four points for his team.
The Dutch goalkeepers Joyce van Haaster and Marcel Jancen combined for 13 saves, limiting India to a 29% shot efficiency. Still, the Asian team managed to convert their advantage into a long-awaited victory.
16:59 EET Full-time: Chile vs Slovenia 2-0 (9:4; 6:5)
Irrespective of how difficult it is, Slovenia will find a way, grinding until the end of the match to try and surprise their opponent. This is exactly what happened here, as a 4:1 start to the second set, with three points being scored by David Škorjanc prompting a timeout from Chile right around the half of the second set.
It worked wonders, and Chile replied with their own 4:1 run, tying the match, 5:5, with Hernandez in a league of his own, scoring six points in the first two sets. Eventually, Chile took advantage of Slovenia's turnovers and secured the win by the slightest of margins, 6:5, after Slovenia failed to score with their latest shot.
Chile have now a chance to fight for the bronze medal, as they are on four points, in third place in the standings, just behind Brazil and Egypt, who are on six points.
16:52 EET Half-time: India vs Netherlands 1-0 (7:6)
After fighting hard in the opening set against Brazil earlier today, India won their first set at the tournament in their next match against Netherlands. Although the Dutch team opened the score with Joyce van Haaster's two-point shot from his half, the Asian side bounced back soon.
Javed Choudhari was their key figure, as he recorded three saves as a goalkeeper and scored three goals, each worth two points – two spin shots and a penalty shot. In the last minute of the set, Netherlands reduced the gap from 4:7 to 6:7, but they failed to draw level. Will the Dutch side hit back in the second set?
16:46 EET Half-time: Chile vs Slovenia 1-0 (9:4)
This is a crucial match in a battle for a medal, as both sides started the game with two points each, vying for fourth place in the final standings. While Slovenia still have to face India tomorrow, where they are favourites, Chile are due to face Brazil in an all-South American clash. Therefore, both sides came out swinging in the match, but it was Chile who surprised first, as Luz Carrasco surprised Slovenia's goalkeeper twice to help her side take a 4:2 lead after five minutes.
It went from bad to worse for the European side, as their goalkeeping did not improve, and virtually every Chile shot was a goal. Angel Hernandez and Pablo Suarez scored three points each, with the South American side using a 5:0 run spanning over one minute and 16 seconds to clinch the first set, 9:4.
13:00 EET A life for handball 
We will take a break from the first-ever IHF Four-a-Side Wheelchair Handball World Championship until 16:30 EET when the teams are back on the court for the final three games of the day. Until that moment, we are sharing one amazing story from Egypt 2022. The hosts' coach, Wael Abdelaaty Sayed Aly, was a member of the team that clinched the world champion title at the 1993 IHF Men's Junior World Championship and a member of the side that won the gold medal at the 2004 IHF Men's Beach Handball World Championship. Both were hosted in Egypt. Therefore, Sayed thinks about another gold medal, here at Egypt 2022.
You can read the story here. 
12:33 EET Full-time: Chile vs Egypt 0-2 (5:8, 2:5)
This time around, Egypt had the better start in the set, as Chile missed a penalty, saved by Magdy Talaat Abdo Abbas himself, who had four saves in a row, literally denying Chile their first goal of the second set until 9 minutes and 22 seconds were played. Not even Ayyat Ahmed Said Mohamed Ibrahim's red card deterred Egypt, who were still going strong in a tactical battle, protecting the lead they built through Mohamed Mohamed Hassabelnabi Ahmed's two goals. A turnover made by Chile while trying to develop a fast break was the pivotal moment of the match, as Egypt scored in the open goal and created a 3:0 run with two minutes and 20 seconds to go in the game.
Eventually, Egypt clinched the second set with a strong display, 5:2 and secured their third win in as many games in the competition. All is set up for a fiery clash against Brazil today at 18:30 EET when the two unbeaten sides will try to extend their winning run. All in all, having three wins in three matches make Egypt and Brazil virtually the finalists in the competition, needing a considerable turnover to miss the gold-medal match on Sunday. On the other hand, Chile are stuck at two points and will try to secure a place in the bronze medal match on Sunday, being tied with the Netherlands and Slovenia at two points.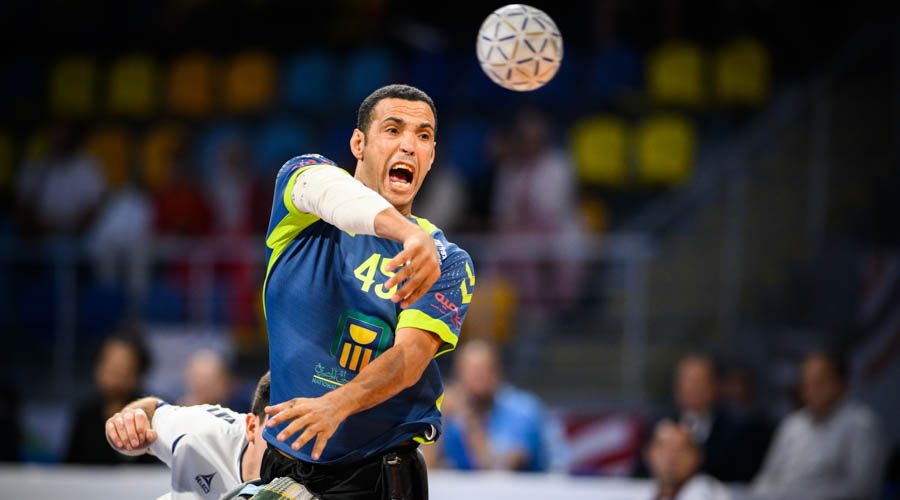 12:14 EET Half-time: Chile vs Egypt 0-1 (5:8)
Egypt needed a win to stay in contention for a place in the final, but their start has been shaky at best, with plenty of missed shots, in fact, seven of them. But when the competition's top goal scorer, Magdy Talaat Abdo Abbas, started to take control, it all started to shape up for the African side. Abbas scored twice in seven seconds to turn the game on its head, setting up a 3:1 run for Egypt. Chile tied the game back, but Egypt's pressing game, one of the most aggressive, if not the most aggressive in the competition, worked wonders, with their two steals immediately being converted to goals.
It was a hard-fought first set, but Egypt mounted a superb comeback to erase a difficult start, and now they are heading to their third win in three matches, matching Brazil's performance. Eventually, they finished the first set with an 8:5 advantage, with Touba Issa and Magdy Abbas combining for five of Egypt's eight goals in the first part. We take a five-minute break and will be back to see the second set.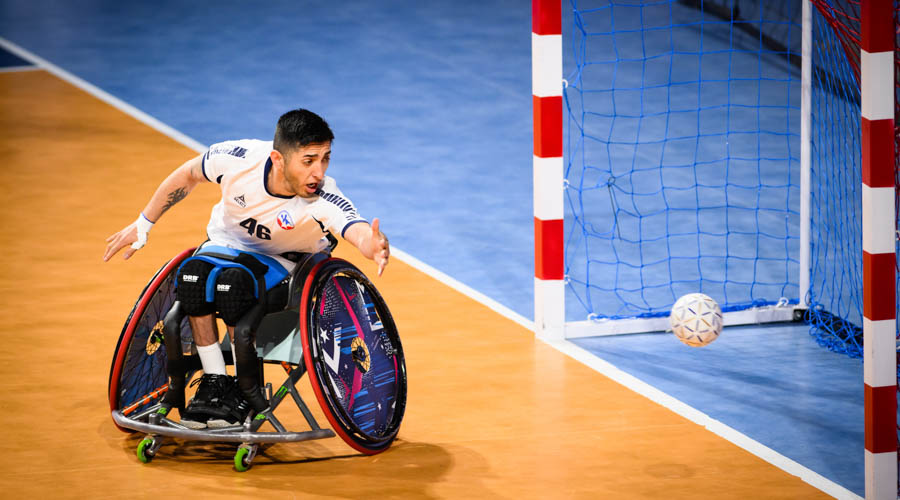 11:40 EET Egypt and Brazil also lead statistic rankings
Magdy Talaat Abdo Abbas is still the top scorer in the competition, having 18 points, followed by Jordean Rodrigues, who has scored 17 points for Brazil. Still, Egypt's stalwart has one game in hand, the next one, ready to start in the Dr Hassan Moustafa Sports Hall against Chile. Netherlands' William Van Den Ende is third in the standings, with 11 points.
In the goalkeeping statistics, Marcelo Amaral was propelled to first place, after the game against India, with 26 saves from 32 shots and an average of 81.2% saving efficiency, with half of the saves coming in this morning's game. Slovenia's David Škorjanc also impressed, with 19 saves, while Dutch player Joyce Van Haaster has also racked up 18 saves.
10:47 EET Full-time: Netherlands vs Slovenia 1:2 (4:3; 1:5; 1:2)
For the first time at the IHF Four-a-Side Wheelchair Handball Championship, a match had to be decided in a tiebreaker. It was Slovenia who celebrated their first victory at the tournament.
After missing an opportunity to win the opening set, the Balkan side did a good job in the second. Although John Schot opened the score for Netherlands, the Slovenes seized the initiative. They responded with two two-point goals – their goalkeeper David Skorjanc scored from his half before Matej Arh converted a penalty shot. Skorjanc, who made nine saves throughout the game, also did well in attack, netting again to seal the final 5:1 score of the set.
Early in the tiebreaker, Milan Slapnicar put Slovenia in front before both teams missed several chances – in particular, Matej Arh's 7-meter shot was saved. Netherlands finally drew level with another William van den Ende's goal, but their joy did not last long as Skorjanc scored the goal, which proved to be a winner.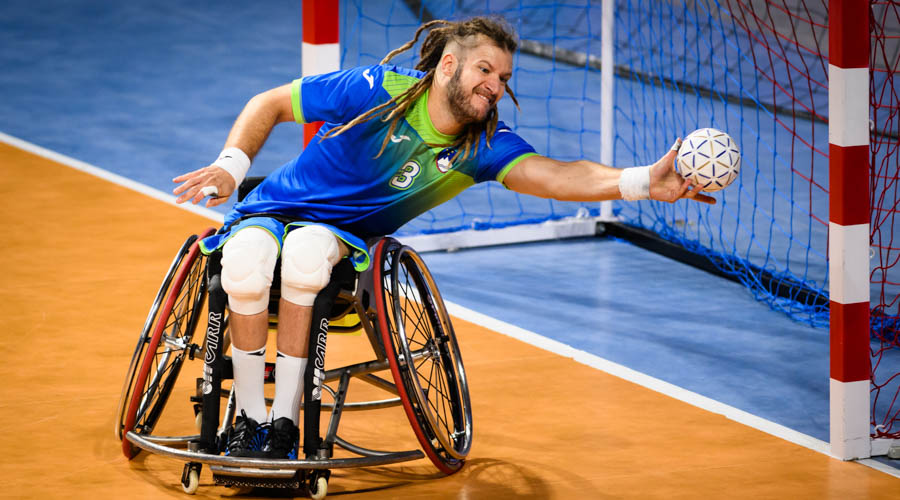 10:33 EET Full-time: Brazil vs India 2-0 (5:4; 12:0)
Wheelchair handball can throw one or two surprises, especially as this is the first-ever World Championship. One of them was Brazil's first set against India, where they were heavily favoured but failed to dominate, instead finding themselves in a very tough spot. However, they bounced back in the second part, as they focused better and clinched the game in straight sets, 2:0.
Subbing on Jordean Rodrigues and Anderson Ferreira made the difference, as Brazil's attack fired from all cylinders, taking a strong 4:0 start that proved unassailable. Ferreira and Rodrigues also converted two spin shots to take Brazil's gap even further, as the second set finished with a 12:0 win from the unbeaten side. Oh, and we should not forget Marcelo Amaral's outstanding performance in goal, where he saved 13 of the 14 shots he faced.
Brazil will now have to focus on tonight's game against Egypt, which will prove decisive, while India's chances for a medal are slim to none after conceding three losses in the first three matches.
10:18 EET Half-time: Netherlands vs Slovenia 1-0 (4:3)
The first set of this all-European clash saw some tight battle. Slovenia, looking for their first win at the tournament, fought hard and produced more shots (12) than the Dutch team (9). The Slovenes pulled ahead three times, but Netherlands showed character and drew level each time.
And in the eighth minute, William van den Ende scored his third point in the match, putting his team in front. Slovenia had an excellent chance to equalise two minutes later, but David Skorjanc hit the post. Netherlands won the set, but Slovenia hope to turn things around in the next 10 minutes.
10:16 EET Half-time: Brazil vs India 1-0 (5:4)
It was thoroughly expected to see Brazil dominate India, judging by the first two matches, where the South American side boasted the second-best attack in the competition. At the same time, India had the lowest number of goals scored by the six teams participating in the Four-a-Side IHF Wheelchair Handball World Championship.
However, Brazil had some growing pains in the first minutes, scoring only after two minutes and 19 seconds of the match. Yet, with Marcelo Amaral saving the first four shots he faced, the South American side's path to winning the first set was basically cleared. Nobody, not even Brazil, expects their opponents to come back. With India forcing their shots from a long way back through Javed Choudhari, it looked too little, but after converting a spin shot, India was suddenly in the lead, 4:3, after seven minutes in the first set.
Brazil did tie the set, and the two sides went into the decider, with the South American side scoring the golden goal through Marcelo Amaral and clinching the first set, 5:4, after a very tough battle.
09:50 EET You want to know more?
You want to review what happened yesterday and look ahead to what's coming up today? Then take a look at the preview. 
Do you want to follow the action live? You can do that on the IHF Youtube channel. 
If you want to be up to date, you can find more interesting content on Facebook, Twitter and Instagram.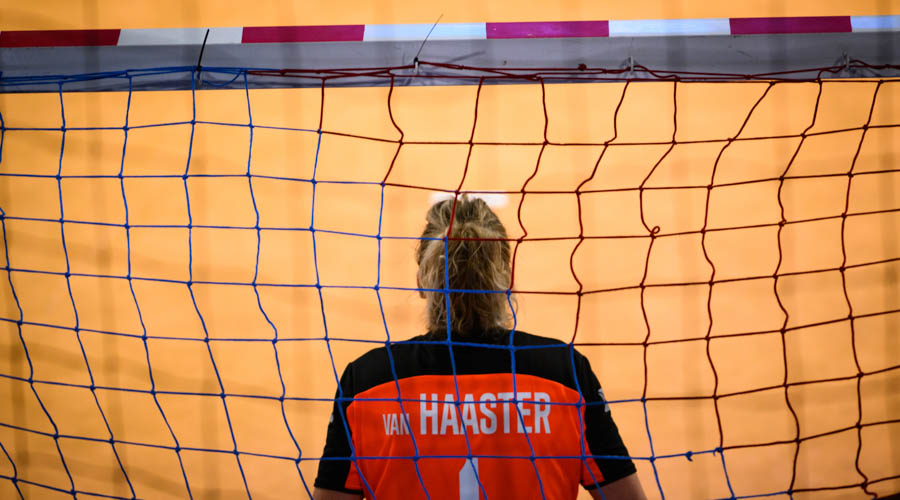 09:40 EET Who are the main actors of the competition so far?
Who shone on the first day of the competition? Well, it was clear that those were players either from Egypt or Brazil. And the assumption is correct. The top scorer is Egypt's Magdy Talaat Abdo Abbas, who scored 18 points, more than the Netherlands, Chile, Slovenia and India or the same amount as Slovenia and India. Displaying superb skills and a powerful shot, Magdy Talaat Abdo Abbas is definitely one of the candidates for the title of the MVP of the competition.
Jordean Rodrigues, Brazil's sharpshooter, is also following close by, with 11 points scored, two of which came from spin shots. Remember, in wheelchair handball, a spin shot is worth double the points, so it is really worth trying.
09:20 EET First finalist to be decided today?
This day could profoundly impact the competition, as we could find out the first finalist. If Egypt or Brazil win both games, it will be apparent that the team that secures four points will be virtually impossible to stop. Of course, certain conditions are required for that to happen, but we could have our first gold medal candidate today. We can hardly wait for the next games, which will start in just under 40 minutes.
09:00 EET Here we go again!
Welcome back to the live blog, which will keep you updated with everything happening at the 1st Four-a-Side IHF Wheelchair Handball World Championship. We will have the freshest news, most interesting statistics, and basically, anything that you would want to find out about the competition taking place in the Dr Hassan Moustafa Sports Hall in 6th of October, Egypt, between 22 and 25 September. 
If you want to learn more about this event, visit the competition mini-site, on which you find anything you need to know about this championship.